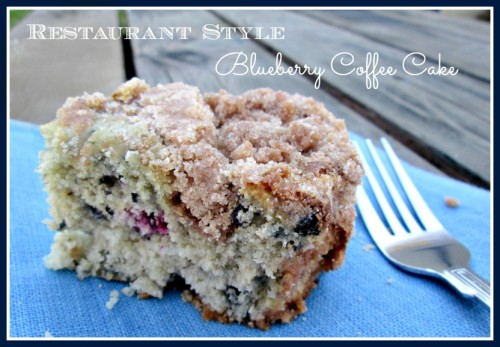 Restaurant Style Blueberry Streusel Coffee Cake Recipe
During blueberry season we picked a ton so that we would have them for the freezer.  That was about 2 months ago and with fall in full swing, apple and pumpkin is all the rage. I have been cooking with both of those a lot lately so I decided it was time to change it up.  Rather than make muffins, I went for coffee cake. I have moments when I crave a really good coffee cake and they are always so hard to find.  Because of this I set out on a search for the perfect recipe a few years ago, it took some time and experimenting but I finally found the one.  If you like coffee cake, you will love this recipe.  Blueberries are optional, this is fabulous without them so keep that in mind!
Restaurant Style Blueberry Streusel Coffee Cake Recipe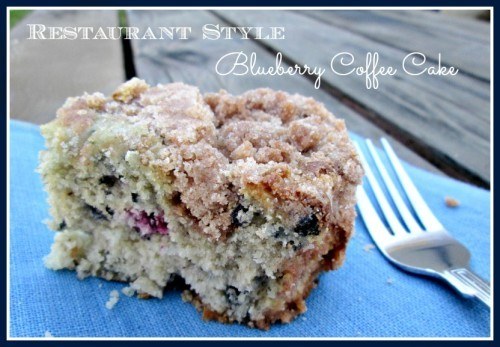 Ingredients
For the Coffee Cake
2  cups all-purpose flour
¾  cup white sugar
¼  cup shortening or butter
¾  cup milk
1  egg
2 ½  teaspoons baking powder
¾  teaspoon salt2 cups fresh or frozen, thawed blueberries  (optional)
Streusel Topping
½ cup light brown sugar
⅓ cup all-purpose flour
½ teaspoon cinnamon
¼ cup butter or margarine
Instructions
Preheat your oven to 375. Grease an 8 or 9-inch square pan. Using a large bowl, cream together the shortening, sugar and egg. Add the milk, mix well. Add the remaining ingredients and mix well, taking care not to over mix. Carefully fold in blueberries. Bake 35-45 minutes, temps and cooking times may vary, start on the lower end and cook in additional 5 minute increments there after.