This post may contain affiliate or paid links. See our full disclosure at the bottom of this page for more information. ............................................................................................................................................................
This one pot sesame chicken meatballs with lo mein recipe is a quick, hearty meal perfect for weeknights that the whole family will love.

One Pot Sesame Chicken Meatballs & Lo Mein
You don't have to order take out to have a fantastic Asian meal at home.  When you make it yourself you can control the ingredients and things such as fat and sodium. This recipe for sesame chicken meatballs is a lot more healthy , but just as satisfying. I would not consider the recipe low sodium, there is a few ingredients that tend to be higher in sodium. For this reason I do not salt anything except for the sesame chicken meatballs.
Also check out our amazing low carb meatballs!
Grab this coupon to save on your beef stock that you need for this recipe! 
Are you a fan of Chinese sesame chicken?  Then you will love these sesame chicken meatballs.
One of the best things that has ever happened to me in my life was trying chicken meatballs.  I am a HUGE fan of chicken.  Grilled, roasted, ground, BBQ, dark meat, white meat…  you get the picture.
I mean don't get me wrong, I like ground beef meatballs I just feel like they do not fit in to all recipes.  Like this one.  A ground beef meatball just wouldn't go as well with the sauce as the ground chicken does.
Cooking Sesame Chicken Meatballs in a Skillet
Sesame Chicken Meatballs are easy and cook up fast.  Just be sure to cook them all the way through- 165 degrees.  They won't dry out, we have a fantastic sauce that they will be smothered in.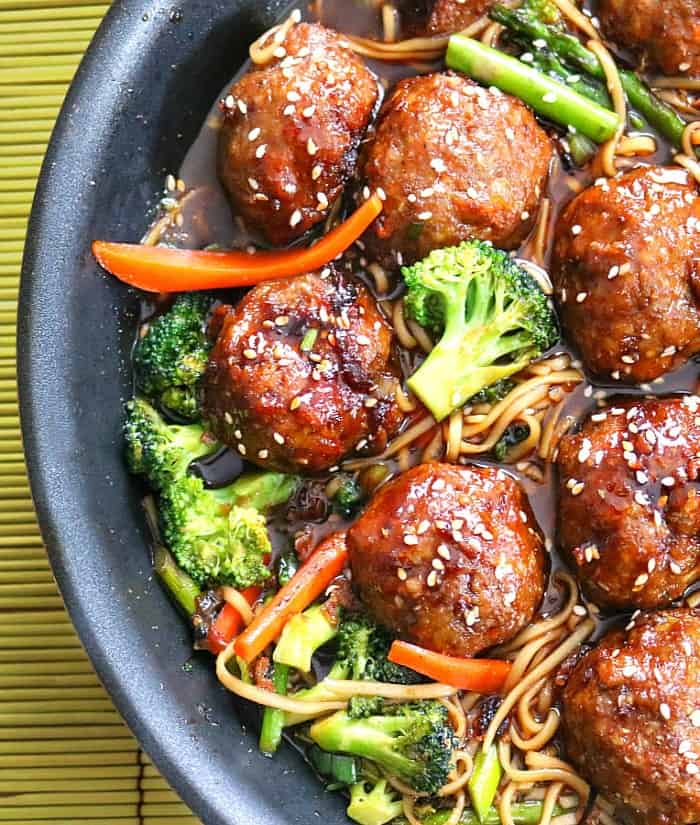 Here is how to make it:
NOTE*  if you would like additional sauce, double the recipe and pour half in during the last few minutes of cooking.  Easy Sesame Chicken Meatballs !
Yield: 4
One Pot Sesame Chicken Meatballs & Lo Mein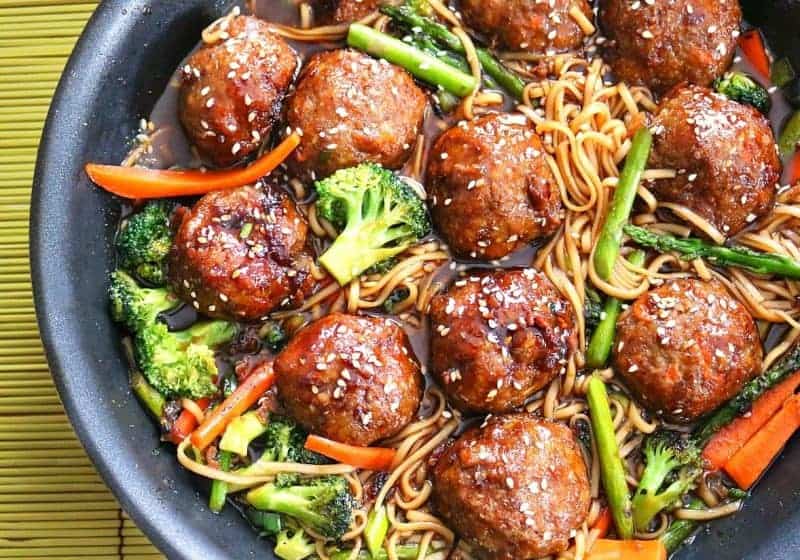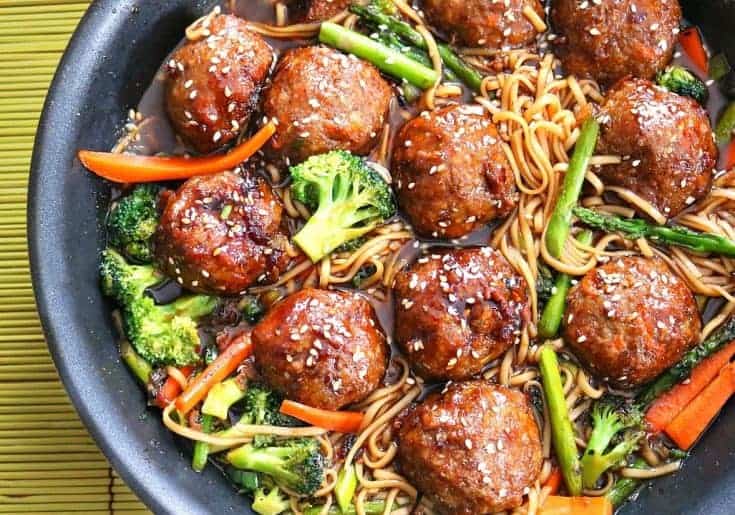 Ingredients
For the meatballs
12 oz. ground chicken
1 egg, beaten
1/2 cup Panko bread crumbs
1 garlic clove, minced
1 teaspoon onion powder
1 teaspoon ginger powder
1 tablespoon sesame oil
Sesame seeds
For the sauce:
1 cup beef stock
1/4 cup soy sauce
1/3 cup hoisin sauce
1/3 cup teriyaki sauce
1 tsp- each Corn Starch and Cold water, mixed to make slurry
Juice of 1 orange, optional
1 tablespoon Olive oil
Pinch Salt & Pepper
For the Lo Mein:
6 oz. Lo Mein Noodles
1 cup broccoli florets
2 carrots, julienned
2 tablespoons soy sauce
Water, how much will depend on your pan
Instructions
Combine ground chicken, egg, panko, garlic, onion powder, ginger, pinch of salt & pepper in a bowl. Mix well. Use hands to shape into 2" meatballs. Sprinkle with sesame seeds.
Heat a skillet over medium , drizzle with olive oil, add meatballs. Cook evenly on all sides for 15 minutes or until internal temperature reaches 165. Pour sesame oil evenly around the pan during the last few minutes of cooking.
Remove the meatballs, set aside. Reduce temperature to medium low.
Add lo mein noodles to the pan and cover with water, cook until al dente. Drain water.
Add sauce ingredients, bring to boil , stir in slurry mixture. Reduce to simmer. Mix well.
Add veggies, lo mein and meatballs back to pan. 
Cover and cook 5 minutes or until heated through.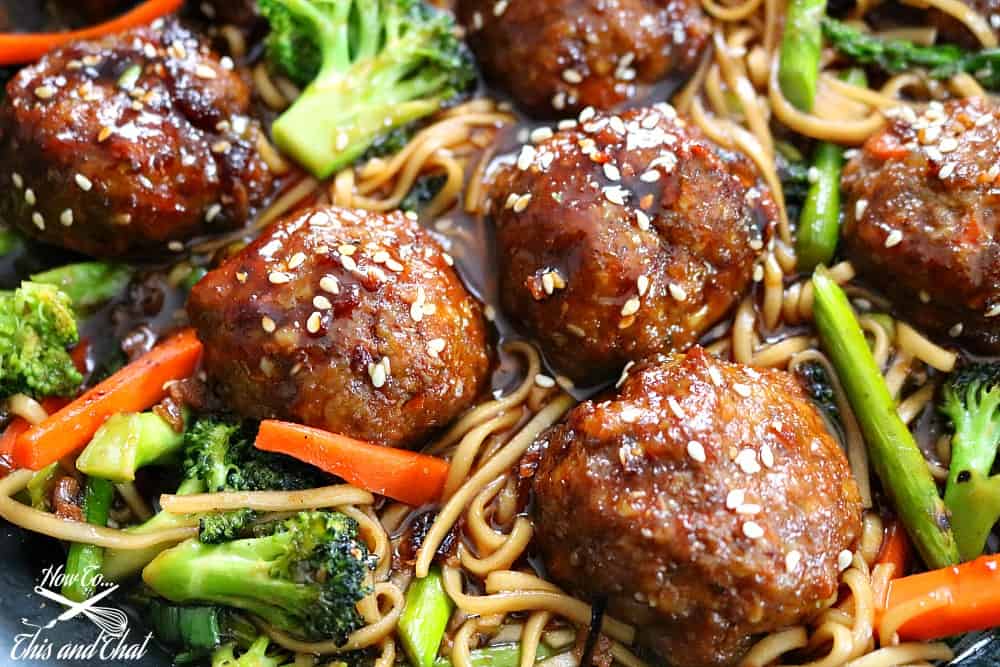 Like the sounds of this recipe?   Try out Asian Potstickers!  
We even have an amazing homemade potsticker/dumpling dough that is so easy you won't believe it. Skip the take out and try these potstickers!   You can fry, steam or bake them.