This post may contain affiliate or paid links. See our full disclosure at the bottom of this page for more information. ............................................................................................................................................................
This is the only low carb meatballs recipe you will ever need! Perfect for chicken or beef and can be used with any sauce you like. No pork rinds and still Keto approved! A great appetizer OR meal!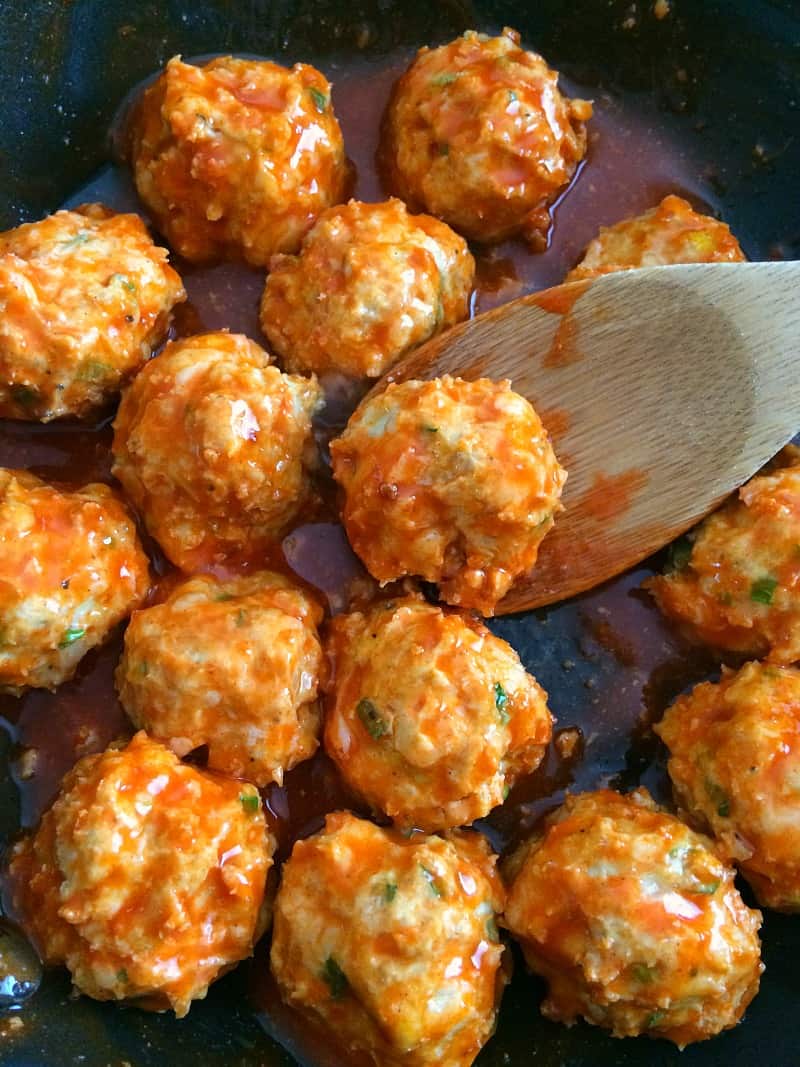 Low Carb Meatballs
Chicken or Beef 
If you follow the keto way of eating or a low carb diet you know meat and fat are an important part of your daily routine. Sometimes we can get caught up trying to figure out what we can and can not eat that we end up "cheating" or settling for something less appealing. When I started this keto journey I set out to do a few things I never tried before: Meal Planning, Weekly Meal Prep and cooking in small batches.
What I do is compile a list of keto recipes, make a grocery list for the ingredients I will need, shop and then come home and meal prep for the week.  This makes it so much easier to stay on track.
One thing I love to make ahead is low carb meatballs. I use either ground chicken or a ground beef and pork combination. Either way, I use the same base recipe listed below.
Most low carb recipes call for pork rinds in place of bread crumbs, but I don't care for them so I created a different recipe.  This recipe uses a little almond or coconut flour to thicken and has added fat in case you are over on your protein grams for the day.
Low Carb Meatballs- Buffalo Chicken Style
For this post I made my meatballs with ground chicken and smothered them in buffalo chicken sauce.
Here is how to make them
Ingredients
12oz ground chicken (or beef if making to use with a different sauce)
1 egg, beaten
1/4 cup almond or coconut flour
1 tablespoon mayonnaise
1/2 cup shredded cheese of your choice, for this recipe I used Habenero Jack. (for Italian meatballs use mozzarella)
1 teaspoon each, Sea Salt and Pepper
1 sprig green onion, finely chopped
1/2 cup Buffalo Wing Sauce (or sauce of your choice, low carb BBQ would be great!)
Instructions
Preheat the oven to 400º.  Rub a sheet pan with Olive Oil.
In a large bowl combine all ingredients EXCEPT for the buffalo sauce. Mix well until fully combined.  Mixture will be wet and stick to your hands, using a small ice cream scoop may work better.  Meatballs will hold together though during cooking.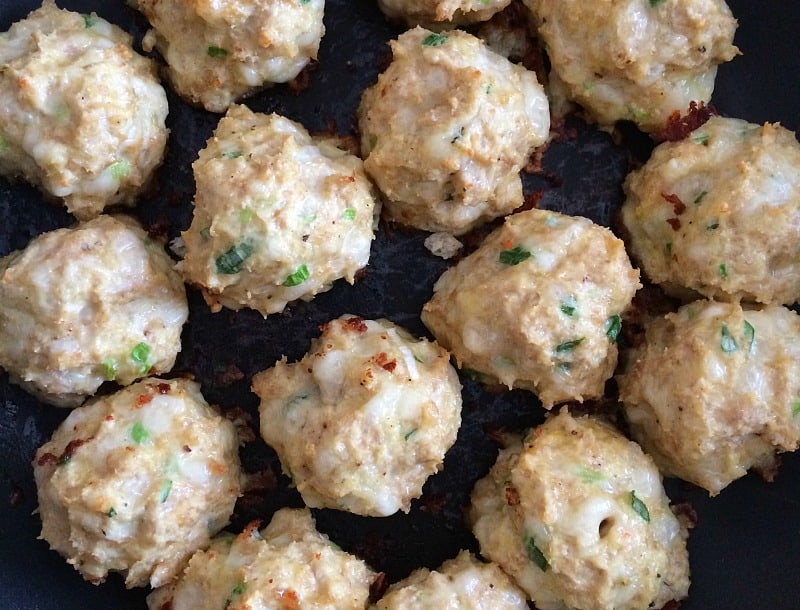 Place on a sheet pan and bake for 15-20 mins or until internal temperature reaches 150º
NOTE- chicken is suppose to be cooked to 160º,  the meatballs will finish cooking in the sauce.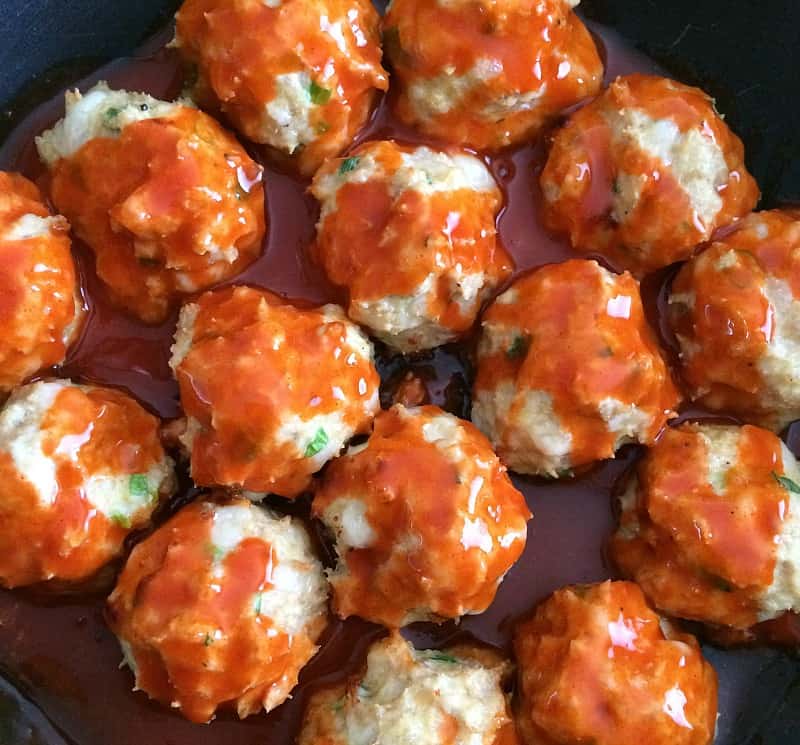 Place meatballs in a skillet or pot, cover with sauce and simmer for 5-10 minutes.
Serve with ranch dressing and celery sticks!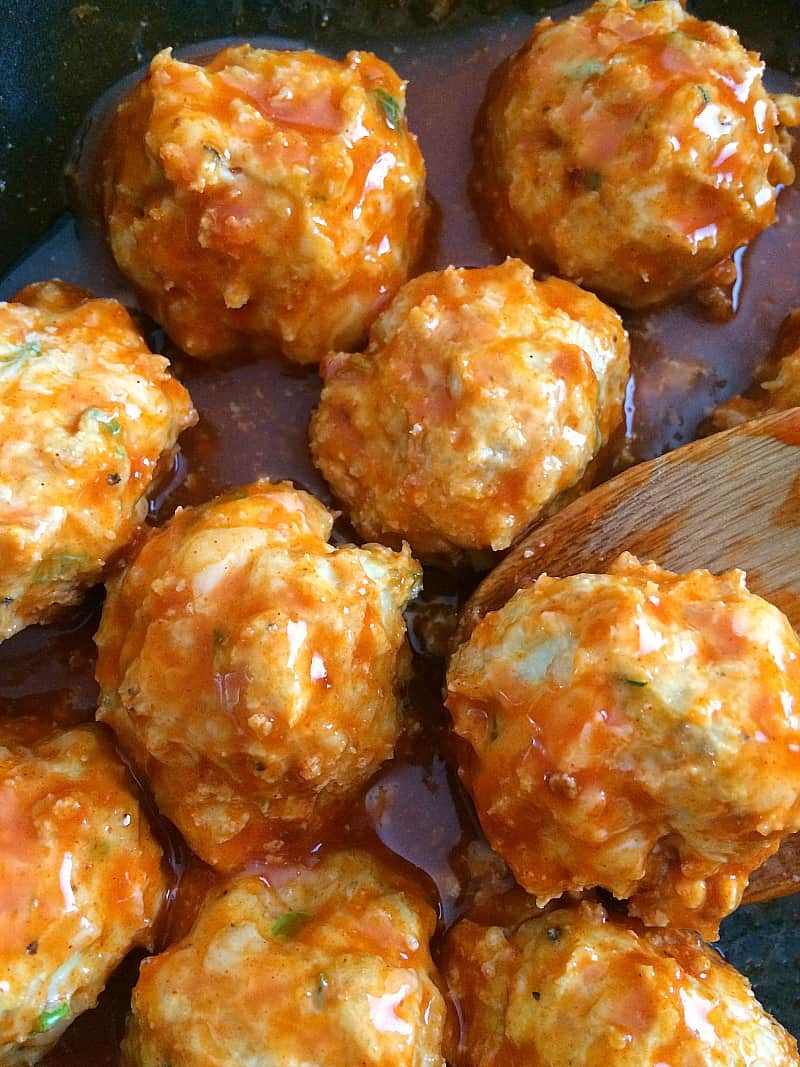 Don't forget to try our Keto Pizza ! 
Low Carb White Pizza made on Fathead dough!