Keto Pizza is one of my favorite go-to lunches or dinner recipes. Are you following the keto way of eating? Then you HAVE to try this white keto pizza! Cheesy, satisfying greatness and only 2.5 carbs per serving! My chicken spinach pizza is loaded with tender chicken, spinach, and ooey-gooey cheese.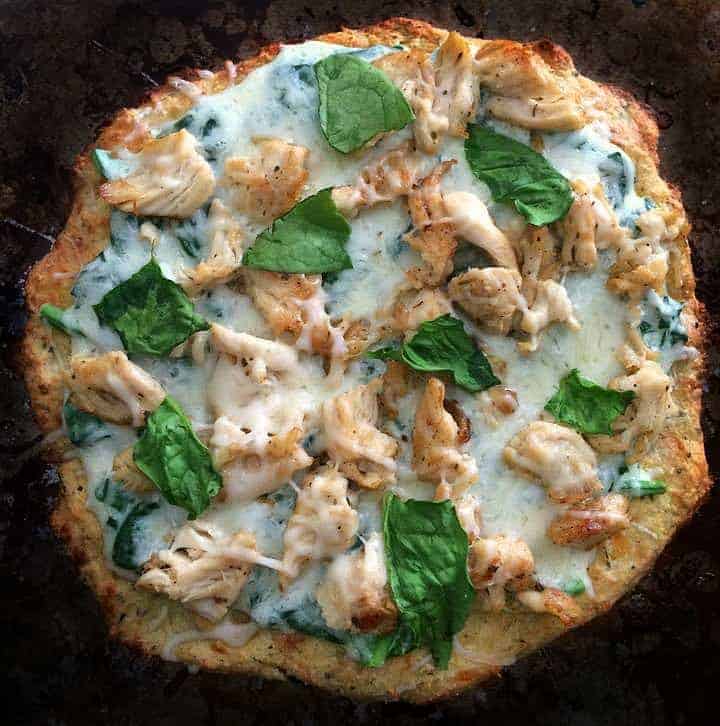 Keto Pizza
A keto-friendly pizza that satisfies everyone who takes a slice of this pizza. If you are looking for easy keto-approved recipes give this a try. My fathead pizza will truly be a guiltless recipe to try.
Grilled Chicken Pizza
First, let me start by apologizing for the quality of the photos in this post. This was a spur of the moment and I really really wanted to document and share this with you! Second- no I am not a healthy living, keto, gluten-free, or paleo blogger.
However, I do follow the keto way of eating and love to share recipes. I do not feel like I have to be an expert to do this. I am a home chef, I test all recipes (documenting this was a spur of the moment but I have made this recipe plenty of times) and I calculate the nutrition information for you, it is listed below.
This recipe is absolutely amazing, what a fantastic flavor combination! I am so glad I can eat pizza on keto.

We are glad to hear you like it!

Fathead dough
How Many Net Carbs In Keto Grilled Chicken Pizza
So, here we go ! A small cheese pizza this size has about 733 calories and 77 grams of carbs (Read details here)

My pizza has 688 calories, and 5 NET carbs! Now, do not drop when you see the fat amount. The fat is suppose to be high and the calculated amount is for the whole pizza. 54 grams. 27 grams per serving- 2 pieces. You can easily cut back on this by using light cream cheese and milk instead of half & half.
But, if you are following the keto way of eating you understand that this fat amount is perfectly ok!
Using fathead dough for any kind of pizza , like this Big Mac Pizza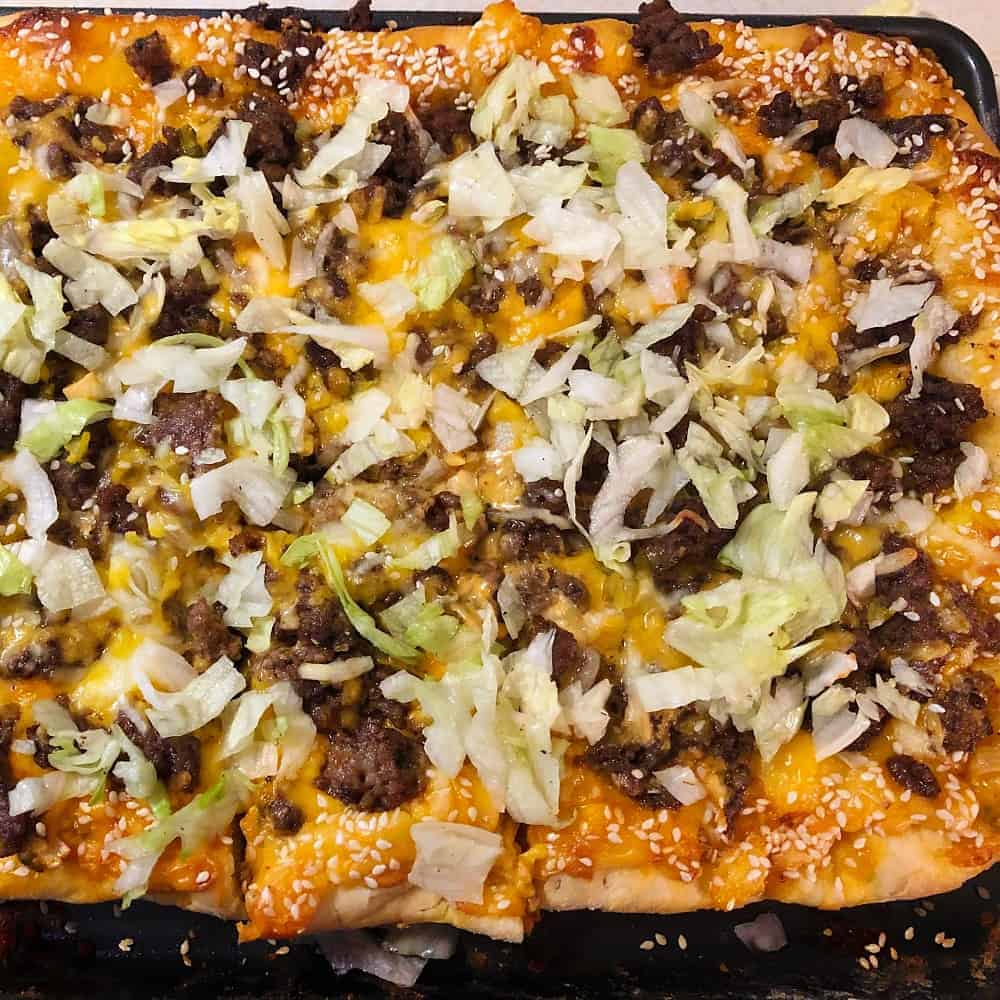 How to make keto pizza:
(full recipe card below you can print)
Ingredients for Chicken Spinach Pizza
1 boneless skinless chicken breast
½ tablespoon Olive oil
1 clove garlic, minced
½ cup half & half or heavy whipping cream (I used half & half, nutrition facts will change if using something else)
¼ teaspoon xanthan gum (thickener found near the yeast or sweetener aisle) This comes in a small packet like yeast and is only about 40¢
1 cup fresh spinach, roughly chopped
½ cup part skim shredded mozzarella
Sea salt & pepper ( to taste )
1 recipe of keto Fathead Pizza Dough
Instructions for Chicken Spinach Pizza
Saute the chicken in a skillet over medium heat until done. Remove, set aside.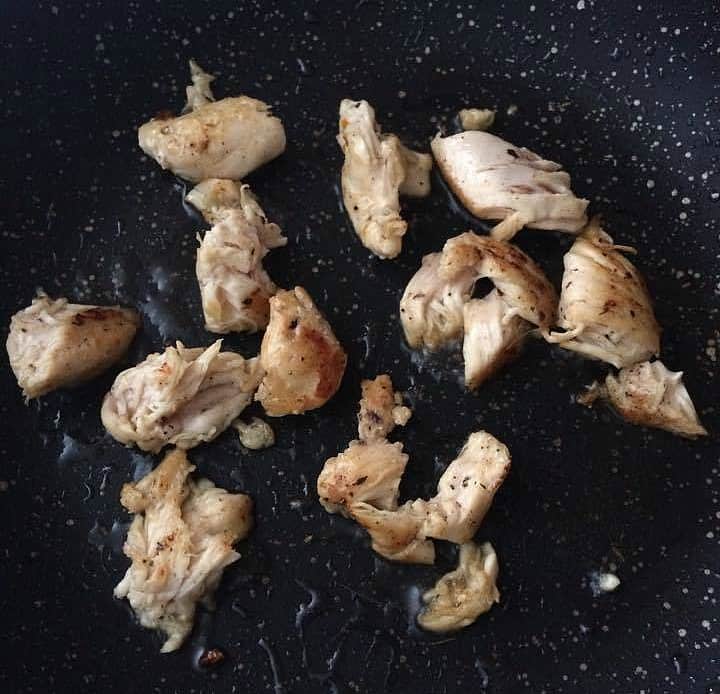 Add garlic plus the xantham gum with half & half to the skillet and bring to a boil. Reduce to simmer when sauce starts to thicken.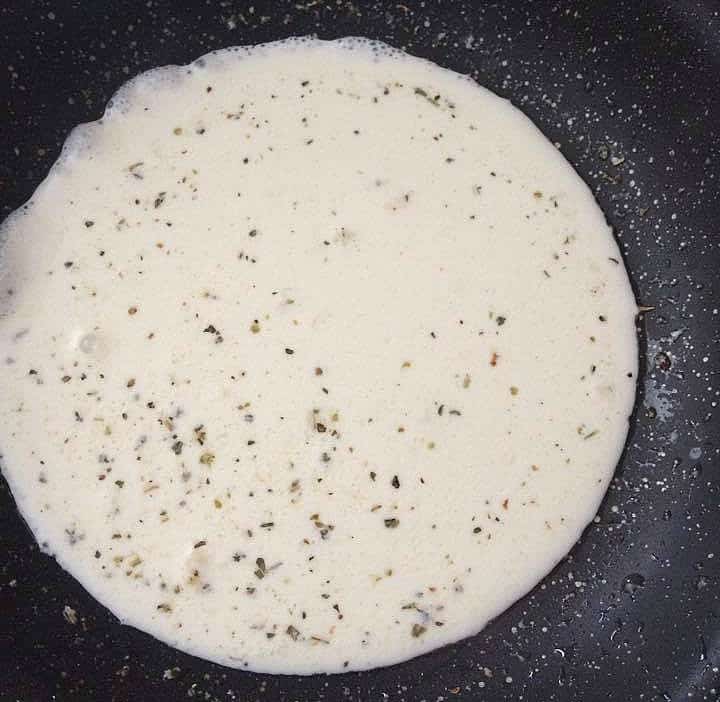 Bring to a soft rolling boil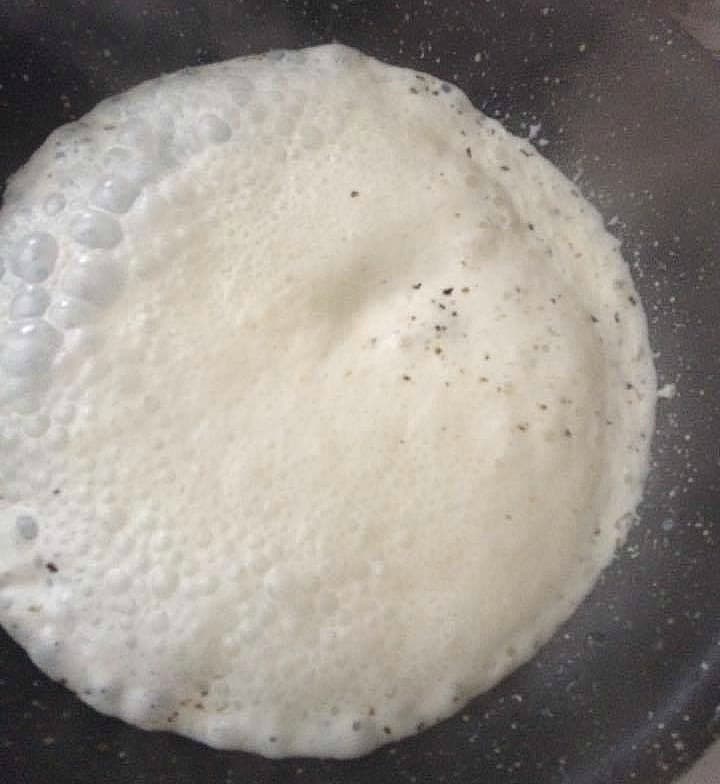 Fold in spinach, cook just until wilted.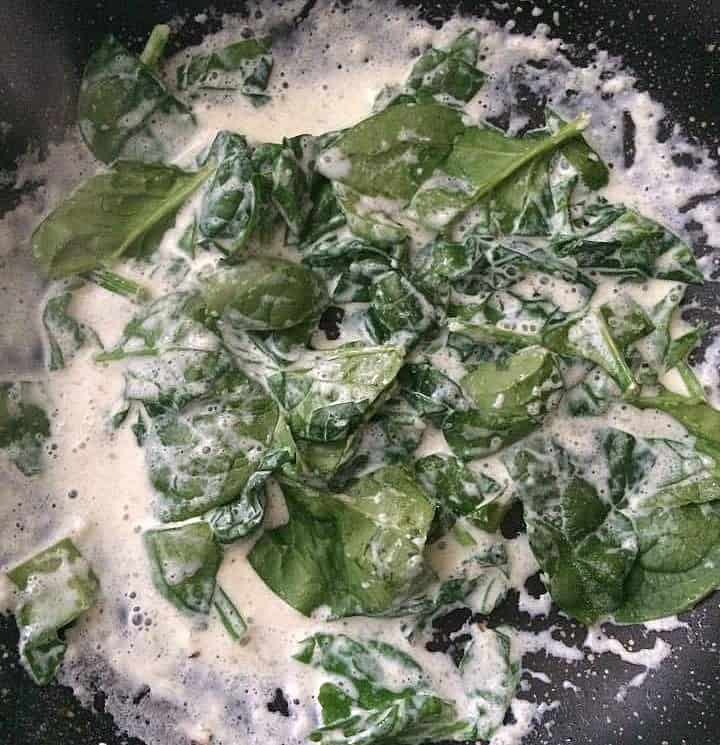 Spread sauce/spinach mixture onto your cooked pizza crust. Top with chicken and shredded cheese.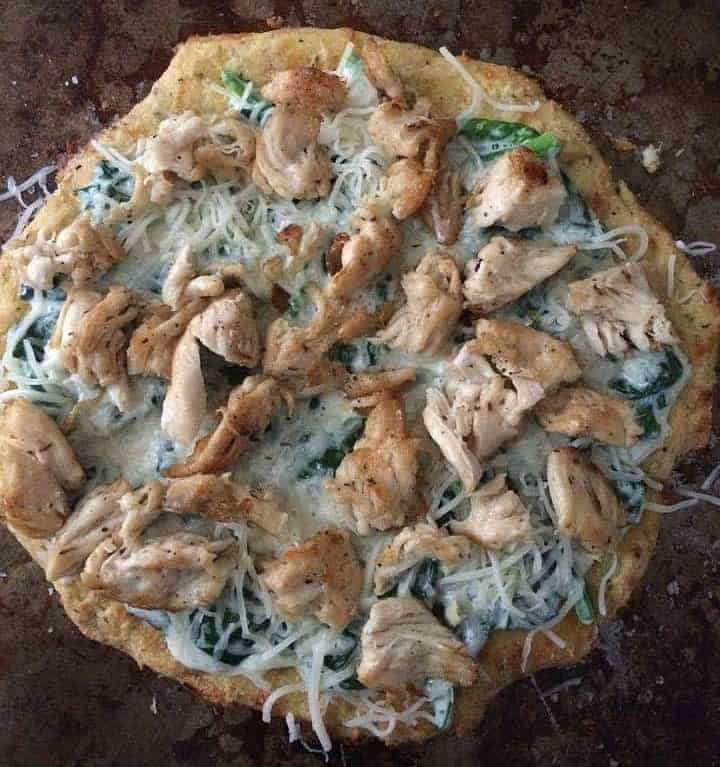 Bake 5 minutes or until cheese is melted.
NOTE* if your oven and pizza crust wasn't already hot from making the dough, bake for 10 minutes instead.
Allow to cool, cut into 4.
Serves 2.
Can I Double This Fathead Pizza Recipe
You are welcome to make as much or as little of this fathead pizza recipe. If you have a larger family you can easily make a handful of pizzas to slice and serve everyone. This is best when served fresh, so I always recommend making it to serve what you plan to eat.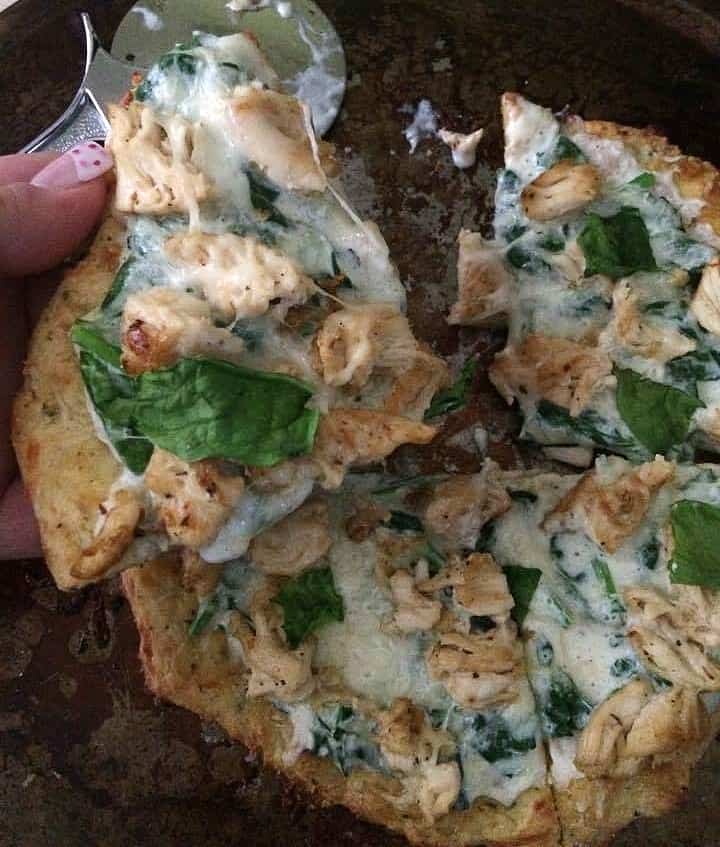 How To Reheat Leftover Pizza
What I have found is if you place a leftover slice of pizza in a skillet on the stove and turn it on low and let the pizza slowly reheat it helps keep the crispy texture of the crust. If you do the microwave it will make the crust a bit soggy. Or you could place on a pizza stone and toss in the oven and reheat that way as well.
A low carb pizza crust that you can pile high with your favorite toppings. This fathead pizza crust is versatile and you can use any of your favorite toppings if you end up wanting to create other flavors. Just make sure you use cooked chicken or other meats when piling on pizza. Since the cook time is so short.
Looking for more keto diet recipes
Keto Chicken Tenders | We love chicken and these chicken tenders are fantastic for kids and adults. If you are looking for a homemade chicken tenders recipe give this low carb and keto friendly recipe a try.
Easy Keto Shrimp Creole | Love shrimp? Here is a super simple creole shrimp recipe that will satisfy. Loads of Cajun flavor in every single bite.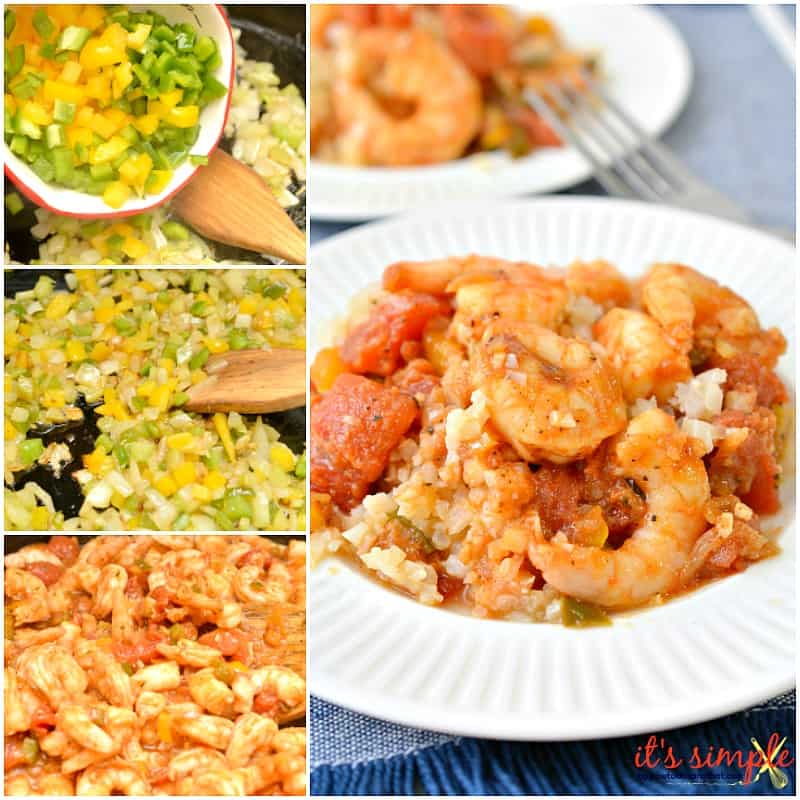 Keto Taco Pie | Another great Tex-Mex recipe we serve up for Taco-Tuesday. I am such a fan of Mexican recipes, and this one is one of our family's favorites.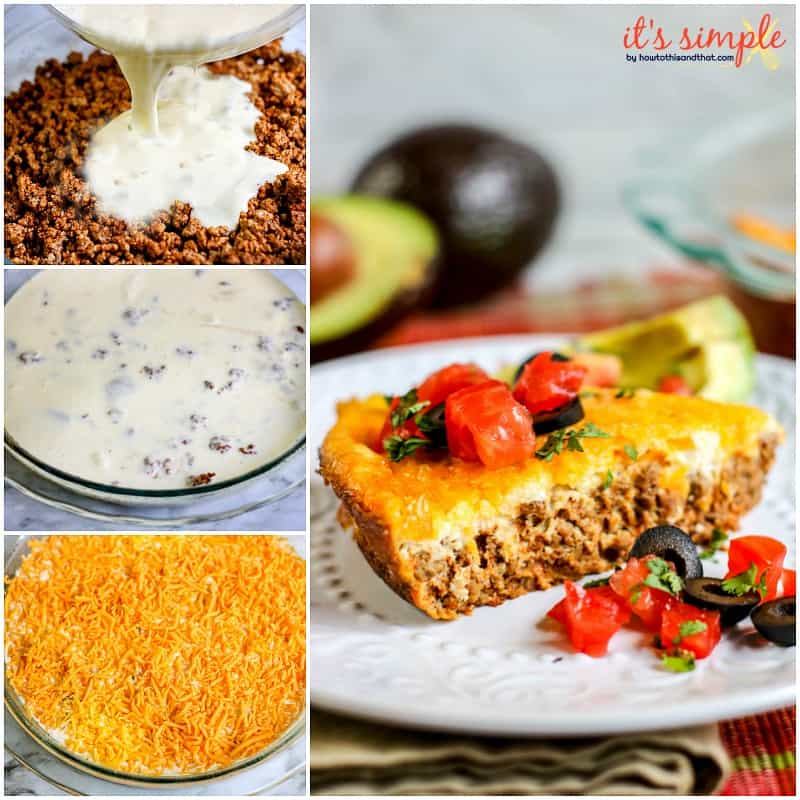 Nutrition Facts are based on eating the full pizza. Divide in half for serving size of 2 slices.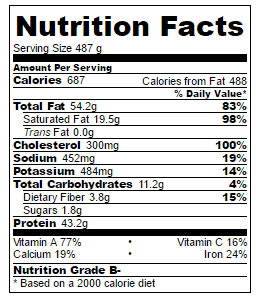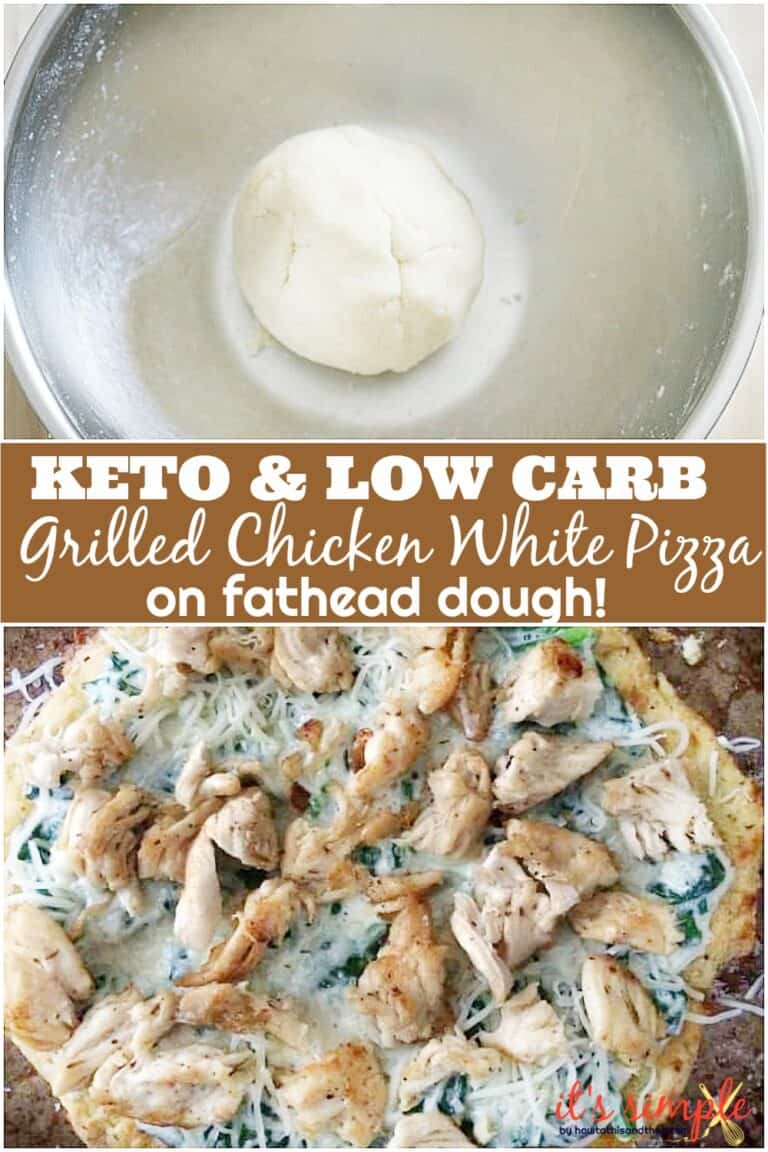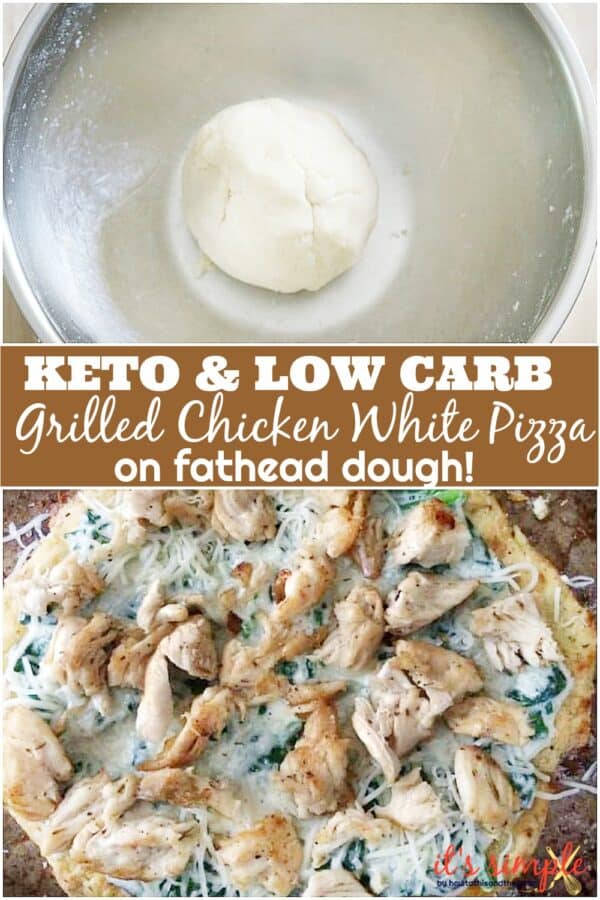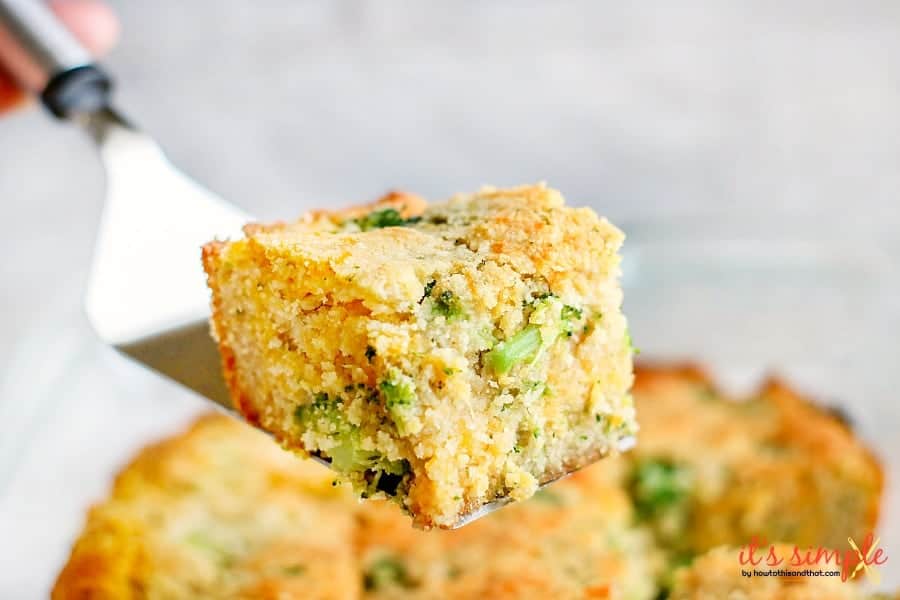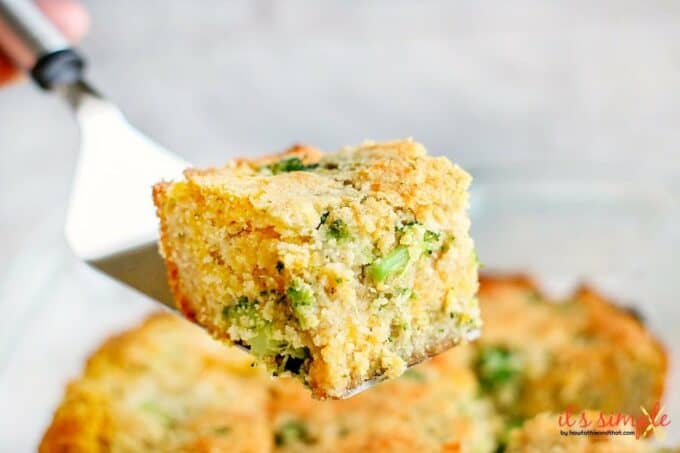 Yield: 2 People
Keto Pizza- Grilled Chicken and Spinach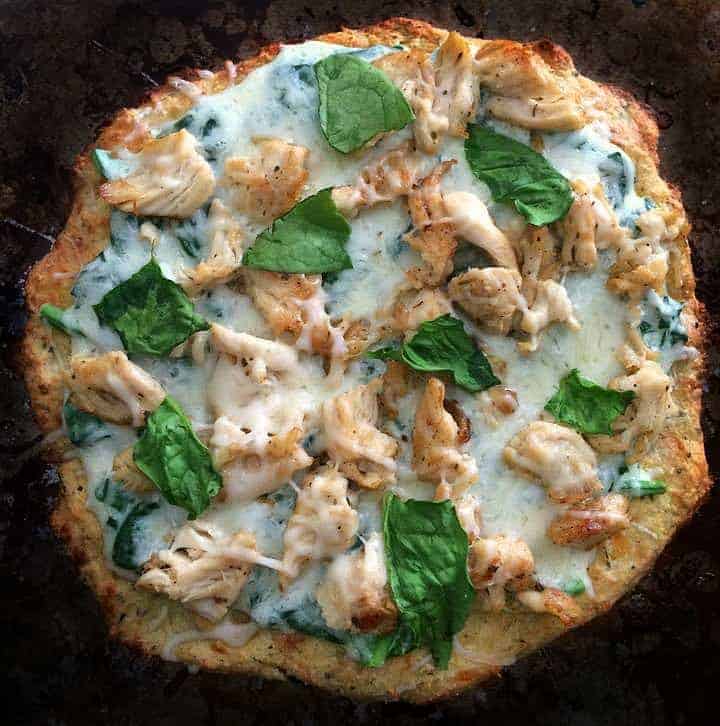 Are you following the keto way of eating? Then you HAVE to try this white keto pizza! Cheesy, satisfying greatness and only 2.5 carbs per serving!
Ingredients
1 boneless skinless chicken breast
½ tablespoon Olive oil
1 clove garlic, minced
½ cup half & half or heavy whipping cream, I used half & half, nutrition facts will change if using something else
¼ teaspoon xanthan gum, thickener found near the yeast or sweetener aisle This comes in a small packet like yeast and is only about 40¢
1 cup fresh spinach, roughly chopped
½ cup part skim shredded mozzarella
Sea salt & pepper, to taste
FOR THE FATHEAD DOUGH:
2oz cream cheese ¾ cup shredded mozzarella 1 egg, beaten ¼ teaspoon garlic powder ⅓ cup almond flour
Instructions
To make the pizza crust:
Melt mozzarella and cream cheese in the microwave for 30 seconds at a time. Mixing often.
In a separate bowl mix beaten egg with almond flour and remaining dough ingredients.
Combine cheese mixture with flour and mix. Mix. Keep mixing! Once a sticky dough consistency has been reached, refrigerate while preparing sauce and chicken.
Saute the chicken in a skillet over medium heat until done. Remove, set aside.
Add garlic plus the xantham gum with half & half to the skillet and bring to a boil. Reduce to simmer when sauce starts to thicken.
Fold in spinach, cook just until wilted.
Using hands, work dough out into a circle on a pizza pan. Bake on 350 for 10 minutes. Crust must be pre-baked to hold up to the sauce and toppings.
Spread sauce/spinach mixture onto your cooked pizza crust. Top with chicken and shredded cheese
Bake 5 minutes or until cheese is melted.
NOTE* if your oven and pizza crust wasn't already hot from making the dough, bake for 10 minutes instead.
Allow to cool a few minutes.
Cut into 4 pieces. Serves 2
Nutrition Information:
Yield:
2
Amount Per Serving:
Calories:

345