Easy Homemade Bacon Cheddar Breakfast Pizza

 Easy Homemade Bacon Cheddar Breakfast Pizza
WAIT!  if you know someone who is eating low carb , keto or gluten free give them this recipe for FatheadPizza-Meat Lover's Breakfast Style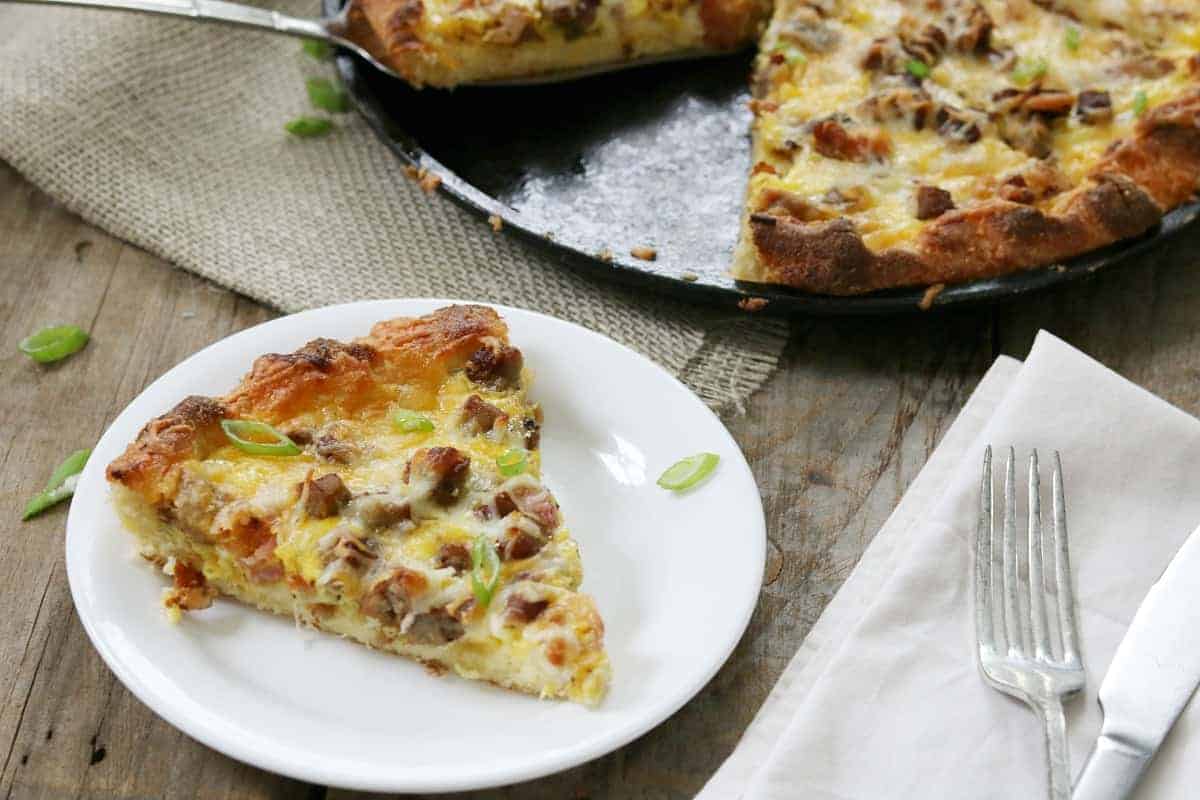 Chances are that if you have been to a convenience store deli before 11 a.m you have seen breakfast pizza. The first time I saw these cheesy, bacon slices sitting in the warmer I was confused.  Pizza this early in the morning?  I asked about it and was educated on breakfast pizza.  She said they pour a scrambled egg mixture over the dough, add cheese and meat and Viola!  What a fantastic idea!
Of course I had to make it myself at home. Something told me I could make it a bit less greasy and enjoy it a lot more fresh. And of course I had to share!  Serve this up for breakfast OR have breakfast for dinner!
What you need: 
1 pizza dough 2 eggs ½ cup milk 1 cup shredded mozzarella  1 cup shredded cheddar ½ lb bacon,  diced and cooked until crispy Or use sausage, ham or make it veggie! Pizza pan or cookie sheet  
What to do:
Preheat the oven to 425°
Work your pizza dough out into a 12-14 inch round depending on the size dough you have and place it on the pan
TIP* A higher crust edge will act as a barrier for the egg, keeping it from leaking over the edge
Evenly spread the mozzarella cheese over the dough
Whisk the eggs and milk until well blended, carefully pour onto the pizza dough
Top with the cheddar cheese and bacon
Bake on 425° for 15-20 minutes or until golden brown and egg is firm.
Slice, serve, enjoy!
Note*   The egg mixture is just enough to give flavor, but not bake up thick. Even my husband who hates eggs, loves this! 
Fun For The Kids :    Use English Muffins instead of Pizza Dough!  Just toast the english muffins in the oven for a few minutes first. Then follow the same instructions as above.