Our EASY Keto Cinnamon Sugar Muffin Recipe makes a soft Donut style, GUILT FREE breakfast or snack that's buttery sweet at only 1 net carb!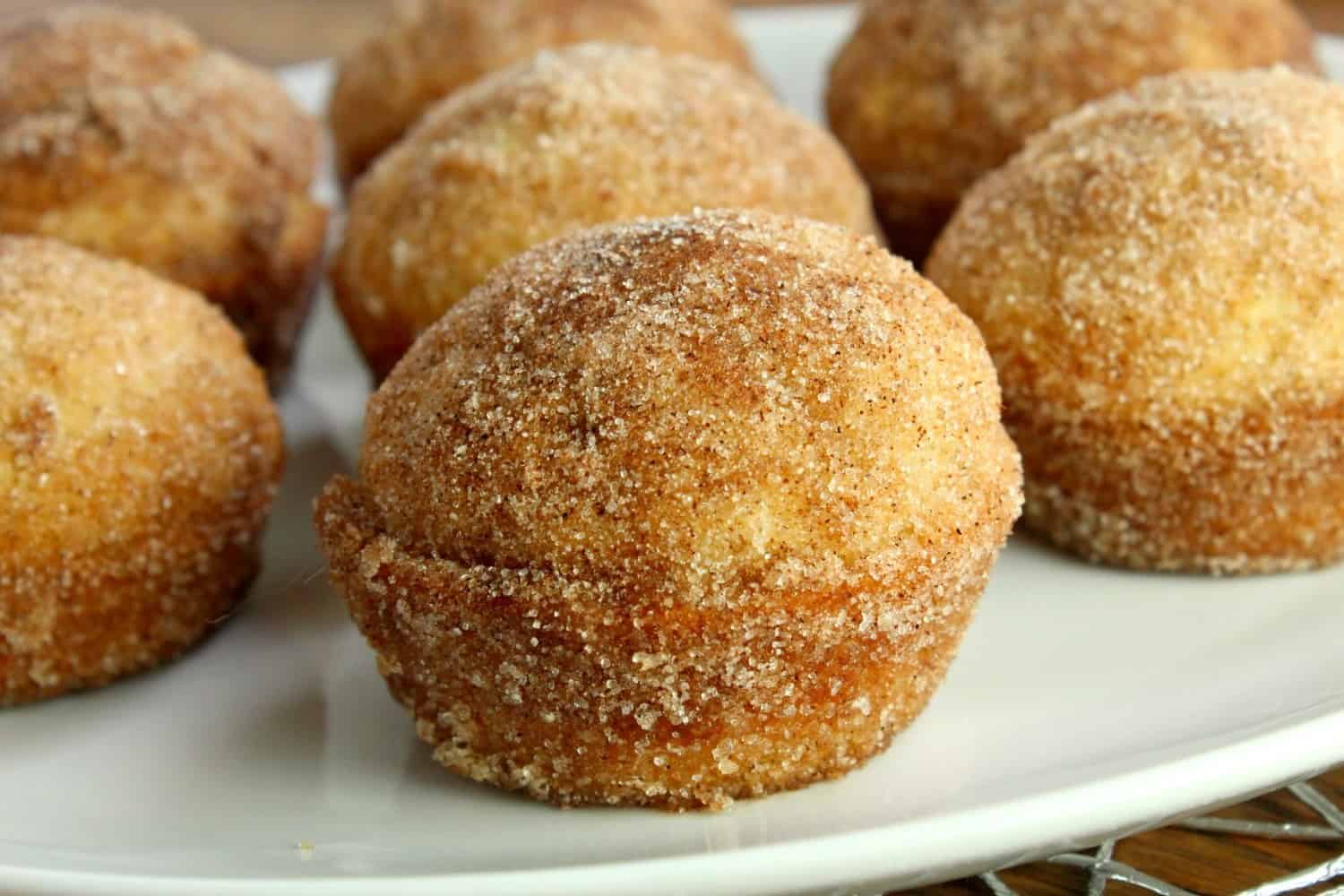 Keto Muffins
Keto Cinnamon Sugar Donut Style
See why the internet is RAVING about these amazing little cinnamon sugar donut style keto muffins. They are delicious and have been pinned millions of times. This ORIGINAL recipe broke the internet back in 2019 and continues to please readers all over the world. Our keto muffins are one of the best easy keto low carb breakfast recipes you will find. We are constantly told that even those who do not eat low carb, love these muffin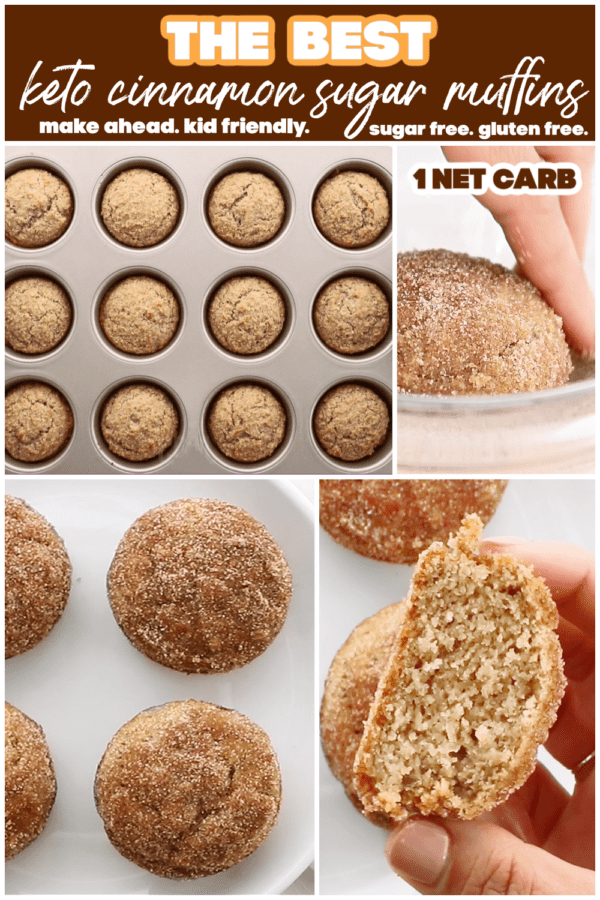 s.
I know you hear it all the time about keto recipes like these keto cinnamon sugar muffins- your family will love them and not know they are keto friendly. It is true. We strive to recreate and share recipes that are keto/low carb friendly that the whole family will love. Otherwise, you tend to have to cook twice as much which can lead to falling back into a regular habit of eating anything.
Come see why & Enjoy!
Is there Sugar in These Keto Muffins
No! We use keto low carb approved sweetener for our cinnamon sugar muffin recipe. Low carb sweeteners such as stevia, erythritol, or Swerve can be used. There are many brands and types, use what you like.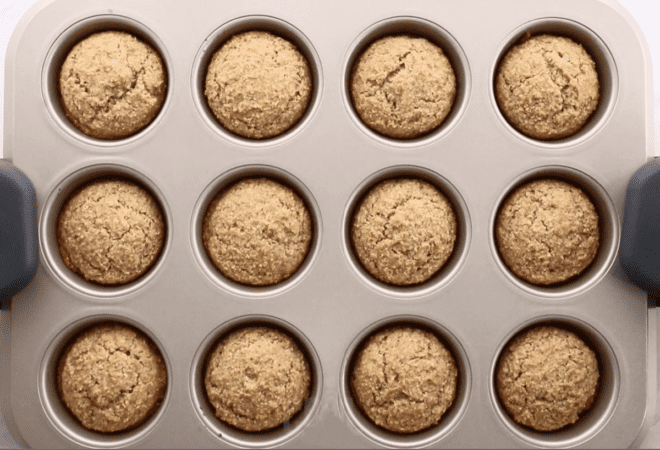 Make These Muffins Ahead
One of the easiest things to do when eating the keto way is fall off track. One trick to staying on track is to plan ahead. Make keto and low carb approved foods you love, like these muffins, ahead of time. If you have an quick option to grab, you're less likely to fall off. These keto donut muffins are a great way to stay on track, make a double batch to have on hand.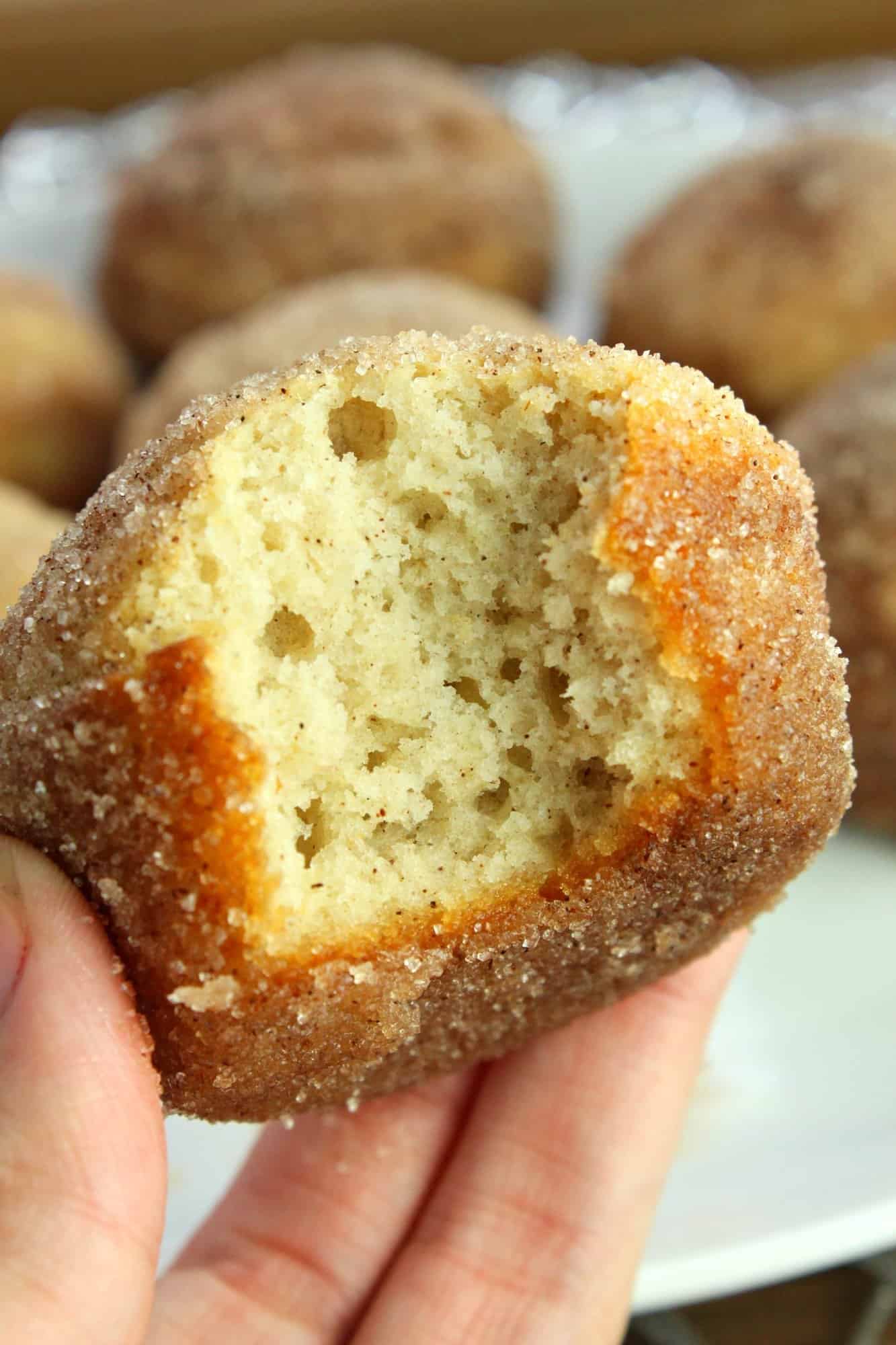 Try experimenting with this muffin recipe by adding different extracts or flavor oils. We added apple to ours and can't wait to try pumpkin! There are ways to eat keto and not feel deprived of certain flavors. After all, flavor is why we eat food not necessarily what it is made from. Think about that. If you like apple cinnamon muffins you can still have them.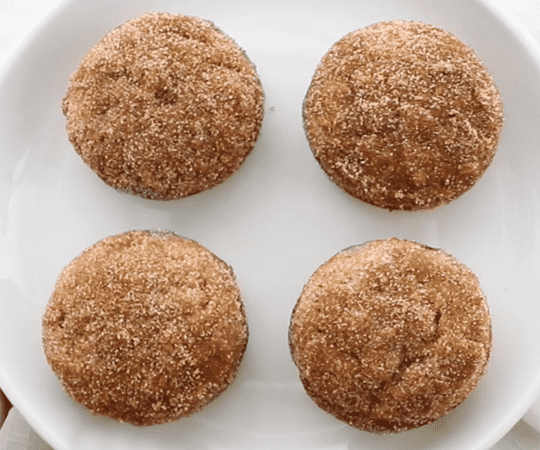 Can I use Coconut Flour instead of Almond Flour?
The short answer is yes. However, first, we have not tested the recipe with coconut flour. This recipe has been tested by us and made many times by readers using almond flour. If you try coconut and love it, let us know!
Be aware- Coconut flour absorbs way more liquid than almond flour does. Like. A lot. So the two will never be equally interchangeable. If swapping coconut flour for almond flour you need to increase your liquid. In the case of this recipe, I would start with increasing the cream by ¼c and maybe even one more egg.
To learn more about almond and coconut flour give this link a read from Elana's Pantry- Paleo Baking . More about Almond Flour
And certainly let us know how your swap out worked!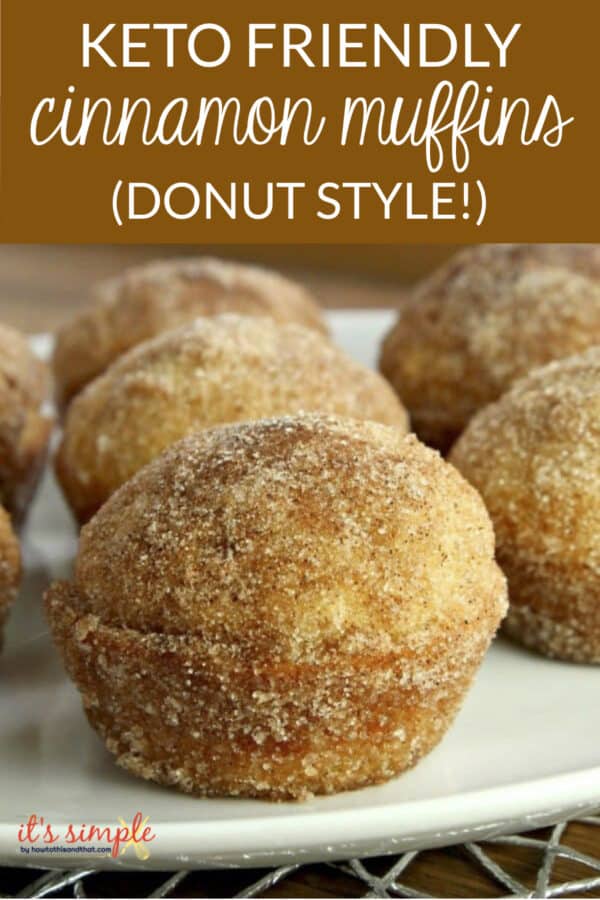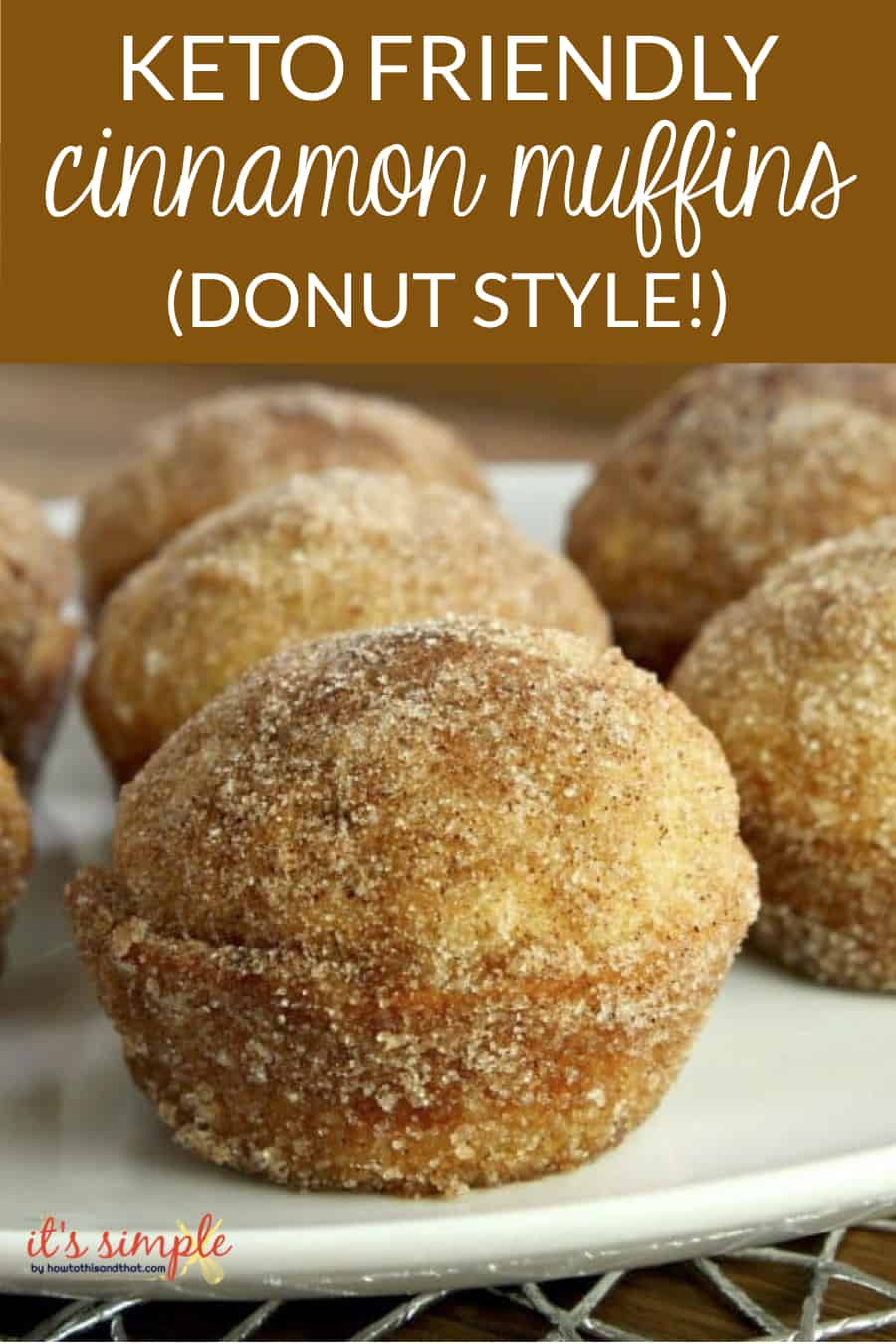 More Amazing Low Carb Muffins to Try
Our easy fresh strawberry muffins are a fantastic keto low carb option for breakfast. Keto Strawberry Muffins
Pecans and warm spices make up these delicious low carb muffins that are perfect for fall. Spiced Pecan Muffins
A savory muffin loved by everyone with sausage and bacon with cheese and egg in a an easy muffin tin preparation Breakfast Muffins.
Making our Keto Cinnamon Sugar Donut Muffins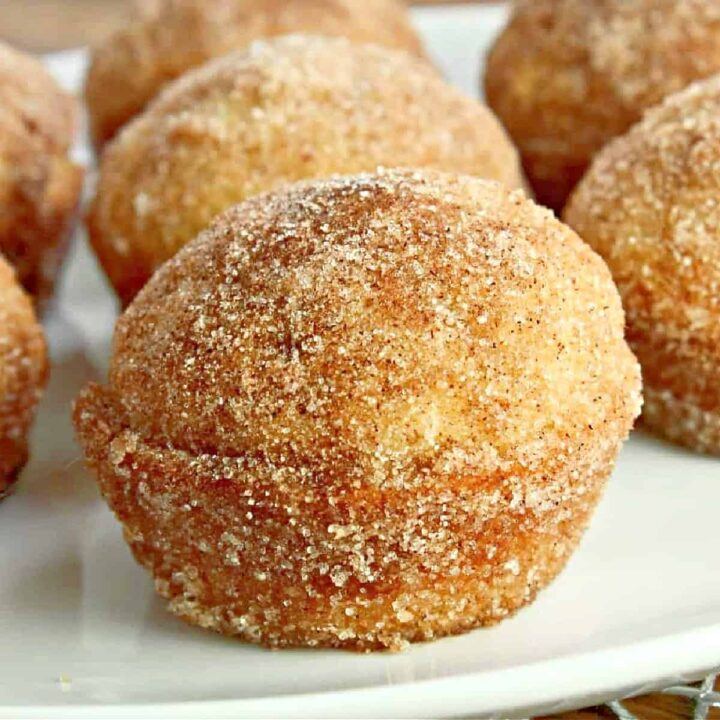 Keto Muffins- Classic Cinnamon "Sugar" Donut Style
Just like the classic donut, these cinnamon "sugar" donuts are sure to satisfy!  These keto muffins are gluten free, sugar free and taste as close to the original as you can get!
Ingredients
½ cup heavy cream
5 tablespoon butter, softened
2 large eggs
1 teaspoon vanilla
½ cup powdered sweetener, 20% off Lakanto with code MELISSA20
1 ½ cups blanched almond flour
2 tablespoons psyllium husk powder
2 teaspoon baking powder
½ teaspoon nutmeg
½ teaspoon ginger
¼ teaspoon allspice
For the covering:
2 tablespoon butter, melted
1 teaspoon cinnamon
¼ cup granulated sweetener, 20% off Lakanto with code MELISSA20
Instructions
Preheat oven to 350. Line a muffin pan with papers.
In a medium bowl using an electric mixer, cream butter, sweetener and vanilla until smooth. Beat in eggs and cream.
In a separate bowl, whisk together all dry ingredients (except for the topping ingredients). Slowly add to the wet ingredients, continuously mixing with the electric mixer.
Spoon even amounts into each muffin cup.
Bake 18-20 minutes or until edges are golden and set up.
Allow to cool completely.
Brush finished muffins with butter, roll in cinnamon sweetener mix. Serve!
Nutrition Information:
Yield:

12
Serving Size:

1
Amount Per Serving:
Calories:

189
Total Fat:

13g
Trans Fat:

0g
Carbohydrates:

4.5g
Net Carbohydrates:

1.3g
Fiber:

3.2g
Protein:

5g
Nutrition facts are auto- populated by the app for this recipe card, numbers may vary. For best results, input your exact brand ingredients into a recipe analyzer like Verywell or MyFitnessPal.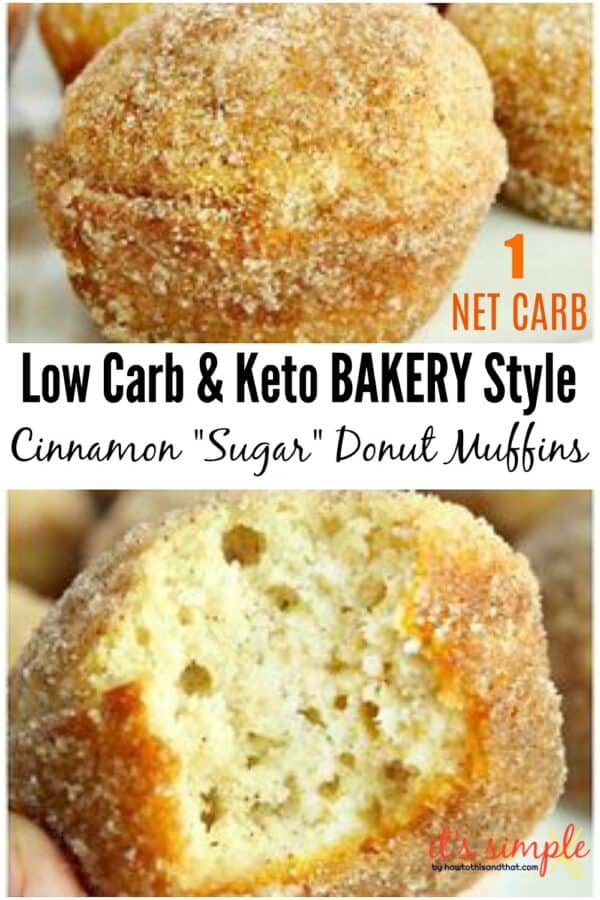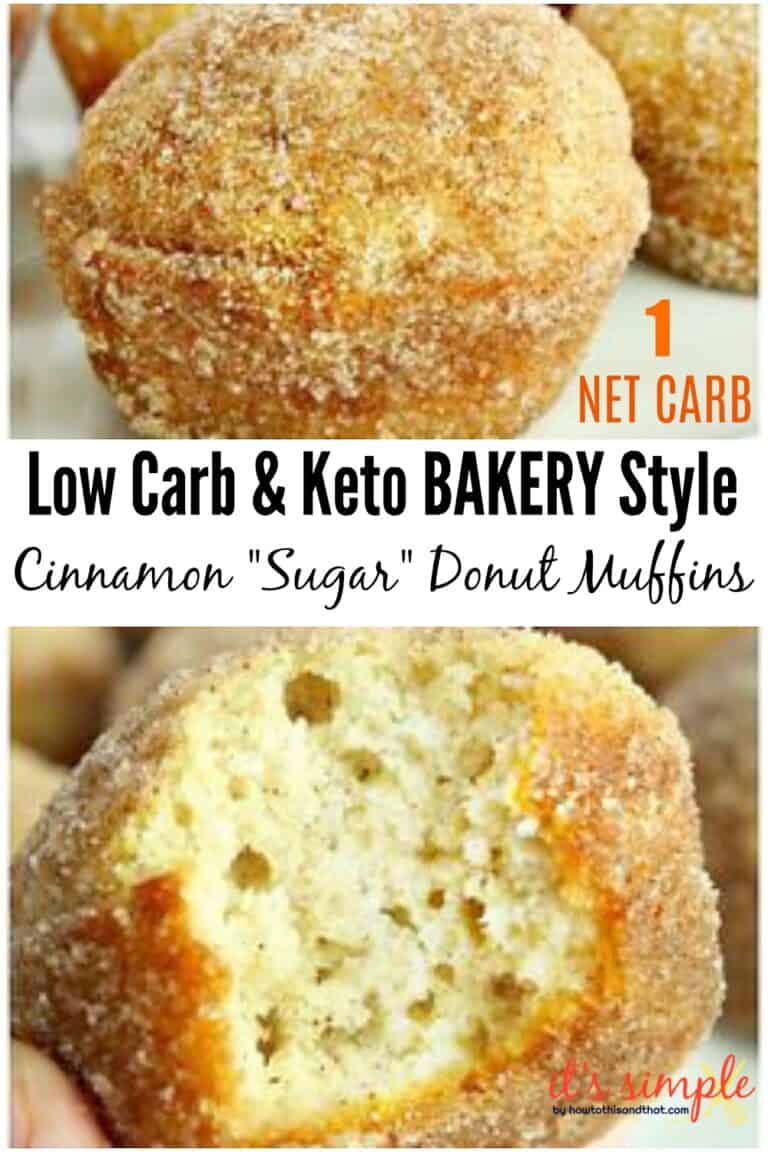 Can I Freeze These Keto Muffins?
Yes! Simply add the muffins to a zip top bag or airtight container. Place in freezer for up to 30 days.
Reheating the Keto Cinnamon Sugar Muffins
To reheat from the freezer- warm for 1 minute on defrost or 30 second intervals on regular heat setting.
What Sweetener do you Recommend for this Keto Muffin Recipe?
We have our brands we like, such as Lakanto, however you can use what you wish. Our second go to is straight up regular granulated erythritol.
How Low are the Carbs in this Muffin Recipe?
Our keto cinnamon sugar muffins are very low in carbs, coming in at only 1 net carb per muffin. The additional fiber helps bring it down. Carbs are from the almond flour.
Do I have to use Psyllium Husk in this Muffin Recipe?
No. The psyllium husk provides more fiber which helps lower the carbs even more, however it is not vital to the recipe and your muffins will be successful without it. Your keto muffins will still run around 2 carbs without it.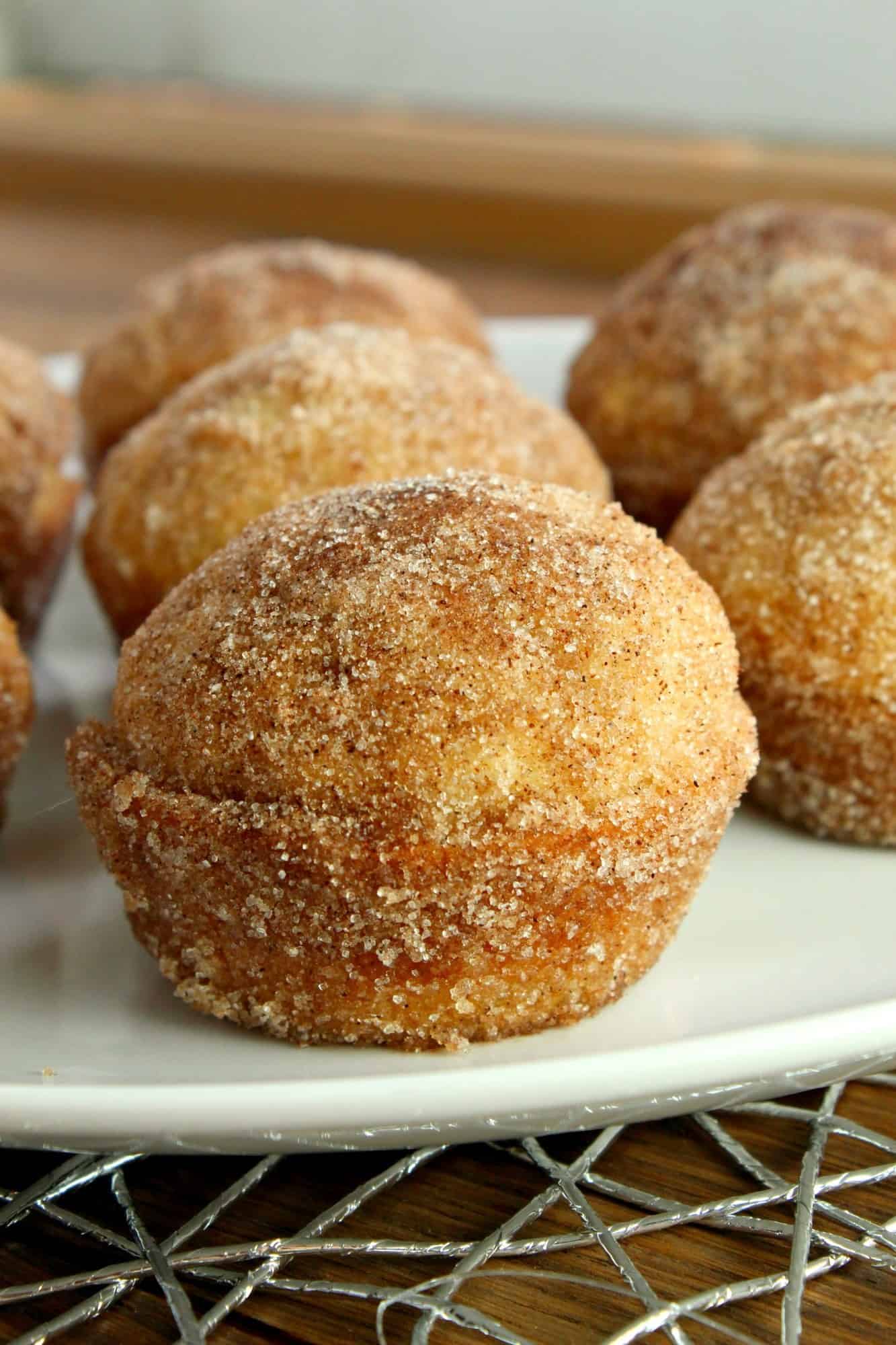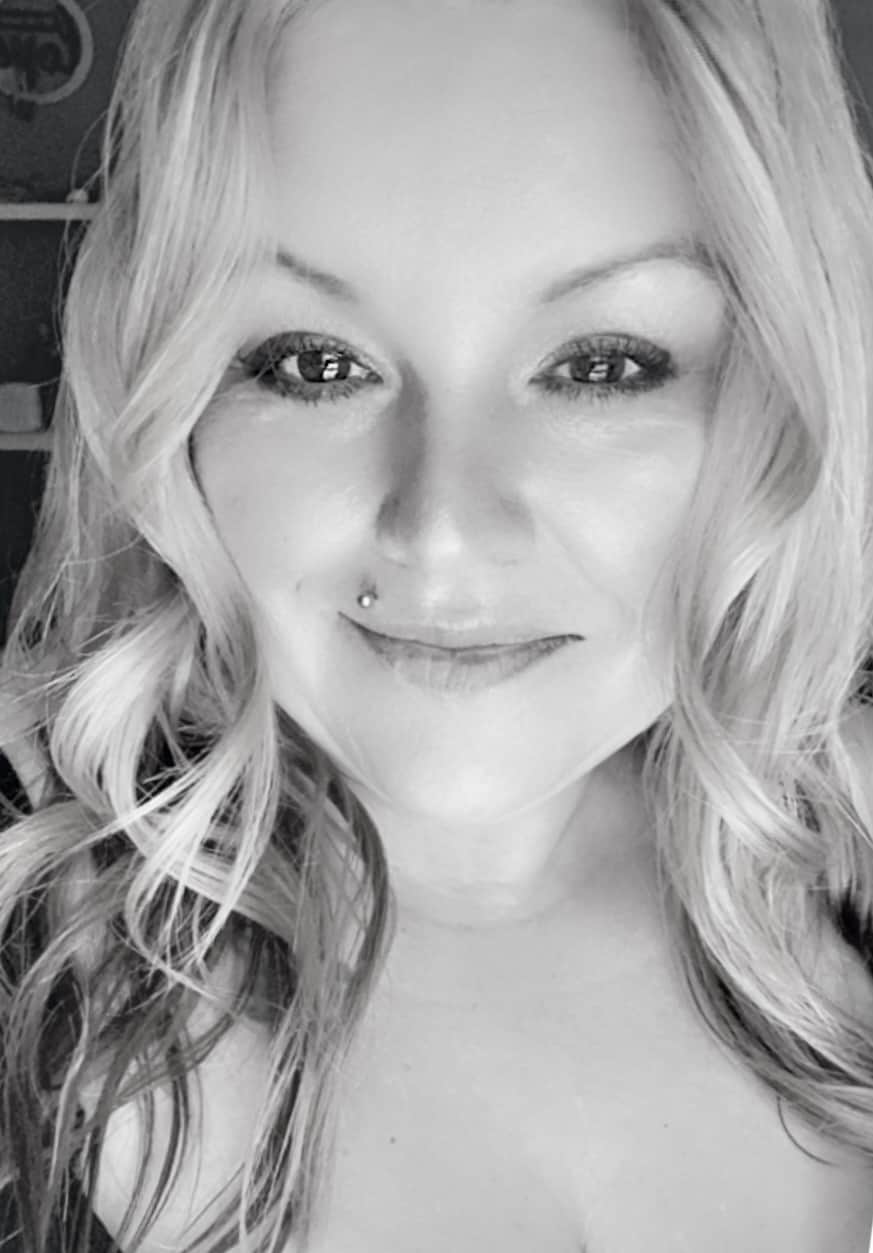 Owner & Lead Recipe Developer for It's Simple! since 2015, where you will find our best Family Favorites & Keto Low Carb Dishes with Helpful Cooking Tips & Hints in each post. Many Thanks for Stopping By, Enjoy!