Keto Strawberry Muffins are a fast breakfast that can be enjoyed by everyone. These low carb muffins can be made ahead for those busy mornings when you may not have time to make breakfast or as a snack any time of day! These keto muffins are a tasty way to kick start your day, serve to guests, and treat yourself mid-day. Finally a gluten free muffin recipe that is sure to have everyone thinking they are traditional!

Keto Strawberry Muffins
Keto Strawberry Muffins are a fast breakfast that can be enjoyed by everyone. These muffins can be made ahead for those busy mornings when you may not have time to make breakfast. Let's be honest… sometimes mornings are so busy you may even forget to grab breakfast. Right? It happens at my house all the time.
I have found that during busy weeks my family likes when they can grab something to eat while walking out the door. These are our go-to muffin in summer.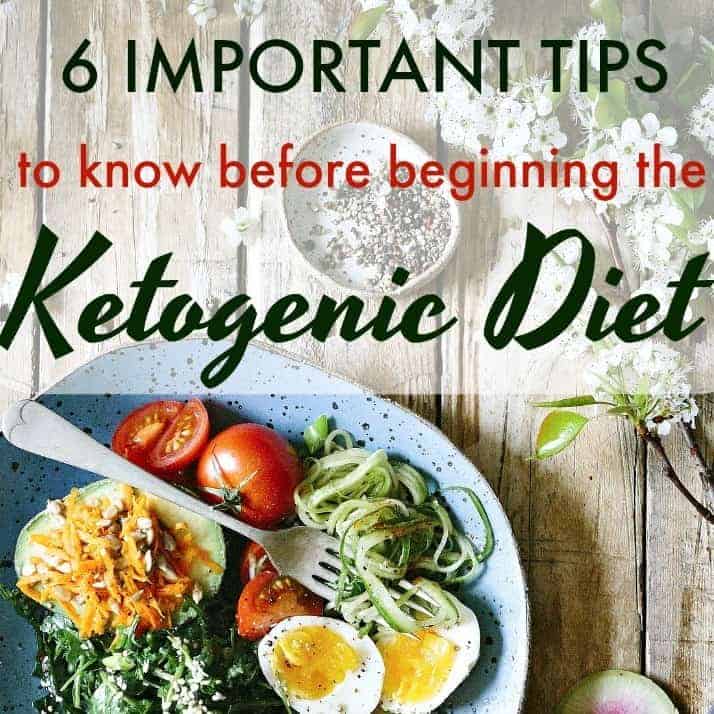 Sugar-Free, Gluten Free, Keto Muffins
The great thing about these muffins is that your family will not even notice that they are keto approved and gluten-free. They taste like a delicious muffin! One of my favorite parts about eating keto is that I can make all of these meals for myself and my family and they do not even notice which meals are in fact low carb or keto. Tricky! These muffins are a great addition to your breakfast menu when you want a tasty breakfast muffin.
One of the best things about these Keto Strawberry Muffins is that not only are they low carb and keto friendly but they are gluten free as well. These muffins are great for all of your friends who may eat low carb, keto, and even gluten-free. Breakfast for everyone to love. These are made with delicious strawberries and come out of the oven fresh, light, and fluffy. Yum!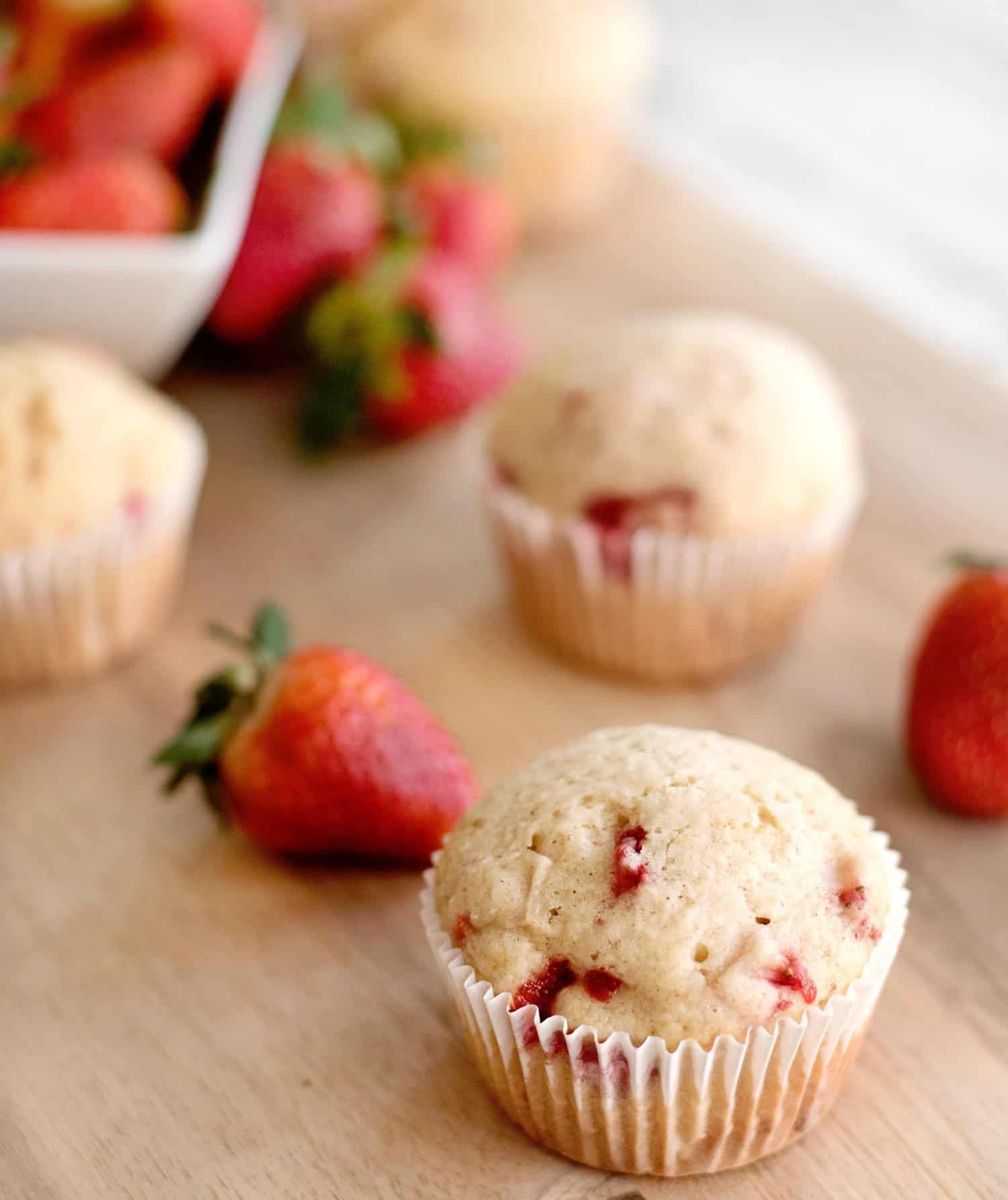 Strawberries On Keto
The strawberries give this breakfast the perfect natural sweetness while staying keto approved. An essential ingredient that we enjoy using that is gluten-free and keto friendly is almond flour. The almond flour in this recipe allows it to stay light, fluffy, and delicious without sending you on a carb overload.
Carbs In Strawberries
With a medium-size strawberry, you can range around 0.9 grams of carbohydrates. In moderation, strawberries can be a great fruit in the keto diet. It is hard to fully gauge exact carbs in strawberries as each strawberry will vary in size. But this is a good guide to know what to expect in size. The big question I see is can you eat strawberries on the keto diet? The answer is yes! You sure can. Strawberries are a keto friendly fruit.
Breakfast is an essential part of every person's day. If you begin your day forgetting to eat something for breakfast then you may be in for a slow start. These strawberry muffins allow you to have an enjoyable breakfast whether you have time to add them to a full meal, or you just need something quick to grab while starting your busy day. Try adding these low carb Strawberry Muffins to your breakfast menu and see how you like them. Make sure to let us know!
Making our Keto Strawberry Muffins
Full recipe card below
This is a simple recipe, here we go .....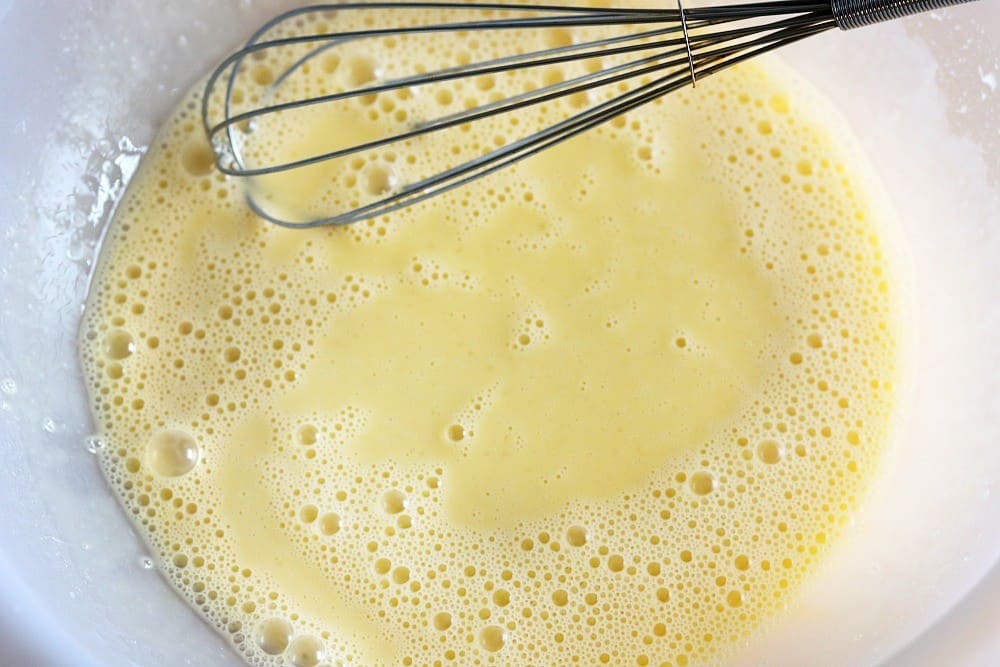 Sift almond flour and other dry ingredients together.
Mix dry ingredients into wet ingredients until fully combined. Fold in the strawberries.
Scoop into muffin tin cups. Bake! Simple. Now your breakfast is done for the week.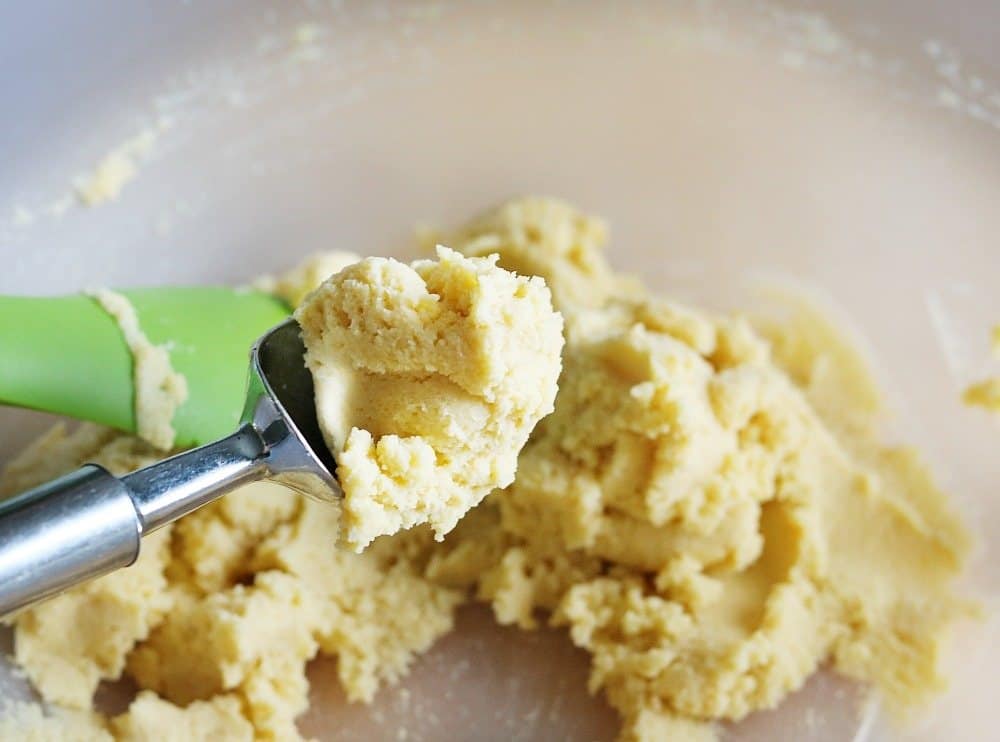 Add strawberries and bake!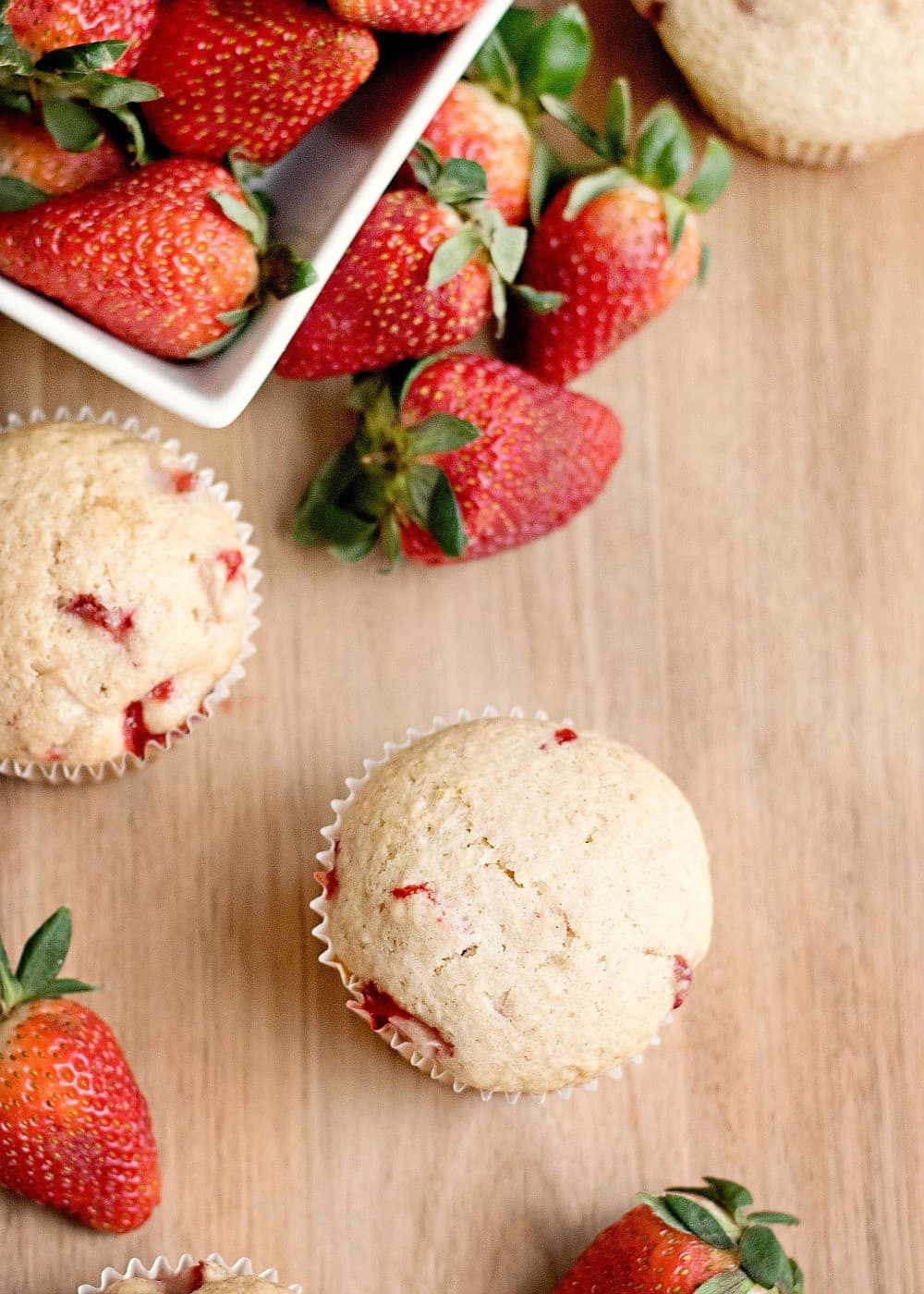 PIN ME! Follow US on Pinterest!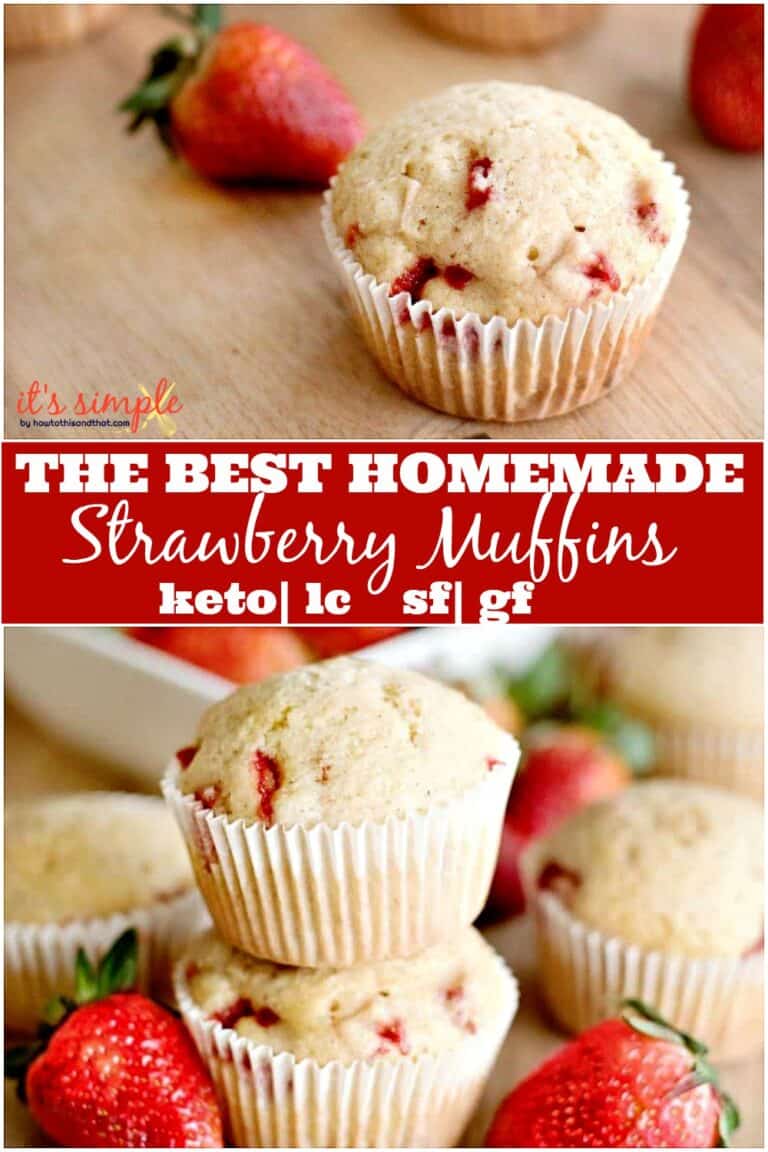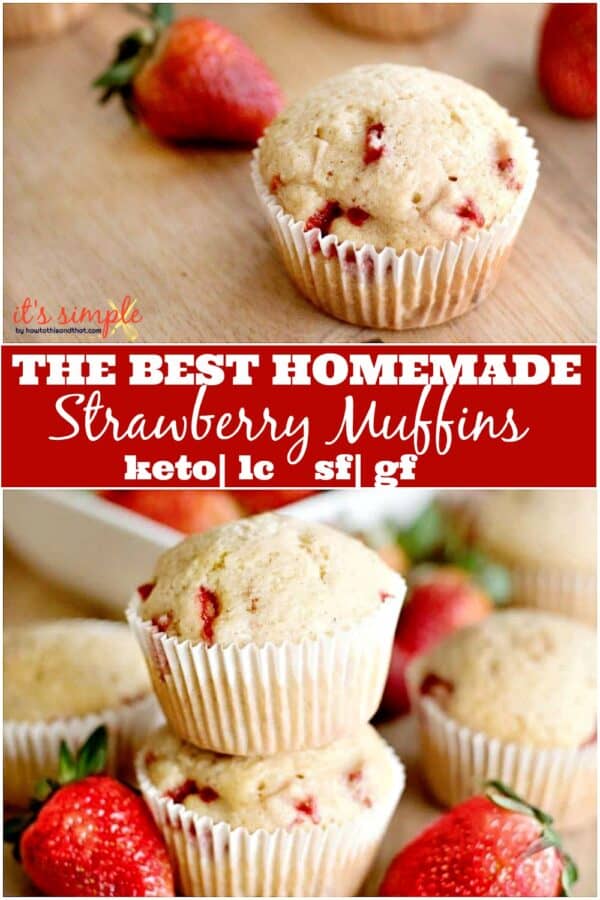 How Do You Reduce Carbs In A Muffin
You swap regular sugar with a keto approved sweetener and use Almond flour in replace of all purpose flour. When you make minimal changes and create a low carb list of ingredients used it allows you to have a low carb and keto approved muffin that you can eat and stay on track to your diet.
More Keto Muffin Recipes
How to Store Strawberry Muffins
The best way to store these muffins is in an airtight container. Because of the strawberry in the muffins, I store them in the fridge to help to preserve the muffins.
How Do You Keep Muffins From Getting Sticky
If you ever make muffins and then find they get a sticky top, you are not alone. It happens to us and here is how to do your best to prevent it. Simply let your muffins sit out on a cooling rack for around an hour. You want it to fully get cooled down, if you don't that is where the moisture pulls out and makes the top of muffins sticky.
When you place your muffins in an airtight container do a single layer, and then top the muffins with a paper towel.
Can I Freeze Muffins
Absolutely! Allow these strawberry muffins to fully cool. Then place in a freezer bag or airtight container, and then freeze up to three months. Allow them to thaw in the fridge the night before, or at room temperature if you plan to eat right away.
We do this a lot and then for quick breakfasts pull a handful out for us to eat. Quick, easy, no-prep breakfast. Or pack for a snack to break up the workday.
How Do You Reheat Muffins In The Oven
You will warm up your muffins in the microwave or oven if you want that fresh muffin taste. If you want to reheat in the oven, simply wrap your muffins in aluminum foil, and then place them in an oven at 350 degrees and reheat until warmed through. Or if you heat up in the microwave just wrap in paper towel.
Give this strawberry keto muffin recipe a try this week. Use fresh strawberries from your garden or head to the farmers market and enjoy! Grab that muffin pan and get to baking. You will thank me later!
More of our amazing KETO & LOW CARB BREAKFAST RECIPES
No Bake Peanut Butter Energy Bites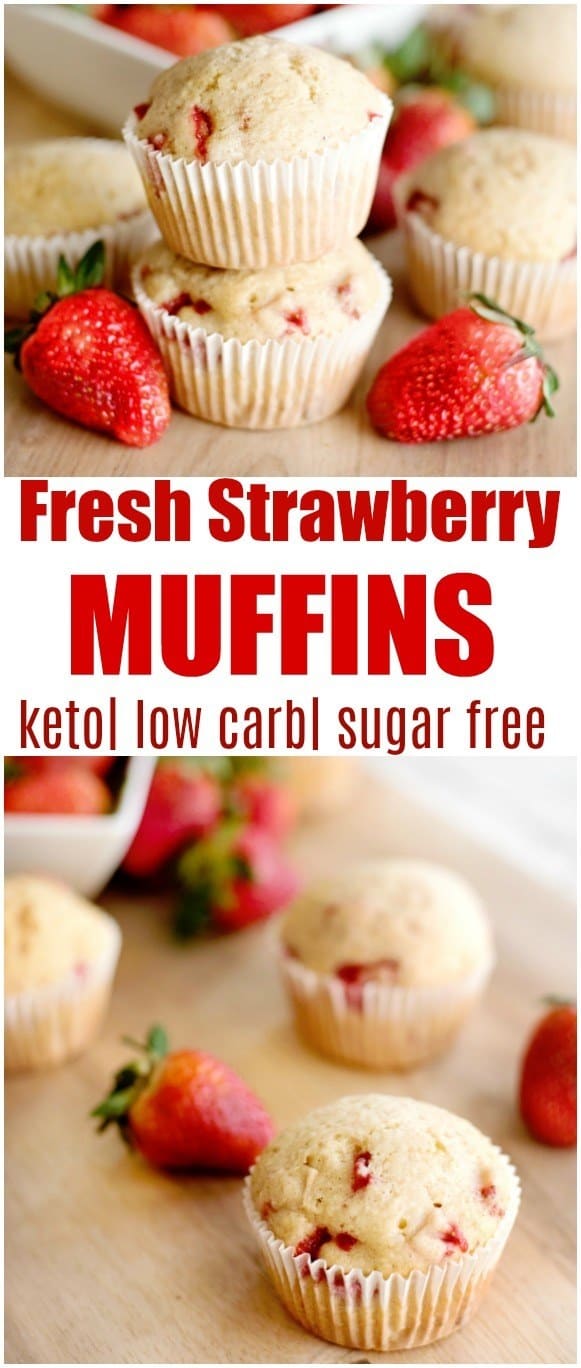 Yield: 12 muffins
Keto Strawberry Muffins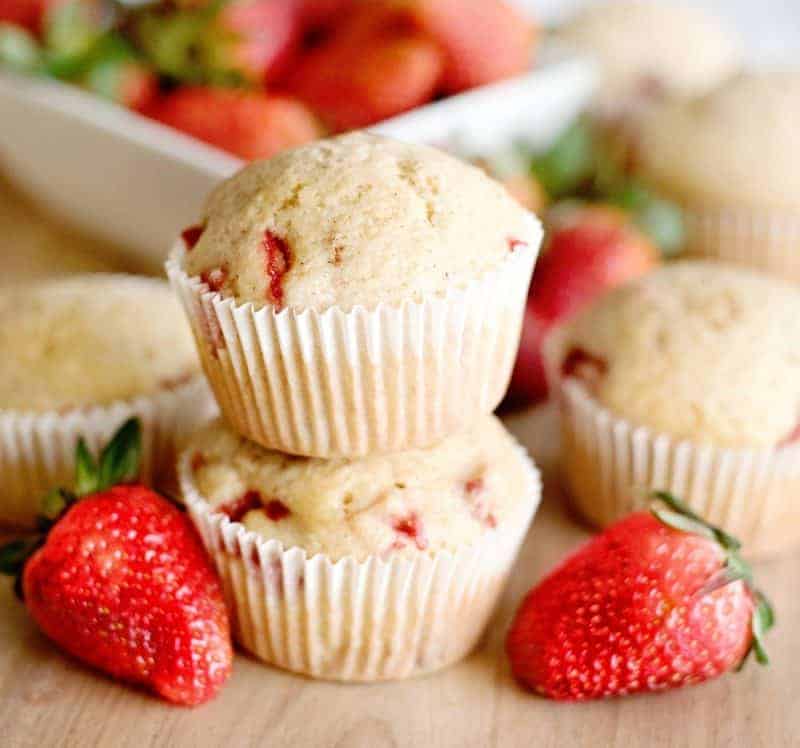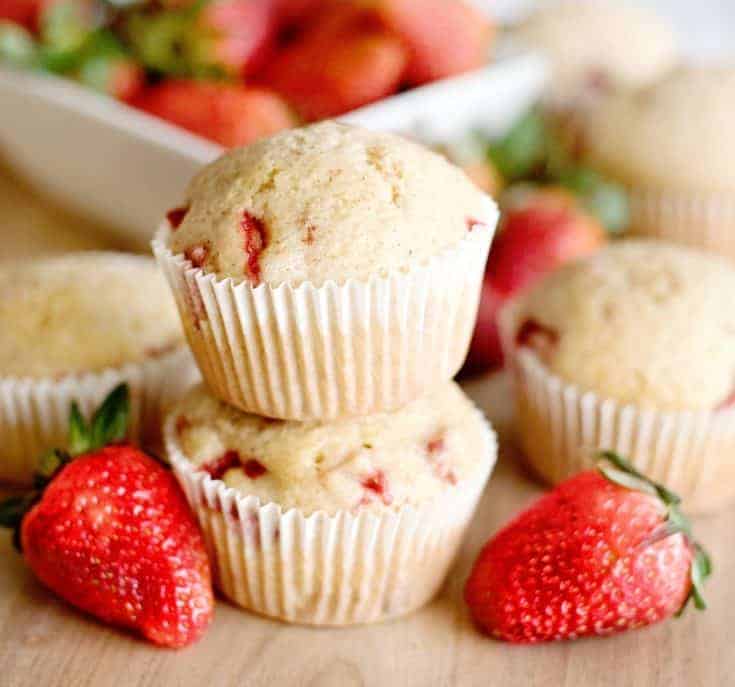 Keto Strawberry Muffins are a fast breakfast that can be enjoyed by everyone. These muffins can be made ahead for those busy mornings when you may not have time to make breakfast or as a snack any time of day! 
Ingredients
5 tablespoon Butter, melted
½ cup Lakanto Monkfruit Sweetener  (or sweetener of choice), separated in half  (SEE NOTES)
3 Eggs, large
1 teaspoon Vanilla
⅓ cup Heavy Cream
2 ½ cups almond flour (super fine), not meal
2 teaspoon baking powder, FRESH
¼ teaspoon pink Himalayan salt
1 teaspoon Cinnamon
⅔ cup fresh strawberries, fine diced
Instructions
Preheat oven to 350. Grease, spray or line a muffin tin with papers.
Add ½ of the sugar to a bowl with the strawberries. Mix and set aside.
Using an electric mixer, beat together the butter and sweetener. The warm, melted butter will help dissolve the sweetener.
Add eggs, vanilla and cream. Beat until frothy.
Sift together almond flour, baking powder, salt & cinnamon. Add to wet ingredients and mix until fully combined.
Stir in strawberries.
Evenly fill each muffin cup.
Bake for 15-20 mins or until a toothpick inserted in the center comes out clean.
Notes
We use monkfruit sweetener because after many tests we have determined that is the least bitter and leaves little to no after taste. More notes:
If you are not using fresh baking powder, your muffins will not bake up.  Especially with a grain free, gluten free flour. 
Not beating the eggs until fluffy will result in a flatter muffin. 
Not filling the muffin cup all the way will result in a flatter muffin. 
All tastes are different, use the sweetener you are use to. 
Nutrition Information:
Yield:
12
Serving Size:
1
Amount Per Serving:
Calories:

226
Total Fat:

20g
Trans Fat:

0g
Carbohydrates:

5g
Net Carbohydrates:

2g
Fiber:

3g
Sugar:

3g
Protein:

7g
Nutrition facts are auto- populated by the app for this recipe card, numbers may vary. For best results, input your exact brand ingredients into a recipe analyzer like Verywell or MyFitnessPal.