Disclaimer- All recipes and/or projects on this website have been tested for our own individual use and/or consumption and are being provided to our readers as an idea for them to try. We do not assume responsibility for any negative effects such as allergic reaction, rash, skin irritation or other occurrences. This post may contain affiliate or paid links. See our full disclosure at the bottom of this page for more information. ..................................................................................................................................................................................................
Don't miss out on donuts just because you eat low carb. These keto donuts are healthy & will keep you on track with your macros! Homemade caramel in 30 seconds and toasted coconut take these over the top.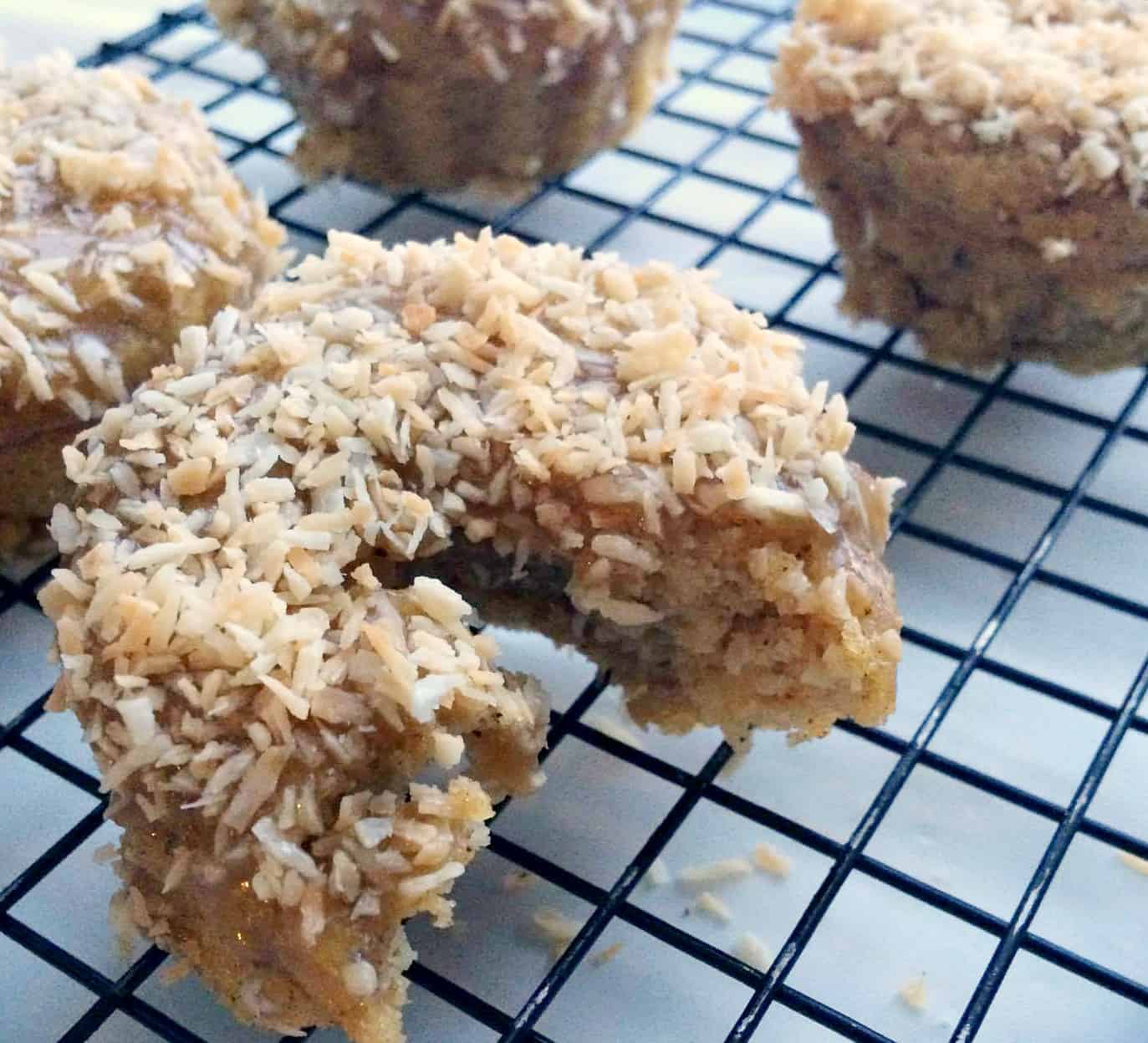 Keto Donuts
Toasted Coconut & Caramel 
Low Carb | Gluten Free
Long before I started eating low carb, I had given up on donuts. Yes, maybe they are ok in moderation, but for me it is all or nothing.  Will power simply does not exist for me. So, I had to cut them out completely or be craving donuts constantly.
Shameless plug- I FINALLY found a maple syrup we CAN use on keto !  No after taste, no artificial sweeteners. Just absolutely delicious.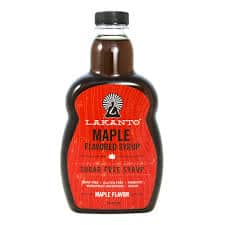 Big surprise that one of the recipes we started working on shortly after adapting to a low carb/keto life style was a donut.  Now, if you are in the first 2 weeks of keto you may want to skip "sweets" and desserts for now. It can be a huge adjustment getting into ketosis and even though there is no sugar in these, they could cause you to crave other "sweets".
A few things these donuts are not–
Eggy– a lot of keto baked goods can be "eggy" due to the additional eggs needed to help bind the flours together. There are no glutens in the flours used.
Bitter– we have found the perfect combination of sweeteners to ensure there is no bitter after taste.
Overly Sweet– these donuts are the perfect combination of a healthy base with decadent toppings. You will feel like you are cheating, but not really.
Like Traditional Donuts- do not expect these to taste like the came out of the bakery donut case. The sweetener is different. The flour is different. Like these for their own individual flavor and do not compare.
The recipe
Note* I actually don't own a donut pan so I used my mini bundt pan. You can use a muffin tin also. Yes, then I guess they would be muffins , but that is ok!
Ingredients
Makes 12-36 depending on pan
3 eggs
2 tablespoons REAL butter, melted
1 teaspoon pure vanilla extract
1 tablespoon Pyure stevia blend (or sweetener of your choice)
1/3 cup Coconut or Almond Flour (I used half of each, I like the blend)
1 teaspoon each nutmeg & cinnamon
1 teaspoon baking powder
1/4 cup almond milk
For the TOPPING:
1 cup unsweetened coconut
1/2 cup Sukrin Fiber Syrup, Clear
1 tablespoon butter
Instructions
Preheat the oven to 325º. Butter or grease your pan of choice.
This is a simple one bowl recipe.
In a large bowl, with an electric mixer- beat eggs, vanilla, butter and sweetener until fluffy.
Stir in flour, spices, baking powder and almond milk until well combined.
Spoon into pan. Bake 10 minutes. Increase oven temperature to 375º and bake an additional 5-8 mins or until golden brown and firm. A toothpick inserted should come out clean.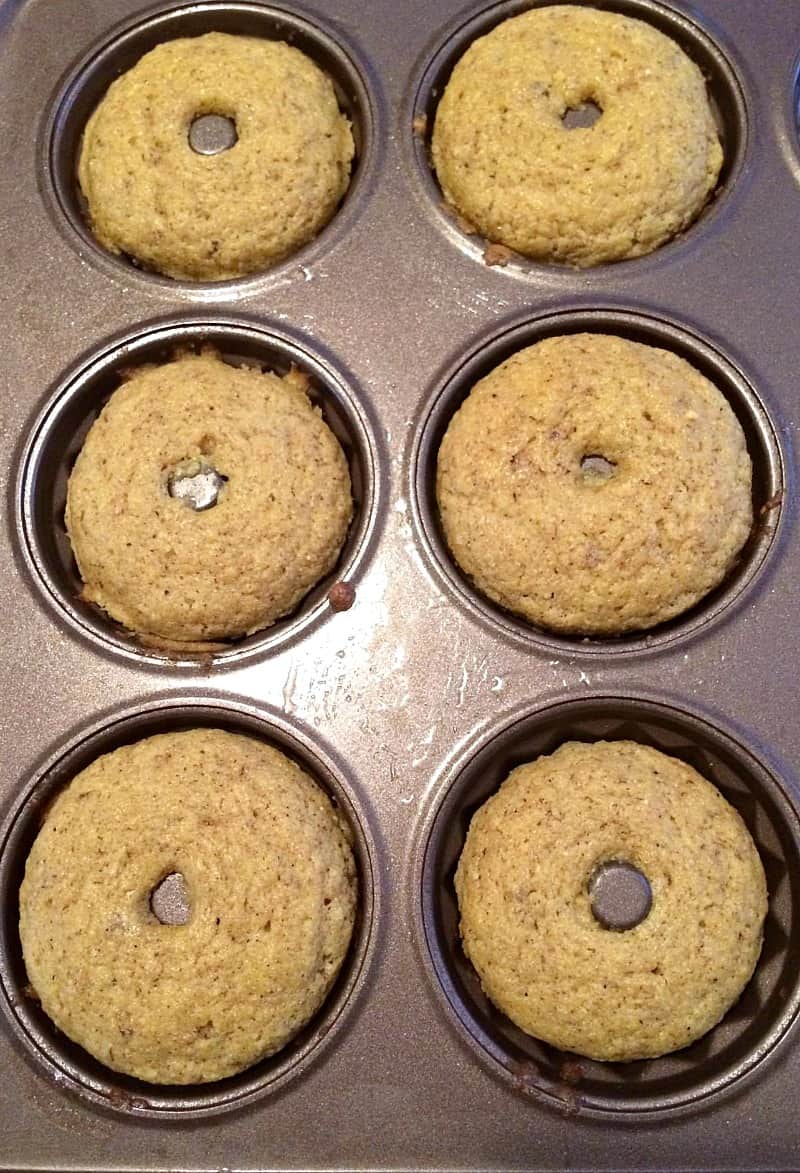 Allow the keto donuts to cool completely in the pan before removing. (Or you will lose some, like I did, oops!)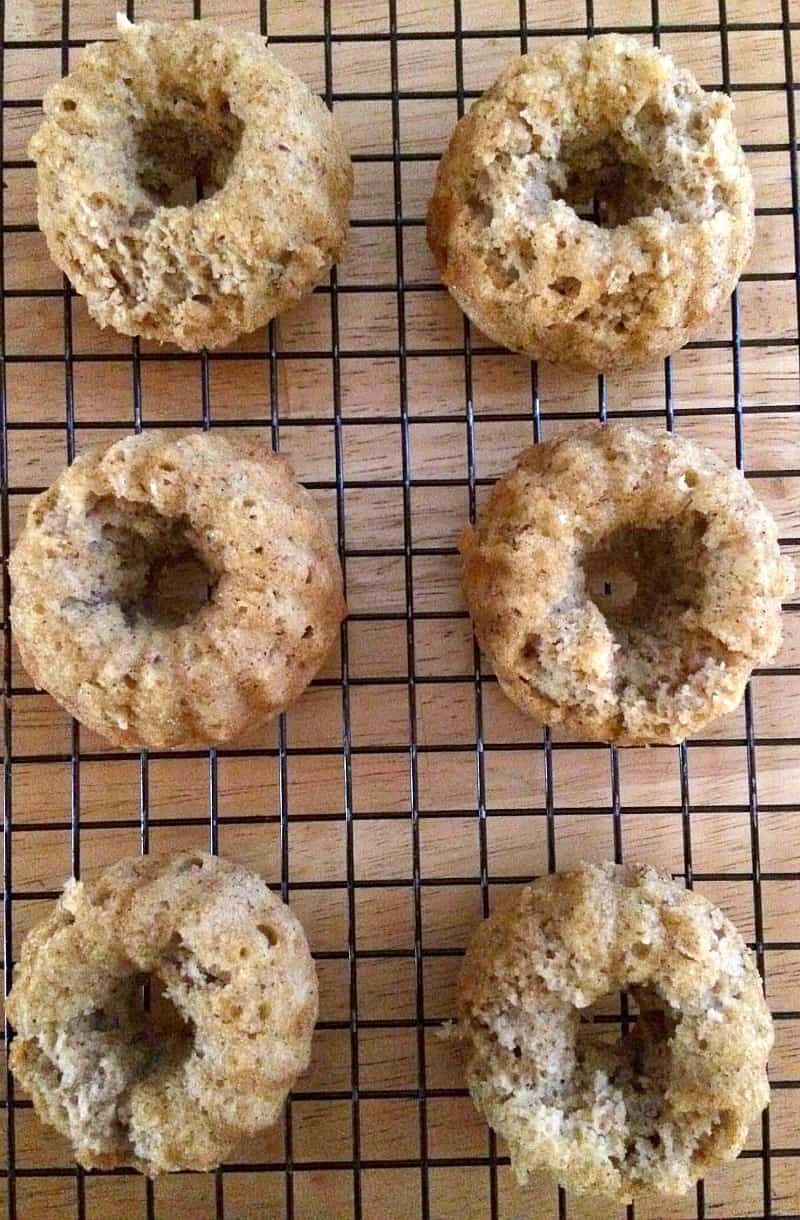 For the topping
Spread coconut evenly on a sheet pan. Bake on 375º until golden brown, about 3-5 minutes.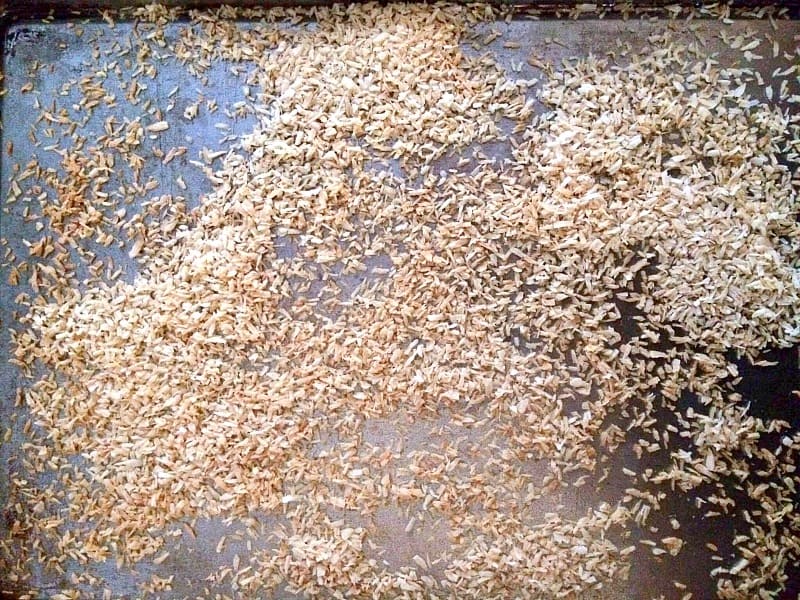 In a skillet over medium heat, melt butter and stir in fiber syrup. Bring to a soft rolling boil for about 3 minutes or until syrup changes to a nice caramel color.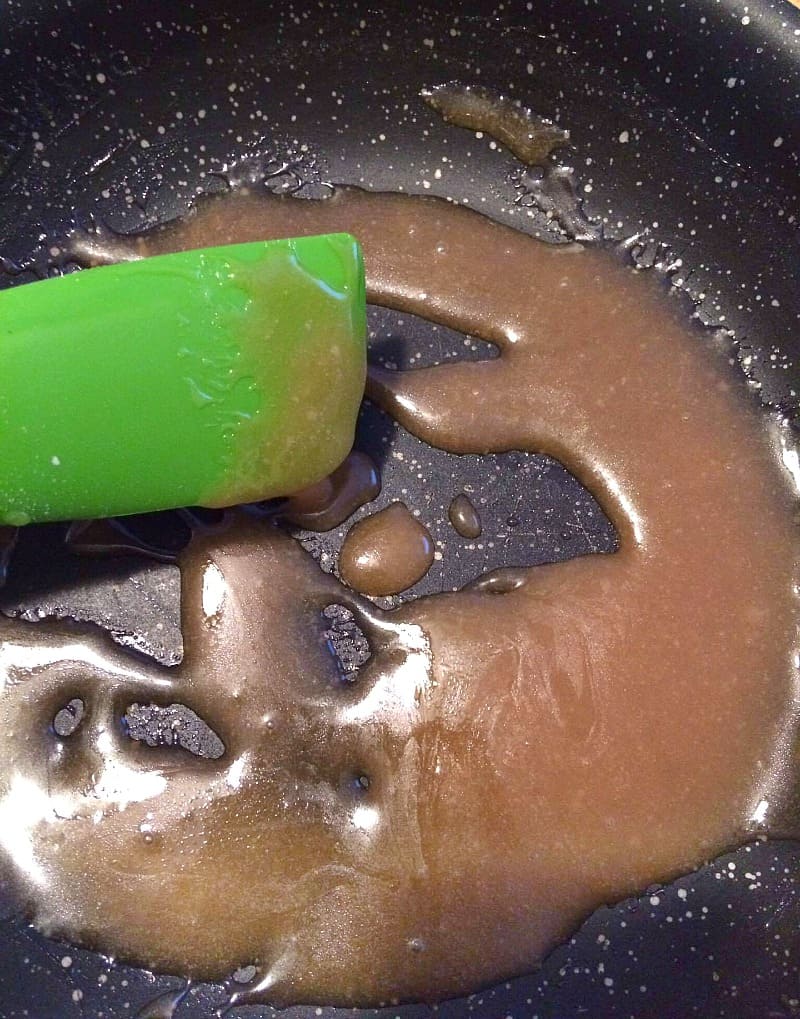 Remove from heat.
Assemble your keto donuts but dipping the top in the caramel and then into the toasted coconut!
Enjoy.
You can make these ahead and freeze.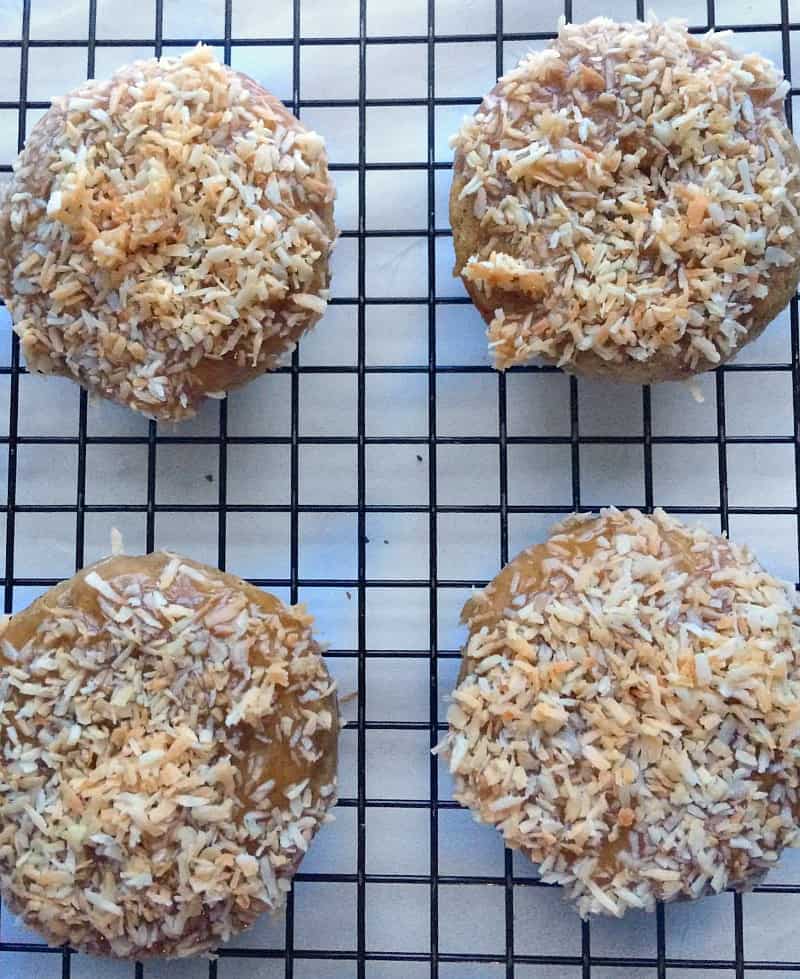 Try our Keto Buffalo Chicken Meatballs for lunch!