Our EASY Whoopie Pie Recipe whips up Maine style Brownie Pumpkin Chip pies in no time. These decadent chocolate whoopie pies have a pumpkin cream filling and chocolate chips made from boxed brownie cake mix. We combine two classic flavors to form an amazing sweet treat! Made with real pumpkin, this light and fluffy pumpkin cream will be your new favorite whoopie pie filling! (Not a fan of pumpkin? Use the vanilla cream below)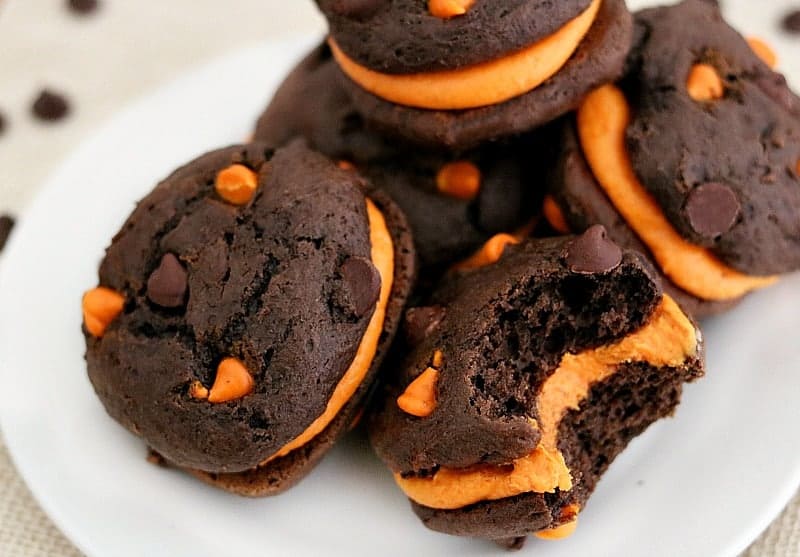 The Brownie Pumpkin Chip Whoopie Pie
Can you believe we are approaching the holiday season already? My family is big on holiday celebrations and food is a huge part of it, especially holiday baking. My mom is known for her chocolate whoopie recipe. It's older than me and highly sought after. The problem is, it's time consuming as most homemade whoopie pie recipes are.
Cake Mix Whoopie Pies
I decided to play with recreating a smaller batch by using a semi-homemade version that takes less time and is just as yummy. My semi-homemade go to is box cake mix. I'm sure you have seen cookie recipes out there using box cake mix, right? This cake mix whoopie pie recipe was born from the same idea. We started with the box mix, altered it a bit then made a killer pumpkin cream filling. With only a few added ingredients a box technically brownie mix, not cake, turned out some of the best whoopie pies I've ever had.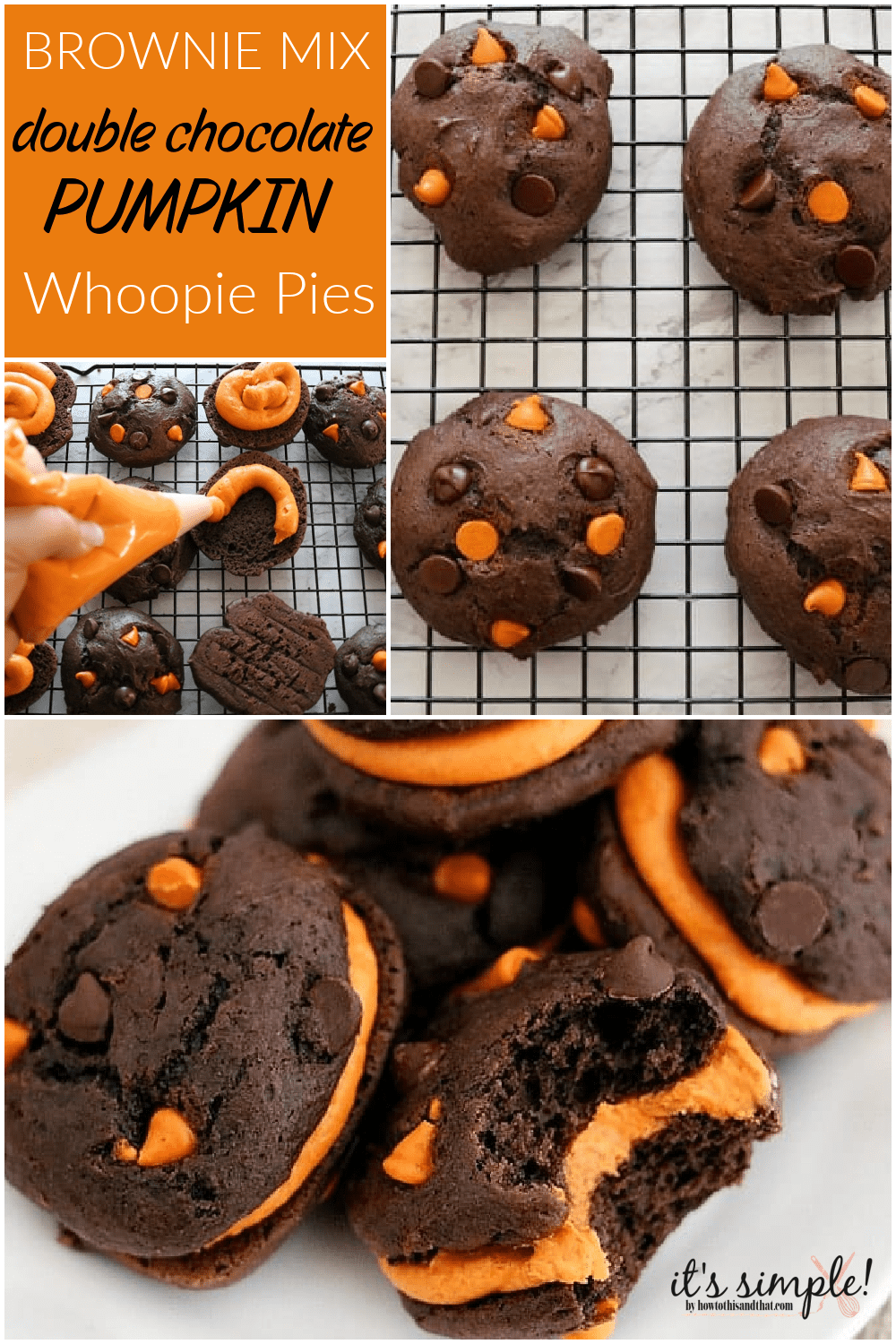 Maine Whoopie Pies
Maine is best known for it's lobster of course, but other foods as well, like broccoli and potatoes. However, we aren't here for vegetables today. As a matter of fact, far from it. Maine is also known for their Whoopie Pies and aged old recipe. Whoopie Pies are such a big deal in Maine that there is even a festival for them.
What makes the Maine Whoopie Pies Recipe so special?
To be honest, we don't know. It is top secret, no really. There are two highly popular Maine Whoopie Pies - anything from Steve's Bakery and the Brownie Whoopie Pie, usually fantastic from anywhere but best known from a little store in a little town. Douin's Market in New Sharon. Chances are you will never go by there, but if you do. STOP. Get one. They make the best brownie whoopie pies in Maine as far as we are concerned.
What Filling is Used in These Chocolate Chip Whoopie Pies
Mmmmm, ok, so inspired by fall - we decided to make a creamy delicious pumpkin filling for these chocolate chip whoopie pies. We started with the boxed brownie mix, whipped up a real pumpkin cream AND on top of it added chocolate chips with pumpkin chocolate chip into these whoopie pies. The flavor combination is out of this world.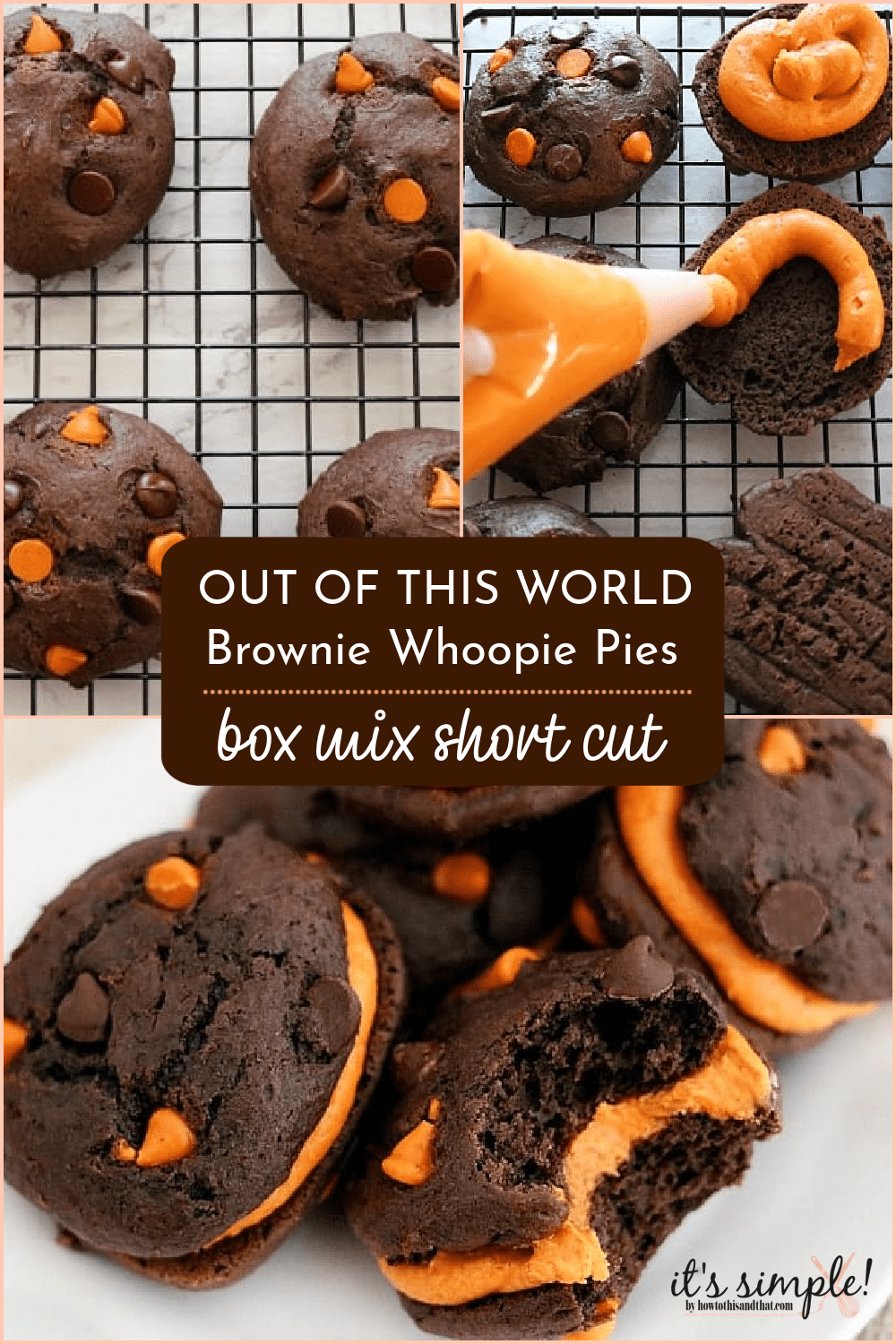 Can I Skip The Pumpkin in this Whoopie Pie
If you aren't really a fan of pumpkin, skipping it is easy. Instead of using pumpkin filling for the whoopie pie recipe make this simple vanilla filling by whipping all ingredients together:
1 stick butter, room temperature (salted or unsalted, your choice)
3-4 cups Powdered Sugar
¼ cup Milk (or dairy of choice)
1 teaspoon Vanilla
Making Our Chocolate Chip Pumpkin Whoopie Pies
(full printable recipe card below)
Start with ANY dark chocolate box cake mix or brownie mix, evaporated milk, flour and baking powder.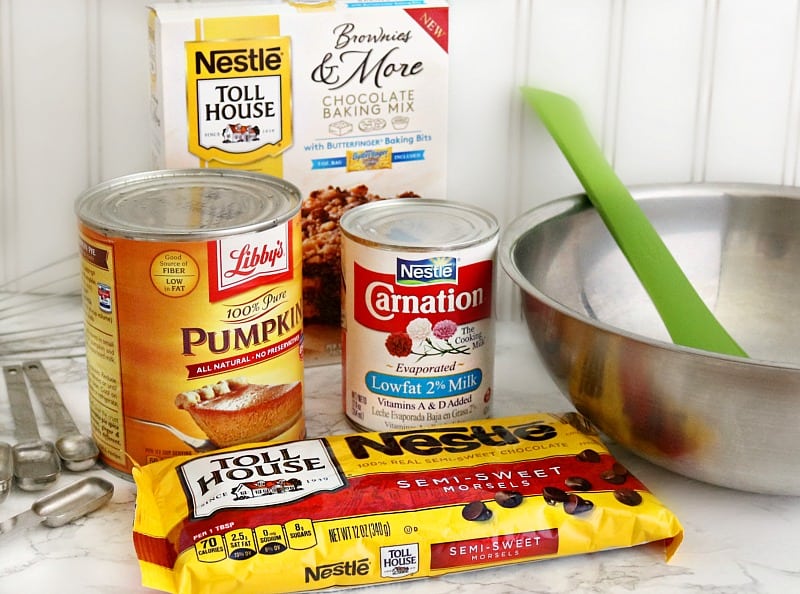 Whisk eggs and evaporated milk until light and fluffy. The key to turning box cake mix into bakery style whoopie pies is the evaporated milk. It is smooth and creates the perfect cake density.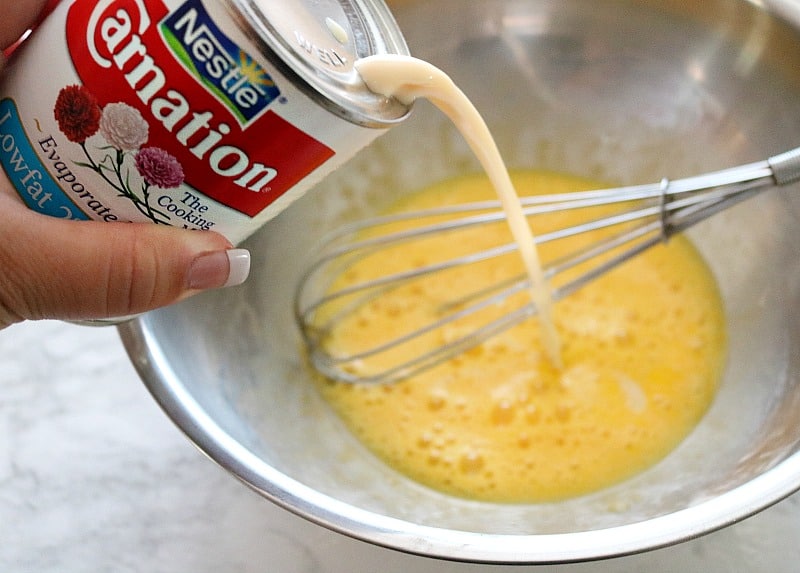 Add the flour and baking powder. Stir to combine.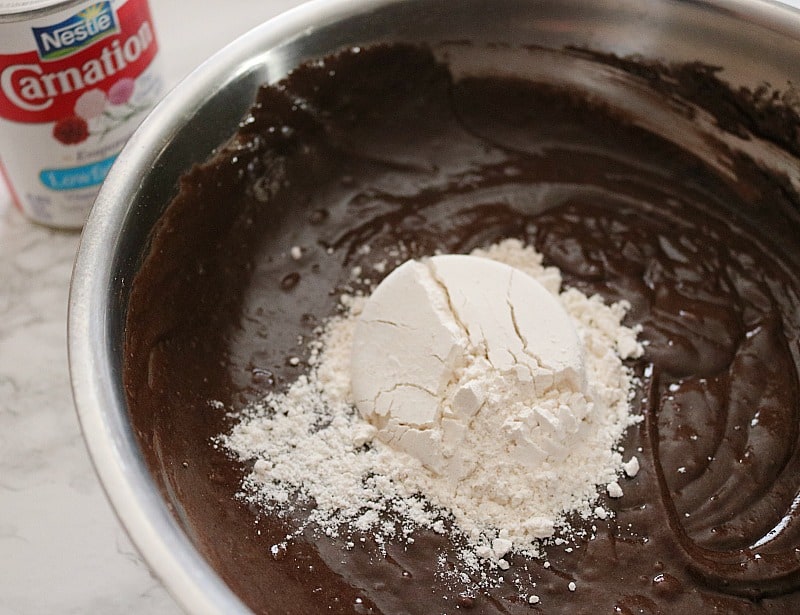 Batter will be thick so they hold their shape when spooning onto sheet pan.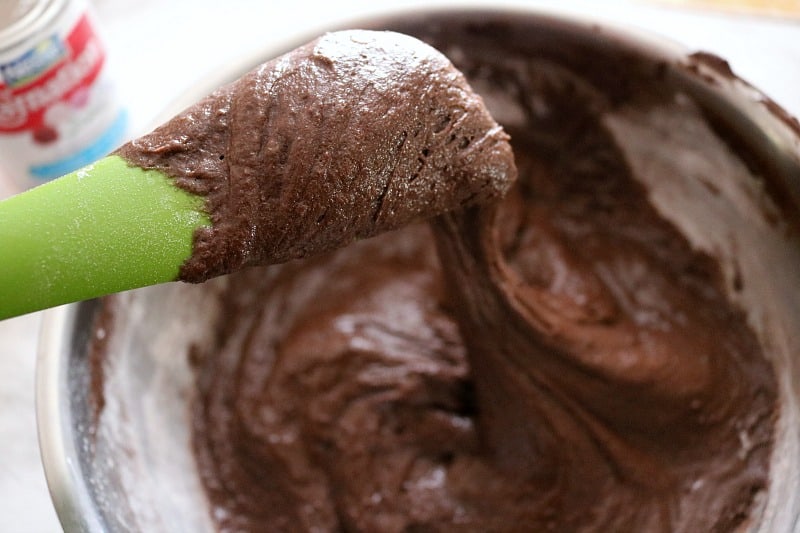 Drop 2" scoops about 2 inches apart onto a greased cookie sheet.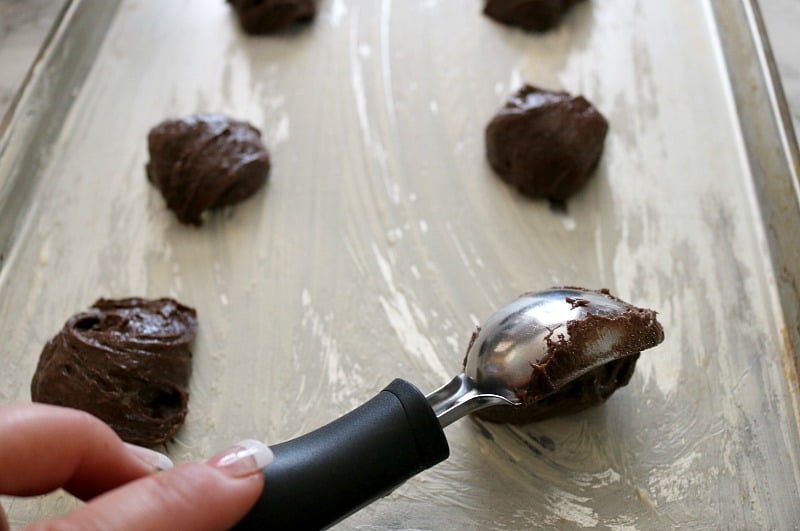 Top whoopie pie batter with chocolate chips and even pumpkin chips if desired. I found these pumpkin spice chips at Walmart and had to use them.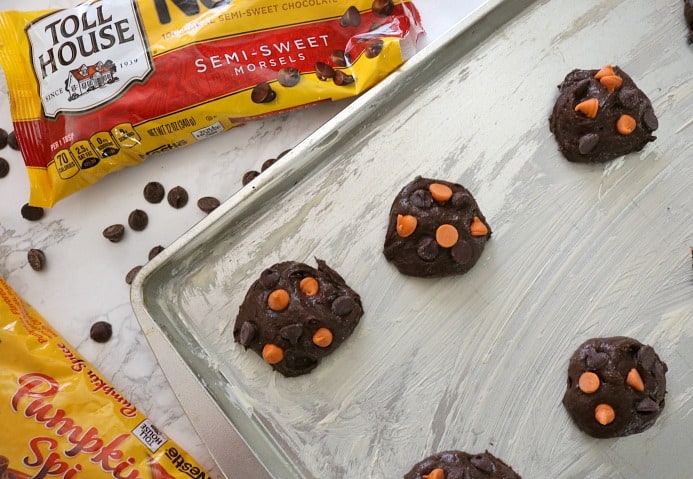 Bake for 12-15 minutes or until set up and firm to the touch. Transfer to cooling rack.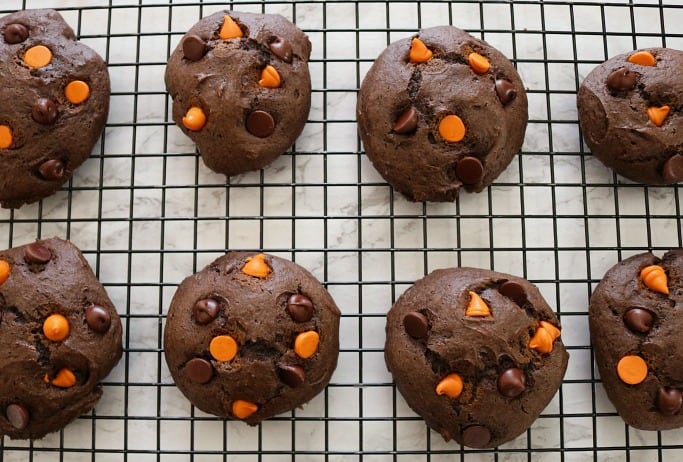 The Filling You will need Pumpkin Puree, butter, evaporated milk (or dairy of choice), pumpkin pie spice, vanilla and powdered sugar. Pumpkin pie spice can be found cheap at almost any grocer.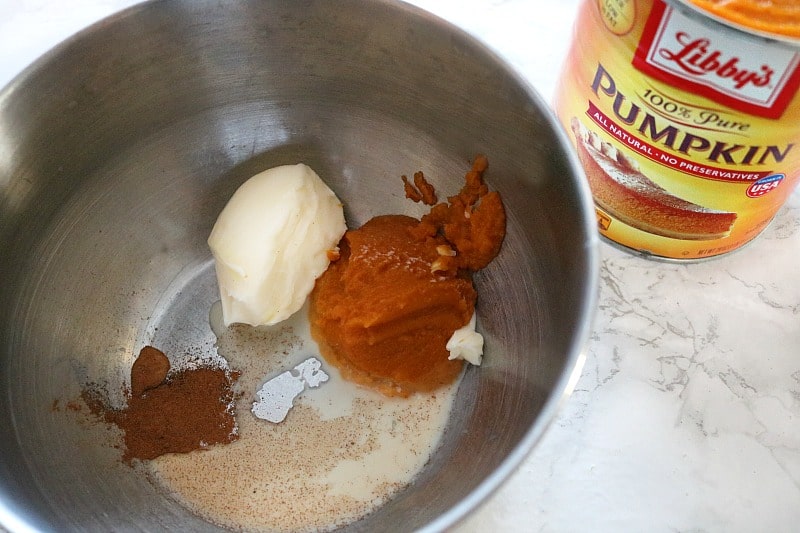 Whip together all ingredients except the powdered sugar, until smooth.
Gradually add powdered sugar and mix until smooth. Finished product will be thick like a frosting, but light.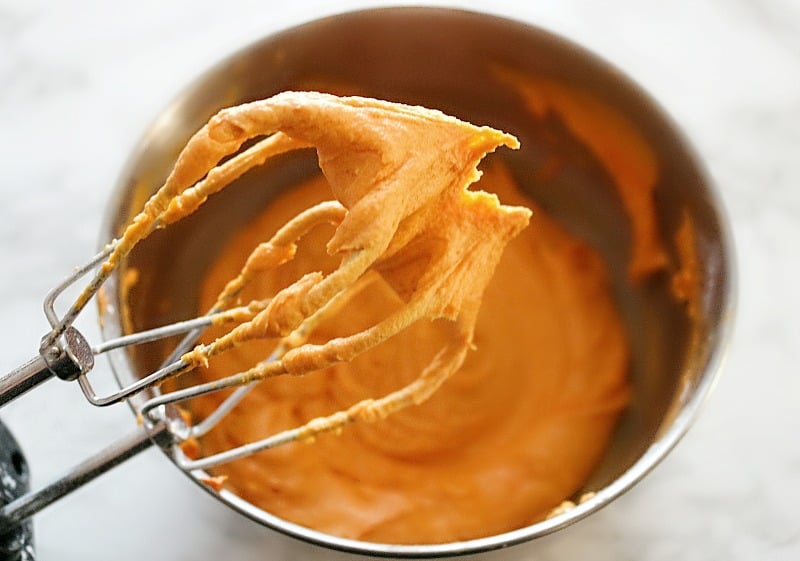 Add pumpkin cream to a disposable pastry bag with a basic round tip OR just spread it on by hand.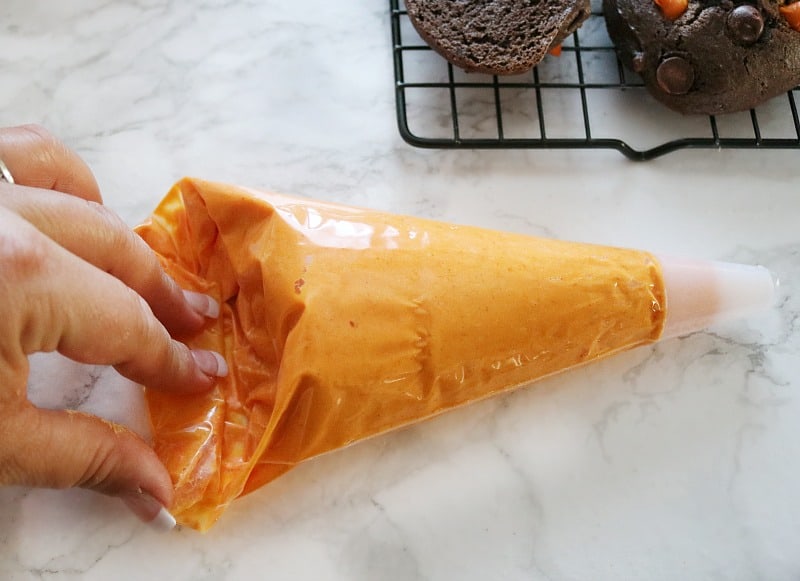 Pipe cream in a spiral pattern onto each whoopie pie bottom. This will give you a nice smooth finish around the edges of your whoopie pies when put together. Of course you can also just spread the cream with a knife.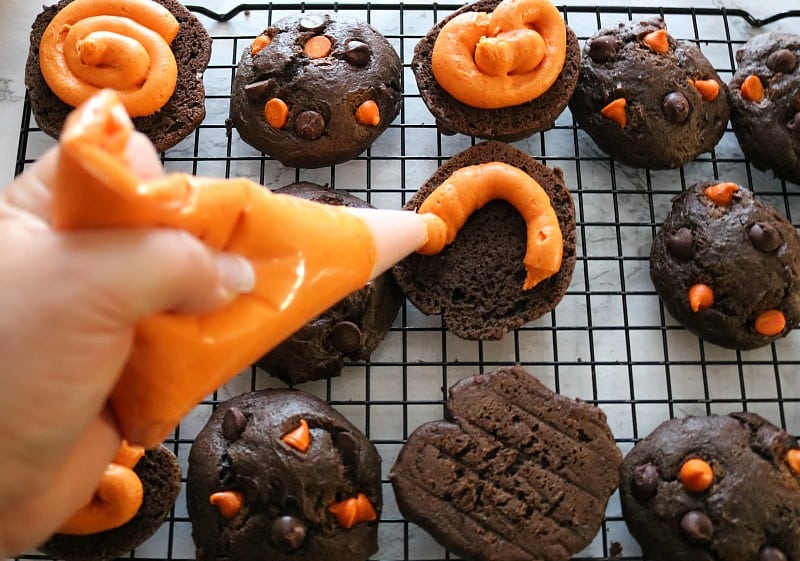 Place whoopie pie tops on and serve! These will freeze really well making it easy to plan ahead for parties, holidays and more.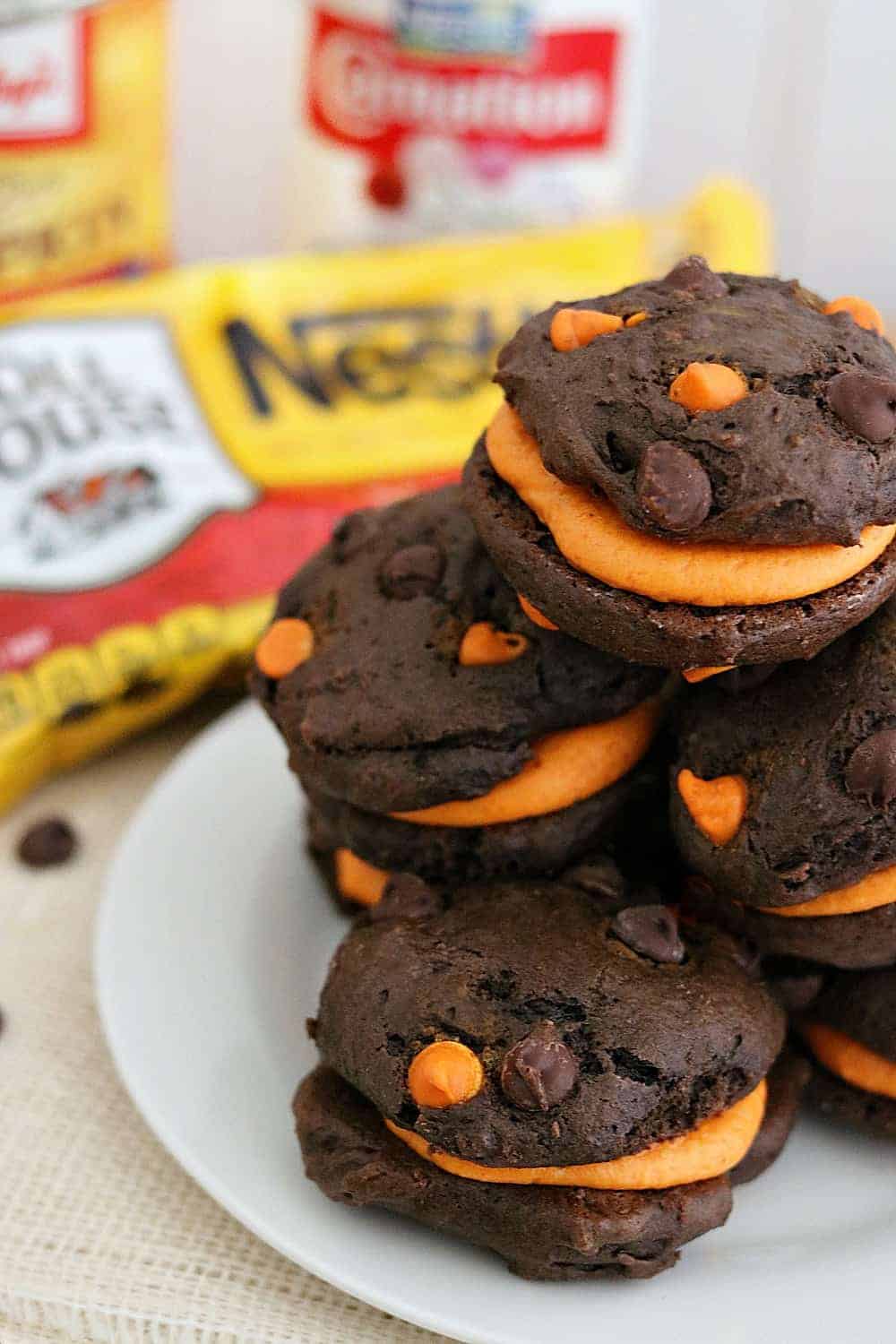 Want more pumpkin? Try our Pumpkin Swirl Layered Coffee Cake
Makes a great breakfast or dessert!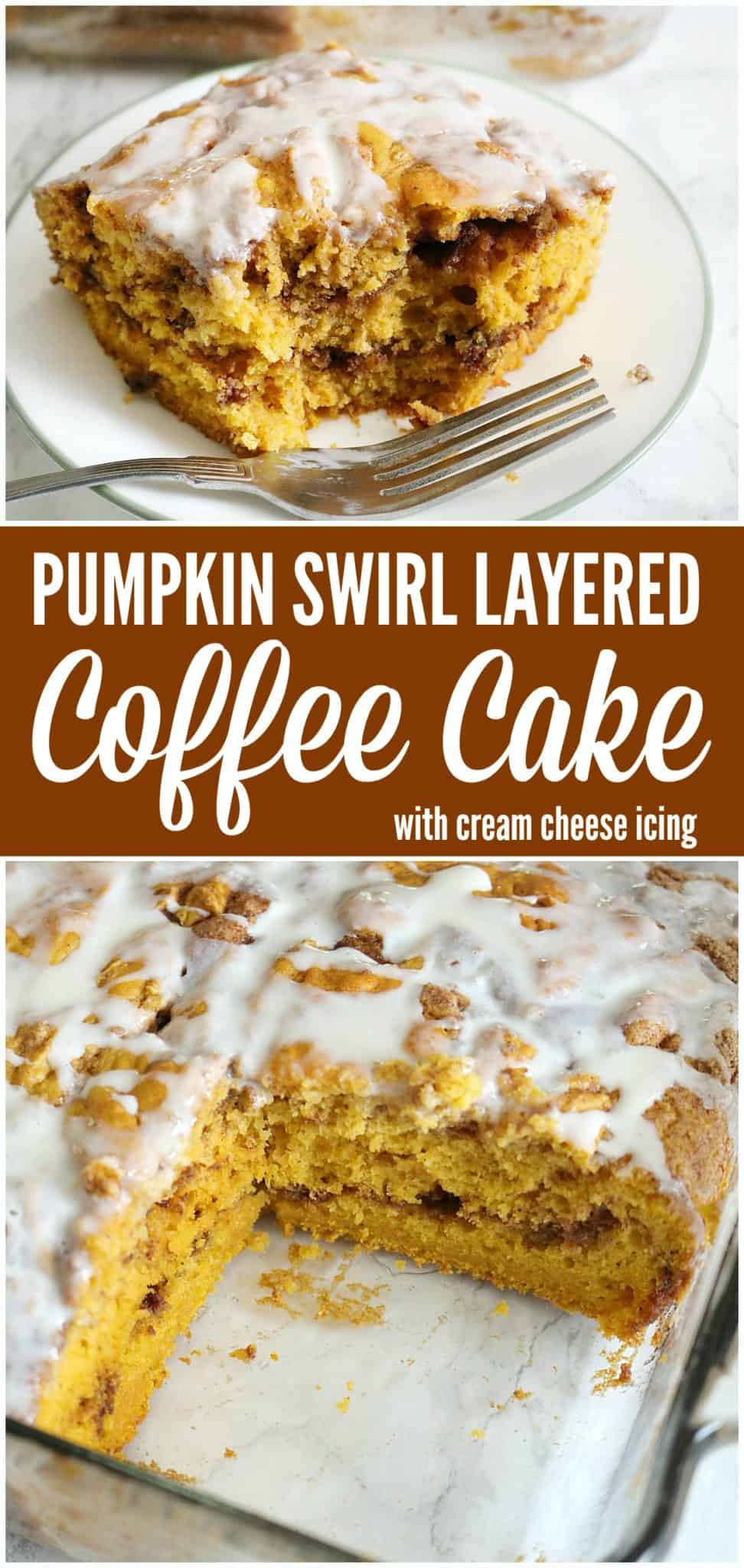 More Amazing Recipes for Fall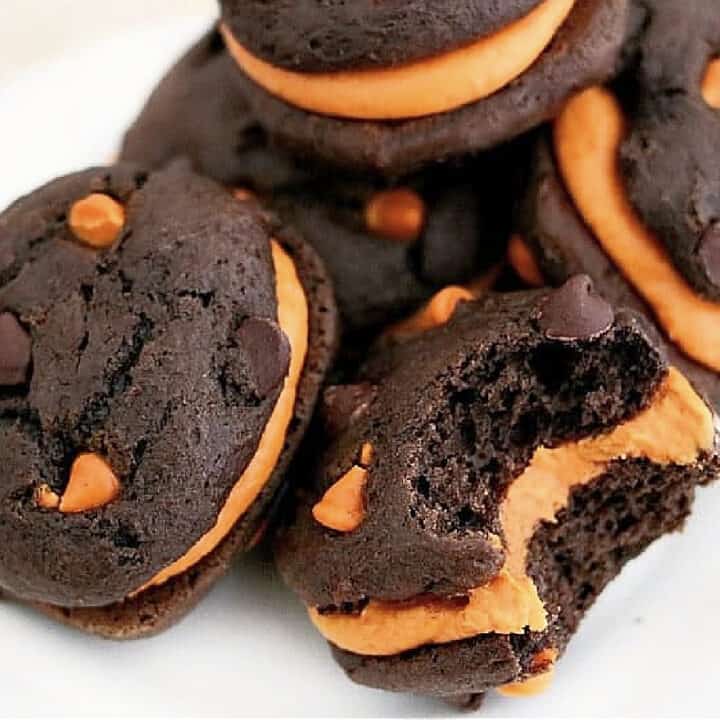 Maine Brownie Pumpkin Chip Whoopie Pie
Yield:
12-14 Whoopie Pies
Our EASY Whoopie Pie Recipe produces the BEST Brownie Chocolate Chip Maine style Whoopie Pies with a Creamy Pumpkin Filling (Optional Vanilla), Using boxed Cake Mix makes them quick!
Ingredients
1 box Dark Chocolate Cake Mix, prepared MINUS the water
1 cup Carnation Evaporated Milk
⅔ cup all purpose flour
1 teaspoon baking powder
1 bag Nestle Toll House Semi-Sweet Morsels
1 bag Nestle Toll House Pumpkin Spice Morsels, optional
For the filling:
2 tablespoons Libby's Pure Pumpkin
2 tablespoons butter, softened
1 tablespoon Carnation Evaporated Milk
1 teaspoon vanilla
1 teaspoon pumpkin pie spice
2- 2 ½ cups powdered sugar
Instructions
Preheat oven to 350.
Prepare cake mix as directed on package, substituting evaporated milk for water.
Stir in baking powder and flour. Mix well.
Spoon 2 inch scoops onto greased cookie sheet.
Top with Toll House Morsels.
Bake 12-15 minutes or until firm to the touch and toothpick inserted comes out clean.
Transfer to cooling rack.
For the filling:
Whip all filling ingredients together except the powdered sugar.
Gradually add powdered sugar until combined.
Cream should be thick, but light and fluffy.
Pipe onto whoopie pie bottoms, top and serve!
Notes
Not a fan of pumpkin? Skip it and made the vanilla filling mentioned in the post above.
To freeze store in an airtight container or zip top bag for up to 2 months.
Nutrition Information:
Yield:

14
Serving Size:

1
Amount Per Serving:
Calories:

247
Total Fat:

5g
Trans Fat:

0g
Carbohydrates:

50g
Fiber:

0g
Sugar:

44g
Protein:

2g
Nutrition facts are auto- populated by the app for this recipe card, numbers may vary. For best results, input your exact brand ingredients into a recipe analyzer like Verywell or MyFitnessPal.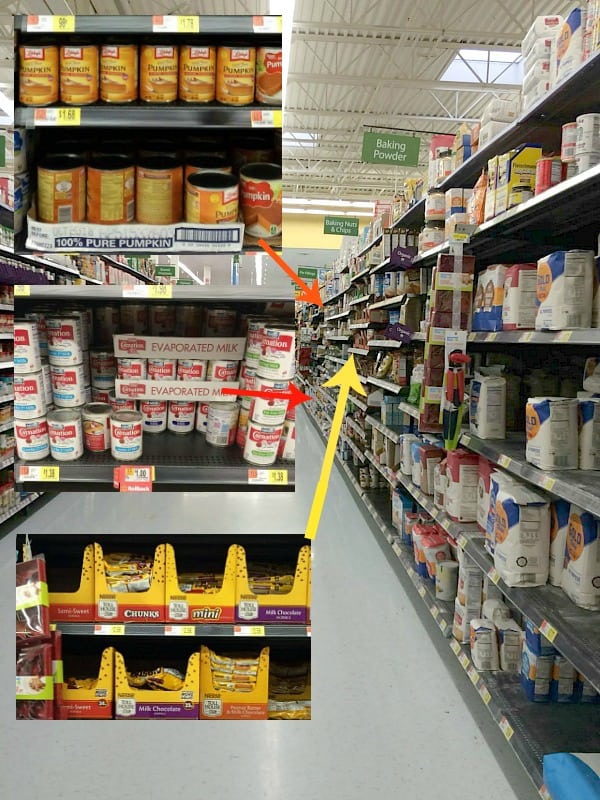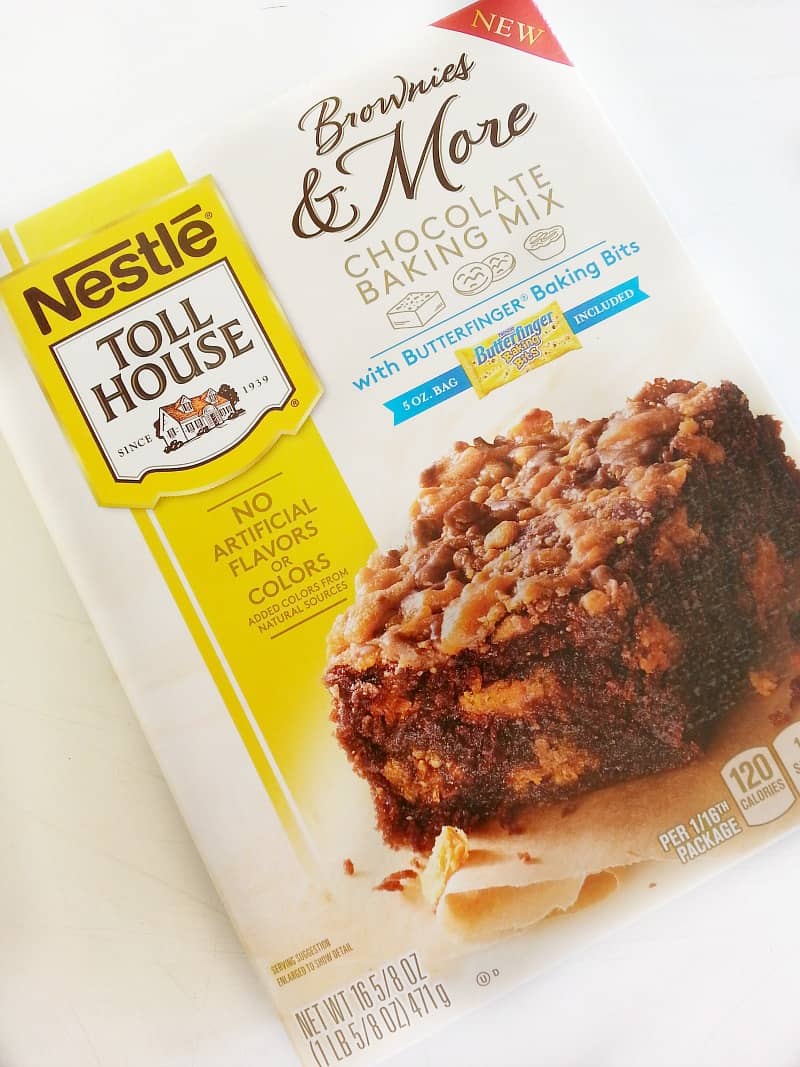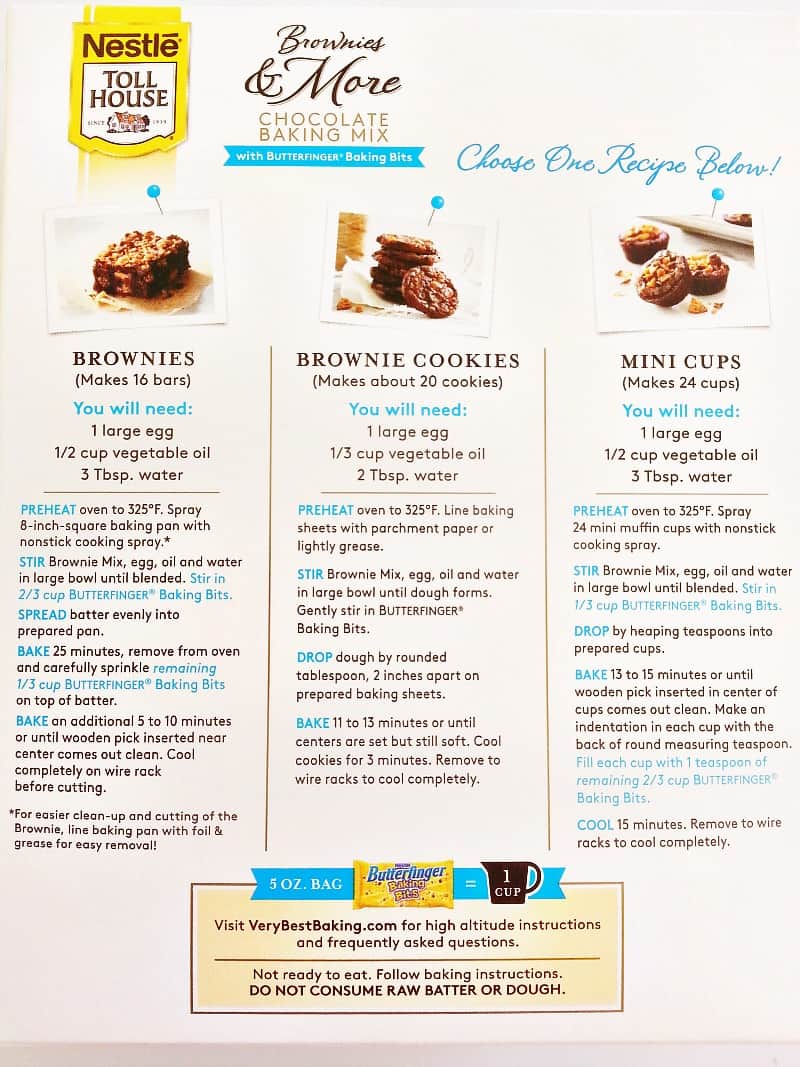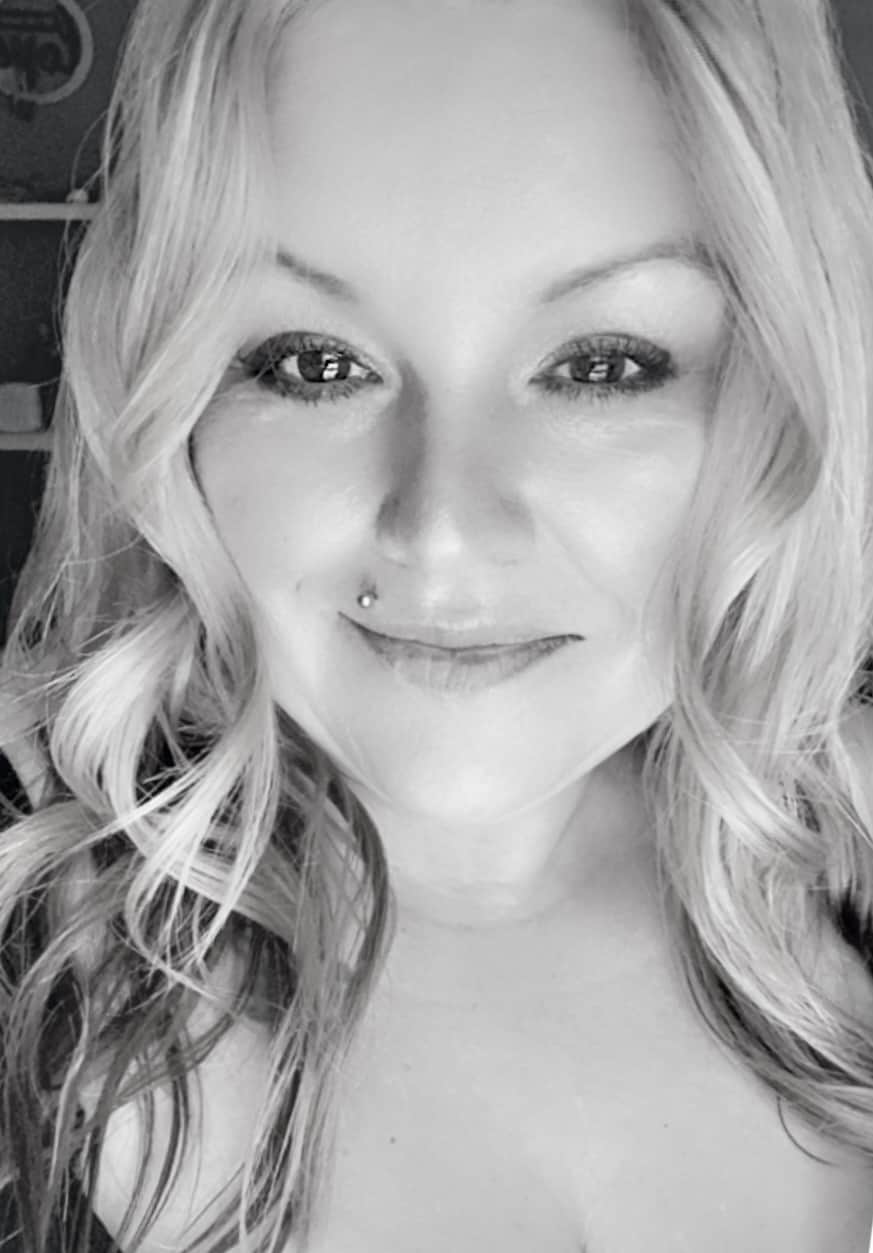 Owner & Lead Recipe Developer for It's Simple! since 2015, where you will find our best Family Favorites & Keto Low Carb Dishes with Helpful Cooking Tips & Hints in each post. Many Thanks for Stopping By, Enjoy!