Highly Rated Basic Quiche Recipe with Pie Crust, Super EASY, plus 4 Flavor Ideas including Bacon Cheddar, Steak & Cheese, Ham & Cheese and more listed below. Our easy quiche recipe is actually less difficult than scrambling eggs. Let's Go Make it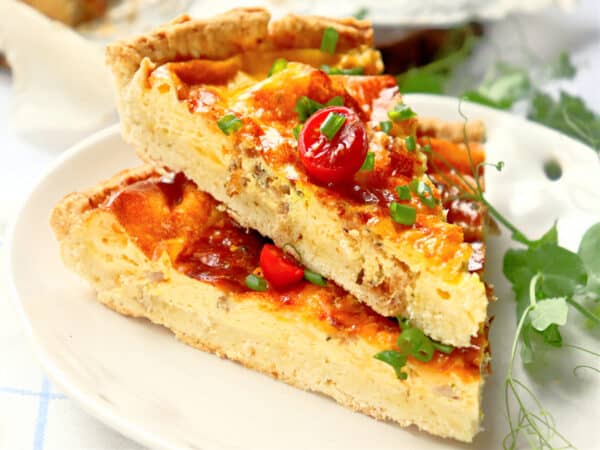 About Our Basic Quiche Recipe
Our Quiche recipe was written to be easy and give you the perfect base with pie crust allowing you to try many different flavors. The base of the recipe is always the same- Eggs. Choice of Dairy. Cheese. Pie Crust.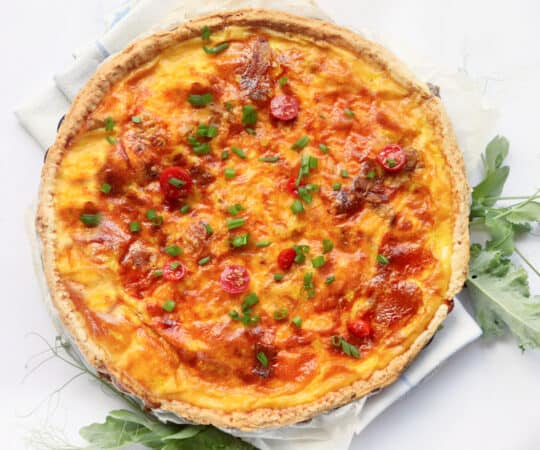 It is so versatile that any dairy of choice and actually any cheese will work. It really is up to you. Along with the quiche base listed in the recipe card, we added bacon and cheese as that's the most common request we receive.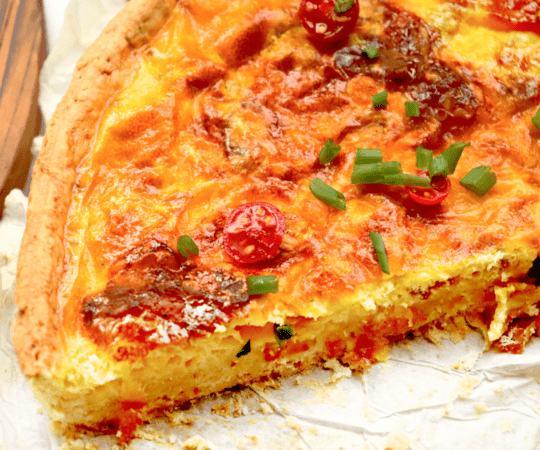 What is A Quiche
Quiche is a French egg based pie that is traditionally made with Swiss cheese. You may have heard the term before- Quiche Lorraine. It literally is just swiss Lorraine cheese baked into the egg with pie crust base.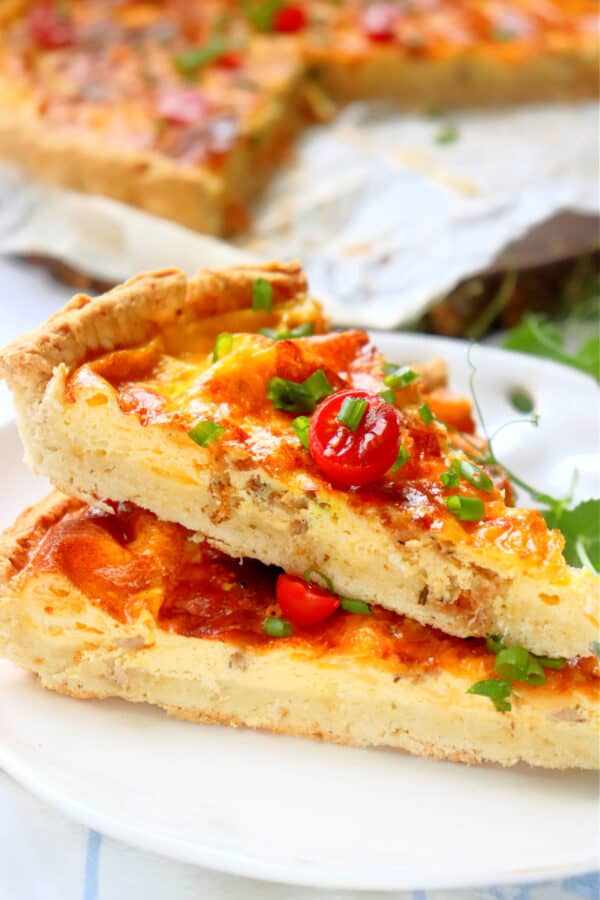 I am not a fan of Swiss cheese, therefore I have always used Cheddar or Greek Feta in my recipe, especially if making bacon quiche. To easily make this a keto friendly quiche, use the keto crust recipe listed below.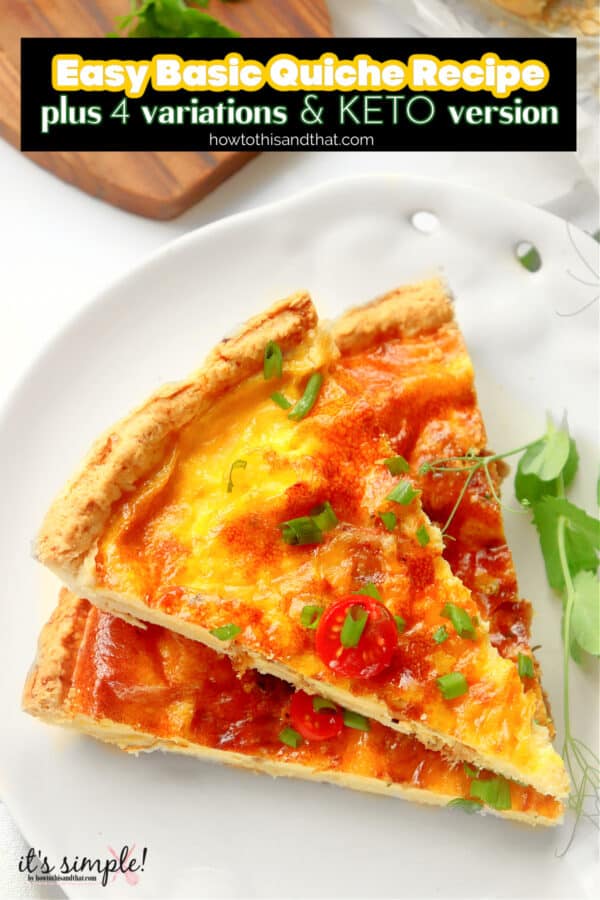 What Crust Do I Use For Quiche
Use our own easy homemade pie crust recipe with your quiche OR one of these ideas: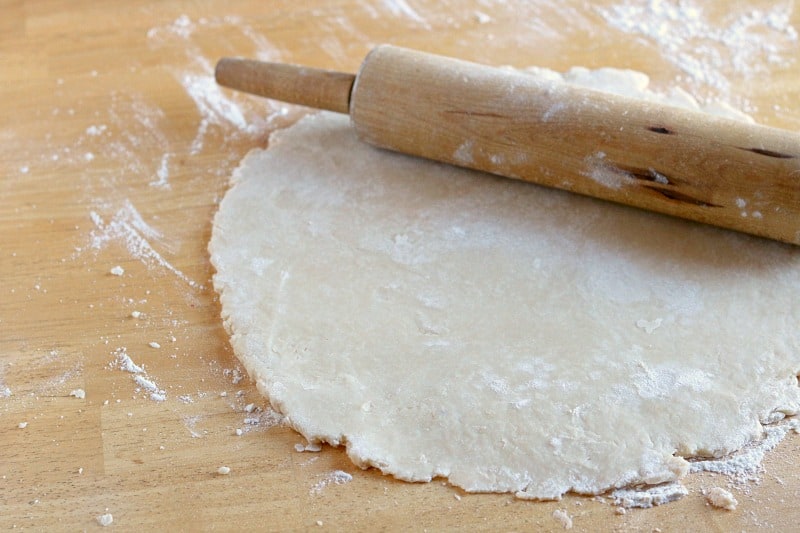 Quiche Crust Ideas
A Quiche is almost always made with a traditional flour based pie crust, however there are many variations as well. Including:
Making a quiche without crust OR
Almond flour and Coconut Flour crusts are great LOW CARB or KETO Alternatives like THIS Keto Quiche has.
Using Bacon as a Crust- OH YES, I have done it. Precook your bacon till almost done, but still bendable. Layer into a round pie plate, bake until crispy. Dab with paper towels to remove grease. Pour in quiche mixture, bake as normal. Oh yes.
Store bought canned dough like crescent or biscuit dough. Some would argue that it isn't a quiche at that point because pie crust is not being used, however we think you can get away with it!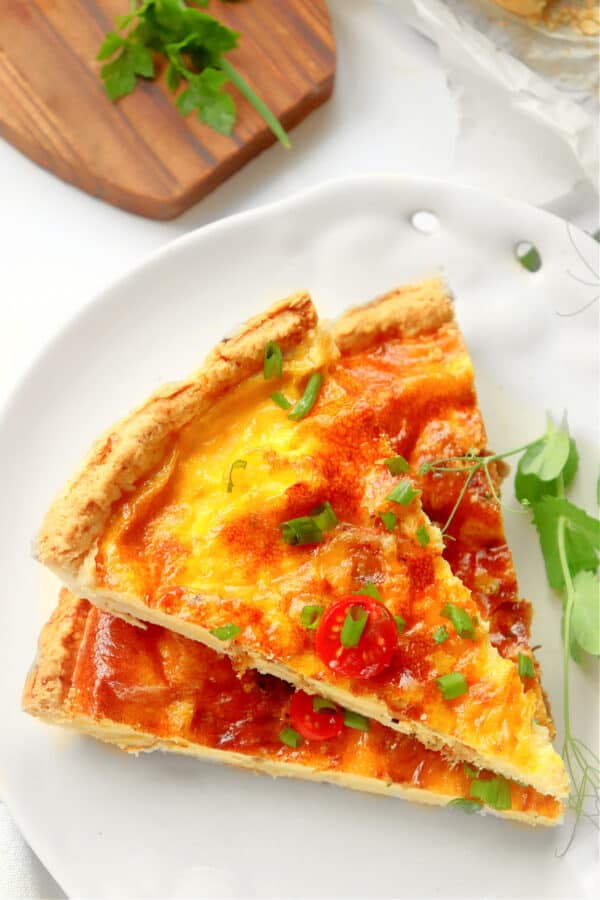 Making Our Easy Quiche Recipe
Written in the post below- Variations that include Spinach & Feta, Western style, Ham & Cheese.
Below that is the full printable recipe card for this basic quiche with Bacon & Cheddar (our most popular).
PLEASE NOTE* We use deep dish pie plates like this one pictured here, if you are not using deep dish see the note in the recipe.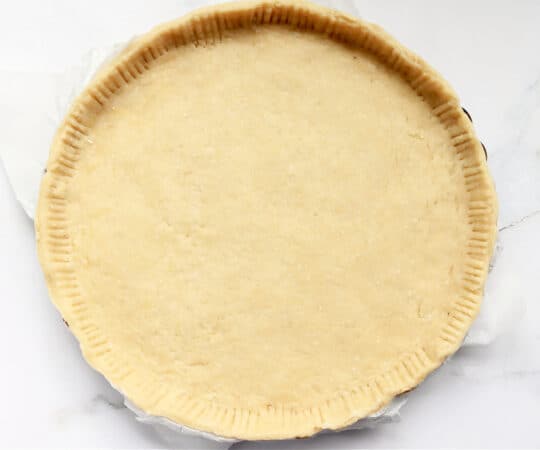 Flavor Ideas for Quiche
Spinach & Feta- 1 Cup frozen cut spinach, thawed & drained. 8oz. feta cheese broken into crumbles. Mix into the egg mixture, pour into pie crust. Bake as directed in recipe card. We suggest using the feta blocks, pre-crumbled feta is more dry and lacks the flavor because it is not in it's brine.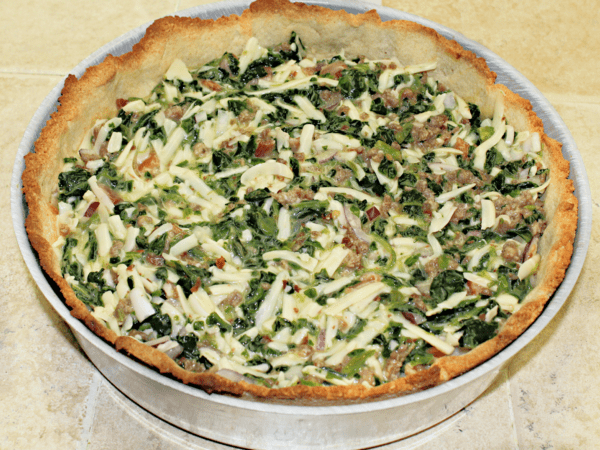 Western Style- 1 Cup total of mixed diced onion, green pepper and red peppers. 8oz. shredded Monterey Jack ( Or Pepper Jack for some spice), 1 Cup cooked crumbled breakfast sausage (no casing, like the Jimmy Dean roll). Add all ingredients to the egg mixture. Pour into pie crust. Bake as directed in recipe card.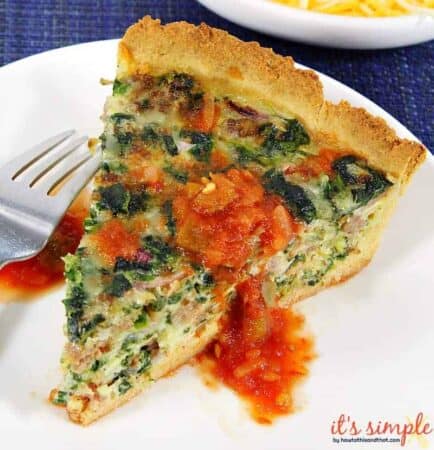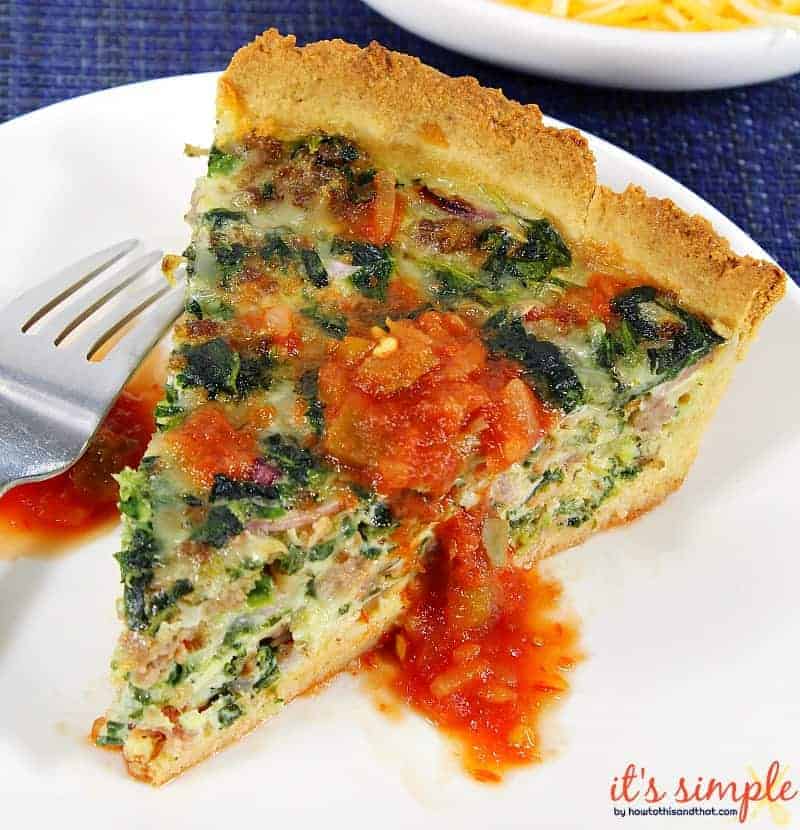 Ham & Cheese- Purchase a ½ lb thick cut piece of your favorite ham from the deli. Dice into cubes. Mix into egg with 8oz orange sharp cheddar cheese. Bake as directed in recipe card.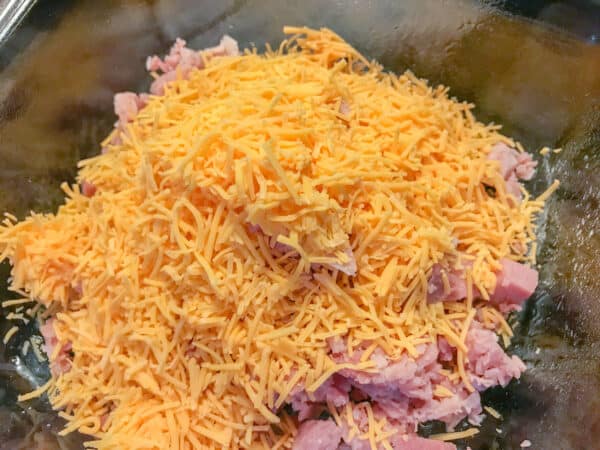 Steak & Cheese- This is by far one of my favorites. Start with 12oz. shaved steak from the meat department OR Roast Beef from the deli. Saute in a little Olive Oil or butter. Now, we don't usually use this stuff, but it's a MUST here- 6oz of Velveeta (there I said it!) cubed (so creamy!). Pour into pie crust with egg mixture. Bake according to the recipe card.
Have a Quiche recipe variation you like? Let us know your favorite in the comments below.

MAKE THIS RECIPE KETO OR LOW CARB APPROVED
This is such an easy recipe to make keto or low carb approved. There is a few simple ways it can be done. Use an approved crust like mentioned above OR kick the crust completely. Turn it into a frittata! You can do this in a skillet right in the oven or even on the stove.
Cheesy Ham Keto Frittata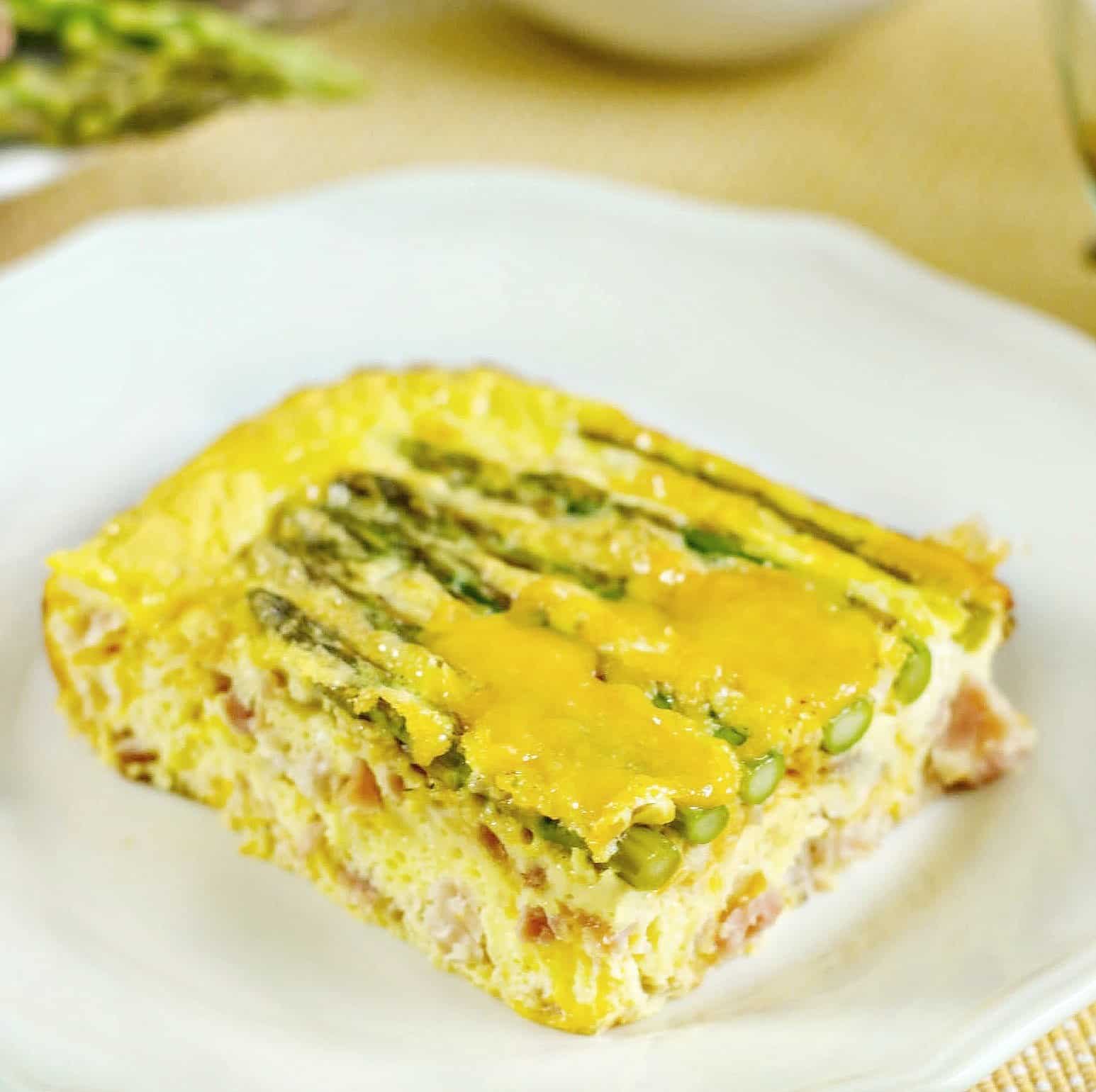 Try experimenting with your quiche, Albeit a normal, keto or low carb version, all in all the ingredients are virtually endless! Indeed, I have even seen one made bagel and lox style, you know with the smoked salmon and cream cheese. Not my thing however proof of versatility. As I write this ideas keep coming... someone make a BBQ pulled pork and cheddar quiche then get back to me.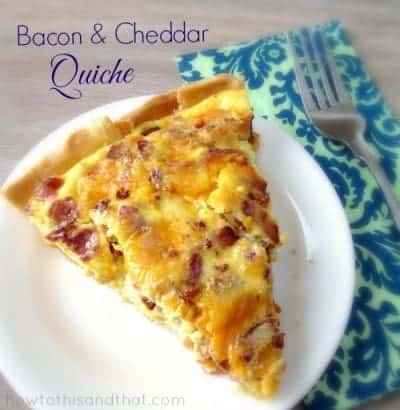 When To Make Our Quiche
Holidays - Quiche is one of the most requested recipes during the holidays, especially Christmas.
Meal Prep- it reheats very well making this dish perfect for meal prepping.
Breakfast for Dinner- our recipe is one of those perfect for dinner kind of breakfasts!
Parties- any quiche flavor can be made into a mini using a muffin tin and served at parties or as an appetizer.
Any Weeknight- because it is so easy, this quiche recipe can be made weeknights for a hearty protein packed meal.
Basic Quiche with Bacon and Cheddar
Like this post? Use the buttons below to share!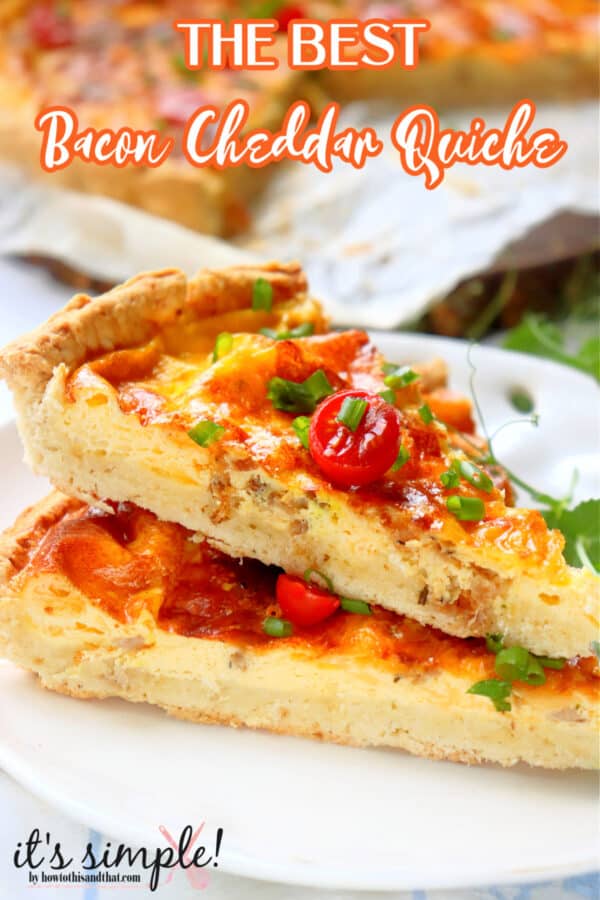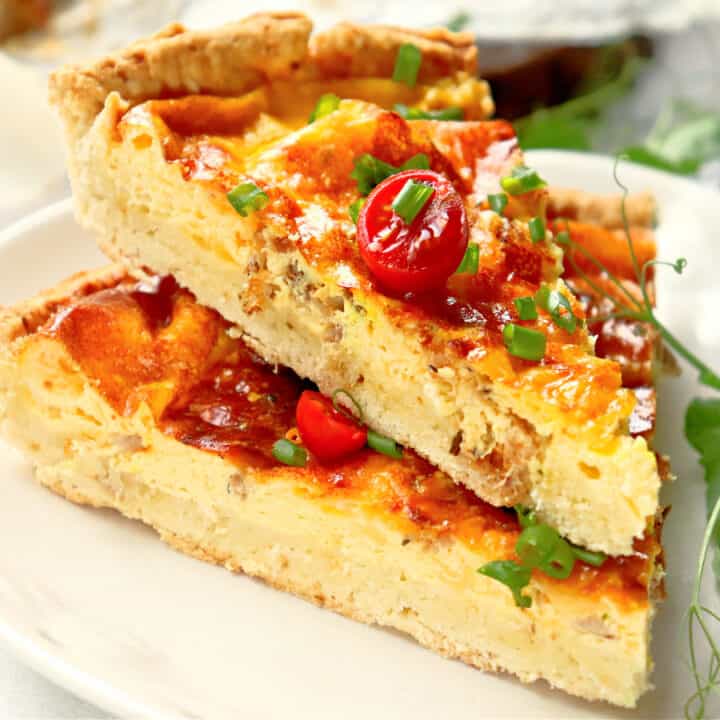 EASY BASIC Bacon QUICHE RECIPE PLUS 4 IDEAS
Additional Time:
10 minutes
Highly Rated Basic Quiche Recipe with Pie Crust, Super EASY, plus 4 Flavor Ideas including Bacon Cheddar, Steak & Cheese, Ham & Cheese and more
Ingredients
8 Large Eggs
1 Cup Dairy of Choice (See Note*)
1 Deep Dish Pie Crust (See Note*)
1 lb cooked, chopped crispy bacon
8 oz Shredded Cheddar Cheese
Salt & Pepper (optional)
Instructions
Pre Heat the oven to 375
Wisk the eggs and dairy together in a large bowl.
Lay the pie crust out into a 9" deep dish pie plate OR use store bought (the ones in the foil pan)
Add half of the cooked crispy bacon and half of the shredded cheese to the egg mix. Stir well.
Pour into pie crust.
Bake on 375 for 20 mins. Add remaining bacon and cheese
Continue Baking for 10 more minutes (ovens vary, times may also)
Quiche is down when golden brown and raised significantly. If you are uncertain, then you can test like you would a cake.
Let the Quiche set for about 10 minutes. It will fall, this is normal.
Cut & Serve!
Notes
Dairy of choice- This quiche recipe base has been tested with Milk only, Half & Half and Unsweetened Original Almond Milk only.I personally could not tell the difference in either. A true quiche uses a French full fat cream. I choose to cut back on fat & calories and use Almond Milk.It really is your choice. The flavor is not affected enough for me to suggest using one over the other, especially is certain dietary or health restrictions prevent using certain dairy.
FOR KETO APPROVED QUICHE- Use Our Keto Crust and ½c Heavy Cream + ½c Almond Milk. It's That Easy! Bacon and Cheese is Already Keto approved.
Pie Crust- We suggest using deep dish pie crust (or deep dish pie pan) , if using regular size then cut the recipe in half. Otherwise you will have too much filling.
Nutrition Information:
Yield:

8
Serving Size:

1
Amount Per Serving:
Calories:

583
Total Fat:

42g
Trans Fat:

0g
Carbohydrates:

15g
Net Carbohydrates:

14g
Fiber:

1g
Sugar:

0g
Protein:

34g
Nutrition facts are auto- populated by the app for this recipe card, numbers may vary. For best results, input your exact brand ingredients into a recipe analyzer like Verywell or MyFitnessPal.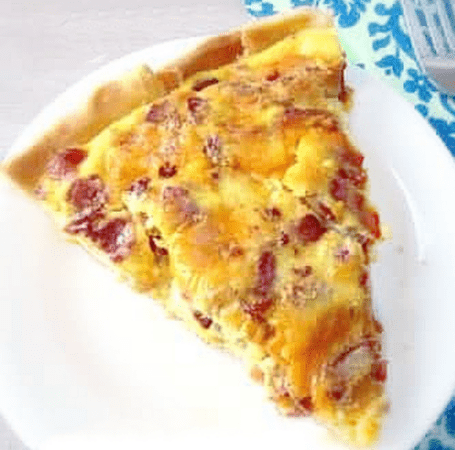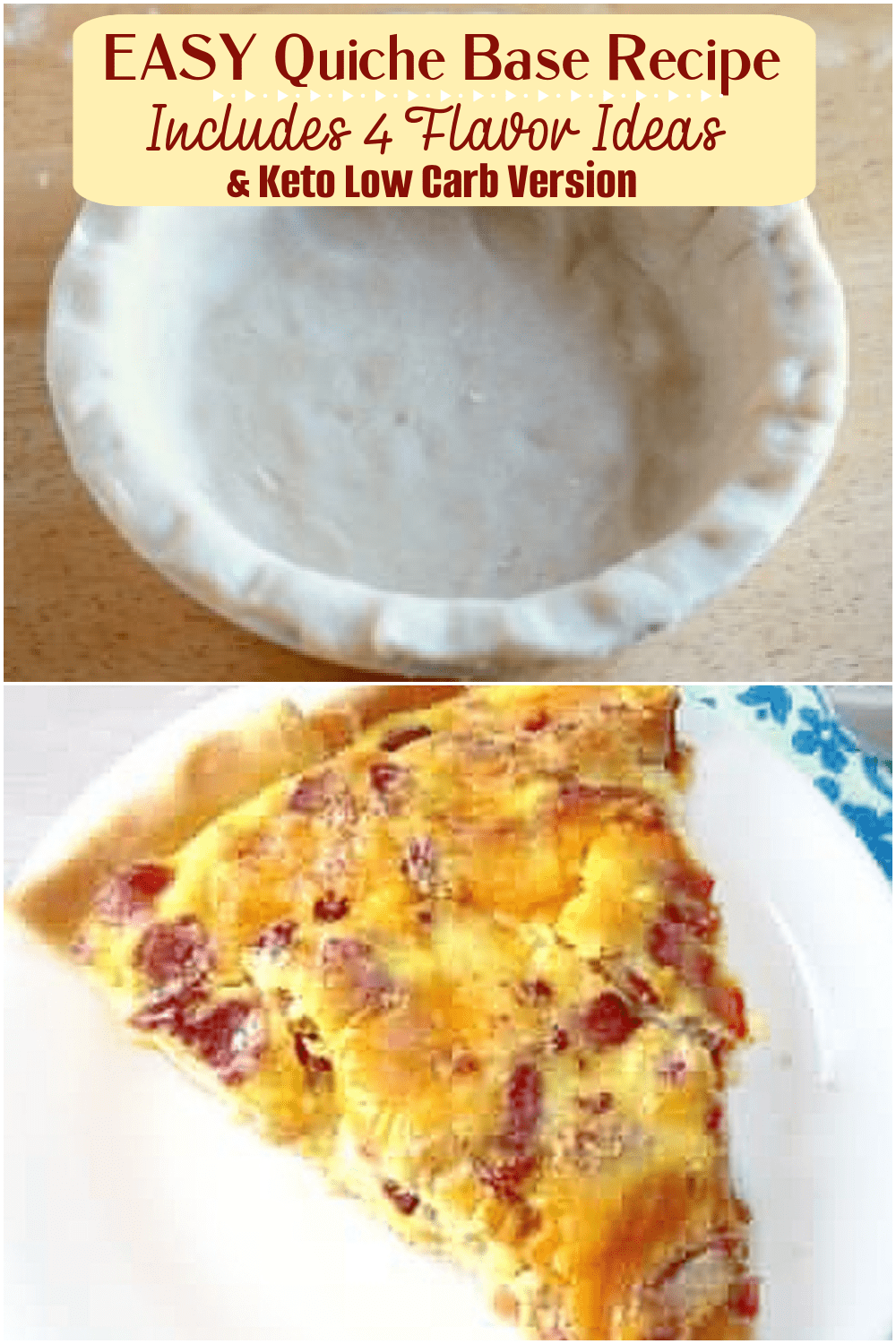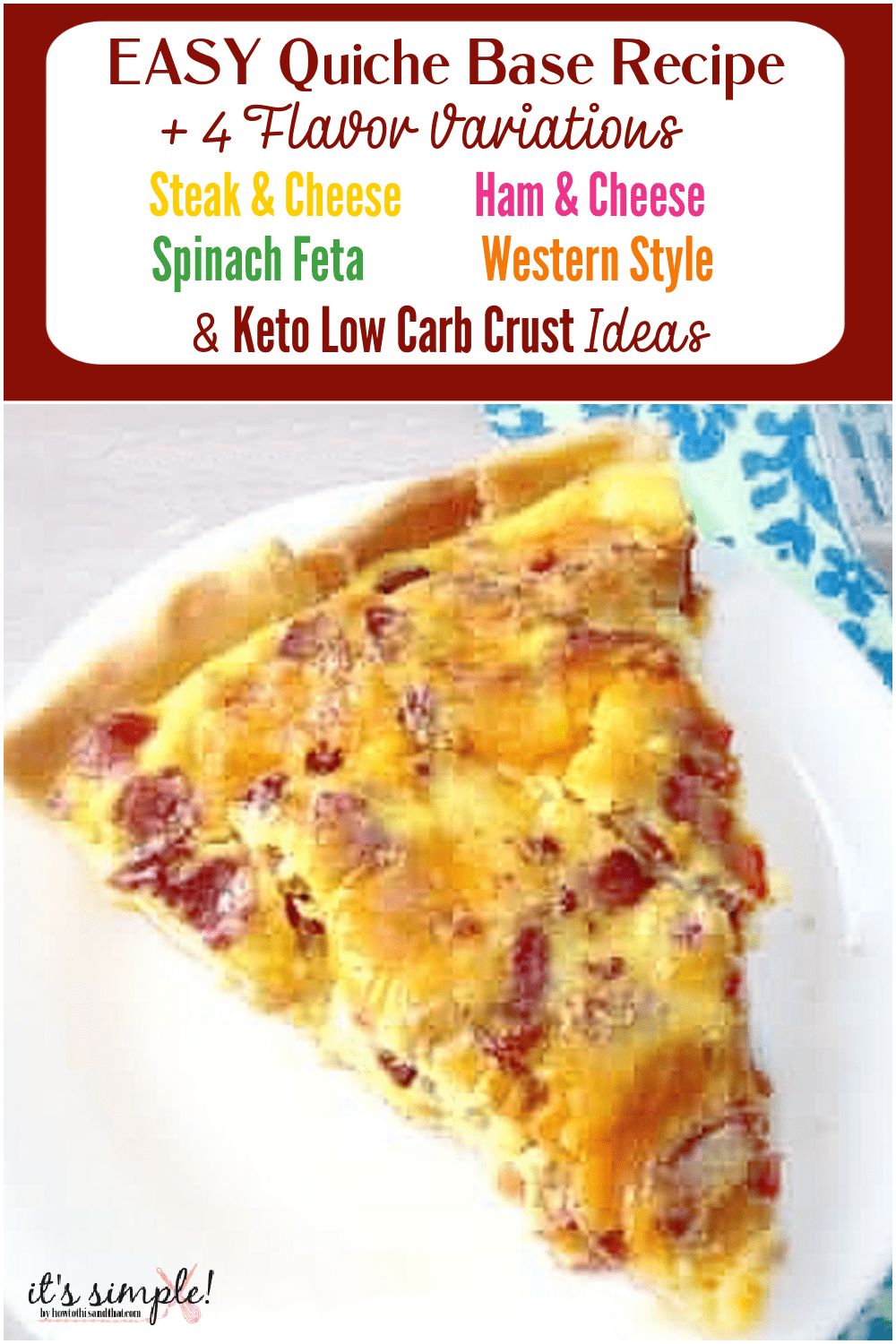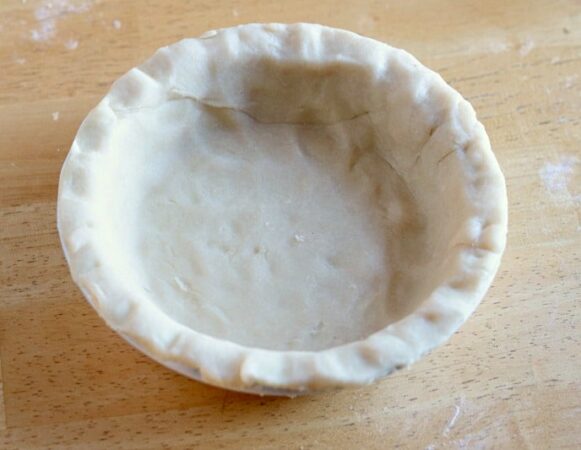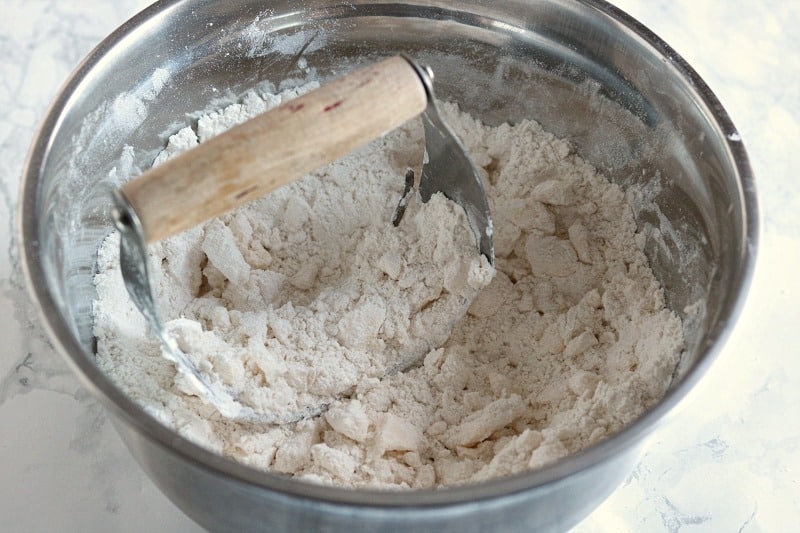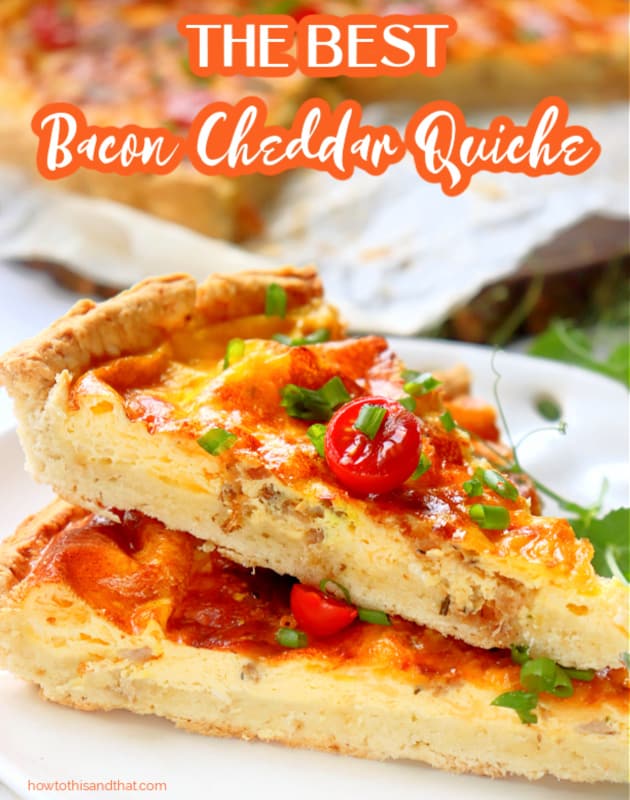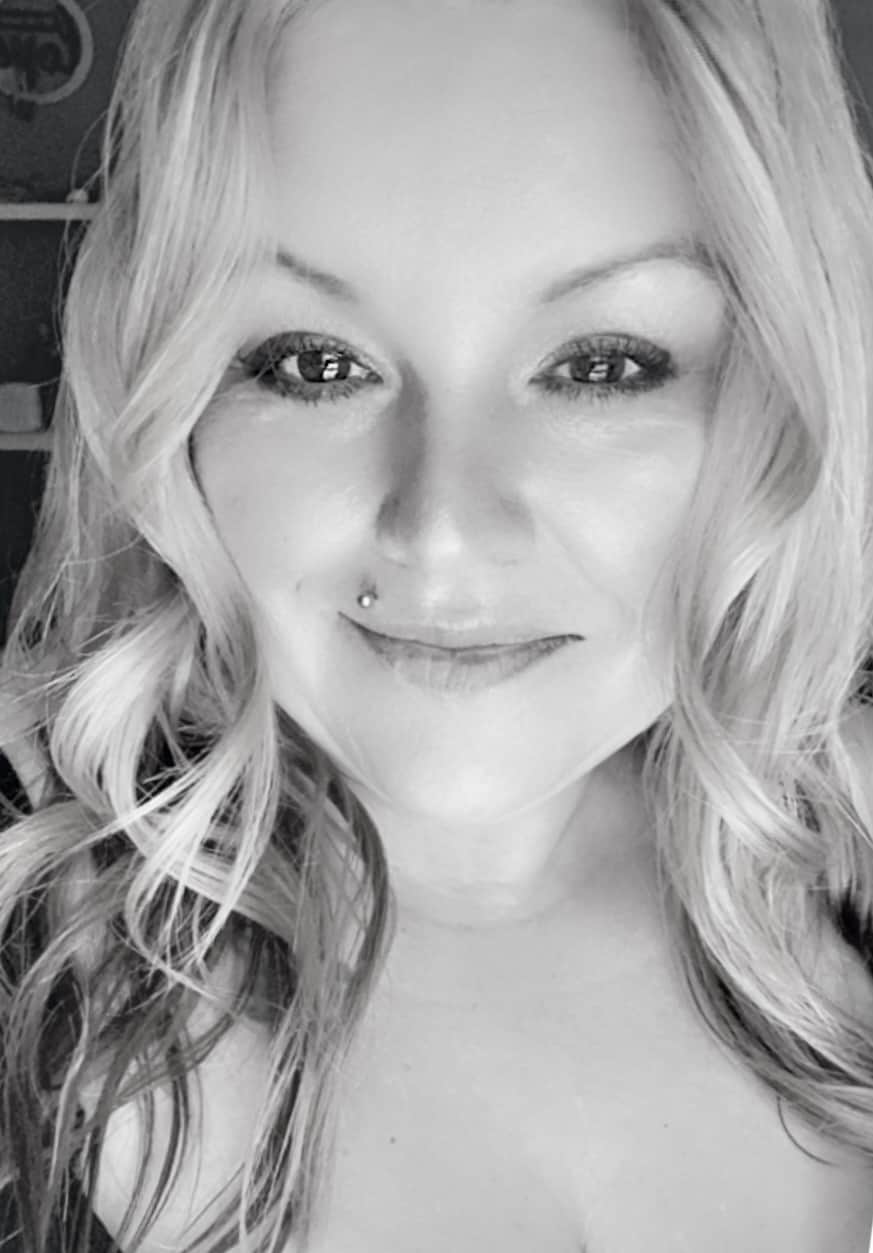 Owner & Lead Recipe Developer for It's Simple! since 2015, where you will find our best Family Favorites & Keto Low Carb Dishes with Helpful Cooking Tips & Hints in each post. Many Thanks for Stopping By, Enjoy!