Two things make our regular dinner menu- the instant pot and chicken. Often on the hunt for recipes that include both, we decide to gather up a bunch of our favorite Easy Instant Pot Chicken Recipes and share them with you. Grab your pressure cooker chicken and Enjoy!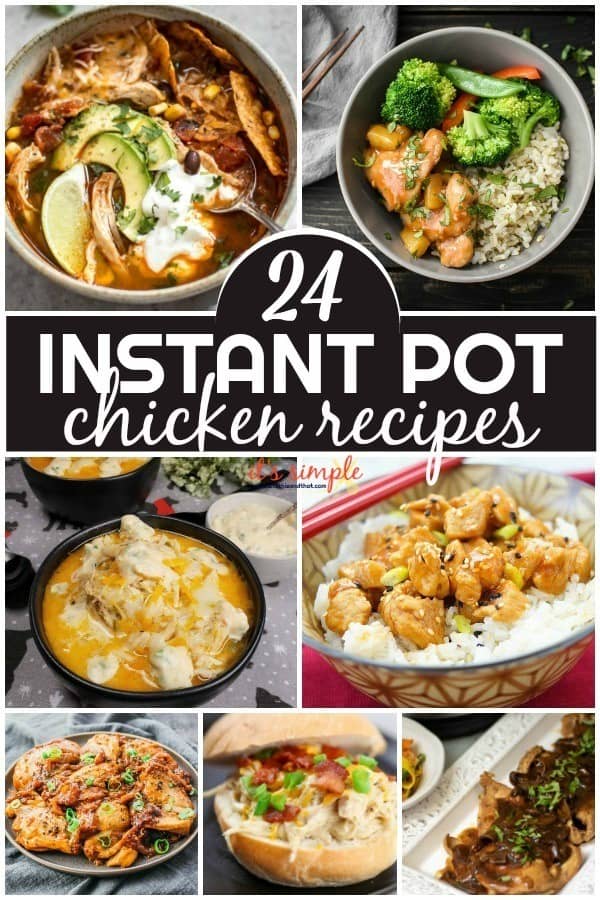 24
Easy Instant Pot Chicken Recipes
Oh, here we are again! Chatting up the Instant Pot. Can't help it. I LOVE to cook, like I REALLY like it. We are talking, look for excuses to cook; hand slicing, chopping and doing every step possible, I enjoy it. So when I was going on and on gushing about the Instant Pot to my husband he stopped me and asked basically how in the world I was going to enjoy cooking since the IP's purpose is to make things quicker and easier.
Well my answer was simple- I am on a mission to try all kinds of different recipes in the IP. Cheesecake, muffins, casseroles, beans, more and more and more. The possibilities are endless type of situation here. It started out with easy weeknight instant pot recipes during track season. Time saver! Listen, there are all kinds of brands and prices... if you have been considering buying one, just do it.
BONUS Content
The IP Makes AMAZING Corn on the Cob SUPER fast. No recipe needed. This time of year it is a weekly thing in our house.
Place rack in bottom, add ears of corn and ½ cup water. Close vent. Manual 8 mins/2 ears ; 10m/3-4 ears; 12 mins 4-6 ; 15m 6-12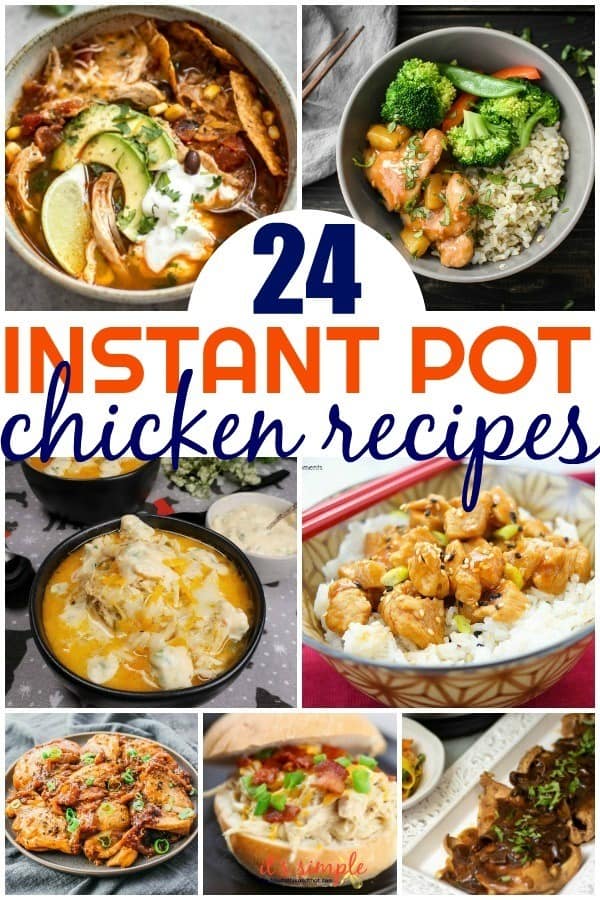 Our Favorite Pressure Cooker Chicken Recipes:
Mongolian Chicken by Sweet and Savory Meals
Chicken Marsala by A Mind Full Mom
Whole Chicken by A Mind Full Mom
Chicken Adobo by Savory Tooth
Chicken Wings From Fresh and Frozen by Sweet and Savory Meals
Orange Chicken by Sweet and Savory Meals
Teriyaki Chicken by Salt and Lavender
Chicken Thighs with Olives and Capers by Tasting Page
Salsa Verde Chicken by A Mind Full Mom
Chicken Cacciatore by Delicious Meets Healthy
Honey Sriracha Chicken by Salt and Lavender
Chicken Enchilada Casserole by Wonder Mom Wannabe
Chicken Jalapeno Soup by This Old Gal
Keto Buffalo Chicken Cauliflower Mac and Cheese by It's Simple
Chicken Tortilla Soup by Salt and Lavender
Swiss Chicken by Wonder Mom Wannabe
Asian Sesame Chicken by Living Sweet Moments
Hawaiian Chicken Bowls by Wonder Mom Wannabe
Bang Bang Chicken by Domestic Super Hero
Butter Chicken by Two Sleevers
Chicken Korma by Two Sleevers
Cilantro Lime Chicken by Domestic Super Hero
Crack Chicken byBaking Beauty
Teriyaki Chicken by The Foodie and the Fix
ONE MORE DELICIOUS weeknight instant pot recipes
Instant Pot Spinach Artichoke Chicken