This Beef Sliders Recipe is a must if you are a fan of the classic French Onion Soup Recipe. The flavors combine in these beef sliders with a delicious crusty bread, caramelized onions, gooey melted provolone cheese, and an au jus that is to die for!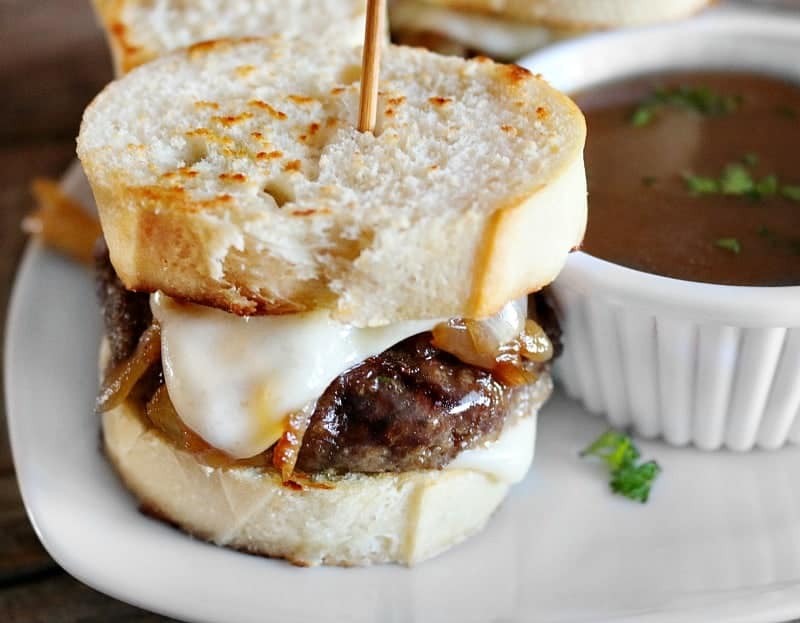 French Onion Soup Beef Sliders Recipe
One of my favorite winter comfort foods is soup. I learned how to make my first french onion soup recipe years ago using a recipe I found from a magazine (which I have since misplaced, so sad!). It took me a few times and putting my memory to the test to recreate it. The soup was so delicious it inspired me to make these beef sliders.
We had a few friends over to watch football and these burgers blew them away. They liked that they were a step up from the traditional "game day" food of buffalo chicken or potato skins. After explaining how easy they were to make it was an even bigger shock!
Do You Actually Make French Onion Soup for These Sliders?
In a nutshell, yes. Your au jus is truly just the base of any good soup, but the onions themselves are caramelized and top the beef rather than remaining in the soup.
What's the Best Bread to Serve These On?
A classic French onion soup recipe will be served with a crouton on top or at least a slice of crusty bread on the side. For these beef sliders, it was a must to duplicate that texture.
I chose to cute a loaf of French bread into pieces and toast them up nicely before building my sliders. You can easily use any bread you prefer for this including classic slider buns.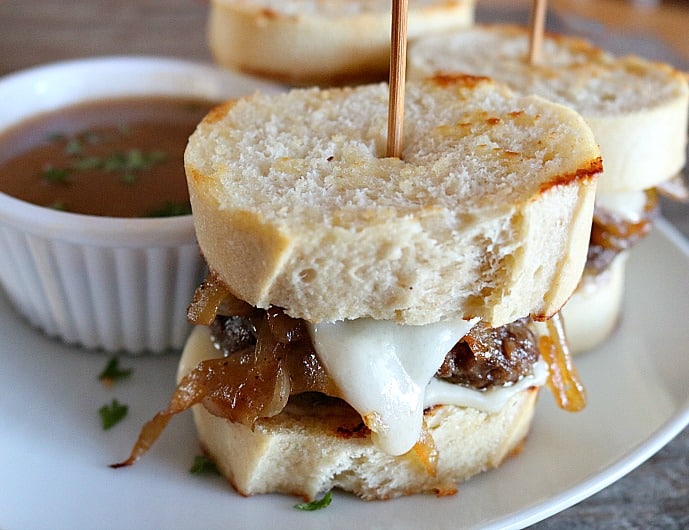 How to Make French Onion Soup Beef Sliders Recipe
Printable Recipe Card Below
Note* I made my own beef stock which is why you see carrots and onions in the liquid. You can skip this step and just use a store bought broth.
Add broth and seasonings to a sauce pan. Heat to boil, reduce to simmer. Let simmer while preparing burgers and caramelizing onions.
Slice onions, start slowly cooking them down in a skillet with butter. Stir often. Heat should be on medium low. Onions should be "sweating" (slowly releasing their moisture) not sauteing (sizzling and gaining a quick brown color). Caramelizing occurs when the moisture cooks out and sugars are slowly thickening.
Combine all burger ingredients in a bowl, mix well. Hand shape patties into a size that best fits your bread.
Bake or grill burger patties to desired temperature (I usually cook to medium)
Slice bread, we used a baguette. It holds up the Au Jus dip and has a soft center with crunchy edges!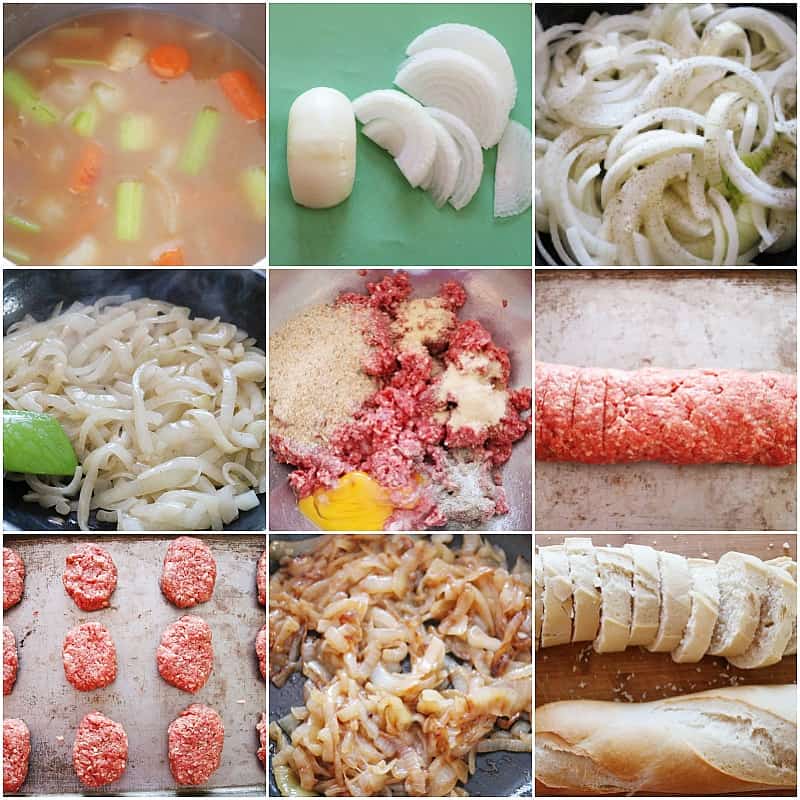 Assemble your sliders:
Butter a sheet pan
Place bottom bread slices on the sheet pan
Top with provolone cheese, burger patty, caramelized onions and more cheese
Add the top bread slice and a skewer to hold in place
Bake until cheese is melted
Serve with Au Jus on the side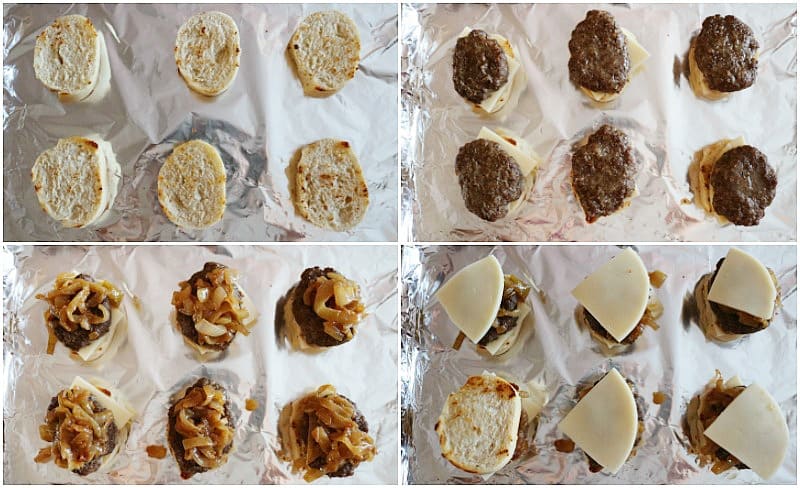 Now dip those sliders in Au Jus and enjoy!
TIP* to turn this into a hearty meal simply simmer the cooked beef patties in the Au Jus with the caramelized onions and serve over creamy mashed potatoes!
PIN FOR LATER!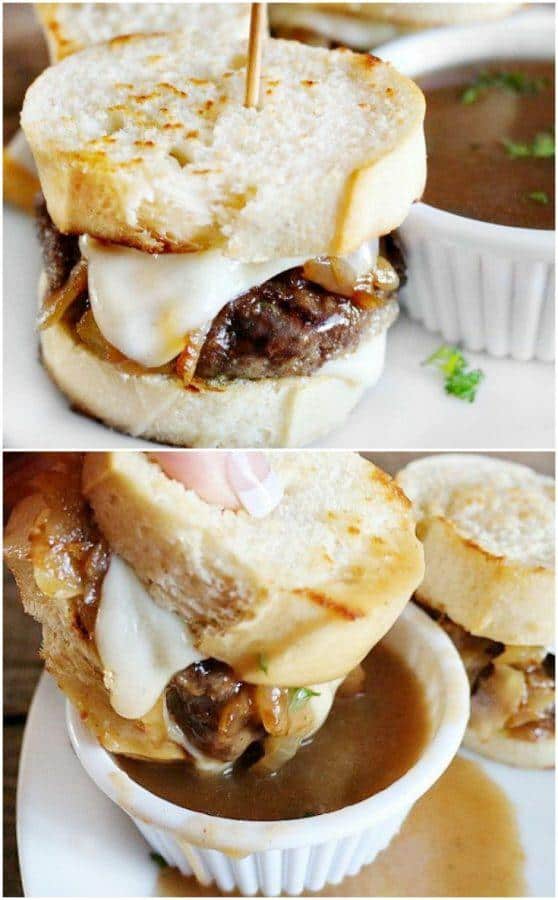 More about the origin of the classic French Onion Soup Recipe here from Culture Trip.
More Burgers & Sliders Recipes
For another spin on a classic, try out this sloppy joes recipe burgers stuffed with cheese. So good and super easy.
More open faced than full sandwich, this recipe for Phillly steak and cheese crostini is just as delicious as if it had two pieces of bread.
If you are avoiding carbs but still want that burger, make these burger bowls instead! All of the flavor with none of the carbs!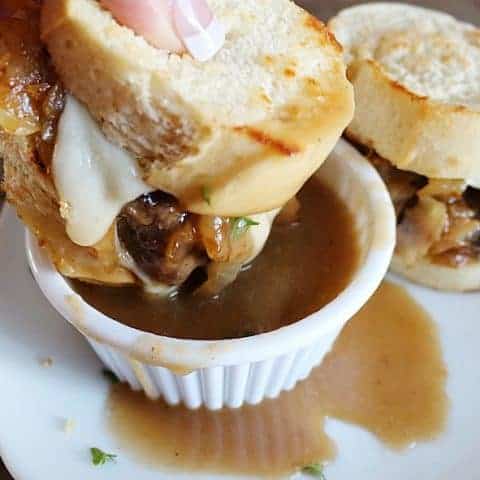 French Onion Soup Beef Sliders
If you are a fan of the classic French Onion Soup Recipe then you absolutely have to try these beef sliders. Slow caramelized onions, gooey melted provolone cheese and an amazing Au Jus to dip them in!  Come see how easy they are to make.
Ingredients
Beef Patties:
1 lb ground beef
¼ cup Italian bread crumbs
1 egg
1 teaspoon onion powder
1 teaspoon garlic powder
½ teaspoon dried thyme
pinch salt & pepper
Caramelized Onions:
2 vidalia onions, thin sliced
3 tablespoons butter
Au Jus:
12 oz beef broth
1 teaspoon dried thyme
1 teaspoon onion powder
1 teaspoon pepper
Bread:
1 Baguette
6 slices of provolone, cut in ¼'s
Instructions
Preheat the oven to 400
Add Au Jus ingredients to a sauce pot, bring to boil and reduce to simmer.
In a large skillet start butter melting over medium low heat. Add onion slices, stir often. Continue sweating onions until brown and caramelized.
Combine all patty ingredients in a bowl , mix well. Shape into patties the slice of your bread.
Place on sheet pan and bake until desired temperature is reached (we cooked to medium) about 10 minutes for 3" , 1" thick patties.
Assemble sliders by building bread, cheese, patty, onions, cheese, bread.
Place back on sheet pan and bake until cheese is melted, about 5 minutes.
Serve with Au Jus for dipping
Nutrition Information:
Yield:

10
Amount Per Serving:
Calories:

300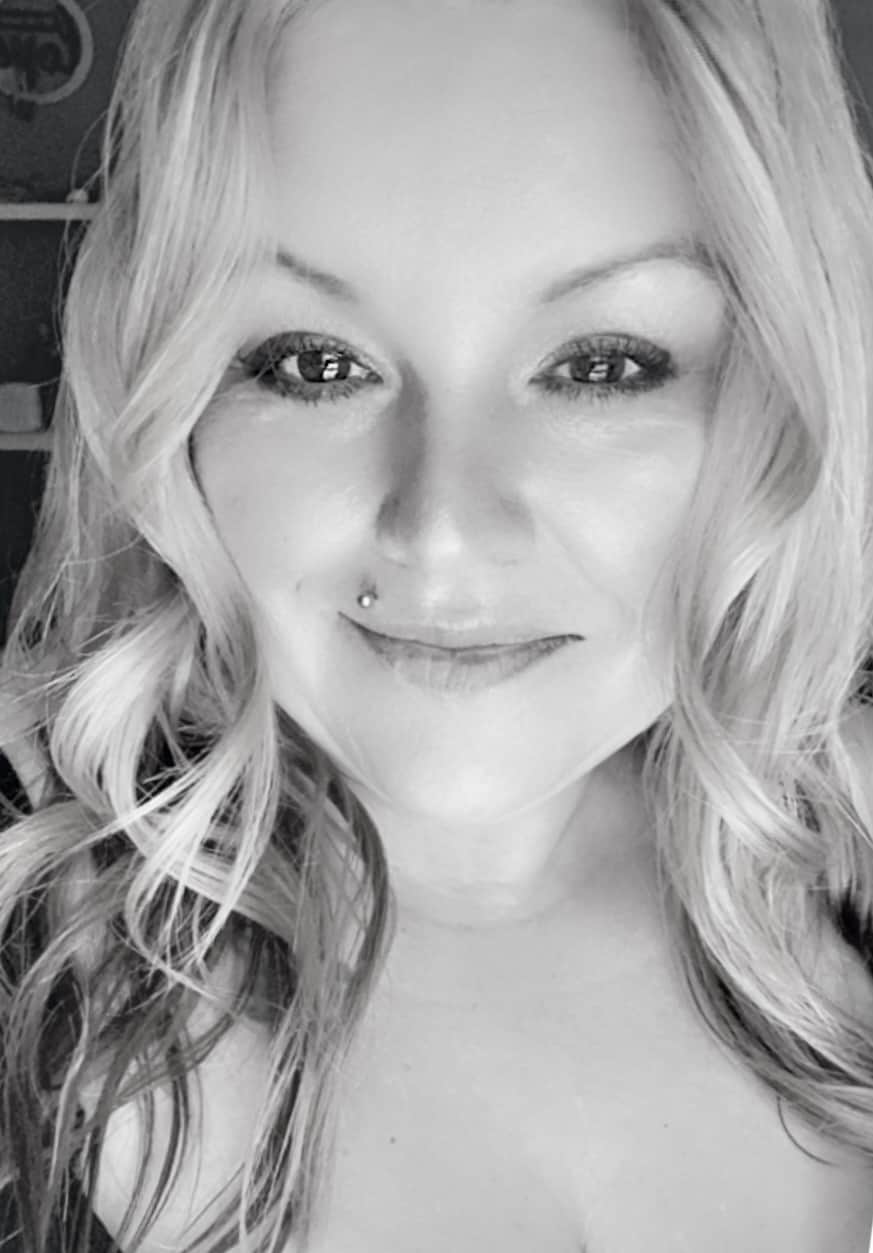 Owner & Lead Recipe Developer for It's Simple! since 2015, where you will find our best Family Favorites & Keto Low Carb Dishes with Helpful Cooking Tips & Hints in each post. Many Thanks for Stopping By, Enjoy!