Keto French Toast Sticks are a great make ahead, freezer recipe that you can enjoy all week long. Simply pop them in the microwave or oven to reheat!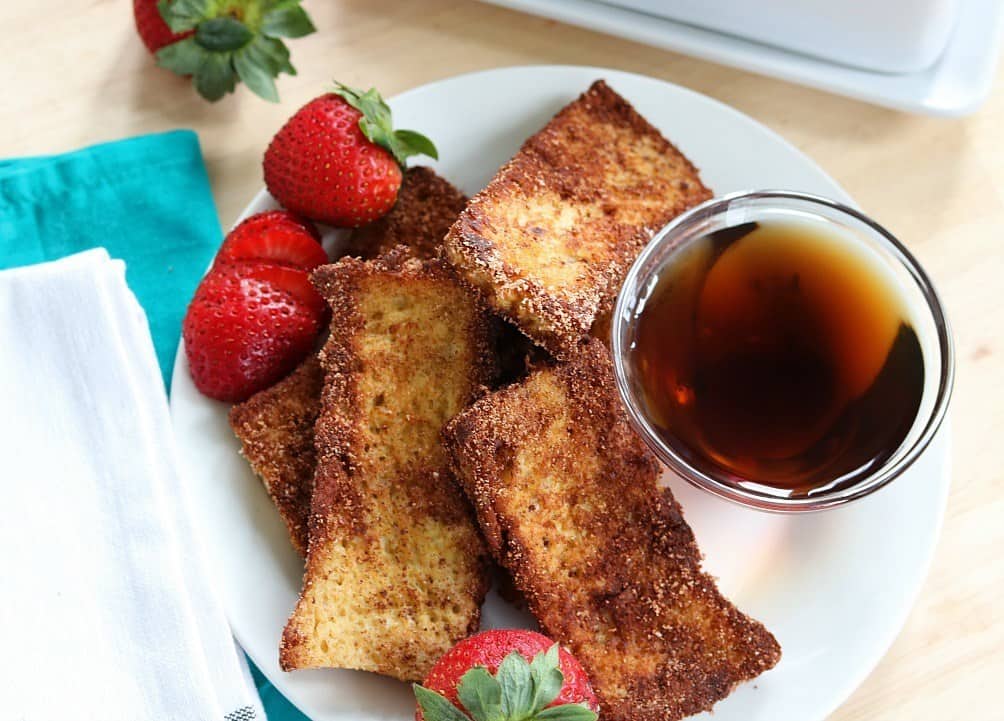 Keto French Toast Sticks
One of the best keto inventions ever is bread. I know, crazy right?  When you start eating low carb and keto you automatically think you have to cut out bread. You don't. It is advised to skip it in the induction phase of keto to help cut down on cravings, however once you are out of that phase it normally isn't an issue.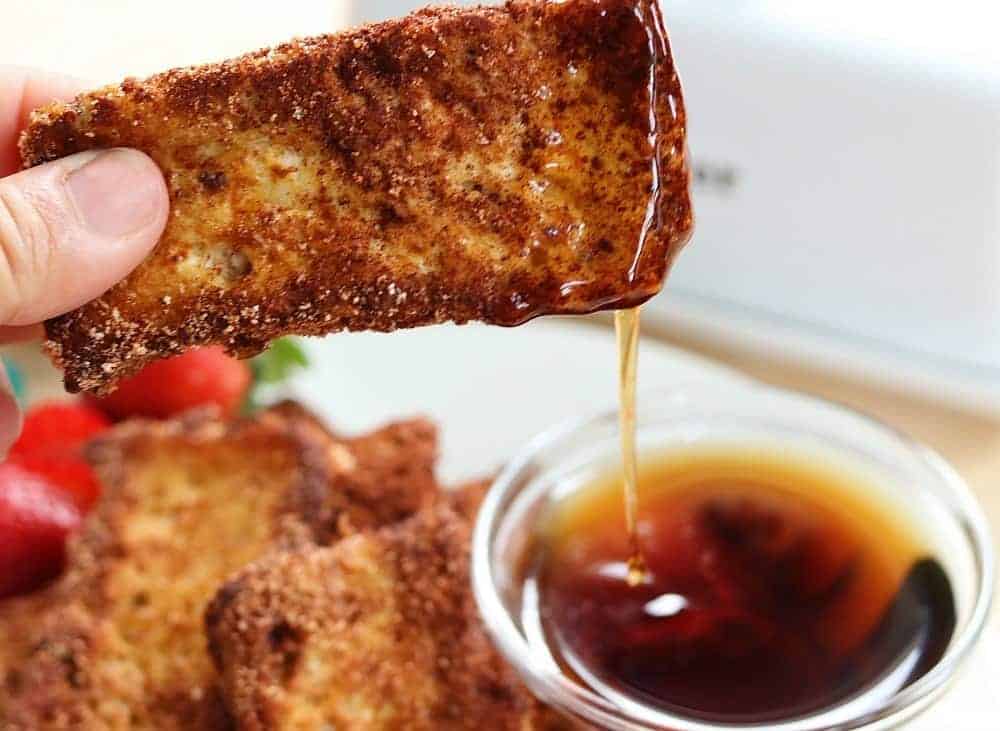 Low carb breads are typically made with almond, coconut or flax flours (or a combo of all) with psyllium to give it a bit of chew and bread texture plus some added fiber.
My go to low carb bread recipe is from a very trusted, tried and true low carb food blogger and can be found here
--->>Low Carb Bread.  You can also buy plain and flavor varieties of low carb bread from companies like The Great Low Carb Bread Company.
The trick to making these french toast sticks crisp up is the butter. As you know REAL butter on keto is your friend! Use it.  Get it nice and hot (but not browning) and the keto french toast sticks will crisp up nicely.
Making our Keto French Toast Sticks-  Video
(FULL PRINTABLE RECIPE BELOW)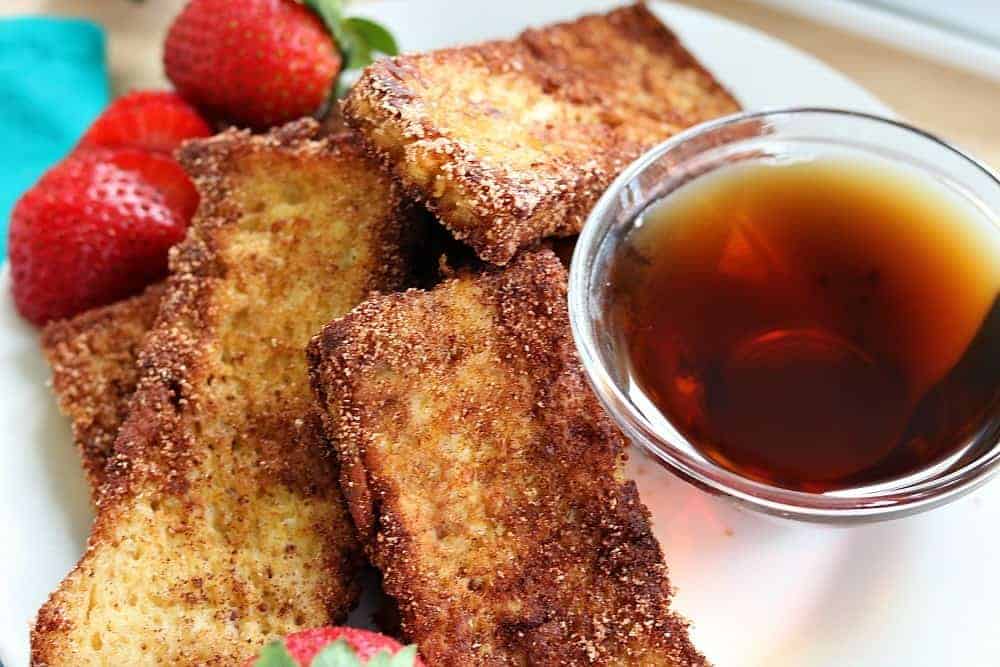 If you can't find a sugar free syrup you love, simply dip them in melted butter.  They will remind you of fried dough.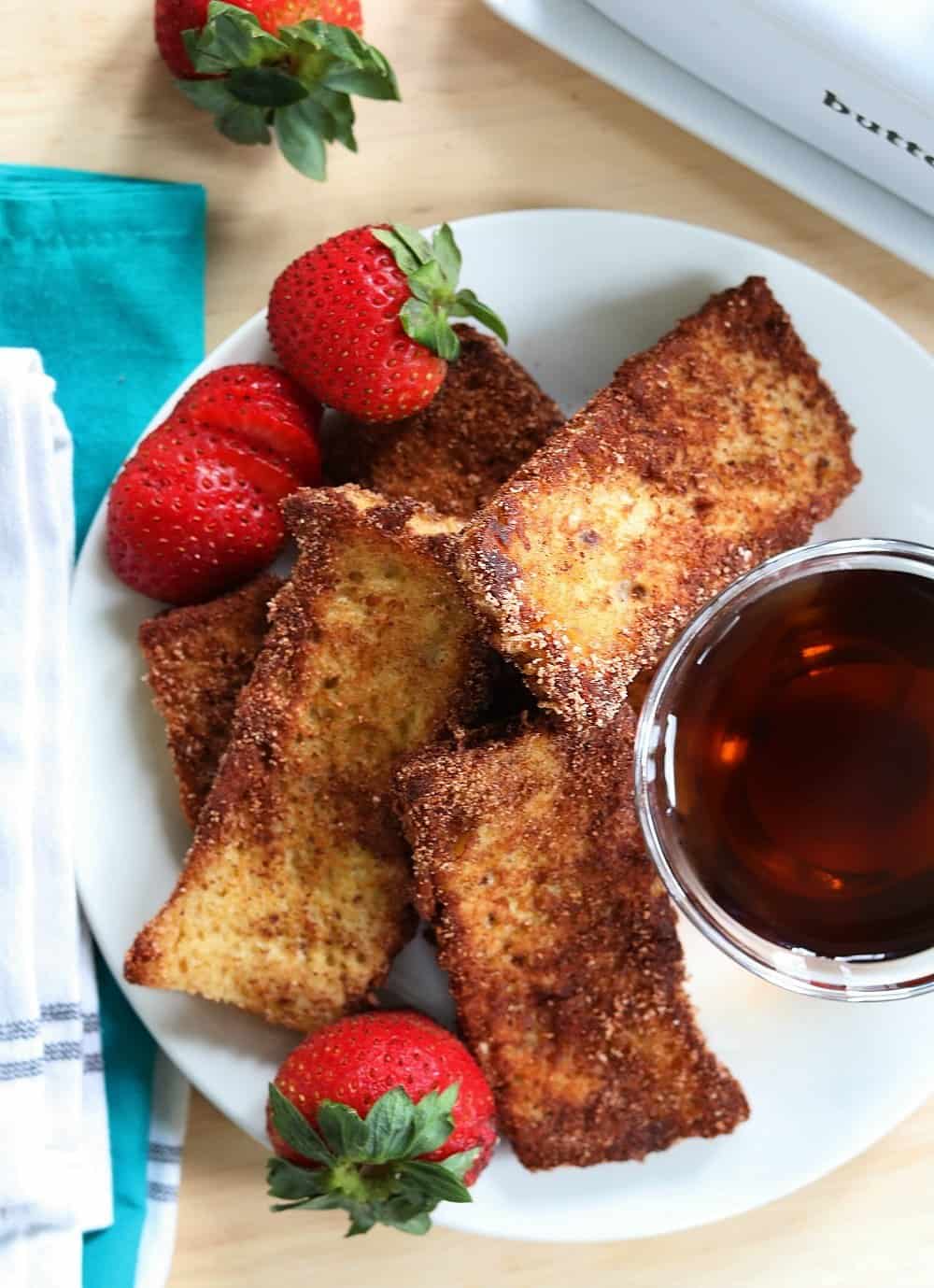 Another amazing keto breakfast idea is this Meat Lover's Skillet Breakfast Pizza. Yes, pizza for breakfast that isn't cold out of a box!  This breakfast pizza is made with egg and is loaded with all types of meats like sausage, pepperoni, ham and bacon. It is made in a skillet so the Fathead dough gets nice and buttery crisp on the bottom. You have never had anything like this, unless of course you have had this one.
Get the recipe --->>  Meat Lover's Skillet Breakfast Pizza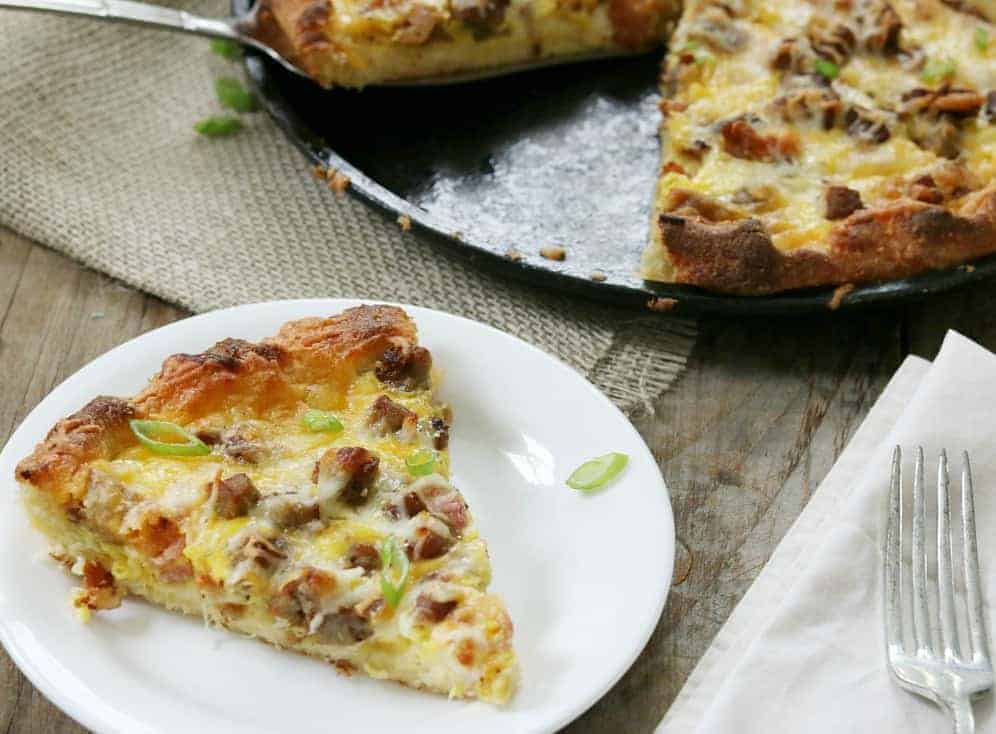 More amazing Easy Keto Recipes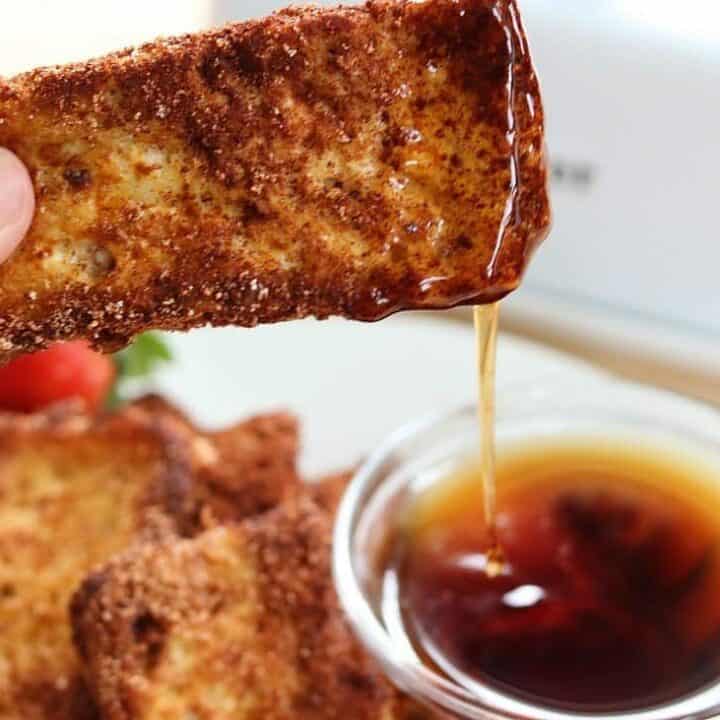 Keto French Toast Sticks
These keto french toast sticks are a simple and delicious break from every day eggs! 
Ingredients
3 slices Low Carb Bread
2 large eggs
¼ heavy cream
1 teaspoon cinnamon PLUS 2 tbsp
¼ cup granulated sweetener
3 tablespoon butter
Instructions
Cut bread into sticks.
Whisk eggs, cream and cinnamon.
Soak bread into egg mixture.
Heat skillet to medium high, melt butter (carefully not to brown)
Pan fry french toast sticks until golden on each side.
Mix cinnamon and sweetener. Coat french toast sticks.
Dip in sugar free syrup, enjoy!
Notes
1.5 NET Carbs per each 3 sticks
Nutrition Information:
Yield:

2
Amount Per Serving:
Calories:

200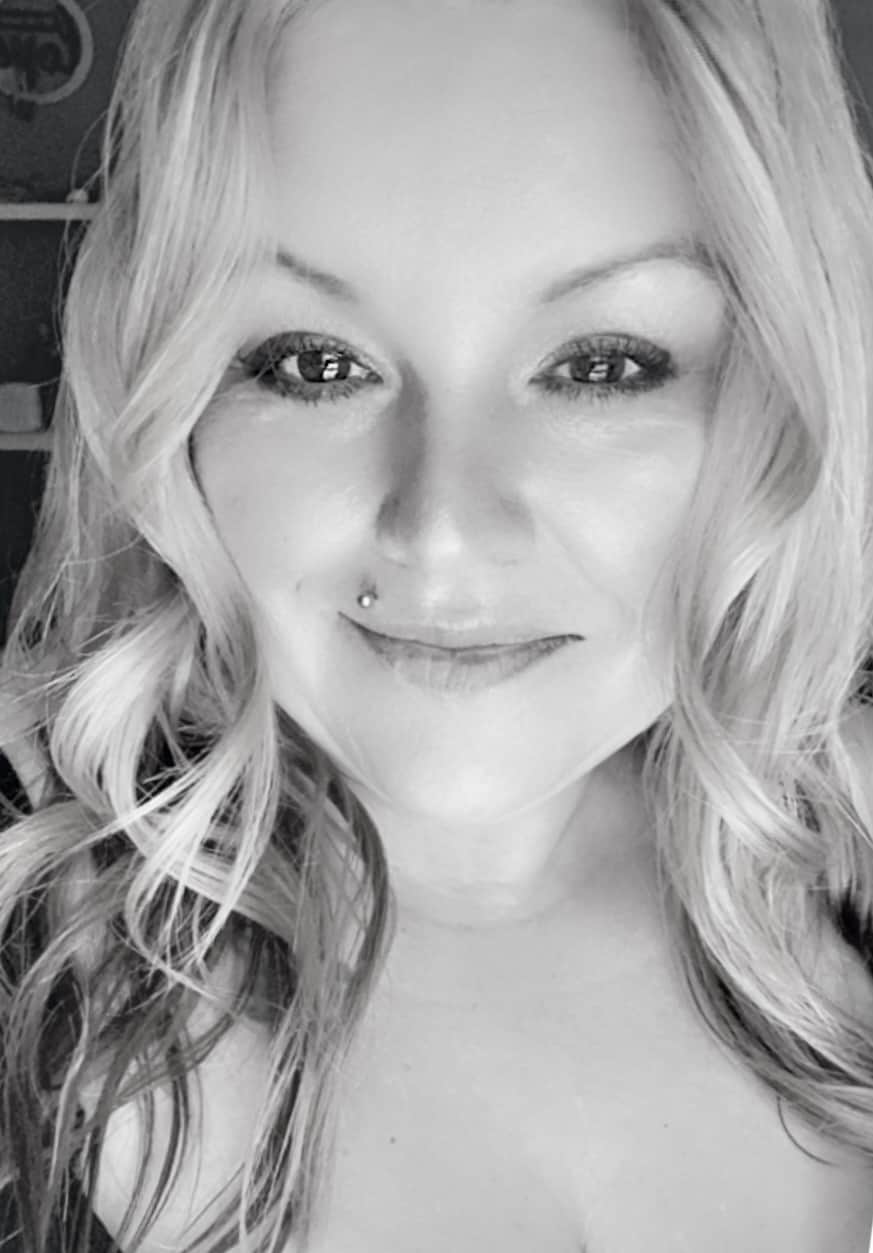 Owner & Lead Recipe Developer for It's Simple! since 2015, where you will find our best Family Favorites & Keto Low Carb Dishes with Helpful Cooking Tips & Hints in each post. Many Thanks for Stopping By, Enjoy!