This keto chicken salad with avocado dressing is a hearty, but light lunch or dinner. Perfect macro ratio without any fuss.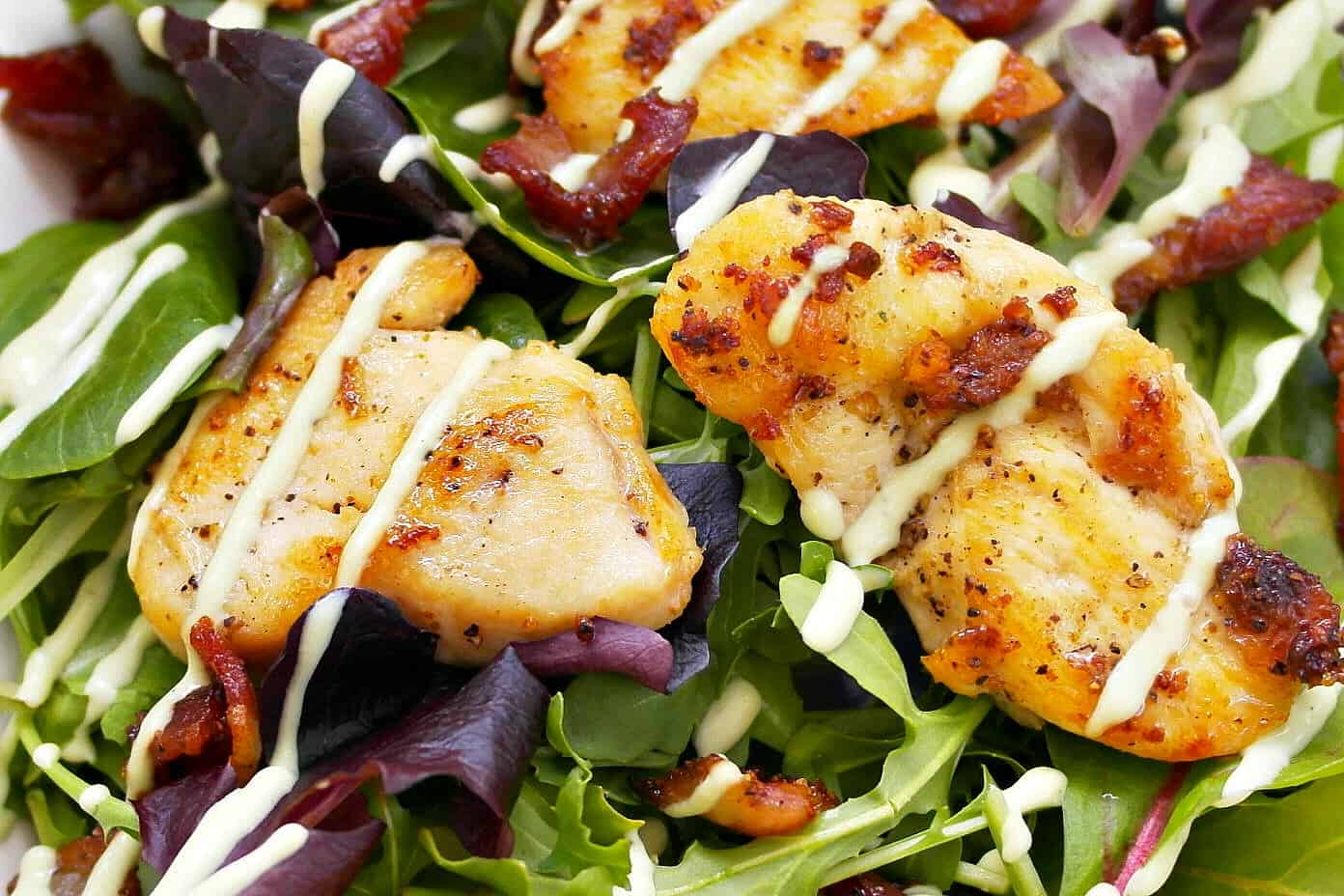 Keto Chicken Salad
with Avocado Dressing
Great as a light lunch or dinner!   So light you will have room for these amazing lemon bars for dessert!
Serves 2
Ingredients
1 Boneless skinless chicken breast, sliced
3 slices of bacon, diced
1 Lemon
1 teaspoon paprika
½ teaspoon onion powder
Salt
Pepper
For the DRESSING:
Olive Oil
1 Avocado
1 cup sour cream
4 cups spring greens mix
Instructions
Start by heating a skillet drizzled with Olive oil over medium high heat.
Slice the chicken ( you can also cube it, I like thin pieces)
Add the chicken & bacon to the hot skillet and saute for about 3-5 minutes still over medium high heat to obtain a nice brown color.  Reduce the heat to medium low.  Season with the paprika and onion powder.  Stir.
Continue cooking until the chicken is no longer pink in the center, about 5 more minutes.  Add a pinch of salt and pepper.  Remove from heat.  Set aside.
Cut the avocado in half, remove the seed and scoop the avocado halves from the skin.  Slice.
Add the avocado, juice of lemon and sour cream with a pinch of salt to a single serve blender. Puree until creamy.
Blend until smooth.  Drizzle in about 1 tablespoon of Olive oil,  blend again.
Add the salad greens to your chosen dish, top with the chicken and drizzle with dressing.
OR
Toss the salad greens in the dressing and top with chicken.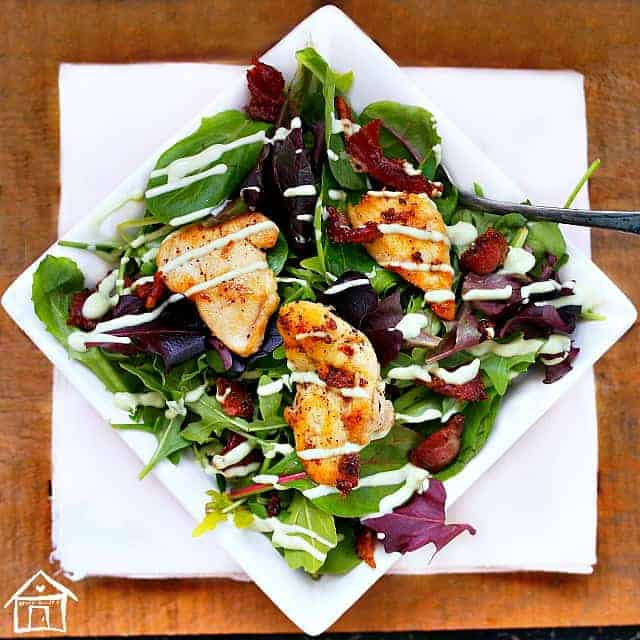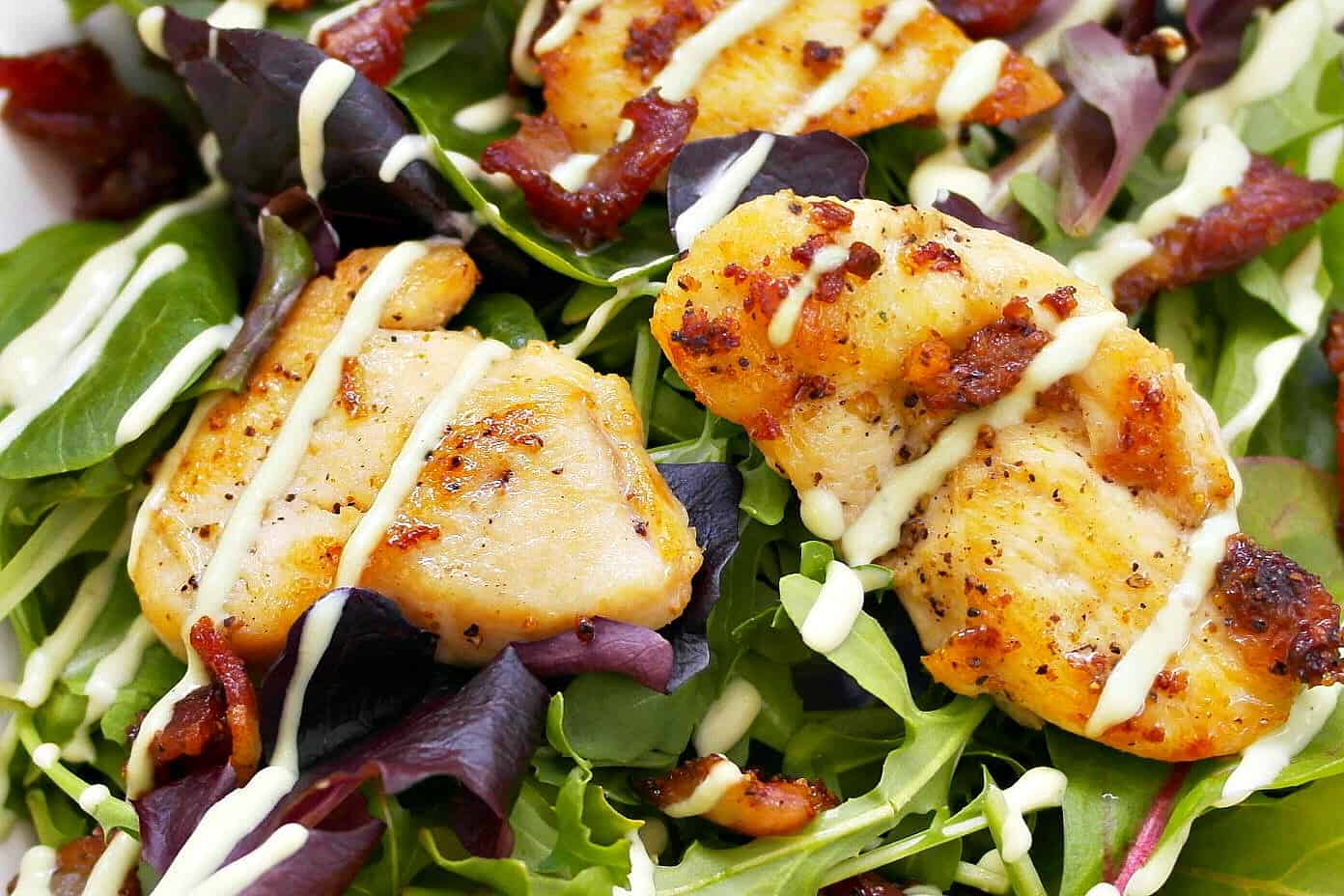 If you like this recipe,  check out our Bacon Cheddar quiche !
 I know,  technically the two recipes have nothing in common at all except for bacon....  and the fact that they are delicious.   The bacon cheddar quiche is easy and has been pinned thousandssssss  of times on Pinterest !    You will want to make that.