This shop has been compensated by Collective Bias, Inc. and its advertiser. All opinions are mine alone. #YesYouCAN #CollectiveBias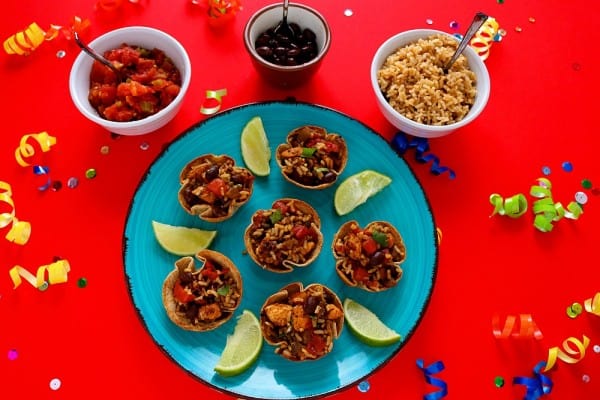 Cinco De Mayo Party Appetizer
Chili Lime Chicken & Rice Cups
Cinco De Mayo is coming up and you know what that means! Another excuse to make (and eat) lots of party food. One of my favorite aspects of cooking is preparing appetizers. I mean, after all, they are bite sized munchies geared towards easy eating while you are mingling. What is not to love?
Planning for a party like Cinco De Mayo can be stressful. There is a lot to do and a lot to remember. Regardless of how busy I am when playing party planner,  I always make sure to focus on the food. I strive to create appetizers that will be satisfying, but quick and easy without sacrificing flavor.
For example, I use products like RO*TEL Diced Tomatoes & Green Chilies with a few fresh ingredients to boost flavor and save me time. Which is what I did for these amazing chili lime chicken & rice cups. #YesYouCAN skip chopping all kinds of fresh veggies, but still have your food taste like you used them!
Find RO*TEL in most grocery and big box stores, like Walmart in the tomato sauce/diced tomato aisle.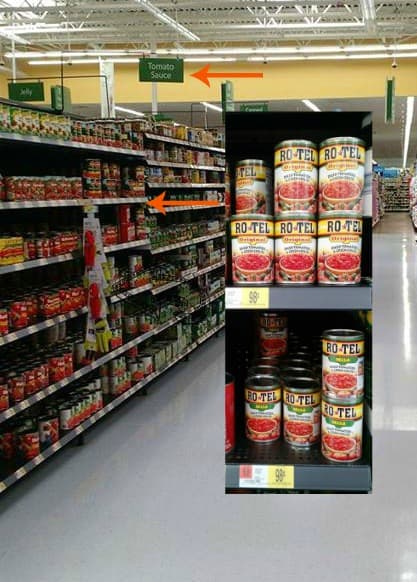 To maximize the flavor of this recipe with little effort, I also added juice from fresh limes. The lime juice is used as a marinade for the chicken and just a tad bit is squeezed over the finished appetizer.  You can find a variety of fresh limes in your grocery produce section.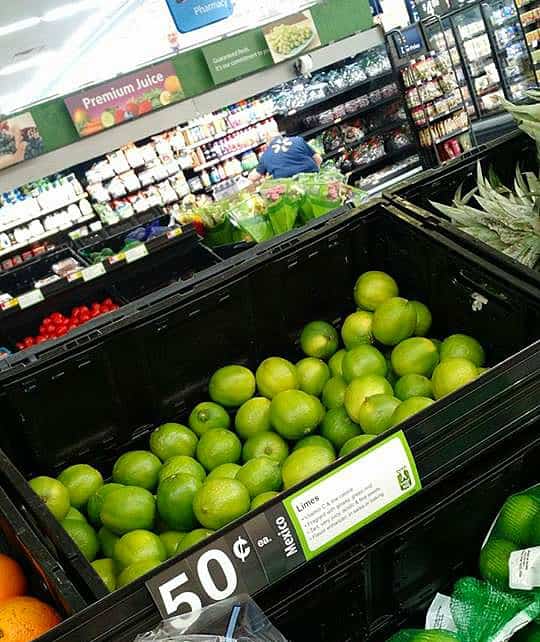 Even though there are a few steps to creating this yummy appetizer, they are really easy. You will most likely be doing more than one step at a time. The whole process takes about 20-30 minutes.
a 15 minute marinade
10 minute homemade tortilla cups
10 minute boil n bag rice
Saute the chicken
Combine all ingredients & fill the cups
Serve!
To make our Chili Lime Chicken & Rice Cups for your Cinco De Mayo party you will need the following:
Makes 12 (can be easily doubled) 

Ingredients
6-  10" flour tortillas
8 oz. diced chicken
1 boil n bag rice
2 fresh limes
10 0z. can RO*TEL diced tomatoes & green chilies
½ cup black beans, rinsed & drained
1 taco seasoning packet OR
1 teaspoon each: paprika, cumin, sea salt & pepper
Sprigs of fresh cilantro
For the chicken marinade
Juice of 1 lime
1 teaspoon chili powder
¼ cup diced green chilies
Pinch of salt & pepper
Start the chicken marinating by adding all ingredients to a bowl, mix well , cover with plastic wrap and place in the fridge while you make the tortilla cups. The acid from the lime juice will help all the flavors soak right in quick!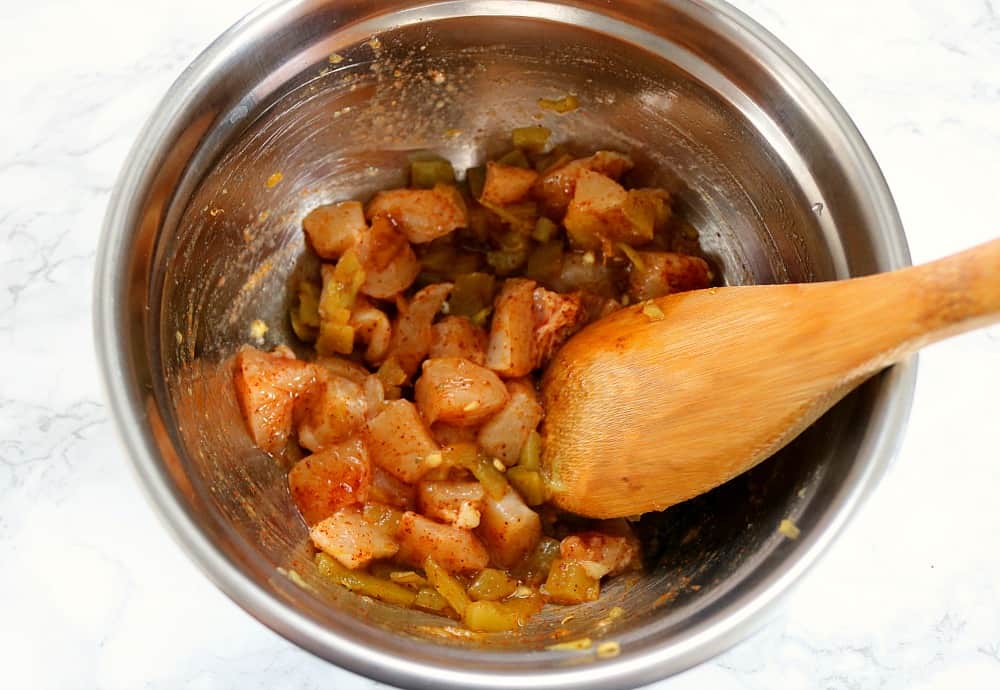 To make the tortilla cups simply fold the tortilla in half and use a 4" round cookie cutter (or cup with knife!) to cut out circle shapes. Folding the tortilla in half will give you 2 at a once, saving you a bit of time.  Press the tortilla rounds into a greased muffin pan.  Bake on 425° for 10 minutes or until edges are golden.  Remove and set aside.
Boil the rice by covering the bag with water in a 2 qt. sauce pan for 10 minutes. When I cook I take every opportunity to add flavor where I can. For rice, flavor the water with relevant ingredients and seasonings.  For our rice we crushed a garlic clove, sliced some limes, added a pinch of chili powder, cumin, salt & pepper with some fresh cilantro.

PAUSE!  We have a GREAT KITCHEN TIP for you!  Peel Garlic without a sticky mess!
I am sure you have heard that smashing a garlic clove under a chef's knife is an easy way to remove the clove from the peel. Well, I have been cooking for years and rarely ever does the clove come out completely. I usually have to finishing peeling by hand, which creates a sticky mess. The peel attaches to your fingers like super glue!
Here is my super easy trick to avoiding this:
Place garlic clove in a microwave safe dish, add just enough water to cover the clove.
Microwave for 20 seconds
Place on flat surface, rest chef knife flat on the clove
Give it a good whack! (keep finger tips up and palm flat)
The clove will slide right out of the peel every time.  NO sticky mess, no additional peeling!
The heated water softens the peel just enough that it loosens from the clove.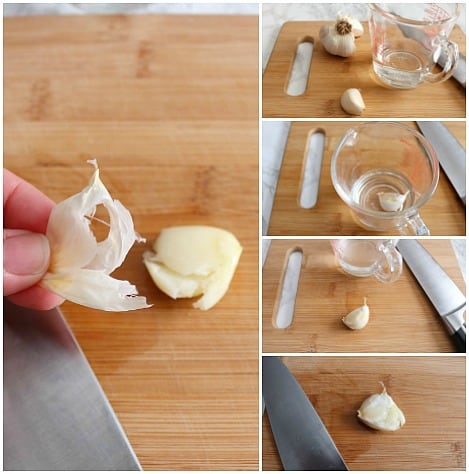 Watch the video!
Pretty cool, right?  Alrighty, continuing on...
Saute the chicken in a skillet that has been drizzled with Olive oil, over medium heat. Pour the contents of the marinade bowl right into the skillet.  Stir constantly until chicken is cooked through. Add the can of RO*TEL and continue cooking for about 2 minutes.

Combine all ingredients into the skillet.  Add the rice, black beans and some chopped cilantro to the chicken and RO*TEL. Mix well.  Give it a taste!  If you want to make any adjustments to flavor here you can.  I added a touch more Cumin to ours.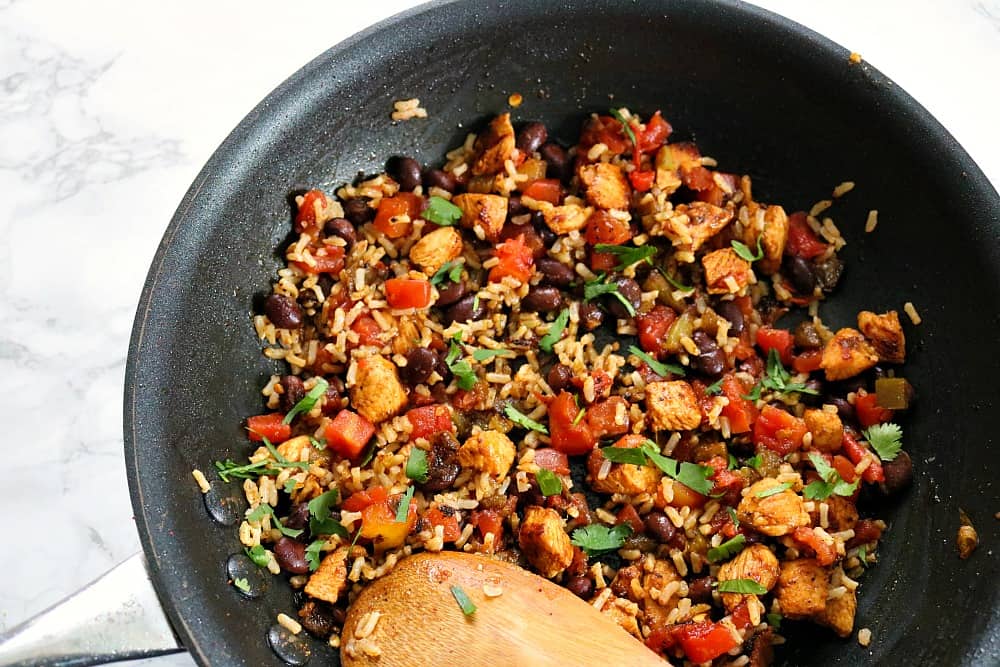 Fill the tortilla cups!  Scoop a spoonful into each cup, fill them right up!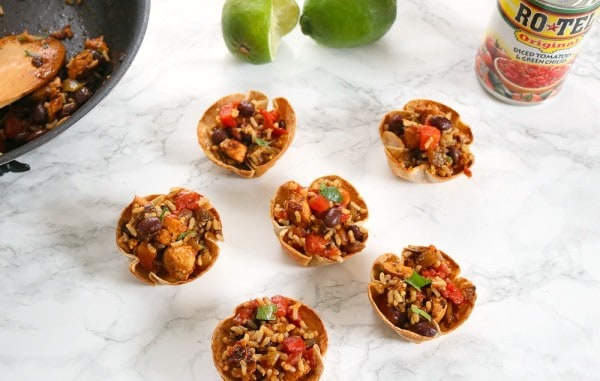 Serve!  Just before serving, squeeze a touch of lime juice over the top of each cup if desired, or set out lime slices on the serving plate.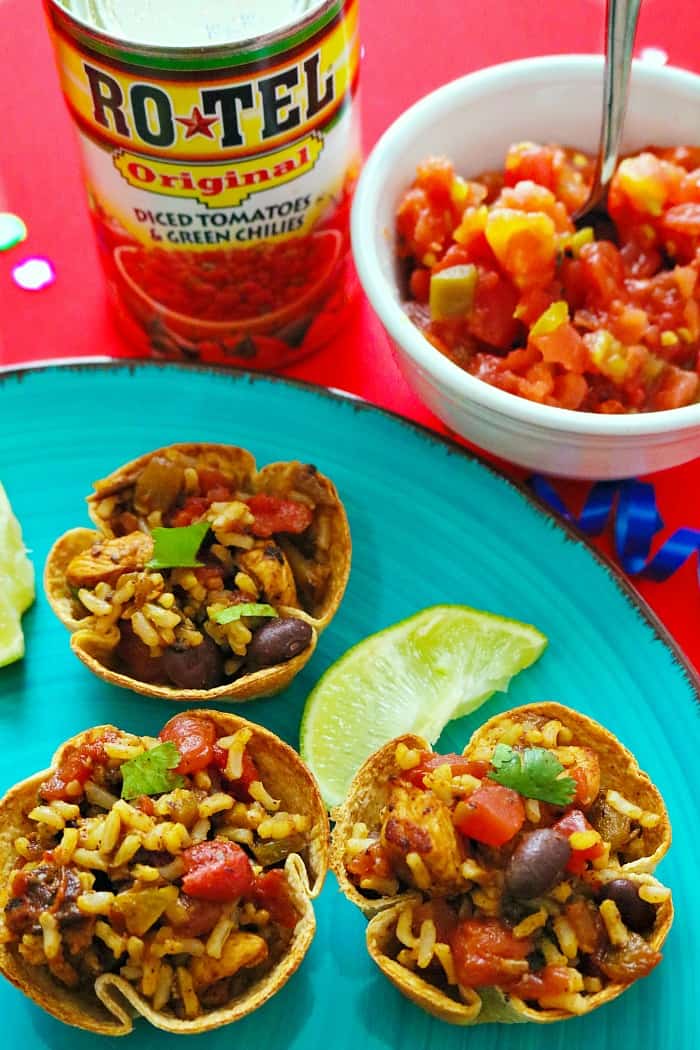 Check out more great Mexican recipe ideas here !
 Find great offers from ConAgra on the money saving app iBotta!
Happy Cinco De Mayo!