Toast Pumpkin Seeds the right way and you will be enjoying a crunchy, all natural snack that has a ton of health benefits!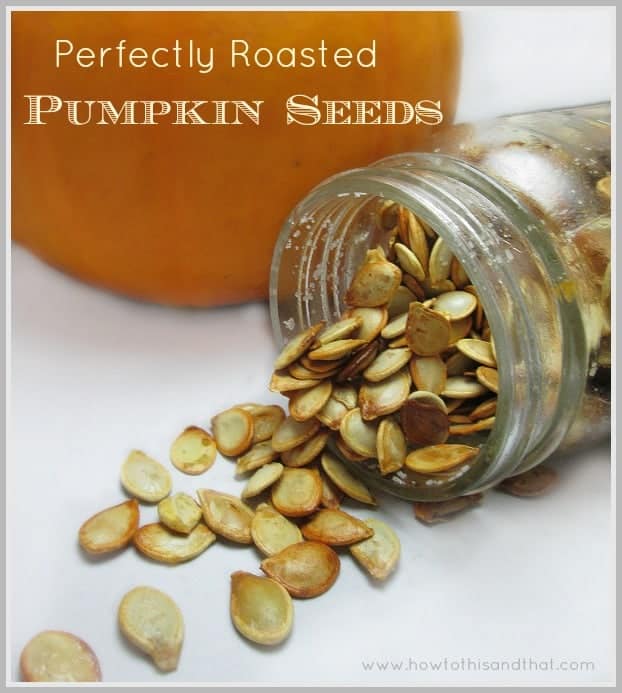 Toast Pumpkin Seeds
The Right Way!
I was not going to post about this because there are so many toasted pumpkin seed tutorials out there, but after roasting some today- and having them come out perfect,  again, I had to share.  There is one common mistake people make when they toast pumpkin seeds.  Starting with the temperature way too high.
Starting in September until the end of November, pumpkins all over are being cleaned out and prepared for cooking and decoration.  There is a mass amount of seeds that come out of these pumpkins. Make sure you grab up those seeds and follow this EASY tutorial:
Toast Pumpkin Seeds


How To Easily Roast The Perfect Pumpkin Seeds

Ingredients

Cleaned pumpkin seeds
Olive Oil
Salt
Cookie Sheet

Instructions

Preheat oven to 300°
Clean all of the pumpkin off your seeds and rinse them in cold water
Spread out on a kitchen towel and pat dry
Pour onto a cookie sheet, drizzle evenly with olive oil and salt , mix well (how much depends on your taste)
Spread out into an even single layer ( I use my hands, it is easier)
Roast for about 15mins or until golden brown, turn over with a spatula half way through


These pumpkin seeds come out crunchy and yummy!  Replace your potato chips or popcorn with these and reap the benefits.
Pumpkin seeds have some pretty amazing health benefits ,  read the top 9 Amazing Health Benefits of Pumpkin Seeds