Do your kids love the Minions? Then keep them busy and get them excited for back to school with this fun and easy Minions craft, a dollar store terracotta pot turned desktop school supplies storage. Because who doesn't love a great dollar store idea, right?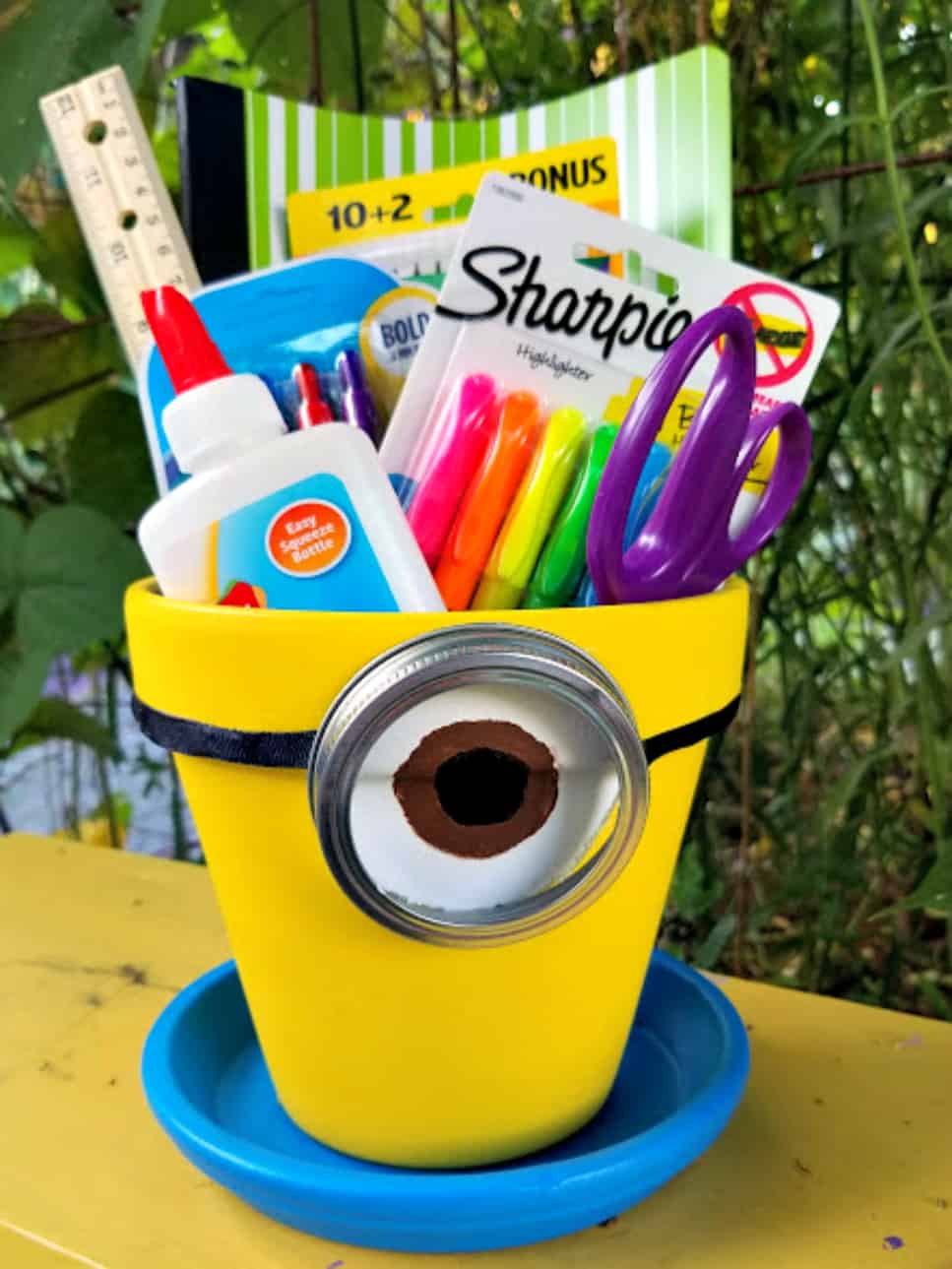 Minions Craft- Desktop School Supply Storage
Who hasn't fallen in love with the adorable little yellow Minions and they are EVERYWHERE! I can't even go into my local gas station without seeing some form of Minion to buy. Is it because they are so adorable? So funny? Maybe it is their special language.  Either way, they are a huge hit with kids of all ages.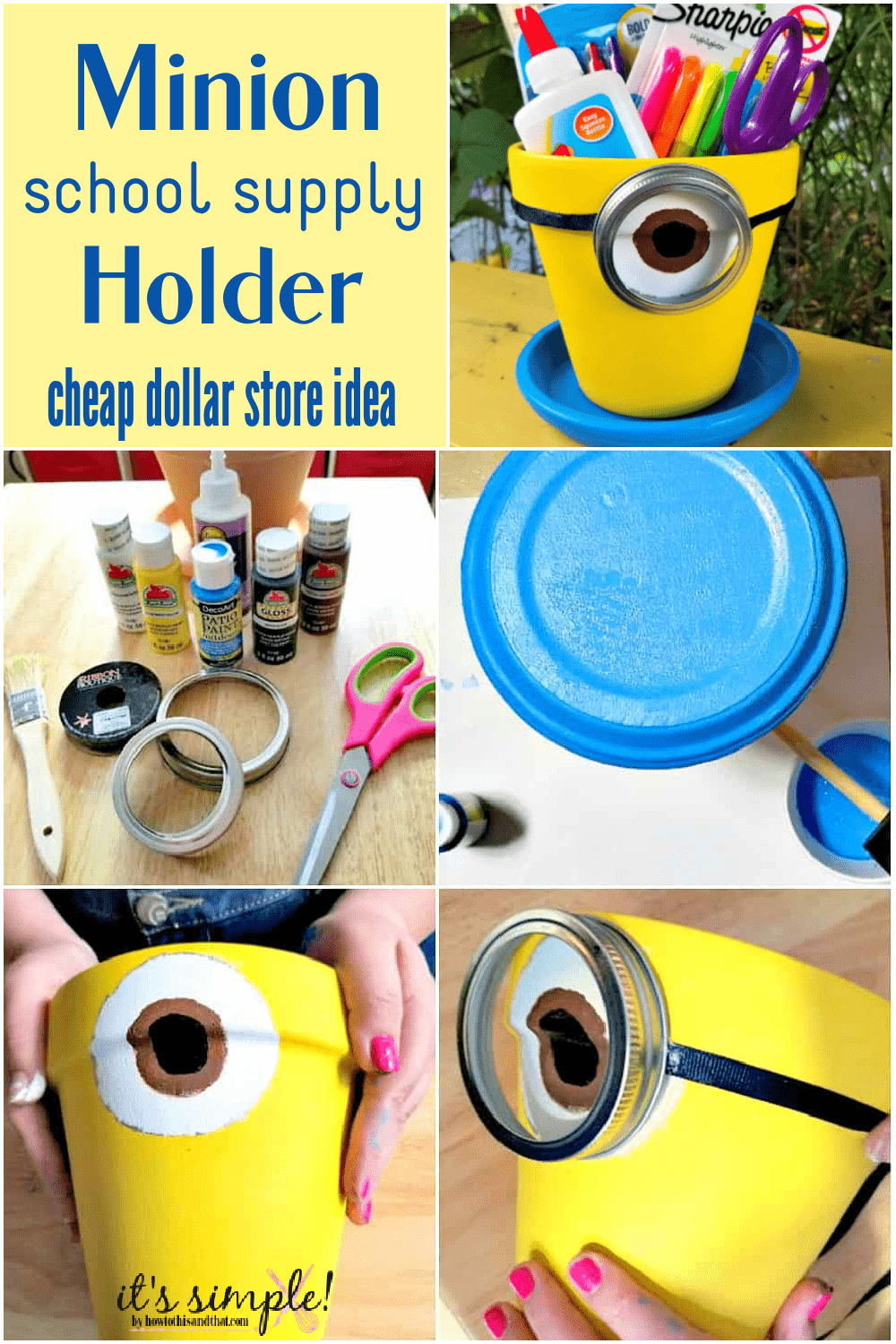 Impress your children with this awesome Minions craft. It gives the kiddos something to do on a rainy day and creates a handy container they can keep organized with. It is made using a dollar store terracotta pot you can find for a couple dollars or even better if you have an old one around that you're not using. Additionally, slap on some paint and the ring from a mason jar- instant Minion, once painted of course. A super cute dollar store idea done cheap.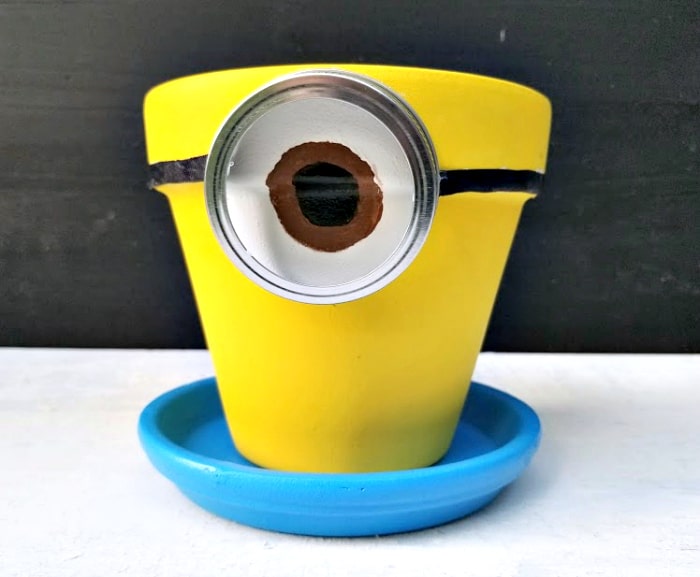 While you are picking up the simple supplies for this project don't forget the goodies to fill it with! Help get your kids in the spirit of back to school time. Yes! Exciting for mom and the kids.  Fill the finished container with all the back to school necessities. Highlighters, ruler, glue, markers and whatever else fun you find along the way. The kids will not only have fun decorating their Minions, they will be excited and ready to be organized for the year.
Dollar Store Terracotta Pot
Desktop School Supply Storage: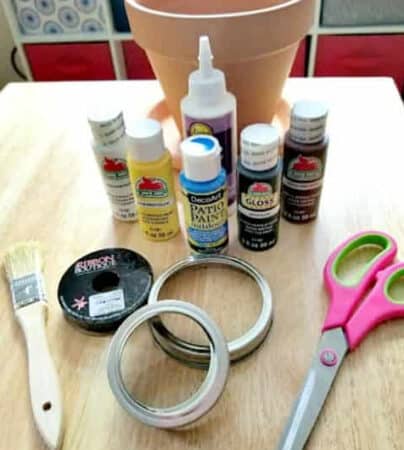 Minions Craft Materials
One medium sized terra cotta flower pot and saucer

1 mason jar ring

1 bottle of Minion yellow paint

1 bottle of Minion blue paint

1 bottle each of white, black and brown paint. You can also use a black and brown marker.

1 medium paintbrush for painting the flower pot and saucer

1 small paintbrush for painting the eye

Pencil

¼ " black grosgrain ribbon

Tacky glue or a hot glue gun and glue sticks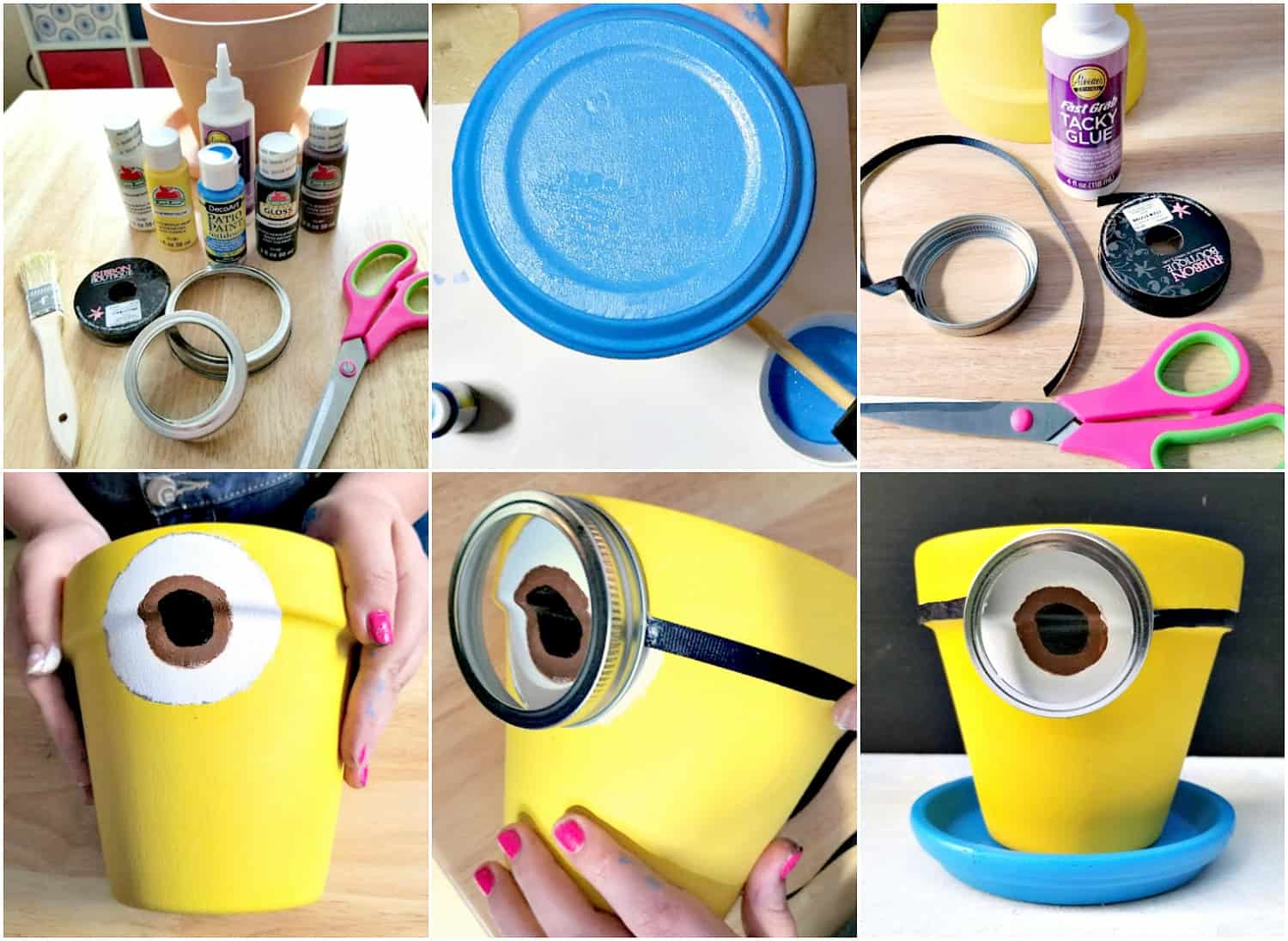 Instructions
Paint your flower pot with the yellow paint. You may need to do 2-3 coats. Allow to dry completely in between coats. 

Paint your saucer with the blue paint. You may need to do 2-3 coats. Allow to dry completely in between coats. During this time prepare for the next step or sing songs like a minion!

Place your mason jar ring with the top against the flower pot. This is where the eye will be. Use a pencil to mark the circle of the eye, using the ring as a guide. 

Pain the eye circle white. Do at least 2 coats. Allow to dry completely in between coats. This is super important. If you don't, the brown and black will run into the white.

Using a pencil, make a circle, about the size of a half dollar, in the middle of the white part of the eye. This will be painted brown. You can also use a brown marker instead of paint.

Repeat step five, but inside the brown circle. This will be painted black. You can also use a black marker instead of the paint.

 Glue the black ribbon around the bottom of the top part of the flower pot. The ends will be glued just inside where the mason jar ring will go.

Glue the mason jar ring onto the flower pot.
Now you are ready to fill your dollar store terracotta pot Minions Craft with school supplies for your kiddo's desk! It is for the kids, However I personally would even put this on my work desk.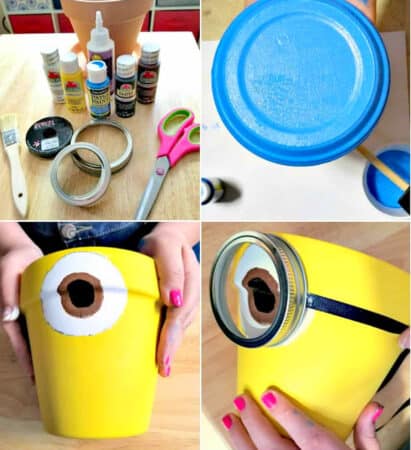 More Easy Kids Crafts and Dollar Store Ideas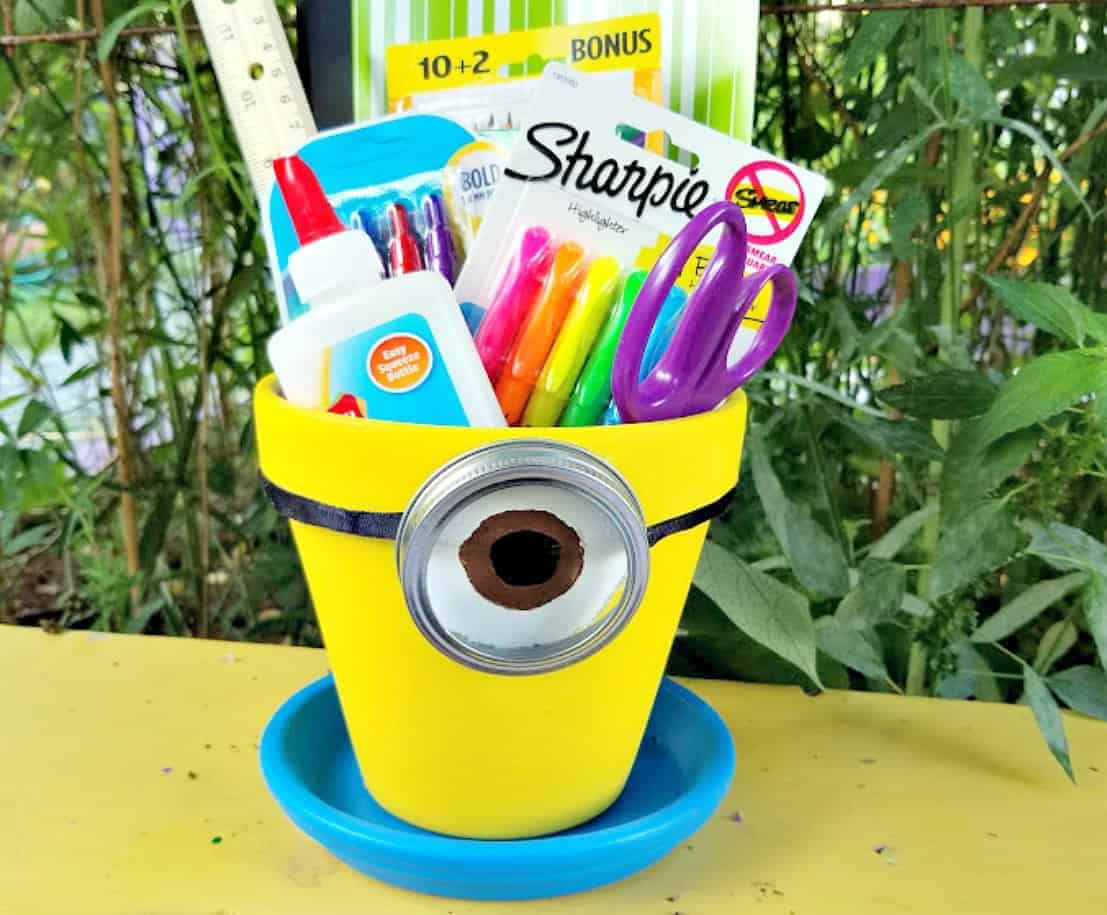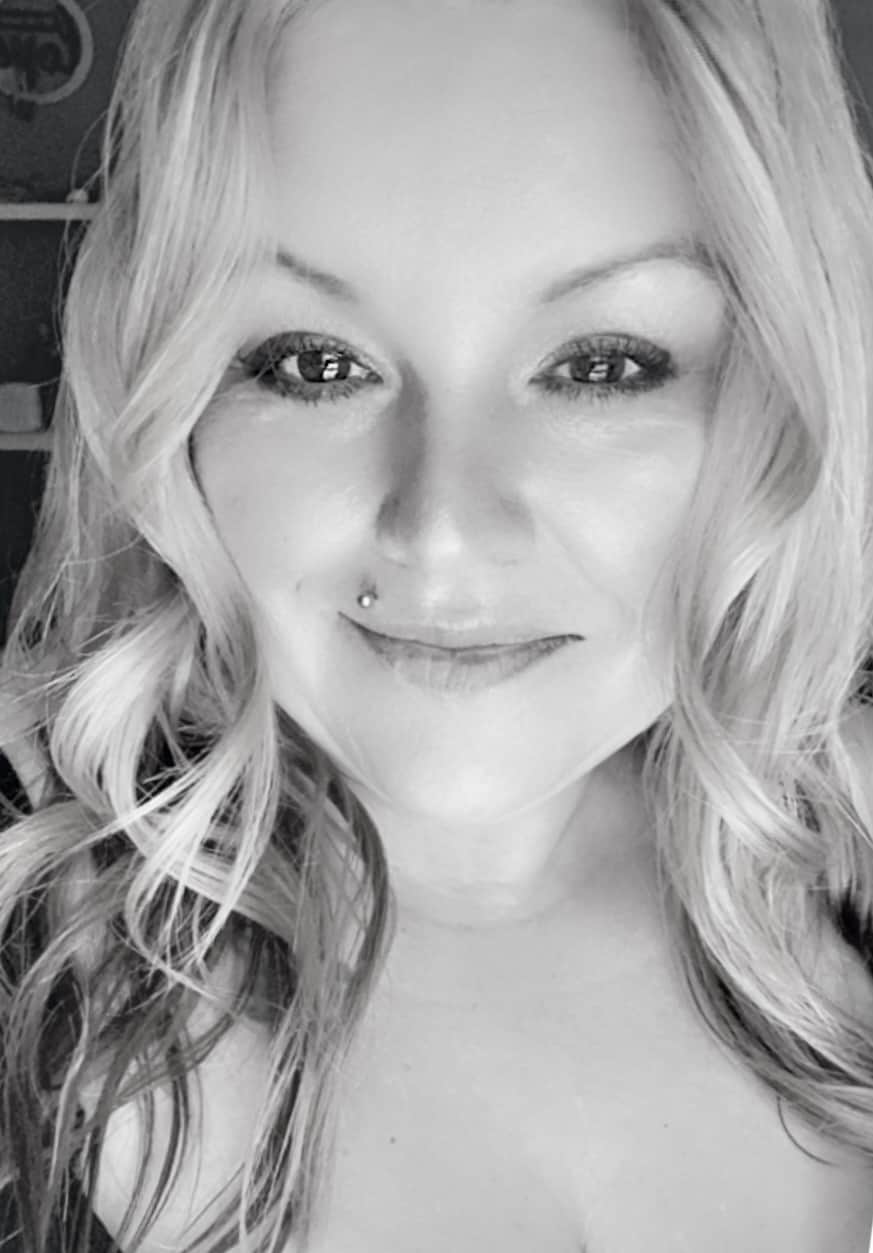 Owner & Lead Recipe Developer for It's Simple! since 2015, where you will find our best Family Favorites & Keto Low Carb Dishes with Helpful Cooking Tips & Hints in each post. Many Thanks for Stopping By, Enjoy!