This shop has been compensated by Collective Bias, Inc. and its advertiser. All opinions are mine alone. #NewBeneful #CollectiveBias
This DIY No Sew Dog Bed is so easy and soft, keeping your dog comfy all night long! The best part- you can make them any size you need!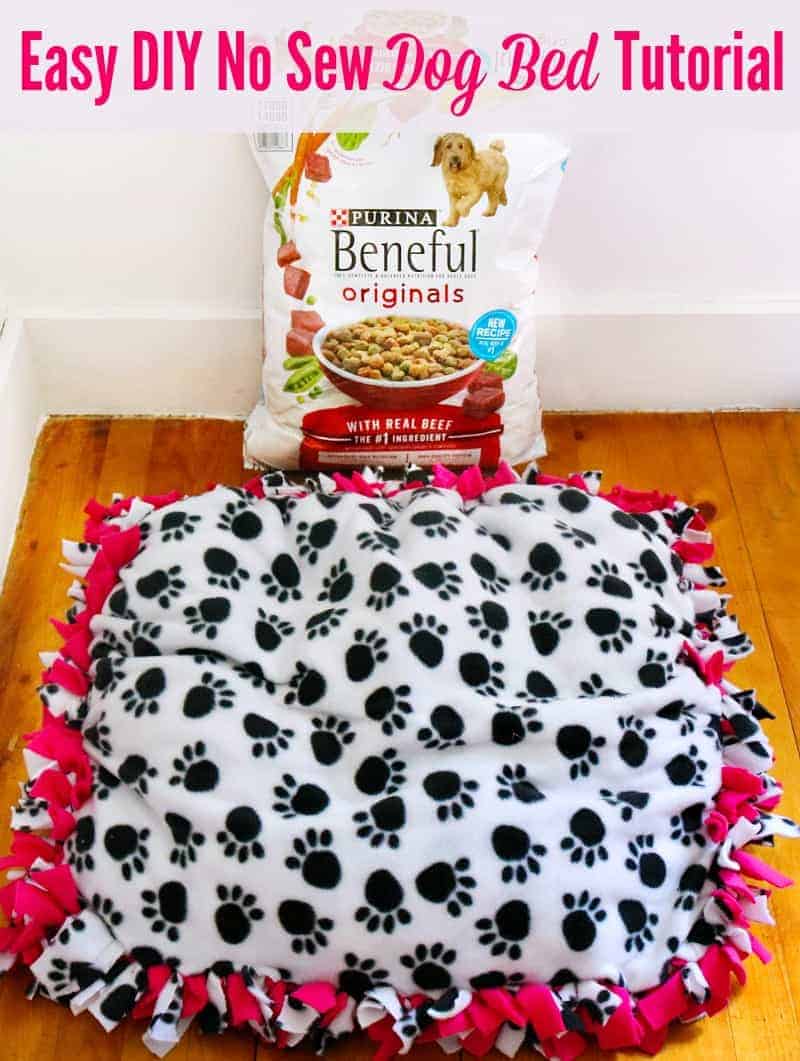 DIY No Sew Dog Bed Tutorial
featuring the new Purina Beneful Originals
Yogi's Story 
About 4 years ago our family grew a little bigger. We adopted Yogi, a standard schnauzer/German shepherd who came to us from a shelter in Georgia. Initially Yogi was just suppose to be a foster dog. We actually hadn't even considered, or thought at all, about having a dog. I was helping a local shelter that needed to find foster homes quickly for these dogs coming up from the south.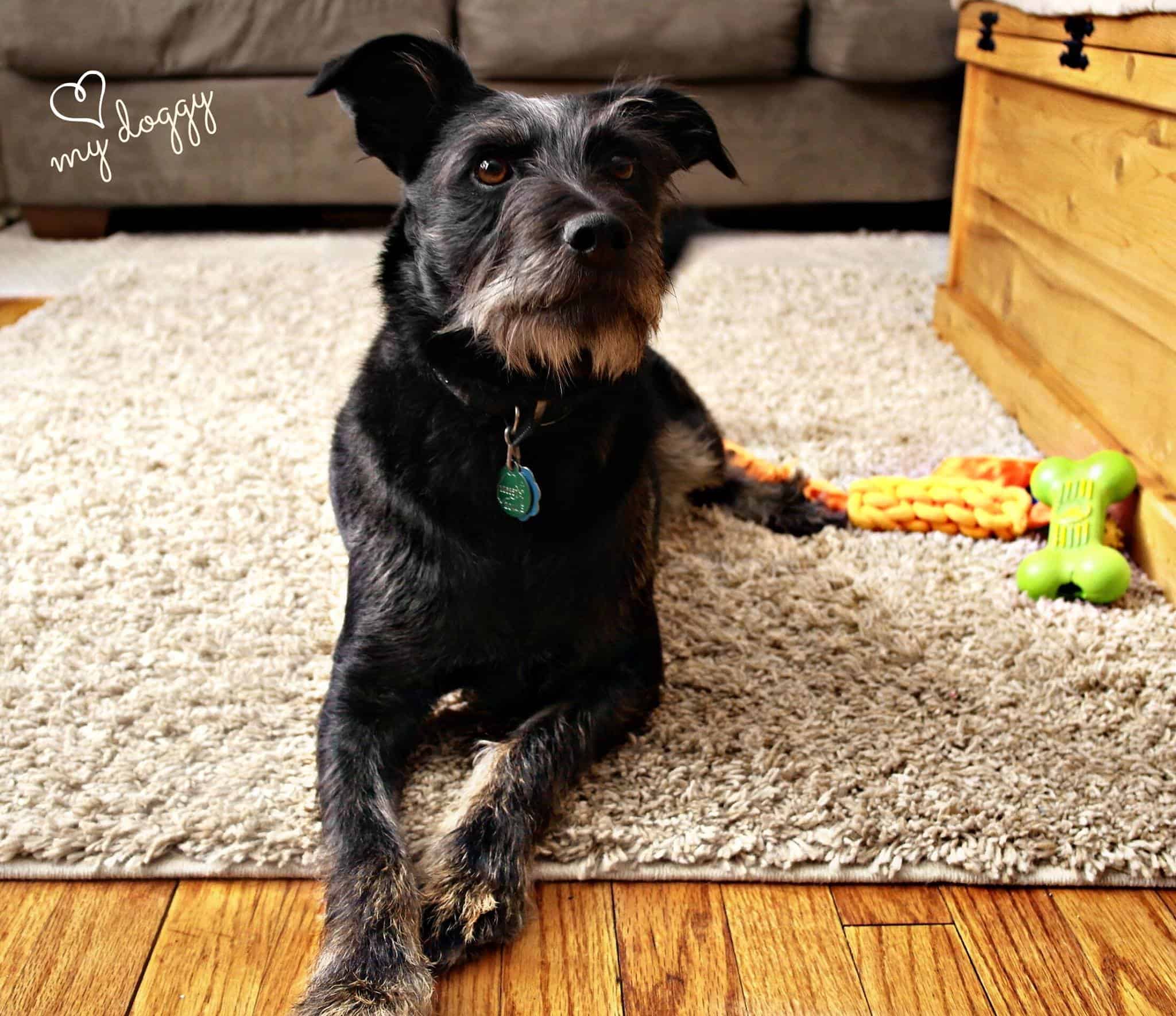 Yogi was skittish and extremely nervous the first few days. One afternoon when my daughter came home from school, the door opened and out Yogi went. Gone. I was mortified and immediately hopped in the truck with my daughter to find her. We saw her one street over running like a bolt of lightening away from us - until my daughter got out and yelled to her.
Photo taken about 1 month after adopting Yogi, she came so far so fast!
She stopped, turned around and with a little coaxing, came right to my daughter.  She jumped into the truck as if she had done it a thousand times before. After that, Yogi would be at the window or door when Hannah got off the school bus. We started noticing she was a very good listener and learning fast. She seemed to really appreciate being in our home.  I was not letting her go back to the shelter,  we adopted her 2 weeks later.
Hannah teaching Yogi to "high five" a few months after we adopted her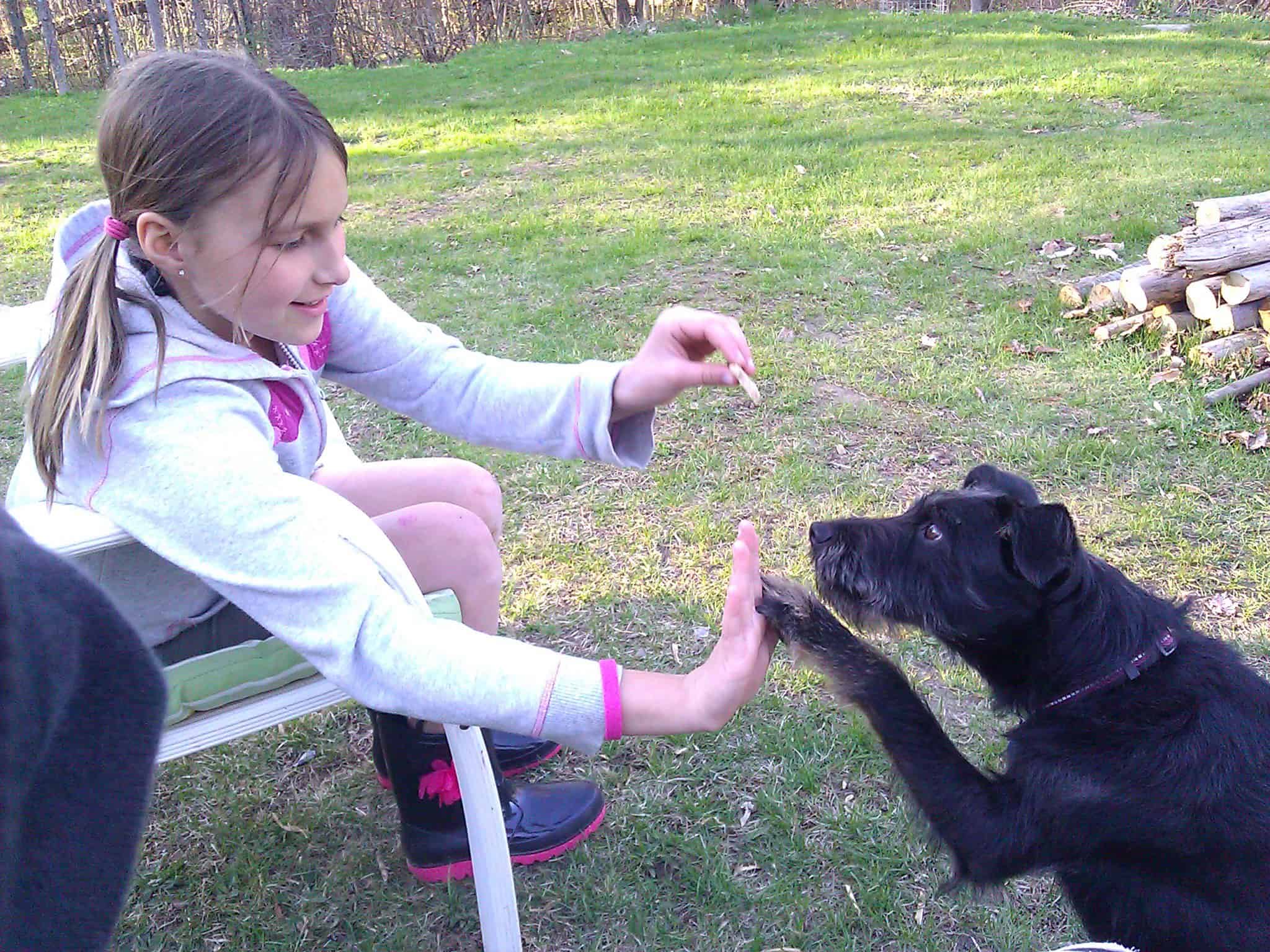 Yogi quickly became a big part of our family. Over the years she has let the girls dress her up, loves to chase the ball around through deep snow and even goes fishing with us on the boat. She gets along great with all of our other animals- chickens, Nigerian Dwarf goats, ducks and even our cats. She has since become my grandson's sidekick following him around everywhere when he visits. She is so much fun!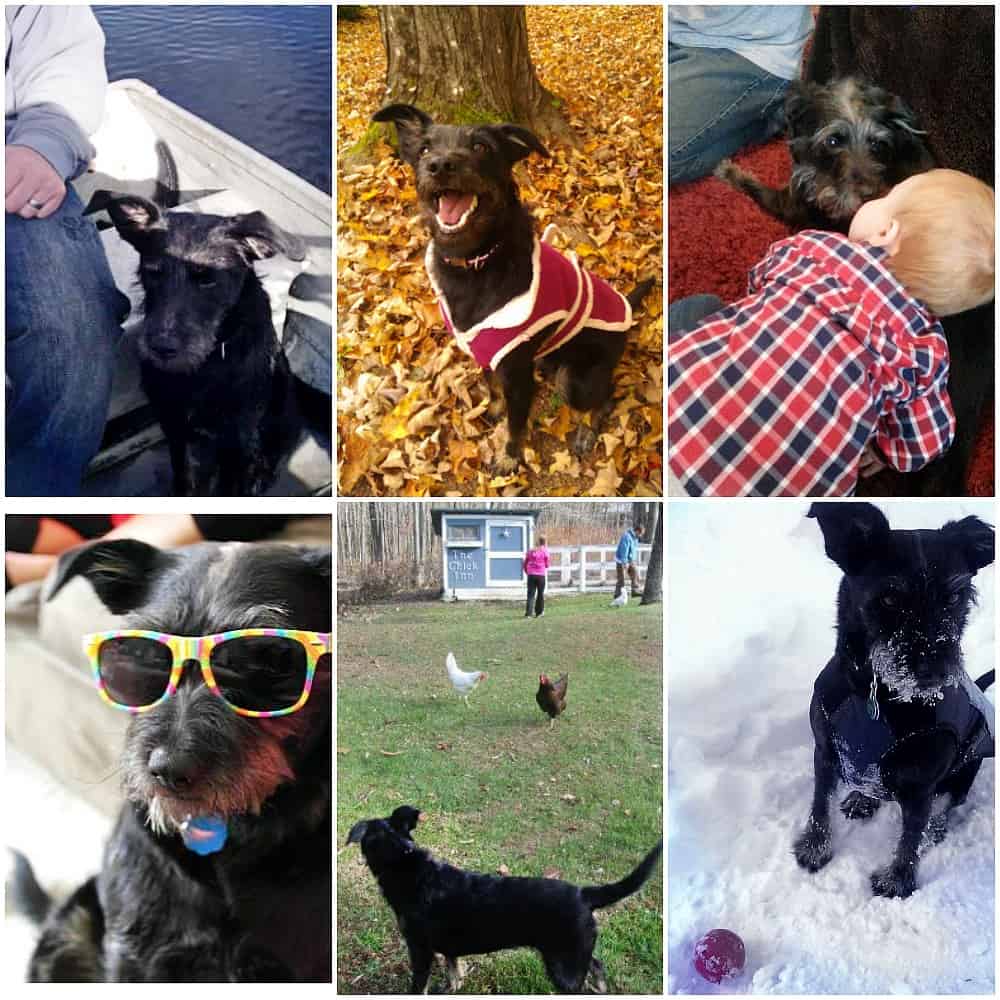 Since Yogi is considered a member of the family, she is treated like nothing less than one. In addition to regular vet visits, she gets the best comfy sleeping quarters, play time, grooming and quality food like Purina Beneful Originals with Real Beef.
The New Recipe
Purina Beneful Originals has reformulated their recipe after listening to customer feedback, real pet owners like me who want to feed their dog a quality food.  The new recipe includes meat as the #1 ingredient, has had any added sugar removed and still provides the taste and crunch dogs love.  I am very impressed with the attention they give to customer feedback. They seem to have worked hard at giving us more of what we want in a dry dog food and less of what we don't.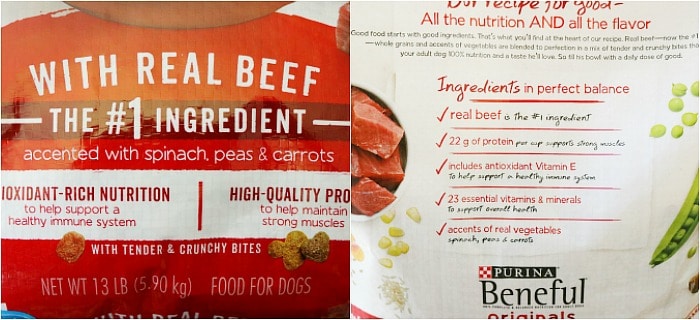 Just as it is important for me to make healthier choices for my family, it is extremely important that I feed Yogi a quality food. She is a high energy dog that needs lots of protein, real meat and vegetables to keep her going.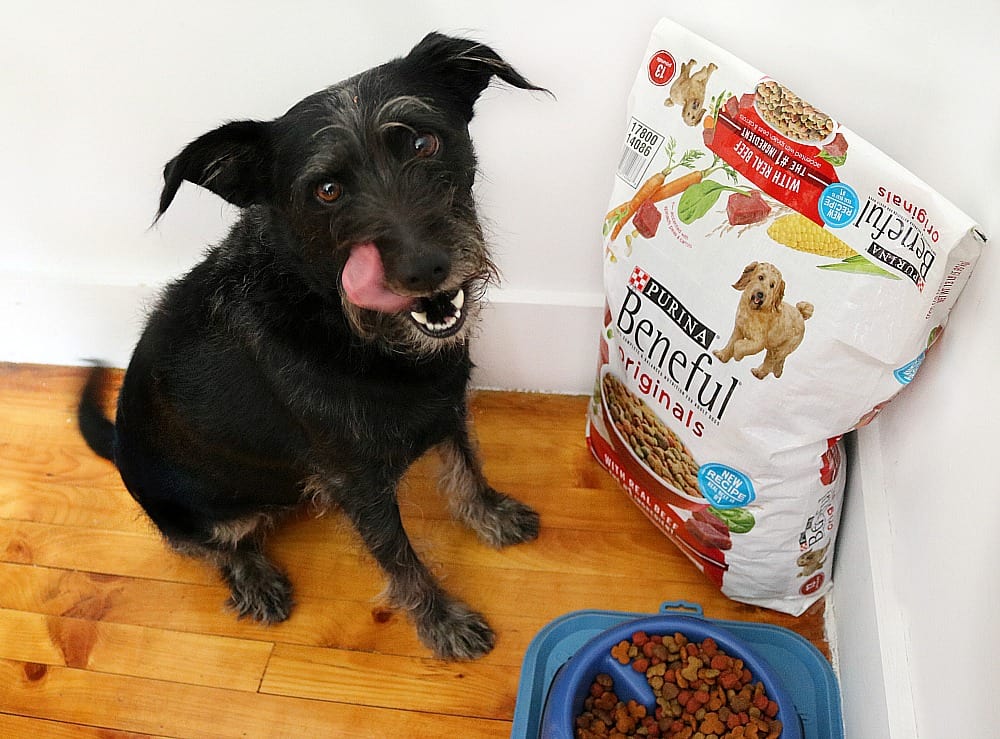 Where to Buy
Purina Beneful Originals is sold at most grocery and retail stores like Walmart, Kroger and Target. We have a Family Dollar local to us so that is where we purchase. You can find Purina Beneful Originals in the pet aisle with the dry dog food bags.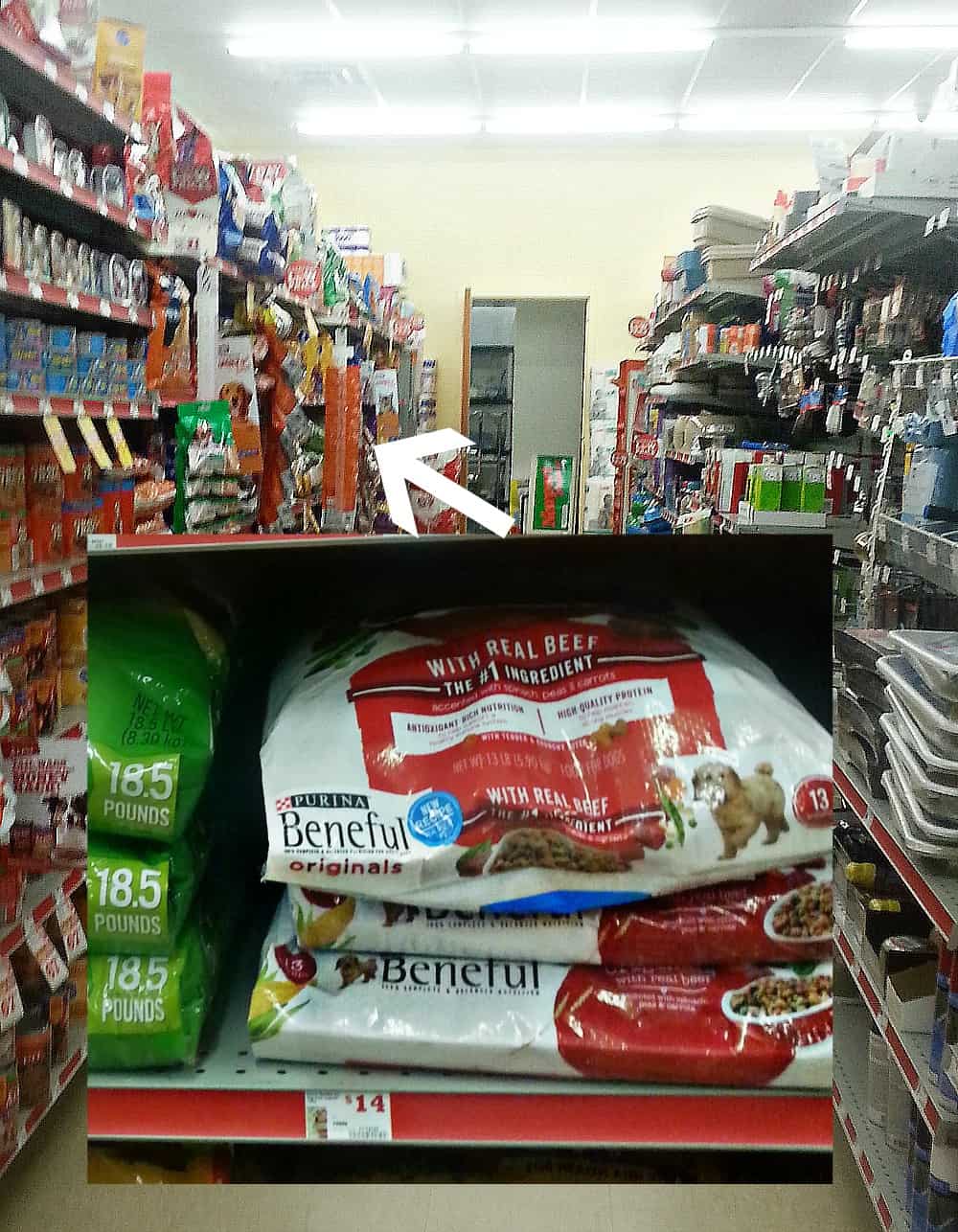 Keeping Yogi Happy
In addition to feeding Yogi a quality dog food, I make sure she has a comfortable place to sleep or relax. She loves to run, jump and play- but I won't lie, she is one lazy dog. Laying around for hours on our hardwood floors can be hard on her. One night the cat stole Yogi's dog bed and that was it, she didn't lay in it again. It was really getting too small for her anyways.
The face says it all...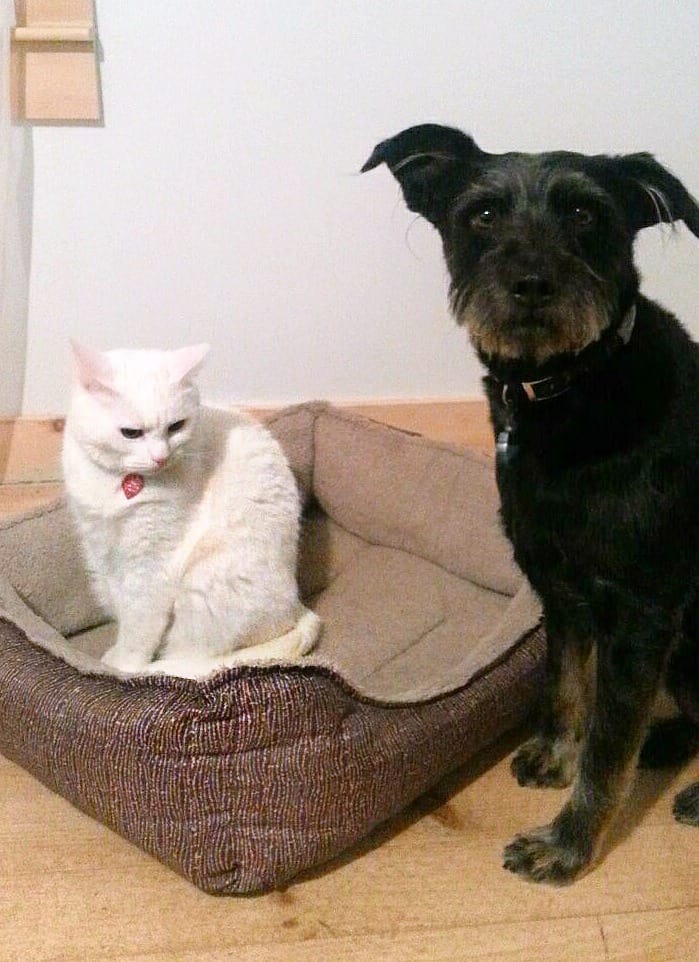 I had some nice fleece fabric on hand and the idea just came to me.  A DIY no sew dog bed.  Of course you can sew the pieces together, but I seem to break the sewing machine every time I touch it so this was just easier and stress free! I made her first one 2 years ago.  Time for a new one!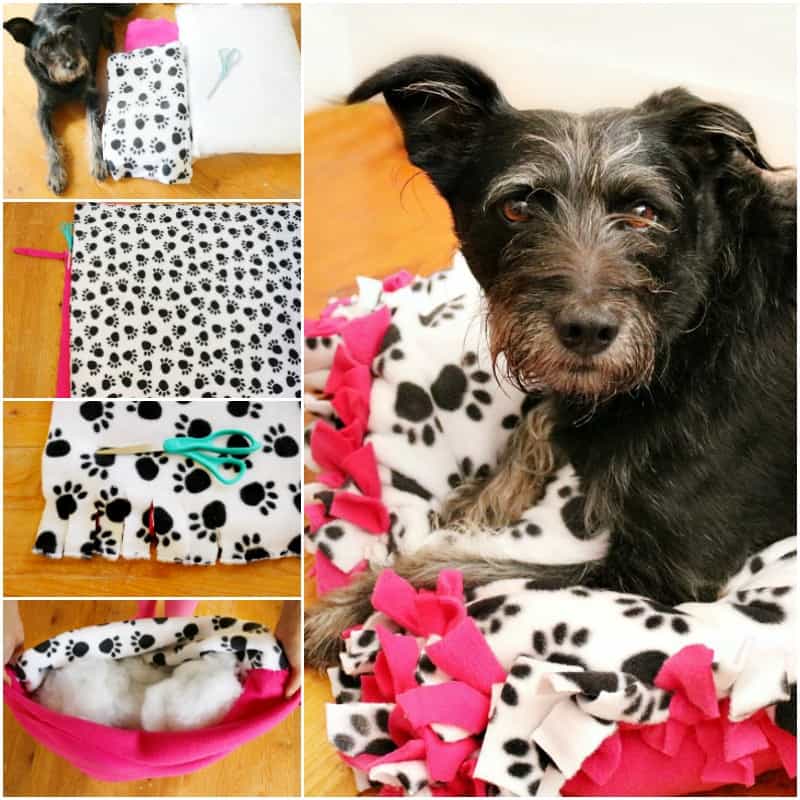 How To Make The DIY No Sew Dog Bed
This tutorial makes a dog bed approximately 36" x 30" from 1 yard pieces of fabric. This can be adjusted to fit the size you need. My total cost was $11.  The last dog bed I purchased was $25!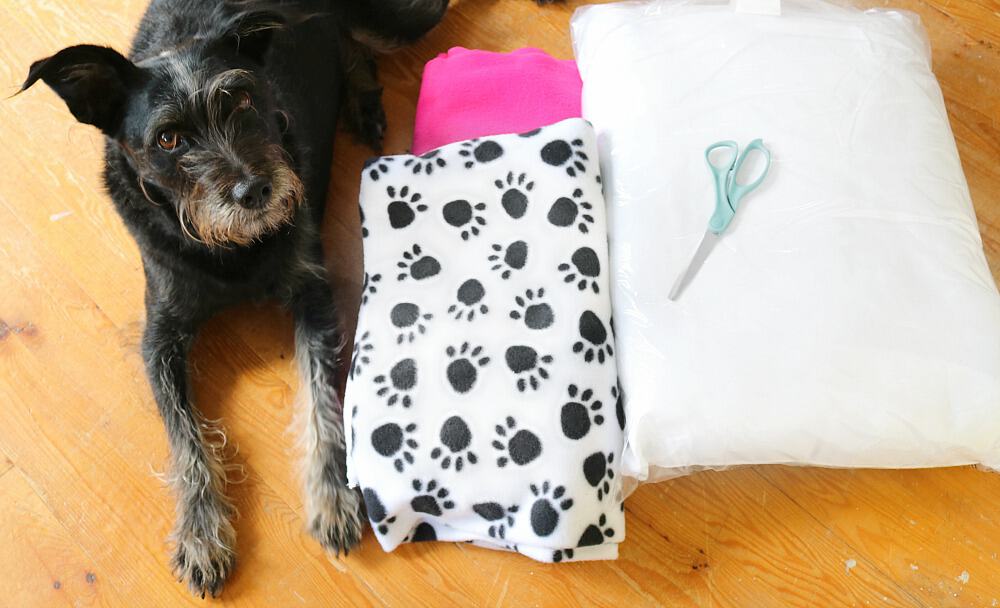 Materials
(2) 1 yard pieces of fabric (I used fleece) $8
Scissors
Inexpensive pillow $3
Instructions
Keep the yards of fabric folded in half the way the store cuts and folds it. This will give more substance to the dog bed and help it last longer.
Lay the pieces on top of each other.  Trim any edges to even up them up.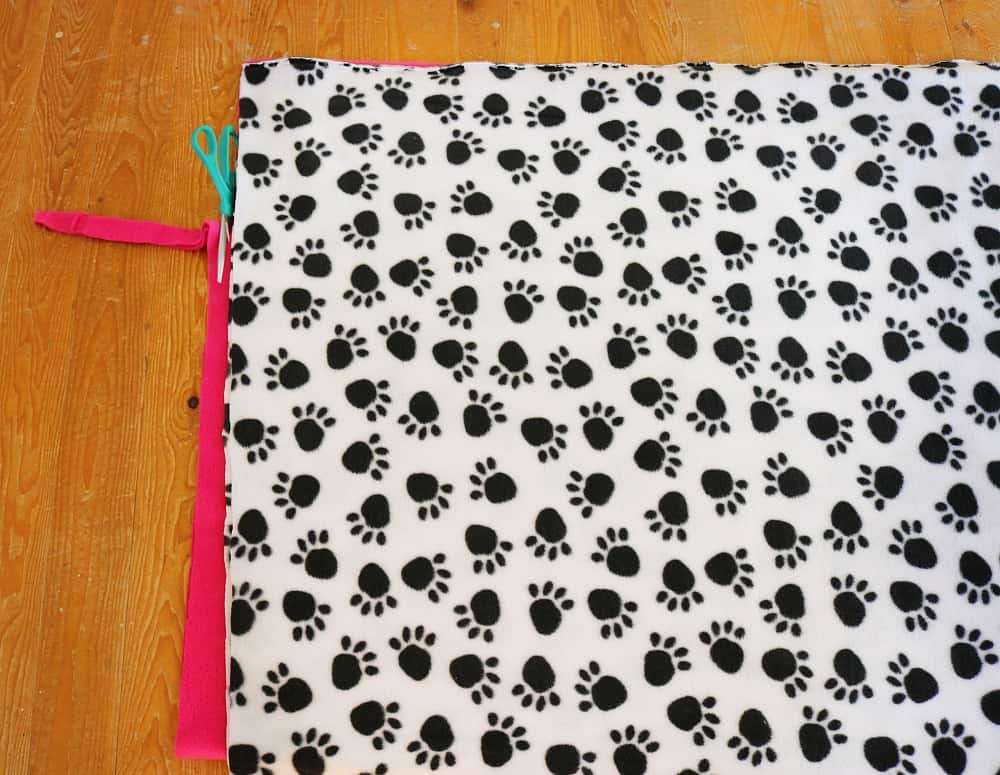 Keep the pieces on top of each other, pin if needed.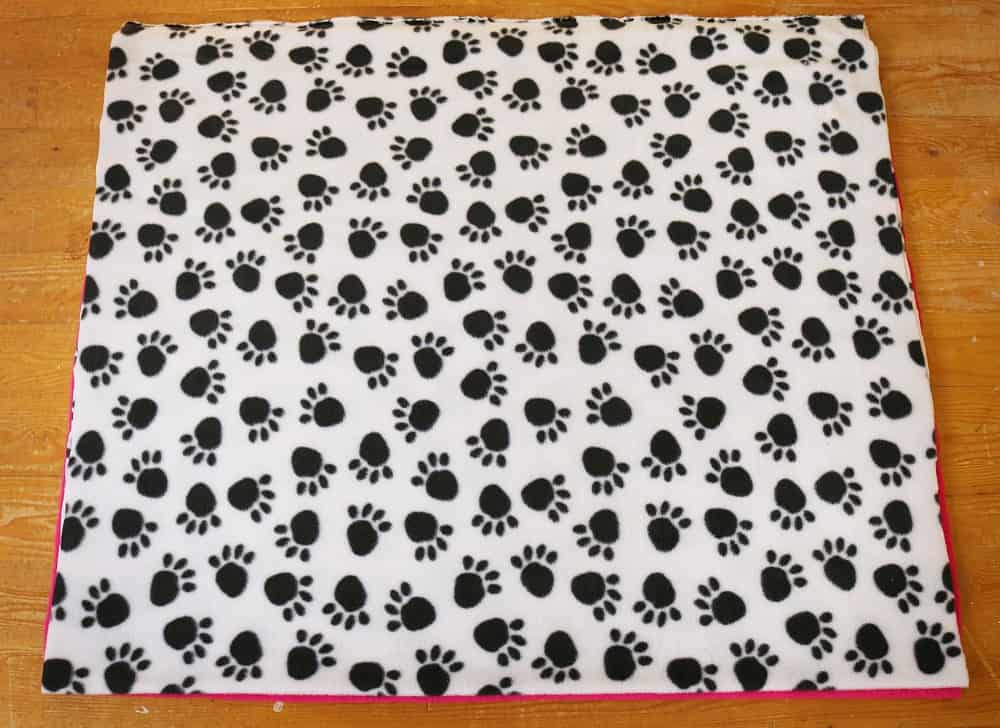 Cut 3" strips about 2" apart.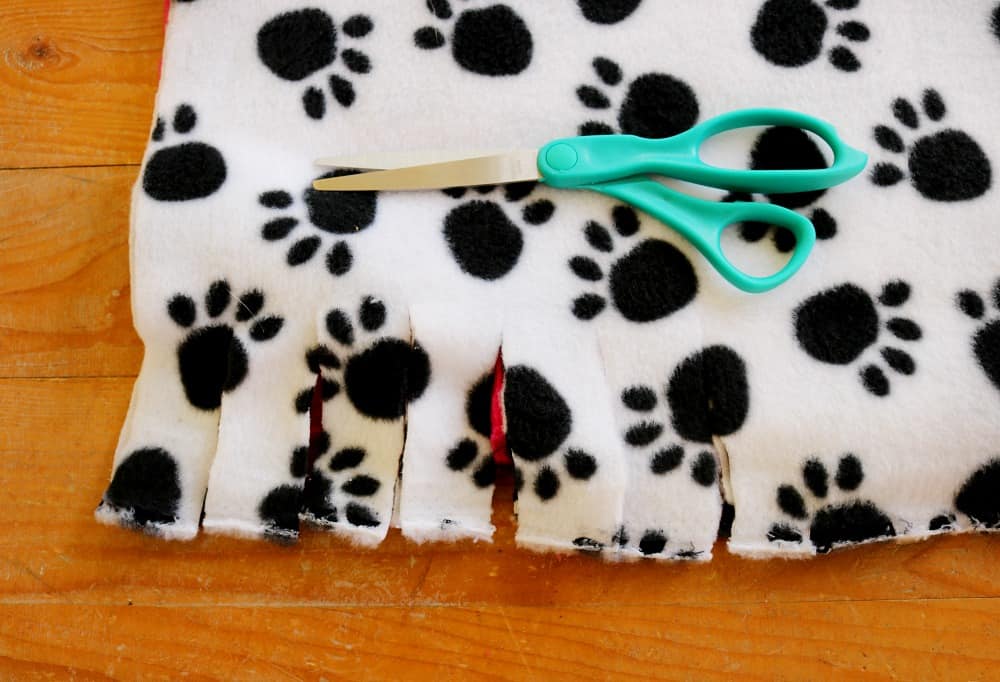 Grab each color fabric strip (top and bottom) and tie to each together  in a knot.  This is the "no sew" part! The strips of fabric will be tied up nice and tight to each other, holding in the stuffing.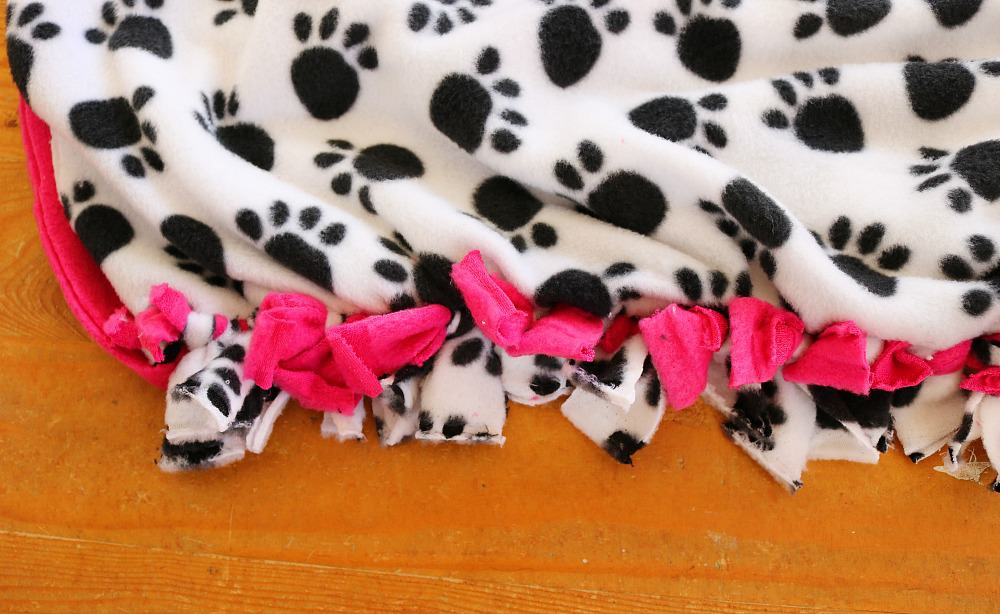 Continue tying around 3 sides of the dog bed.
Remove the stuffing from the pillow and add it to the dog bed.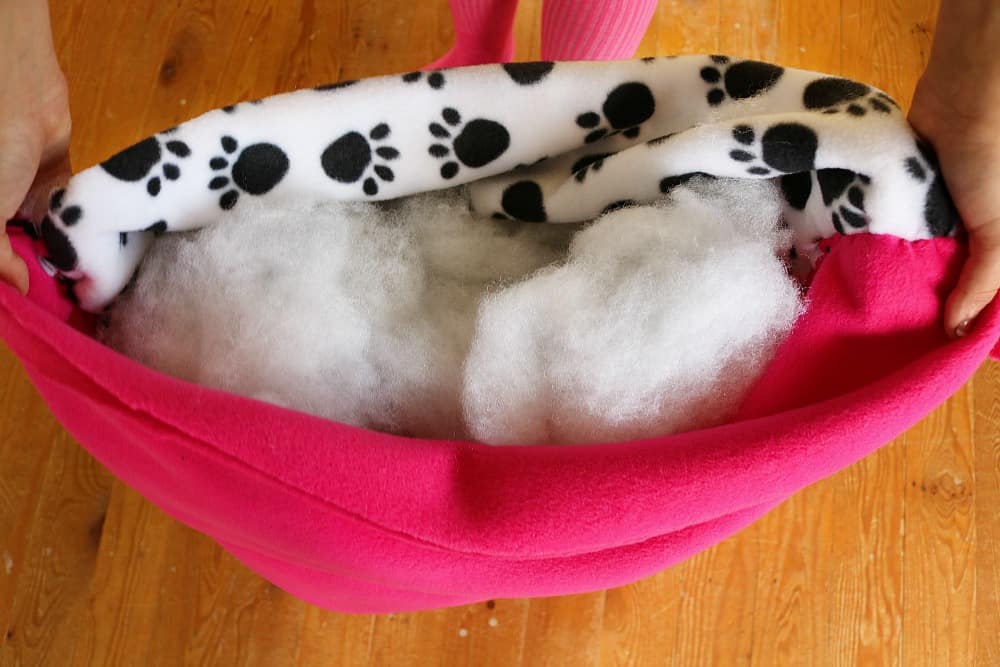 Tie the last side and Viola´! Your dog's very own DIY No Sew Dog Bed made with love by you!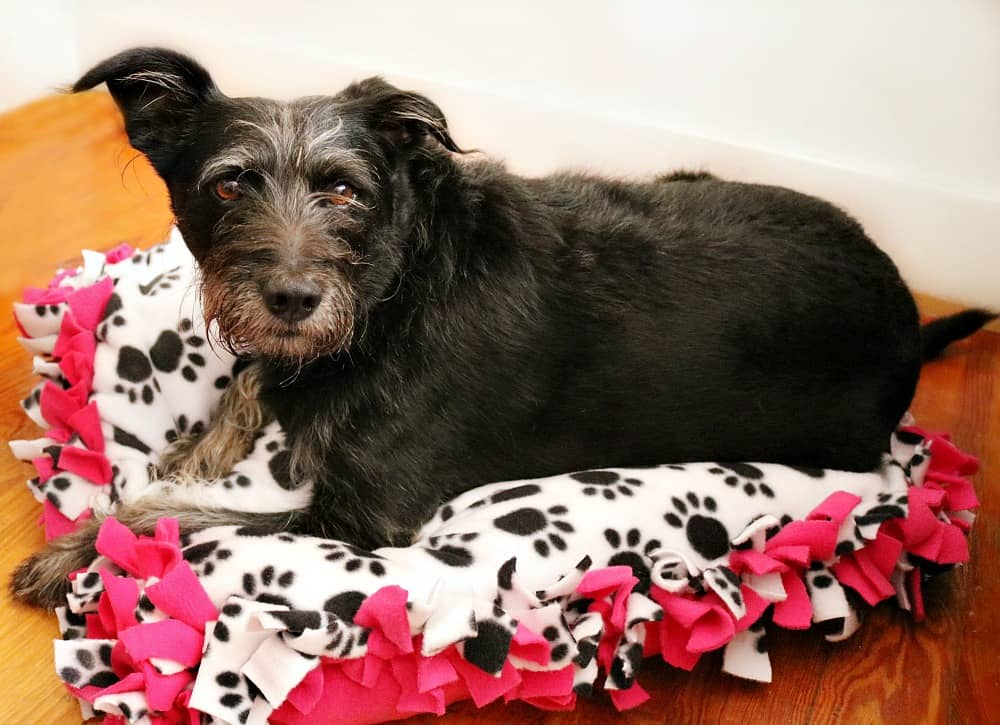 Comfy and Cozy,  especially on the hardwood floors!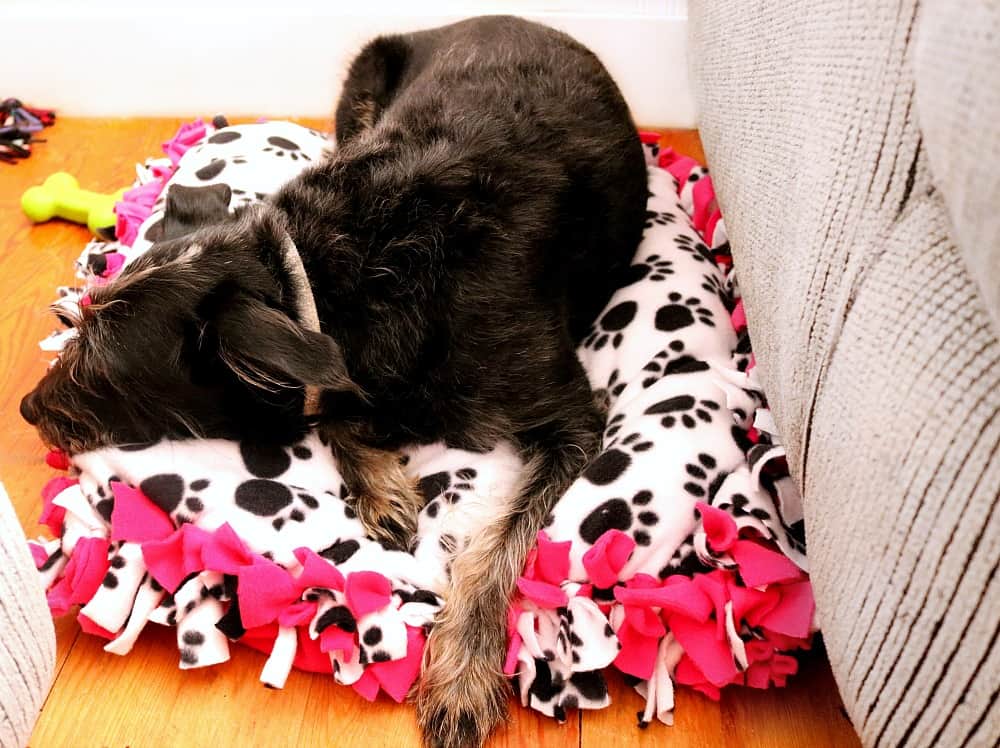 Spot clean, or machine wash on light/delicate.  Air dry.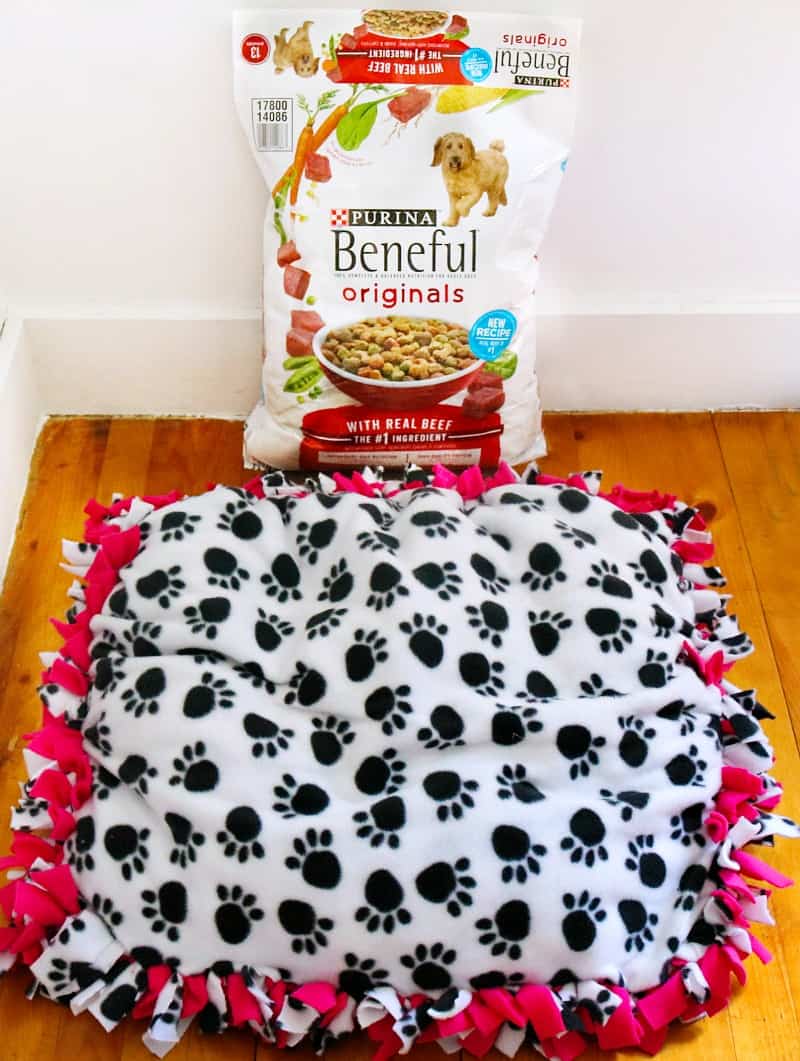 I would love to hear your story and all about your dog, please tell us in the comment section below and be sure to give the new Purina Beneful Originals a try FREE here-   Free Sample Purina Beneful Originals !
Follow Purina Beneful on Social Media #NewBeneful