If you are looking for a super simple project that can be gifted or made for any occasion, these DIY photo coasters are perfect!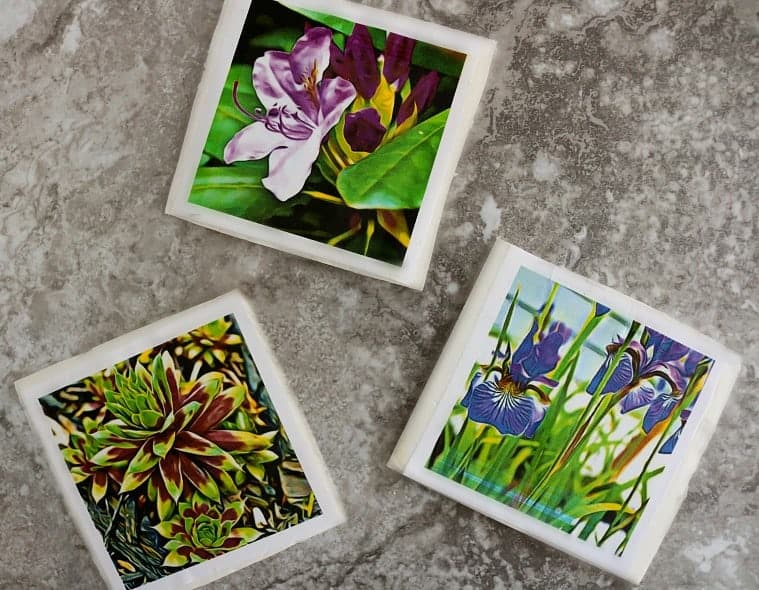 DIY Photo Coasters
There is very little I love more than receiving a homemade gift. The thought and time that goes into making something for someone is so much more valuable than anything you can buy. And, just as much as I love to receive a homemade gift, I love to give them. It is something I have always done with my girls and now my grandson. These projects are always one of a kind and hold special memories forever.
In addition to being a chef and blogger, I am a self proclaimed photographer, hobby that is. One of my favorite things to do is take photos outside in nature and , of course, of my grandson. I equally enjoy editing my photos. There are so many really fun and unique features on photo editors these days.
I primarily use BeFunky because quite honestly, it is so easy. I started out with the free version, but could not resist upgrading once I saw the many cool features and effects offered in the upgrade, plus it is only $4.95/mo (or $2.91 if paying annually).
Excited like a little kid at Christmas when my account was upgraded, the first thing I did was play with some garden photos I took a few summers ago. The Photo-To-Art feature is only available with a BeFunky Plus account, but you can preview any effect on your photos free.
Here is a before and after of my mini irises using the Underpainting DLX effect, so beautiful! I think I will be printing this one to frame for my 3 season porch. Look at the definition and detail brought out by the Underpainting DLX feature.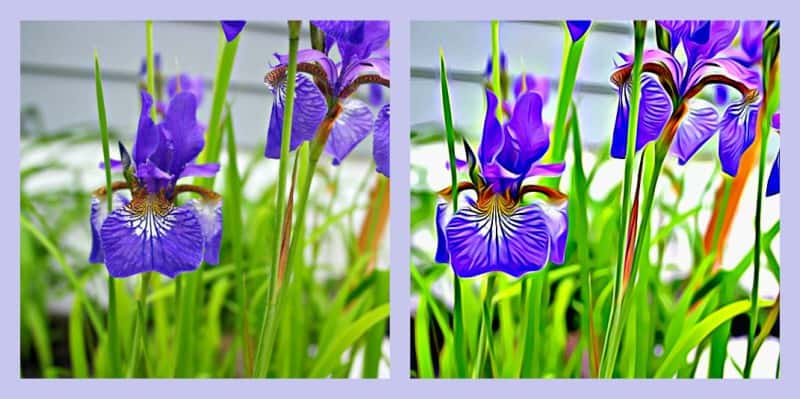 To use Underpainting DLX simply upload a photo from your computer, Facebook or etc. to your BeFunky Plus account, choose "Artsy" from the menu on the left hand side of the editor. From "Artsy" choose "Digital Art" , Underpainting is the second option. But, it doesn't stop there! You can choose the level of intensity for the effect and also edit everything you would normally edit (brightness, color and sich) even after the effect is applied. As mentioned above, you can only preview your creation if using a free account.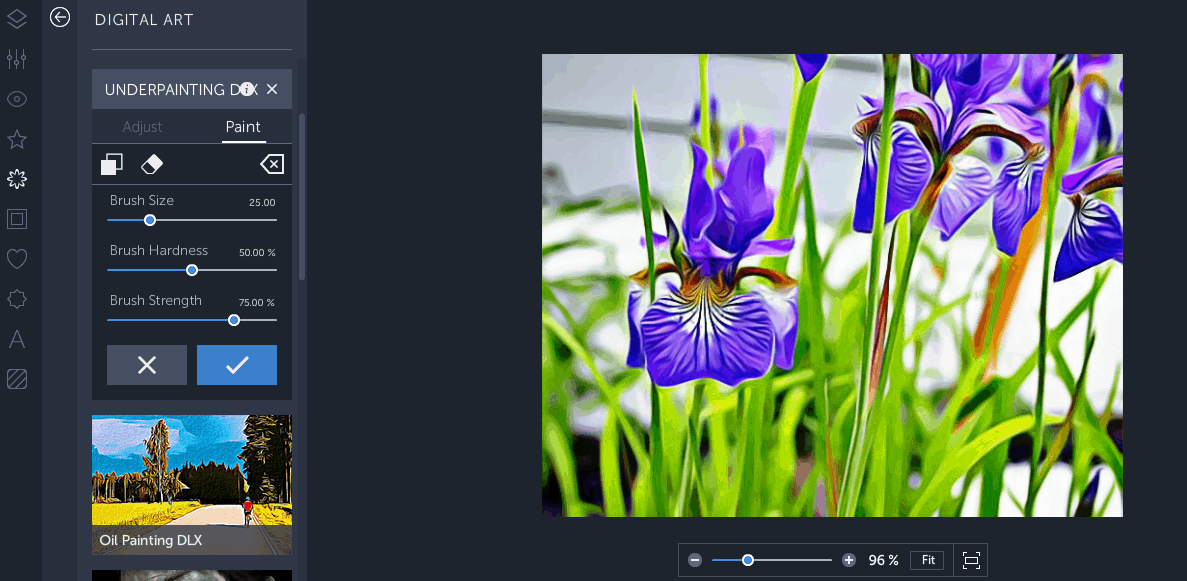 I also played around with the Cartoonizer. The cartoonizer does exactly what you are probably thinking it does- turns photos to cartoons. The first photo I added some super fun comic book "cartoonization" (my own word I am sure) to was my daughter at Halloween a few years ago. She went as Jessie. Below is the before and after. Amazing!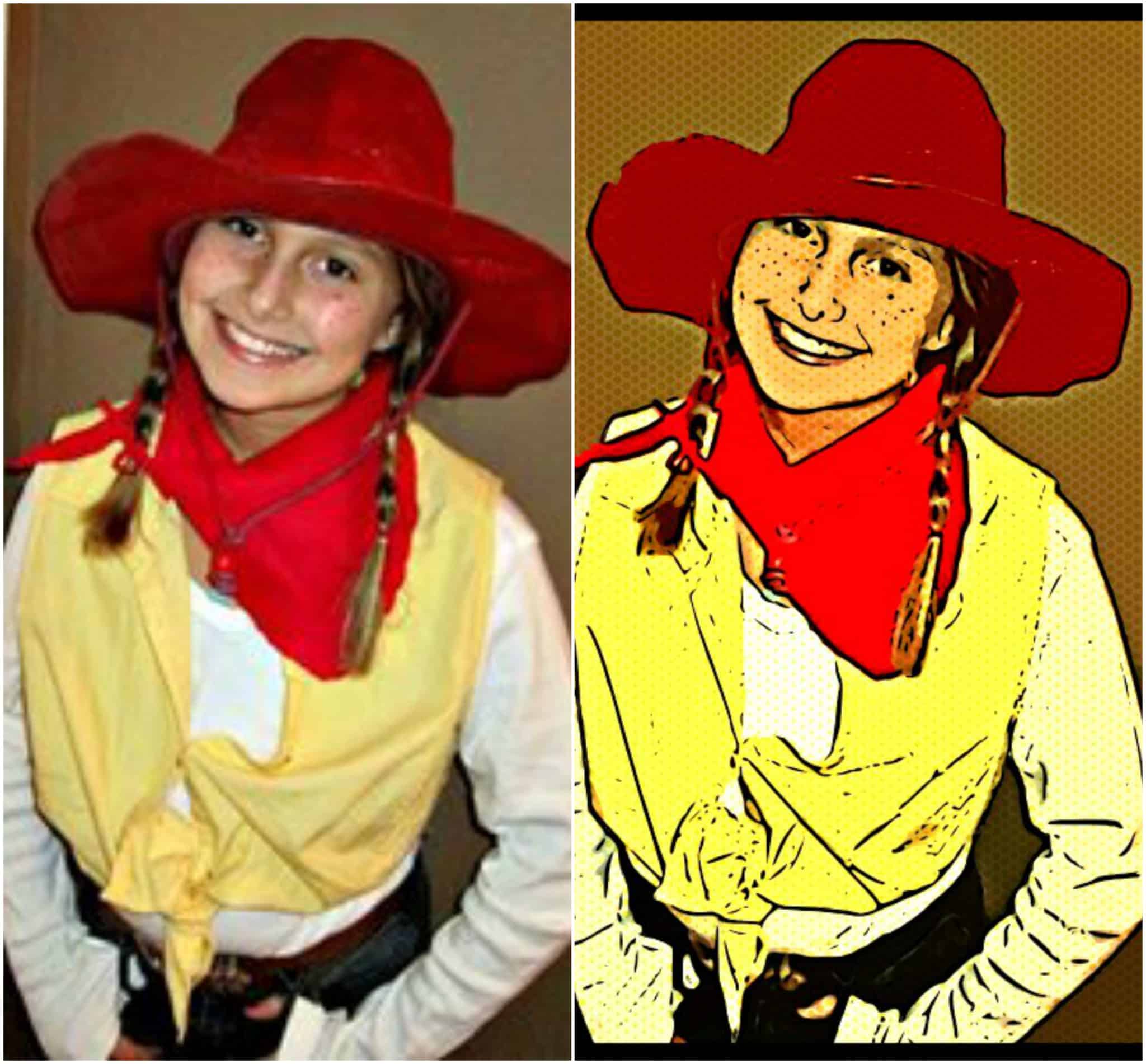 As with the other effects, you can also adjust all kinds of settings within the Cartoonizer.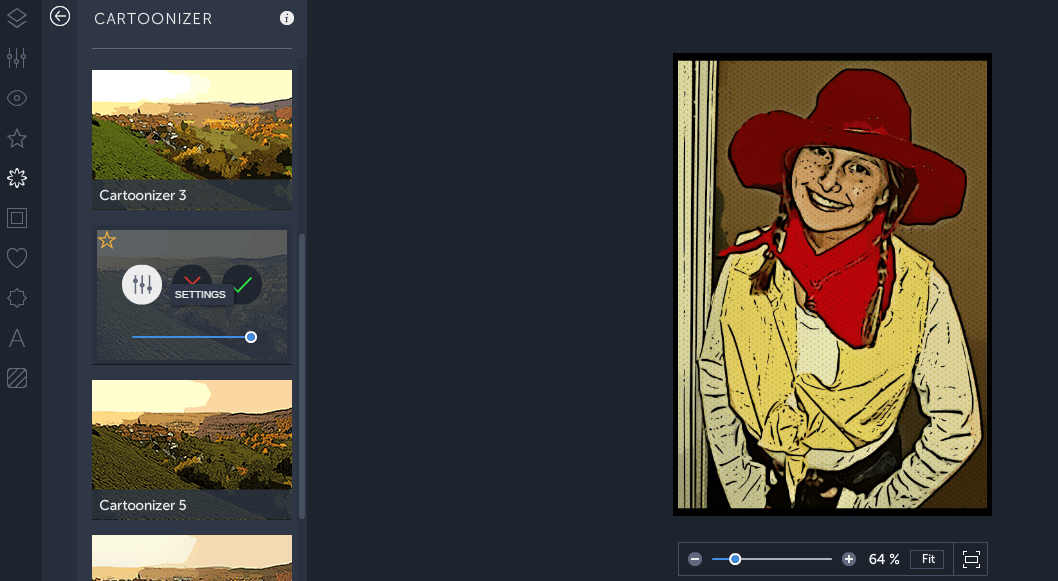 Ok! I am getting off track, so sorry! I get excited talking about BeFunky, I would be lost without it. So, onto the DIY Photo Coasters......
After playing around in BeFunky with some of the new Digital Art features, I loved the photos so much I decided to make something to display them- my DIY Photo Coasters.
These are so easy you won't believe it.
*My ink was running out so these aren't as vibrant as they should be, but you get the point. The point is - BeFunky Plus has some amazing features to let your creativity shine and help you make some awesome DIY projects!
Materials
4x4 Tiles (Can be any, inexpensive kind. Mine were about 20c each and were miscuts, perfect!)
Printed photos ( Note- Print on photo paper so the color does not smudge)
Mod Podge- Gloss Lustre
Paint brush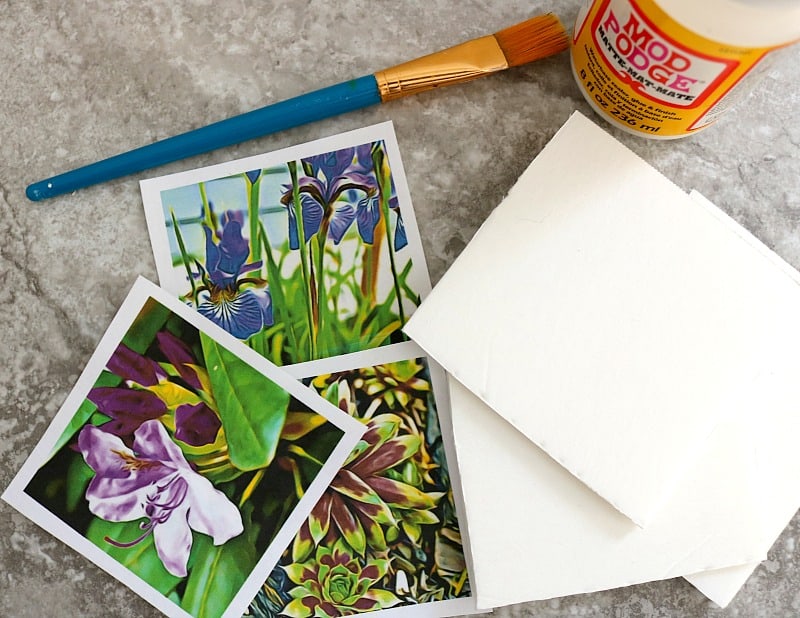 Instructions
Printed photos should be slightly smaller than the 4x4 tiles so that the edges will not curl up. 3.5 x 3.5 is perfect.
Lightly brush a thin layer of mod podge onto each tile (one at a time).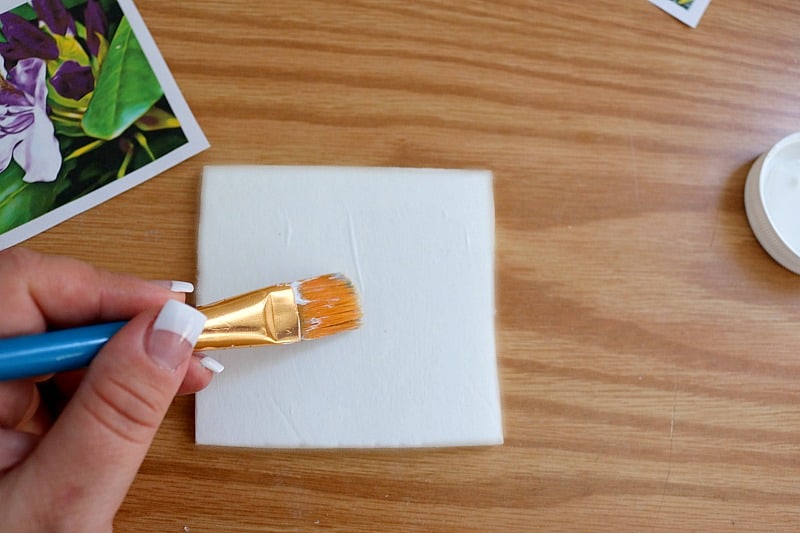 Carefully lay the photo flat on the tile and smooth out with your hands.
Paint a thin layer of mod podge over the photo, sealing it to the tile. Pay close attention to spreading evenly and flat at the edges.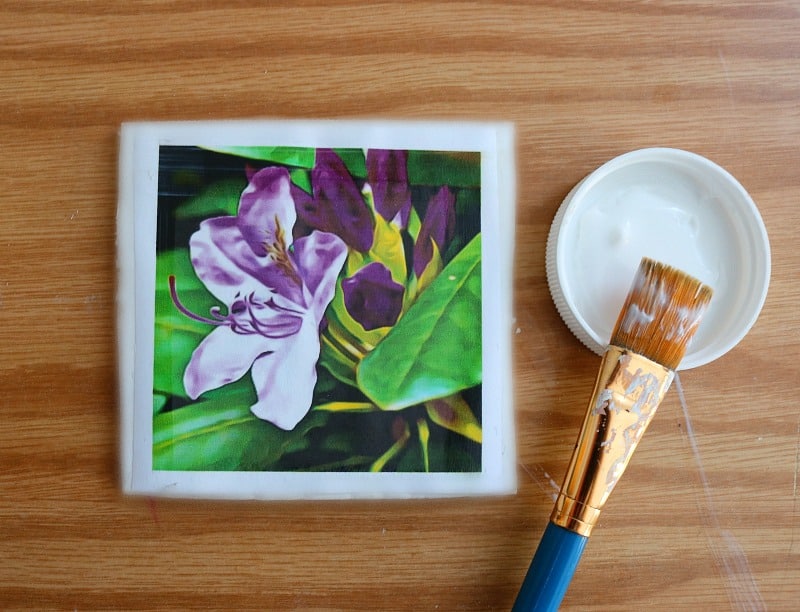 Allow to dry.
BOOM. Done. Just like that you have new decorative coasters for yourself or to give as a gift!
These make a wonderful keepsake gift- print photos of the kids and give to Gram and Grampa.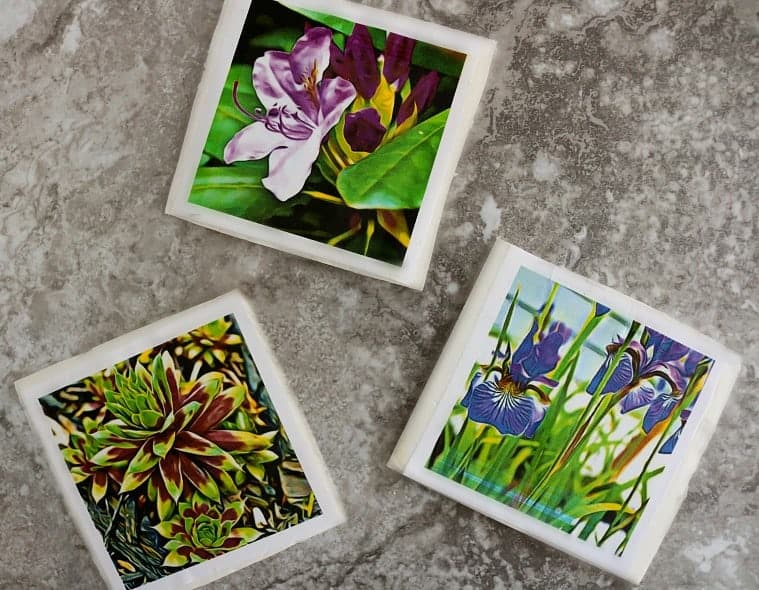 Whether you venture into BeFunky Plus for fun or to create a one of a kind project, be forewarned - it is addicting and you will have fun for hours! Be sure to post a comment below and tell us about your beautiful creations.
Are you on a mobile Android or iOS device ? Download the BeFunky app to create on the go anywhere!