These mini dutch apple pies are a great snack any time of the day and provide a delicious crunch!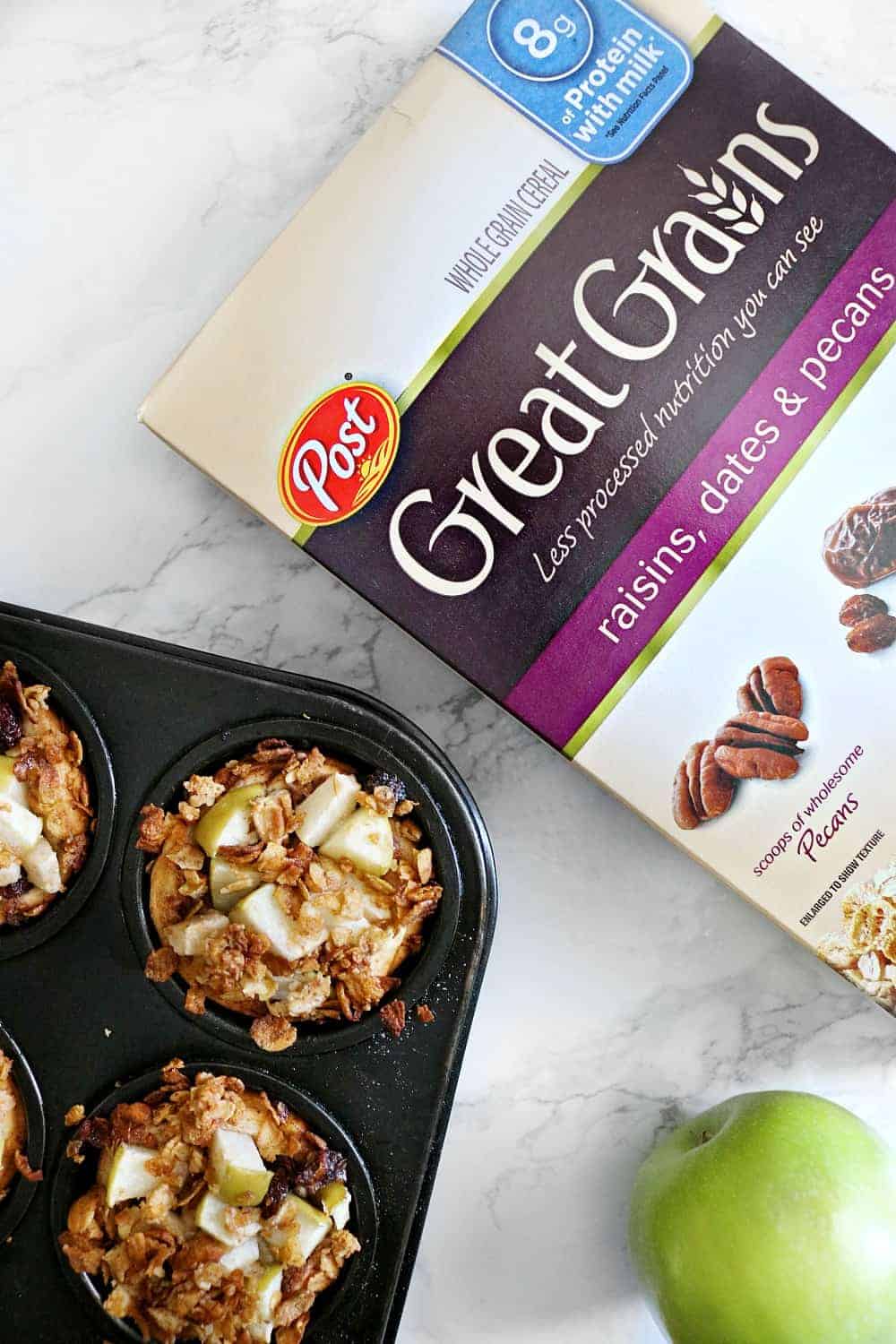 Mini Dutch Apple Pies
featuring Great Grains
I grew up in a household that treated cereal as an anytime food. My sister and I use to take little baggies of dry cereal to school or the bus stop. Cereal anytime is still something I embrace. I am one of those moms who has absolutely no issue with the family eating it after school or even dinner on busy nights. I also use different types of cereal in recipes like our Mini Dutch Apple Pies and homemade cereal bars.
A common statement heard around my house "Mom, can I have some cereal?". Yes. The answer is always yes. Because, why not? There are certainly worse things they could be eating. Plus I can buy it in big bags and have it last longer than a day!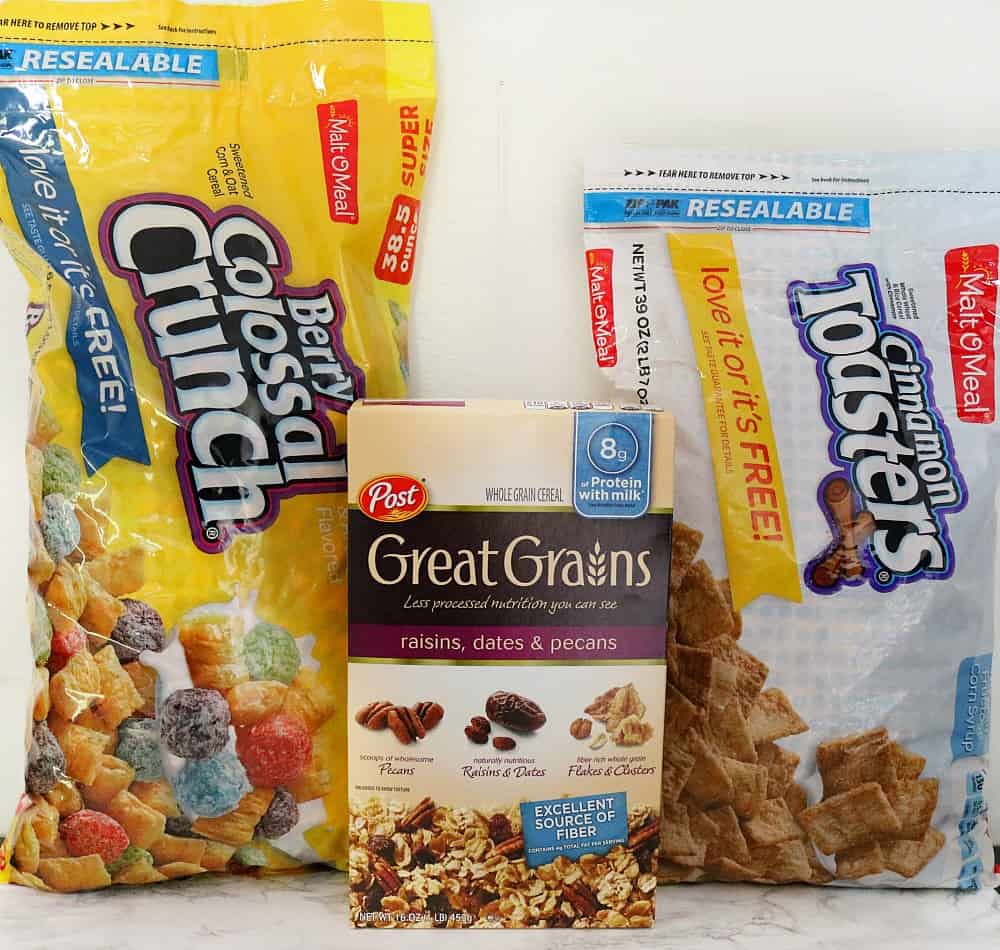 Post has a great variety of cereals that fit into our budget and satisfies each family member in the house. A hearty, healthier cereal like Great Grains Raisins, Dates & Pecans is what I prefer. My husband is a fan of sweet cereals, but nothing fruity so the Cinnamon Toasters are just right for him. My daughter loves fruity cereals that she can eat handfuls of as a snack, like the Berry Colossal Crunch.
You can find these and other Post cereals at Walmart stores in the cereal aisle.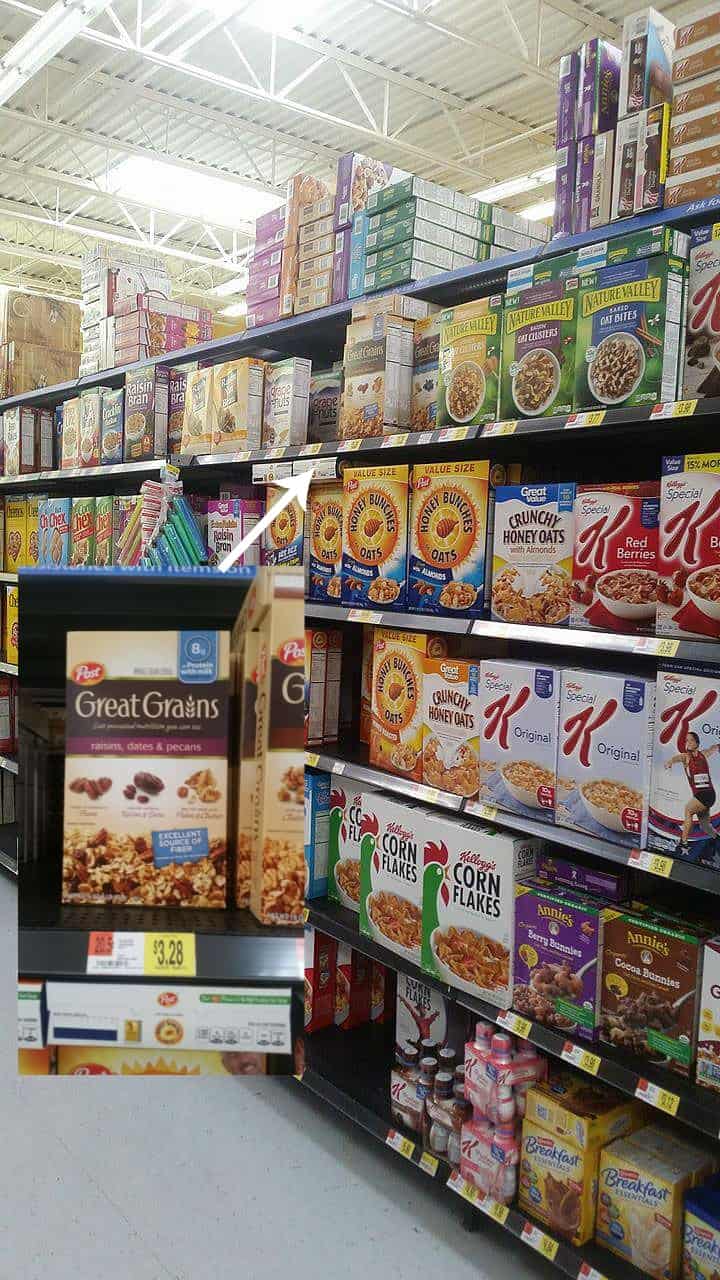 Busy Back To School
This time of year all I am focusing on is back to school. Supplies, clothes, shoes, accessories, you name it. I have started to plan meal and snack menus to keep up with our busy after schedule. With all the added expenses, saving anywhere I can is important. Post cereals are a great value and often have coupons available which helps a lot.
Planning ahead
As part of my back to school menu and snack planning, I look for easy to grab breakfasts and snacks. Usually we are running late in the morning and my daughter will walk out the door without eating. This is not ok, so I have something ready that she can grab and eat while waiting for the bus. While we are not totally health conscience I do like her to eat a hearty breakfast. That is not easy to do when you are "grabbing and going"!
These Mini Dutch Apple Pies are the perfect, hearty grab n go breakfast or snack. Made with Great Grains Raisins, Dates & Pecan cereal, the apple pies have all the elements a kid and parent would love- sweet, crunchy, hearty! A win win.
To make our Mini Dutch Apple pies: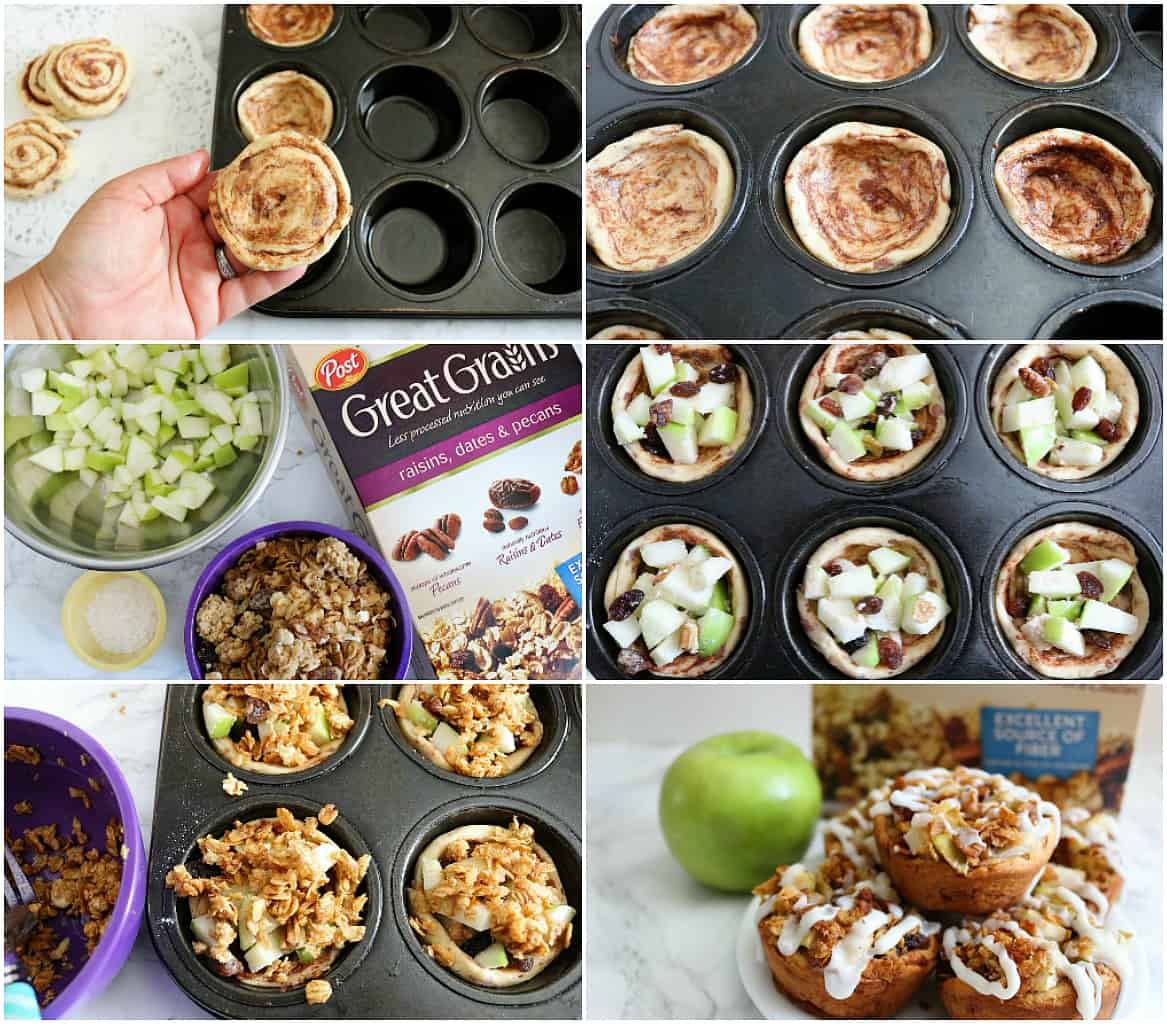 Press cinnamon roll dough into a muffin tin.
Fill with chopped apples and raisins, dates, pecans from Great Grains cereal.
Mix Great Grains cereal with melted butter.
Top pies with cereal mixture.
Bake.
That is it ! You can find the full printable recipe below as well as a quick video.
(Please excuse my lack of video experience!)
Time Saving Tip
On the weekend make a double batch of these and freeze! Simply allow each mini dutch apple pie to cool completely. Wrap tightly with plastic wrap and place in a zip top freezer bag. To serve- remove from freezer, discard plastic wrap and microwave for 30 seconds at a time until warmed through. Eat all week!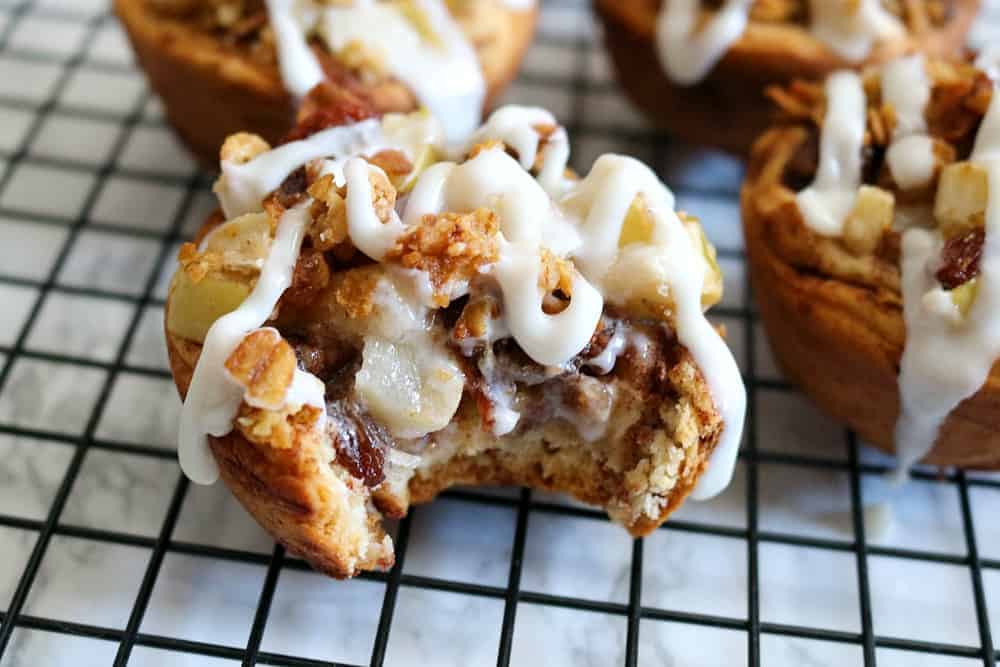 (link opens in new window)
Yield: 8
Mini Dutch Apple Pies featuring Great Grains Cereal #RealDelicious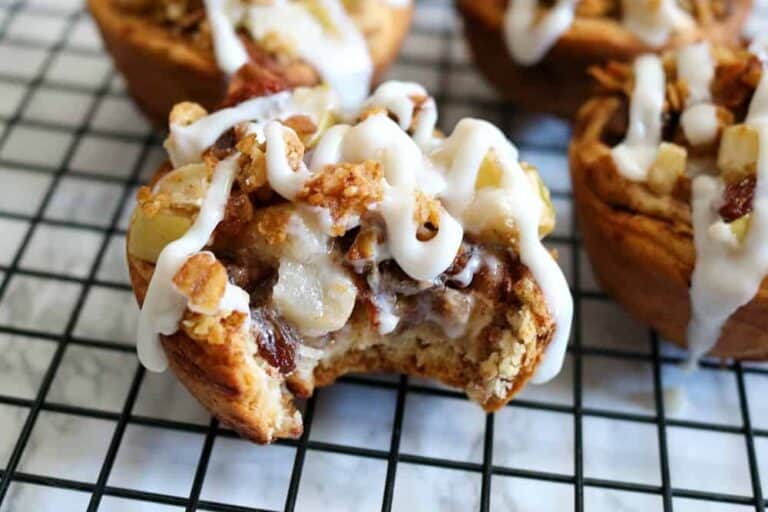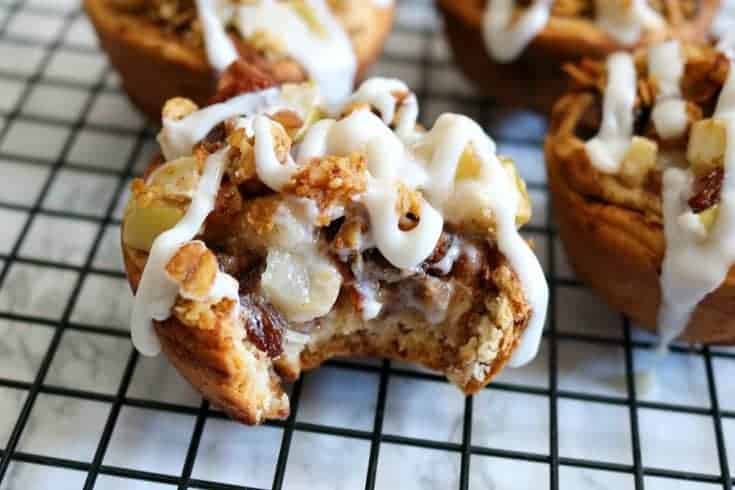 The easiest little cinnamon roll muffin tin apple pies!
Ingredients
1 can refrigerator cinnamon roll dough
1 granny smith apple, diced
1 tablespoon flour
1 cup Great Grains Raisins, Dates & Pecans cereal
2 tablespoons butter, melted
Instructions
Preheat the oven to 400.
Press cinnamon roll dough pieces into a greased muffin tin.
In a small bowl, combine flour, apple and raisins, dates & pecans from the Great Grains cereal.
Fill each cinnamon roll with apple filling.
Mix crushed Great Grains cereal into melted butter, top cinnamon roll apple pies.
Bake for 10 minutes. Reduce to 325, cover with foil and bake for 10 more minutes.
Remove and prepare for freezing, or top with icing!
Nutrition Information:
Yield:
8
Amount Per Serving:
Calories:

200