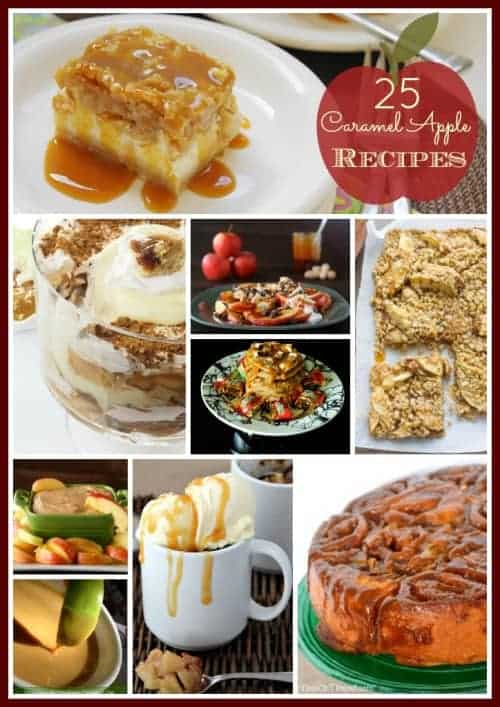 25 Indulgent Caramel Apple Recipes- Desserts, Drinks & More
Every year we bring home bushels of utility grade apples from the orchard for cooking with.  Our orchard is so picky (pun intended) that they will separate out apples with little blemishes and marks that are so small you may have never even noticed if you had picked them from the tree yourself.
This makes it a fantastic deal for us,  at about 49¢ a pound we can make everything and anything we want! That is why I am forever searching out wonderful recipes like the ones listed below. These recipes will fuel your creative side and have you out getting your own apples today!   Hope you enjoy, please come back and let us know which ones you try.
Apple Cupcakes with Cinnamon Cream Cheese Frosting and Honey Caramel
Cinnamon Apple Chips With Salted Caramel Dip
60 Minute Caramel Apple Sticky Buns
Salted Caramel Apple Crisp Bars
Caramel Apple Cheesecake Squares 
Caramel Apple Cinnamon Roll Coffee Cake
Smirnoff Kissed Caramel Apple Martini
No Bake Caramel Swirl Apple Butter Cheesecake
Caramel Apple Butter Cheesecake Dip
Boozy Caramel Apple Bread Pudding
Amaretto Caramel Apple Mug Cobblers
Copy Cat Recipe: Caramel Apple Cider
Caramel Apple Bar- Apple Slices on a Stick