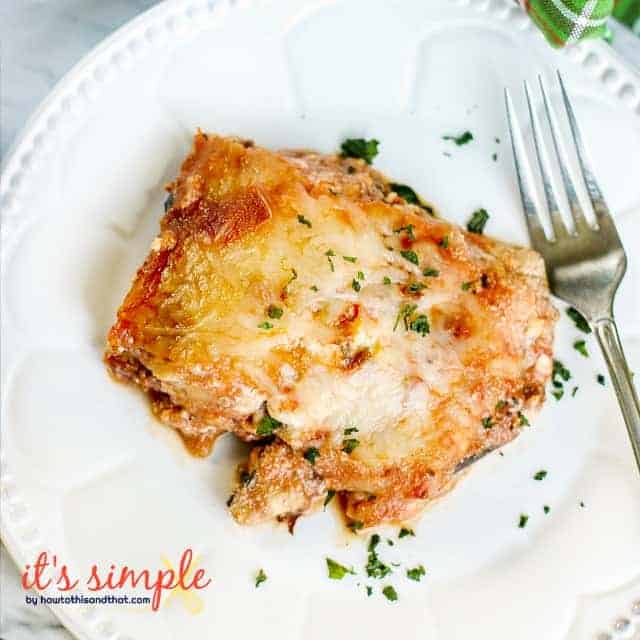 Keto Eggplant Lasagna is a game-changer if you are following a low-carb diet. Loaded with rich meat sauce and tons of cheese, this eggplant lasagna satisfies your craving for typically carb-laden pasta without the guilt. One of our favorite no noodle lasagna kid friendly keto recipes.
Finding a substitute for favorite comfort foods isn't hard when you have great choices like this keto friendly lasagna. Using eggplant instead of noodles gives you great texture and flavor, without worries over going outside your macros.
Keto Eggplant Lasagna
One of the biggest struggles for myself and many in changing to low-carb diets is the lack of pasta. Recipes like this lasagna are just what is needed. I can sit down to a plate of eggplant lasagna with a rich meat sauce, tons of cheese, and never even miss the carb-laden sheets of noodles.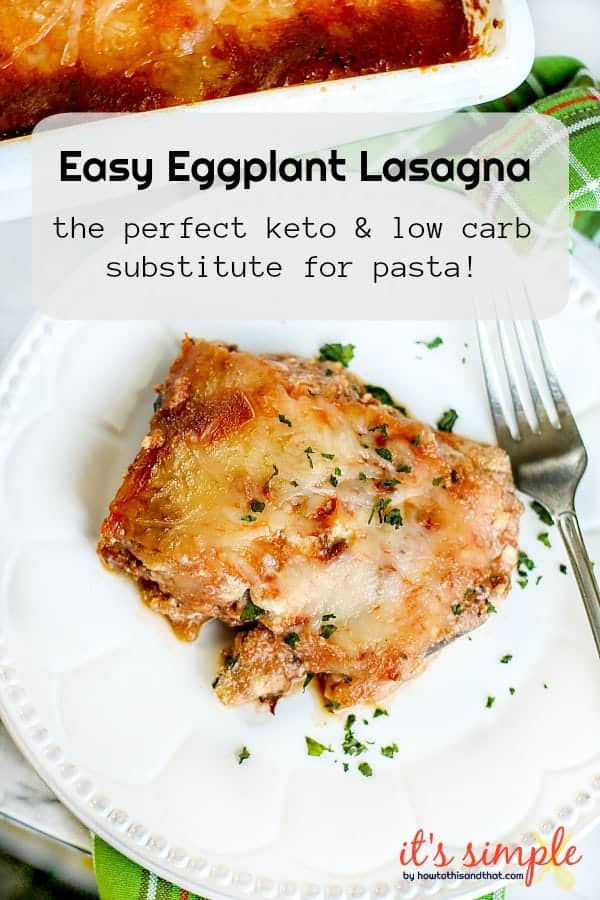 What Does Eggplant Taste Like?
Eggplant is one of those naturally versatile foods that works wonderfully as a pasta substitute in a layered dish like this. While the purple rind or skin has a slightly bitter flavor, the inside can be very rich and flavorful when cooked properly.
Contrary to popular belief, eggplant doesn't taste just like eggs. It does, when cooked, however, have a slightly eggy texture. Soft, spongy, and dense, this is a great carrier for many things, including the thick meat sauce.
When asked what it tastes like, my response is more that it is like tofu in that it picks up the flavors of the seasonings and foods it is cooked alongside.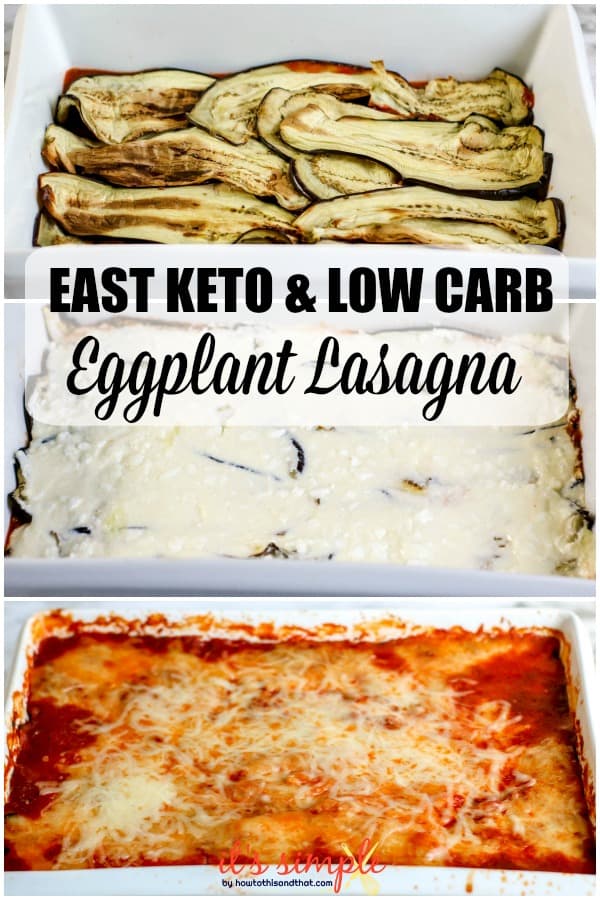 Tips for Cutting Eggplant Into Slices
The rounded shape of eggplant can make it a bit of a difficult vegetable to cut. Especially when you are trying to make even slices for a noodle in this no noodle lasagna, no noodle pasta dish.
The best method of slicing an eggplant is to utilize a kitchen mandolin slicer. These are easy to use and give nice even slices, and with the special handles included, you can save your fingers from injury.
If a mandolin is not handy in your kitchen, I recommend slicing on edge off so you have a flat surface to work with. Lay the eggplant flat on that side, then slice vertically with the flat side on the bottom to hold it steady.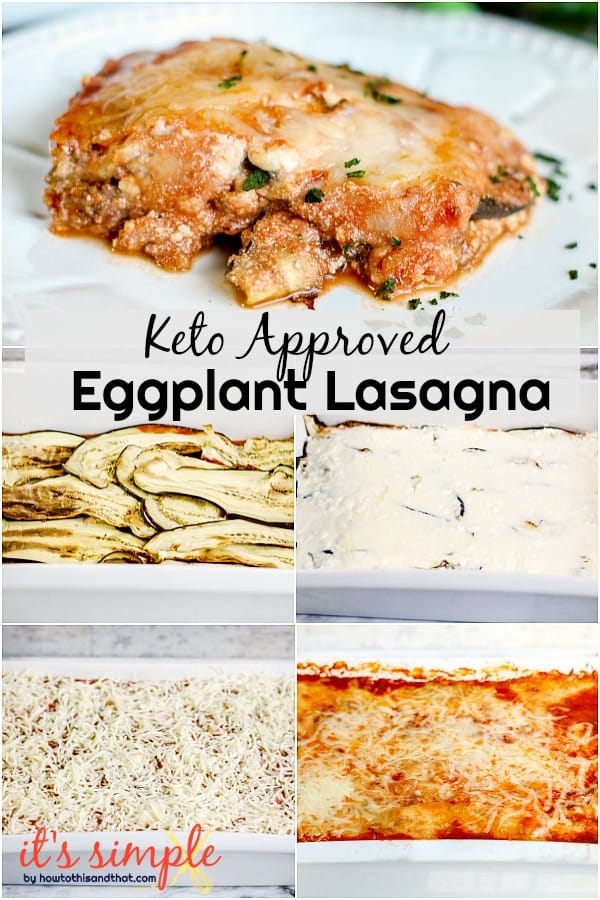 What Tomato Sauce Should I Use in Eggplant Lasagna?
When you begin a keto diet, you will learn that most fruits are very high in sugar content. As tomatoes are technically a fruit, you may be concerned about their carb totals in this keto eggplant lasagna recipe.
One cup of tomatoes on average will have 6 grams of carbohydrates and 2 grams of fiber. The results if 4 net carbs per 1 cup. In this instance, you are really using a small amount of the tomato sauce per serving, so the carb count is not one you should be concerned about in this recipe.
A tomato sauce, crushed tomatoes, or tomato paste in a pasta dish that has no added sugar and is simply the tomatoes themselves is fine for any recipe on a keto diet. There is no particular brand better than another for this recipe, but I do typically recommend finding a nice organic brand if possible.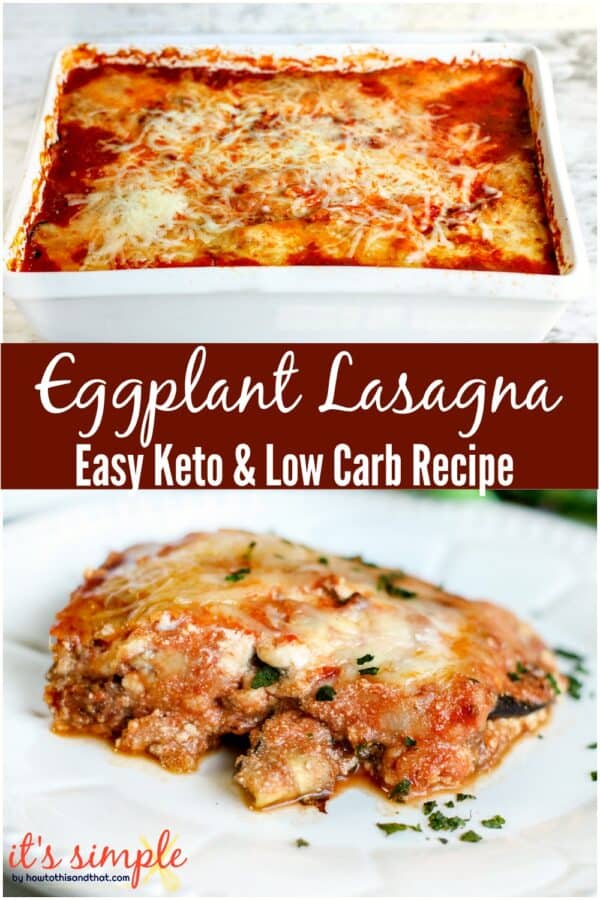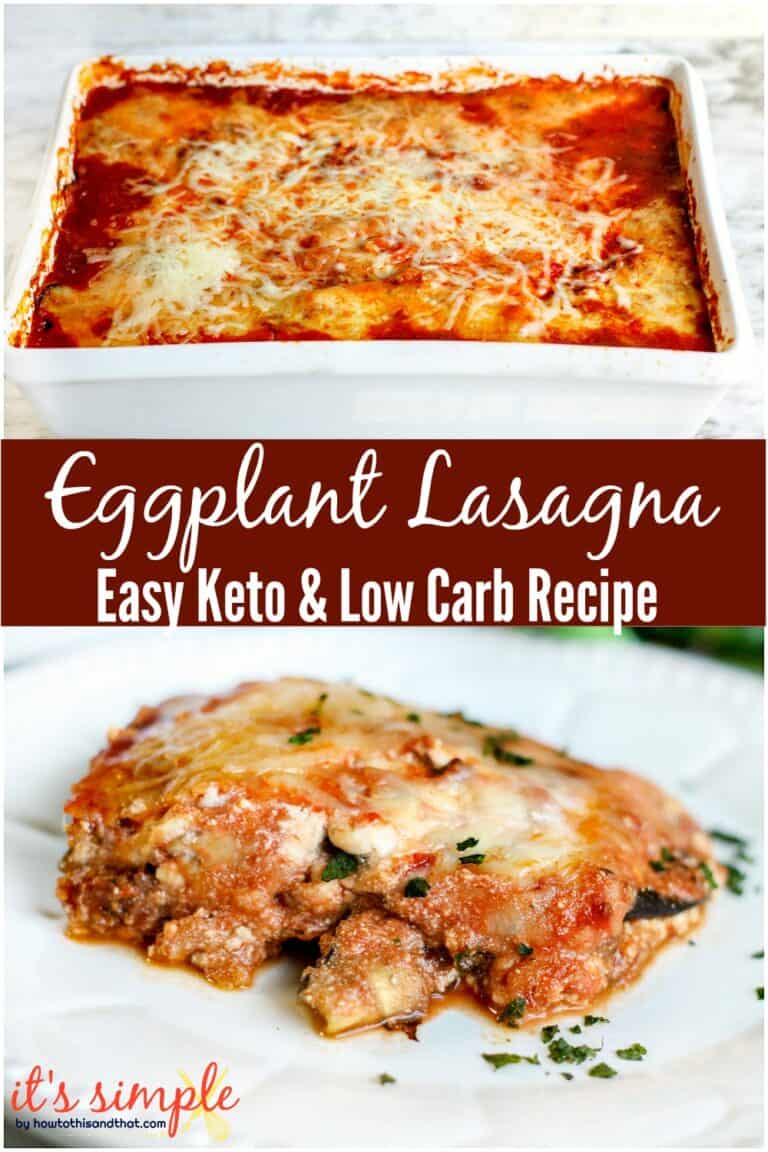 More Kid-Friendly Keto Recipes?
Making our Keto Friendly Lasagna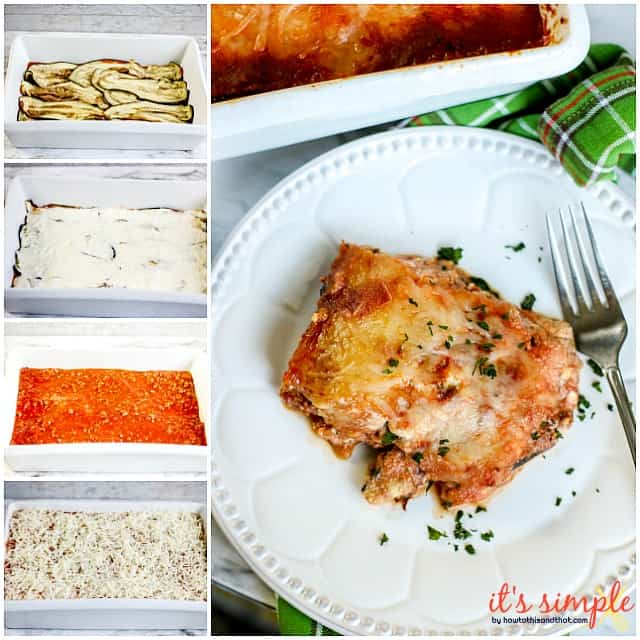 If you have tried our keto friendly lasagna, let us know what you think!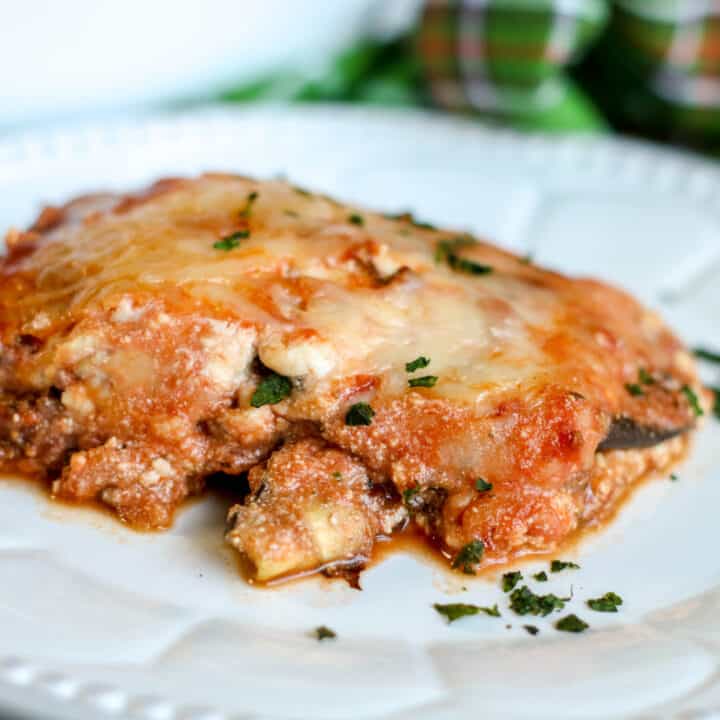 Keto Eggplant Lasagna with Homemade Meat Sauce
Additional Time:
10 minutes
Total Time:
1 hour
40 minutes
Keto Eggplant Lasagna with rich homemade meat sauce is a perfect kid-friendly low-carb casserole that is easy to make and absolutely delicious!
Ingredients
2 large eggplants
2 pounds ground chuck, cooked and drained well
1 (28 ounce) can crushed tomatoes
½ cup water
1 teaspoon garlic powder
2 teaspoons Italian seasoning
1 (15 ounce) container ricotta cheese
2 eggs
2 cups shredded mozzarella cheese
Instructions
Using a mandoline slicer, slice eggplant lengthwise into ¼ inch slices. Sprinkle each side with salt and place sliced eggplant in a colander to rest and weep for 30 minutes.
Preheat oven to 400 degrees. Line two large baking sheets with parchment paper.
Rinse eggplant and pat dry on both sides. Place eggplant slices on a baking sheet.
Cook for about 20 minutes, flipping halfway.
Meanwhile, in a large saucepan, combine cooked beef with tomatoes, water, and dry seasonings. Bring to a boil over medium-high heat and then reduce heat to medium-low. Cook, stirring occasionally, for 8 to 10 minutes
In a medium bowl, whisk together the ricotta and eggs.
Reduce oven temperature to 350 degrees. Spritz a 9x13 inch casserole dish with nonstick cooking spray.
Spoon about ¼ of the sauce into the bottom of the baking dish.
Add three layers as follows: eggplant, cheese mixture, and sauce. Finish the casserole with sauce and top with mozzarella cheese.
Cover with aluminum foil. Bake for 30 to 35 minutes. Remove foil and continue baking for about 15 minutes.
Allow the casserole to rest for 10 minutes prior to slicing.
Nutrition Information:
Yield:

12
Serving Size:

1
Amount Per Serving:
Calories:

340
Total Fat:

19g
Carbohydrates:

10g
Net Carbohydrates:

7g
Fiber:

3g
Protein:

29g
Nutrition facts are auto- populated by the app for this recipe card, numbers may vary. For best results, input your exact brand ingredients into a recipe analyzer like Verywell or MyFitnessPal.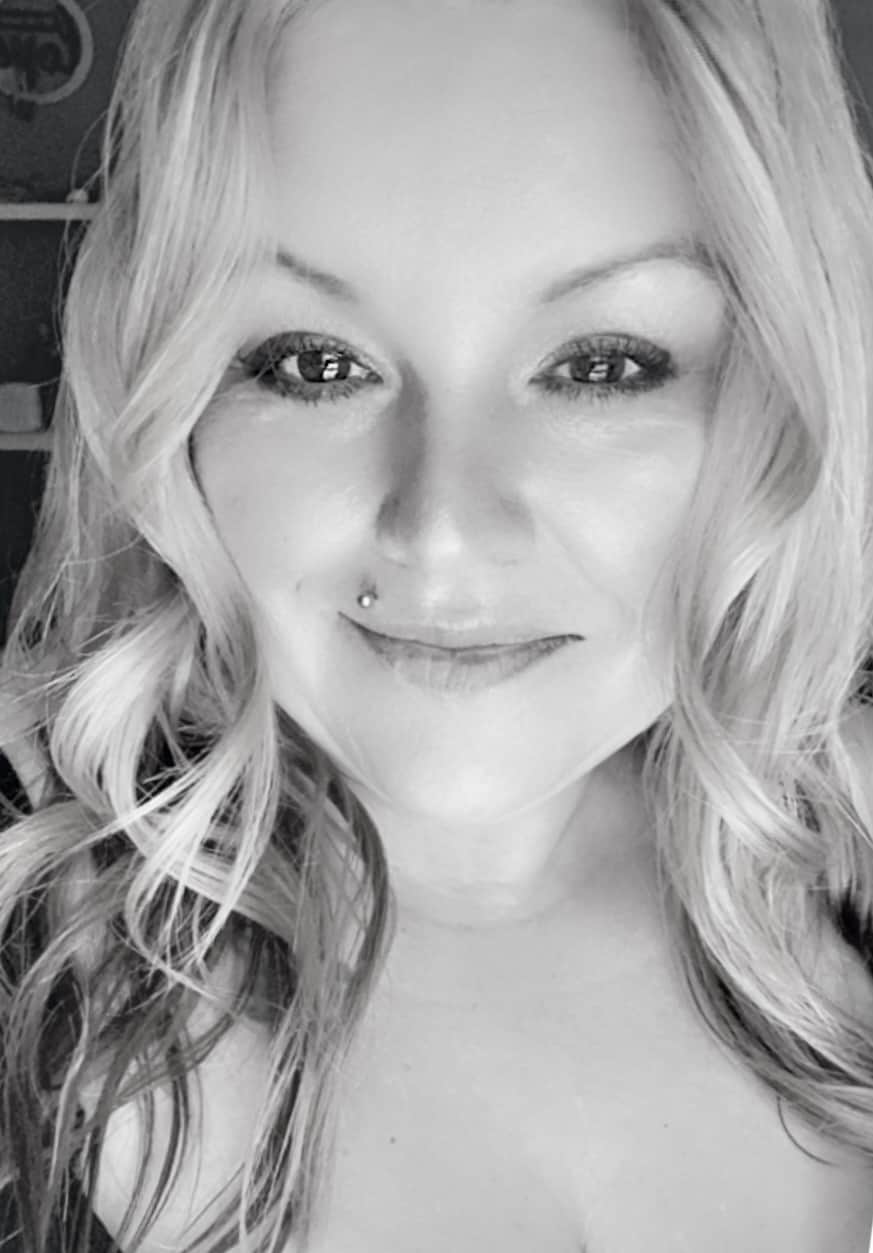 Owner & Lead Recipe Developer for It's Simple! since 2015, where you will find our best Family Favorites & Keto Low Carb Dishes with Helpful Cooking Tips & Hints in each post. Many Thanks for Stopping By, Enjoy!