5 Minute Homemade Brown Sugar n Cinnamon Oatmeal with Apples
This time of year one of my favorite things to have for breakfast is oatmeal.  When I was growing up I use to eat Cream of Wheat constantly, remember those individual instant packets? I believe they still make them, but I do not buy them.  Instead, we make our own oatmeal because we always have those huge containers of Quaker Oats on hand for baking.  I love that Quaker has both a Quick Oats and an Old Fashioned Oats.
The Old Fashioned Oats are good for baking, such as cookies, because it holds up and does not cook down as much. The Quick Oats are what we use for this recipe.  Gone are the days where my grandmother needed to get up at 5 a.m to make us homemade oatmeal before school. Now, I can whip this up while the girls are getting ready and have them washed, dressed, fed and out the door in less than an hour.  Try this recipe below and you will see what I mean!



Yield: 4
5 Minute Homemade Brown Sugar n Cinnamon Oatmeal with Apples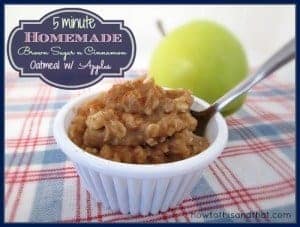 Prep Time 5 minutes

Cook Time 5 minutes

Total Time 10 minutes
Ingredients
1 cup of Quaker Quick 1 Minute Oats
¾ cup of water
¼ cup brown sugar
1 teaspoon of cinnamon
1 teaspoon of butter or margarine
Half an apple diced small, you can pre cook the apples if you want them to break down, I like my apples cooked through so I actually used a scoop of my homemade applesauce for this recipe
Instructions
Add all the ingredients to the pan and cook on medium low until the oatmeal absorbs the water and cooks down. Mixing well to make sure all ingredients are combined. This should take less than 3 minutes, do not walk away. Serve immediately with a dash of cinnamon and an apple slice. Remember, oatmeal is brain food and very good for heart health, it is one of the best things to serve your kids before school!