15 Easy and delicious Best Iced Coffee Recipes to make at home and save money, perfect for any day of the year. Learn how to make an iced latte and more.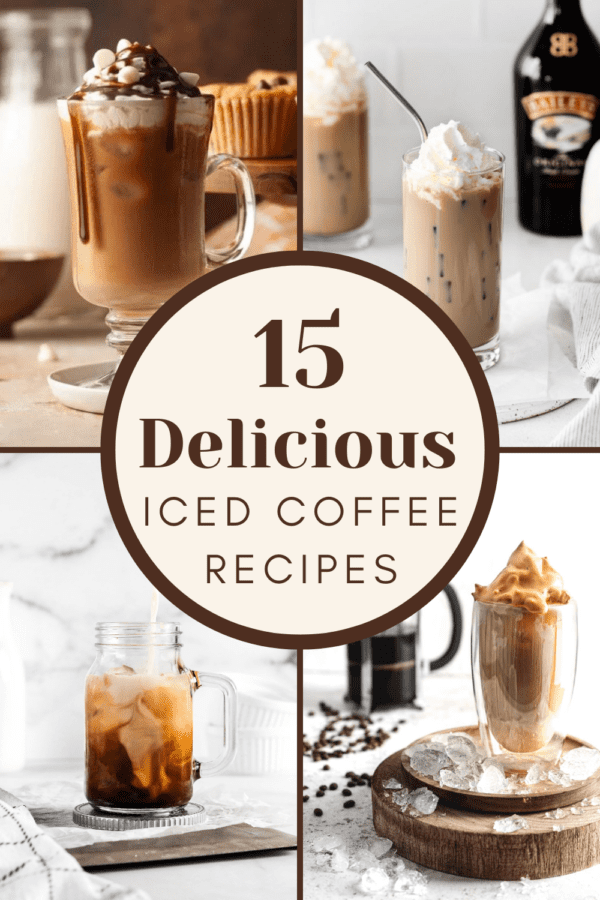 Hot coffee is a classic, there is no denying that, but iced coffee is truly a wonderful thing. Anyone who needs a pick-me-up in the middle of the day, but doesn't want hot coffee knows how essential it is. But if you are buying from the coffee shop, the price for all that is pretty substantial, too. That's why we have a list of the 15 best iced coffee recipes that can be made right at home. Making iced coffee at home has never been easier.
All of the iced coffee drinks that we have listed here are made from easy recipes that can be make at home without too much work and at worst, a quick trip to your local grocery store. Any iced coffee lover is going to love these homemade iced coffee recipes. The first taste of these delicious ice coffee drinks are going to make you glad you tried them!
15 Best Iced Coffee Recipes
What is Iced Coffee?
Iced coffee is basically coffee that has been chilled with, well, ice. When you think about all of the different types, styles and flavors of coffee out there, iced coffee is a pretty easy one to guess. Despite their name similarities though, iced coffee is not the same as cold brew coffee. It can be made with drip coffee, espresso shots poured over regular ice, or if you like a bold coffee, a strong coffee poured over coffee ice cubes. The key is that the coffee is made hot and cooled with the ice.
How to Make Iced Coffee
Are you ready to make yourself a great cup of iced coffee?! Let's do it!
Here are the simple steps to make iced coffee:
Brew your favorite coffee (light brew, espresso, dark roast coffee, etc), using any brewing method you wish
If you are adding sweetener or flavor, add it while the coffee is still hot
Fill a glass with ice cubes and pour the coffee over the ice
Once you have poured your coffee, now you can add in your milk of choice
How do You Make the Perfect Iced Coffee?
Let's face it, there are so many variations of iced cofee that making the perfect iced coffee is really up to personal preference. The best iced coffee recipe depends upon what you want in your coffee. Your personal coffee taste will determine how you make your own iced coffee.
Delicious iced coffee for you may mean that you want black iced coffee, or an iced vanilla latte or maybe your favorite brewed light roast poured over ice. Maybe you prefer it made with whole milk, oat milk, another milk of choice, or maybe no milk at all! You can make plain iced coffee or dress it up as much as you'd like. If you are new to iced coffee, any of these recipes will be worth trying.
Iced Coffee vs. Iced Latte vs. Cold Brew Latte: What is the Difference?
Iced Coffee vs Iced Latte
What is the difference between iced coffee vs iced latte, anyway? Well, the main difference is that iced latte contains milk. A latte is all about the milk, whereas iced coffee is just that. Coffee on ice. Addtionally, an iced latte is creamier, lighter tasting and higher in caloric value than an iced coffee.
Due to the addition of milk, an iced latte tends to be more mild in flavor than an iced coffee. As a general rule, an iced latte contains roughly 25% of the espresso as an iced coffee.
What is a Cold Brew Latte?
A cold brew latte is a latte made with cold brew coffee. Cold brew coffee is brewed in cold water for over 12 hours, meaning it is more flavorful and higher in caffeine content than regular or iced coffee. Cold brew lattes are served with ice cubes and topped with cold foam.
If you are a newbie to making your own iced coffee, this recipe is going to be a great place to start. It's so easy to make! Here we have a very simple, very easy iced coffee recipe. It can be drunk as is, or extra options can be added in once the basic coffee with condensed milk is done.
Looking for a caffeine fix with a little bit of something extra? This iced coffee might not be adviseable for a midafternoon boost at work. But the Bailey's Irish cream is a sweet bonus ingredient make for a relaxing experience.
Vanilla iced coffee is simple and elegant, with no need for anything extra. This is a great iced coffee recipe for a classic beverage. This is a great coffee recipe for those that like light sweetness without too much flavor.
Love Starbucks drinks, but don't love the cost? For those that like a good morning coffee from the famous coffee shop, this cold coffee recipe is a great alternative!
Another coffee chain copy, this mint mojito coffee gives you the coffee house experience without the coffee house cost. Plus it looks so elegant.
Are you looking for a sugar free, vegan delicious iced coffee drink that requires minimal ingredients? This is the one! This almond milk latte requires minimal ingredients for maximum taste.
Another Starbucks taste-alike, this one copies the Dolce latte. With cinnamon and sugar, it's a great blend of sweet and spice. The coffee flavor isn't necessarily over powered by the delicious sweet flavors, but you may start to think that you are enjoying a dessert instead of a coffee.
Looking for a great new recipe to try during iced coffee season this year? Here is a unique one for you! Have you tried bubble tea yet? If you are a fan of bubble tea, you are going to love this Iced Boba Coffee.
How pretty is this coffee? The third Starbucks copycat brings in the iced white chocolate mocha. While the sweetness level can be modified to taste, a special ingredient ensures that no hard to find flavored syrups are necessary.
How To Make Iced Latte
This pumpkin spice chai latte combines what might be the two most "fall" flavors in existence into one delicious beverage. Garnish with a cinnamon stick to really up the wow factor.
Besides being delicious, this protein coffee recipe offers a hidden benefit. It will help encourage a full feeling, so that less food is consumed throughout the day.
Dalgona coffee quickly took over the internet when it hit the public radar. This variant brings in Bailey's and a peppermint stick for a delicious addition to the drink. This makes a great holiday drink too!
The Freddo cappuccino is a Greek iced coffee that combines a few simple ingredients to great effect. The strong flavor of espresso combines with the cold foamy cream for a flavor that is out of this world.
This drink recreates the Starbucks chocolate cream cold brew drink. Cool and chocolatey, this cold brew coffee recipe is the perfect thing for a hot day. Pour this one in your favorite tall glass and dribble some delicious chocolate sauce over the top for a dessert like delicious drink.
Whether you love fall flavors or you just have a love of apples, you are going to love this apple crisp macchiato for another classic fall flavor. With multiple options for preparation and even cold or hot variants, this is sure to suit every palate.
If you love iced coffee, chances are you are going to love these iced coffee recipes! Get started on making these iced coffee recipes and your cup of joe just won't ever be the same.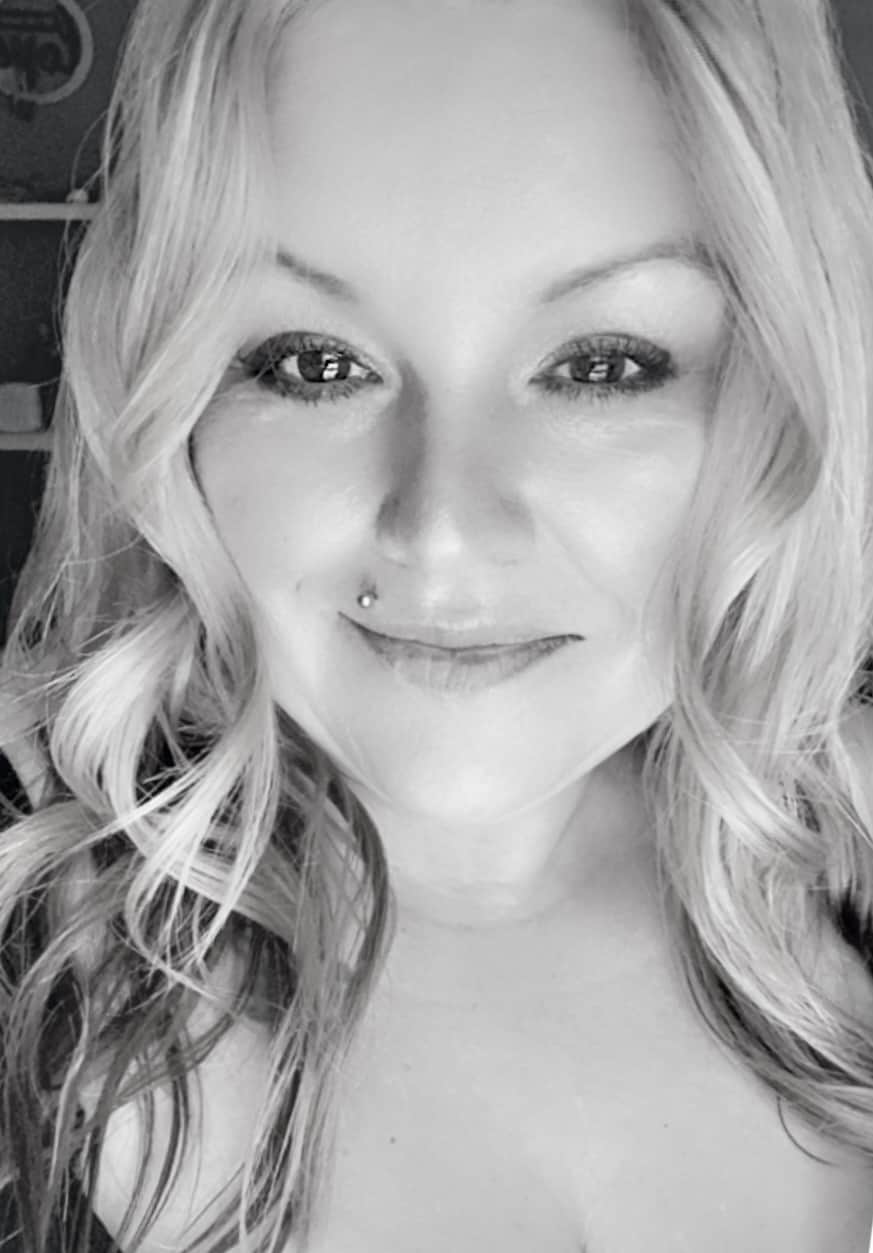 Owner & Lead Recipe Developer for It's Simple! since 2015, where you will find our best Family Favorites & Keto Low Carb Dishes with Helpful Cooking Tips & Hints in each post. Many Thanks for Stopping By, Enjoy!