Spinach Artichoke Crescent Rolls are a fantastic snack or appetizer. Modeled after the famous dip, these spinach artichoke crescent rolls are a delicious snack or appetizer to serve at a party. They are light and fluffy and jam-packed full of cheesy goodness. Not to mention how simple they are to make. So read below how to make these Spinach rolls in no time! 
Spinach Artichoke Crescent Rolls
I am all about creating delicious and simple recipes that leave your guest wondering what the recipe is and reaching for seconds. Whether I am creating snacks for my family or for a dinner party, I want to make things as simple as they can be, and that is where these savory spinach crescents come in. You can have them whipped up and on the table to devour in under 30 minutes.
Eating Keto or Low Carb?
This is easy!  Simply swap out the crescent roll dough for our fathead dough recipe.
Once the dough is made, us a pizza cutter to cut it into triangles similar to crescent roll dough.
Sometimes getting your kids to eat spinach or any vegetable for that matter can be a chore. Because these are stuffed with three different kinds of cheese, it really offers a wonderful flavor that kind of hides the spinach flavor. But so far I have seen that the cheese draws kids in, and a few of our guest's children ate these and asked for seconds. So there is hope that they will eat them right along with adults.
Can I Use Fresh Spinach For Spinach Crescent Rolls
With the holiday season fast approaching I thought it would be great to share an easy, affordable and mouth-watering appetizer.  If you prefer, you are always welcome to use fresh spinach, I just love the shortcut route of frozen spinach. It offers the same flavor value and it is very cheap. Just wilt the spinach slightly in a pan with a splash of oil. Then chop it up like frozen spinach is and then prepare cheesy spinach mixture. 
How to make our Spinach artichoke stuffed crescent rolls:
(full recipe card below)
Combine all ingredients, Spread spinach artichoke mixture onto crescent triangles and roll up just as you would a normal crescent roll. Bake, serve!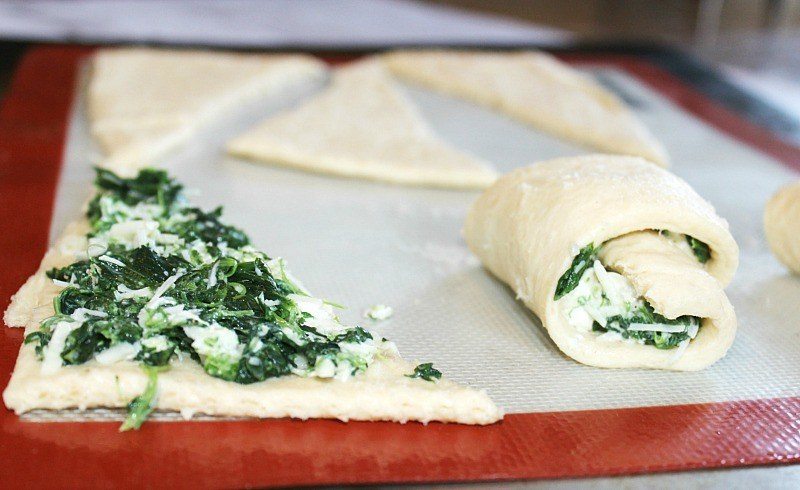 Brush crescents with egg whites and melted butter.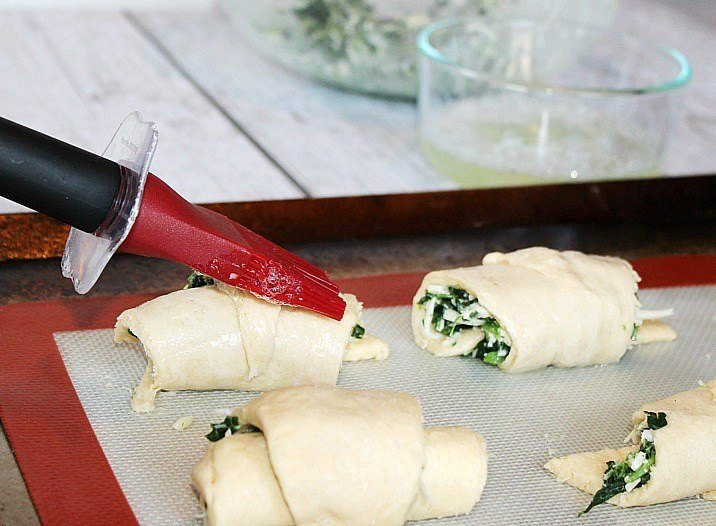 Bake! Serve.
Can I Make These Spinach Artichoke Crescent Roll Appetizers Without Artichokes
Yes. I have made these with just spinach and they are just as tasty. Feel free to leave out the artichokes if you prefer just spinach. Whether you add artichokes or not this is a tasty spinach appetizer I would recommend. 
How To Store Leftover Spinach Rolls 
You will want to allow your spinach rolls to fully cool and then place in the fridge in an airtight container. They will store for around 2-3 days. I will say these are best served warm and fresh. They will soften up once they are cooled in the fridge. 
Best Way To Reheat Spinach Artichoke Stuffed Rolls 
You can warm up in the microwave for a quick reheat, or oven. If you do the oven preheat to 350 degrees and then lay out your rolls on a baking sheet. Heat until they are warmed through. I have also eaten them cold and they tasted good. The spinach dip filling tastes good hot or cold in my opinion. 
What Are Other Crescent Roll Recipes 
On the hunt for more ways to dress up those store-bought crescent rolls? Not every recipe requires parmesan cheese, mozzarella and all things savory. Let me share some other fantastic recipes to consider. 
Jalapeno Popper Crescent Rolls | All the flavors of a jalapeno popper wrapped up in a tender and flaky crescent roll. Another savory crescent roll recipe. 
Buffalo Chicken Braided Crescent | Enjoy some heat with your chicken? This recipe is easy, savory, and bursting with buffalo chicken flavor. 
Cheesecake Danish | This recipe is a sweet option, and boy is it a delight. Serve for breakfast, dessert or a mid-day snack. All good options for this sweet and creamy danish.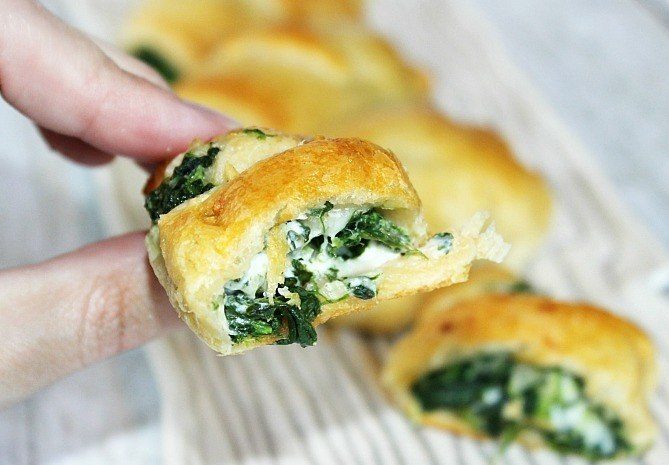 I am always looking for tasty appetizers, savory snacks, and of course holiday food to bring to events. Give these spinach artichoke crescent rolls a try this week. I think you all will really enjoy the creamy, cheesy, and rich flavors they bring to the table. 
Have you ever tried spinach artichoke stuffed crescent rolls? Let us know in the comments.
More of Our Amazing Appetizer Recipes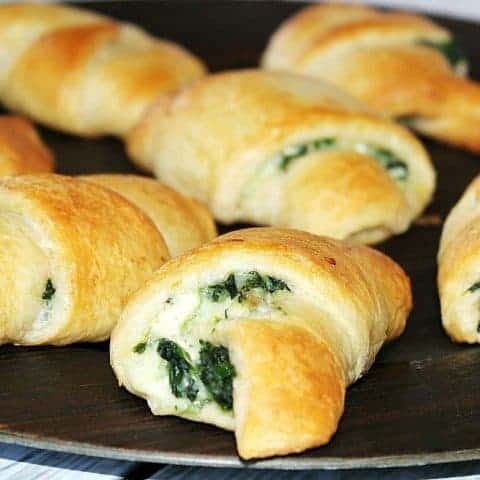 Spinach Artichoke Crescent Rolls
A play on the famous dip, but stuffed into buttery, golden crescent rolls! 
Ingredients
1 - 10 oz. Package of Frozen Spinach, drained
1 container of Crescent rolls
1 Egg separated
½ cup Mozzarella cheese
½ cup Parmesan cheese
4 oz. Cream cheese softened
Salt and Pepper to Taste
3 Artichoke hearts , Chopped
Instructions
Preheat oven to 325.
NOTE- make sure spinach is drained well.
Combine all spinach artichoke ingredients into a bowl, using the egg YOLK, set aside the egg white. Mix well.
Spread mixture onto the crescent roll triangle.
Roll up (like normal) starting at the wide angle to the tip.
Bake 15 minutes or until golden brown.
Serve.
Nutrition Information:
Yield:

4
Amount Per Serving:
Calories:

280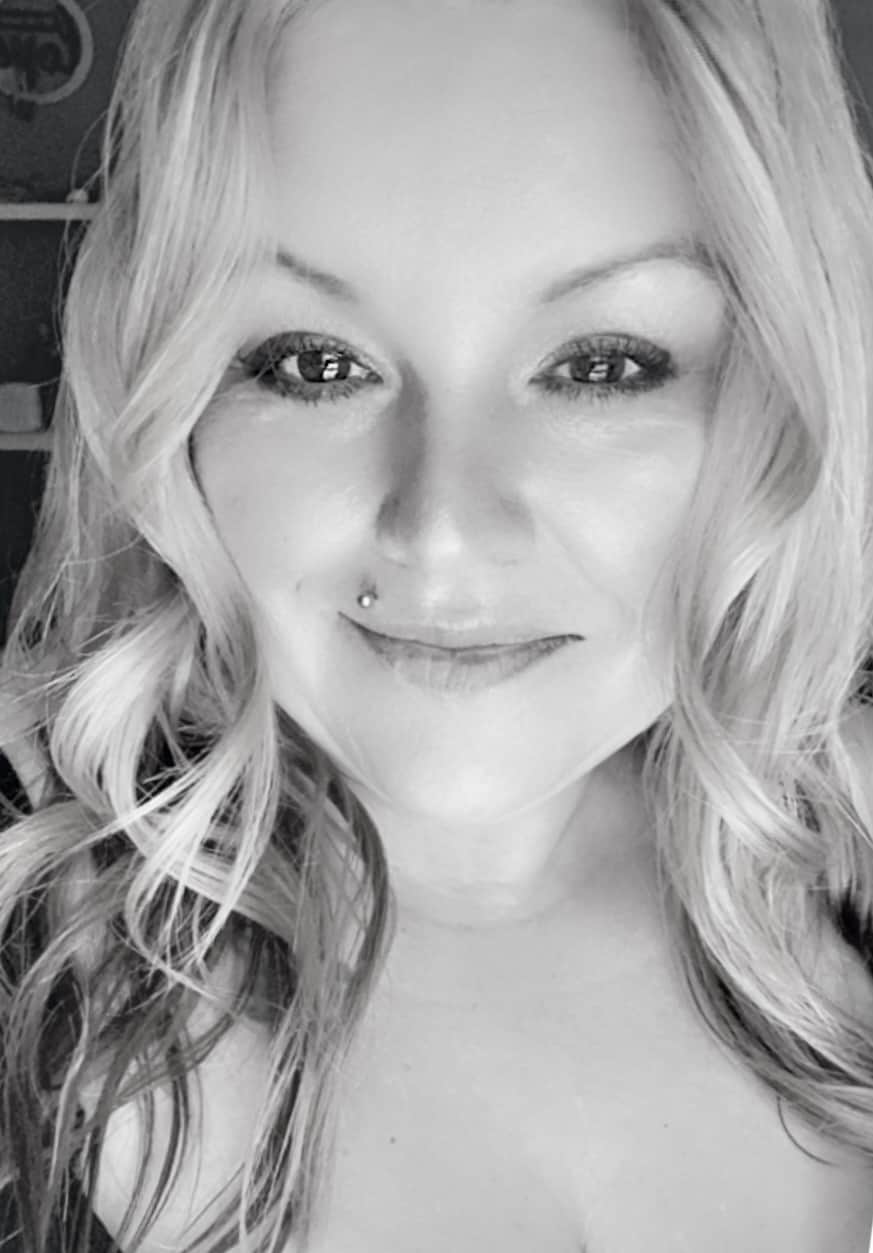 Owner & Lead Recipe Developer for It's Simple! since 2015, where you will find our best Family Favorites & Keto Low Carb Dishes with Helpful Cooking Tips & Hints in each post. Many Thanks for Stopping By, Enjoy!