This post may contain affiliate or paid links. See our full disclosure at the bottom of this page for more information. ............................................................................................................................................................
Our chicken cordon bleu crescent bake is a simple twist on the classic. There is no frying or dredging chicken! Making this an easy weeknight meal!

Chicken Cordon Bleu Crescent Bake
Chicken breast stuffed with ham and cheese, wrapped in a puff pastry, baked until golden brown, and served with a homemade Cordon Bleu sauce that will blow your mind! This Easy Chicken Cordon Bleu Bake will amaze you at how incredible it tastes, and how easy it is! Seriously!
This is my shortcut route to making Chicken Cordon Bleu, it comes out beautifully, and is so much easier and faster to make than the classic version. With this recipe being a bake, it makes the prep simple, and you bake it in the oven for a quick dinner or lunch. Sometimes you just crave a hearty comfort food, and that is what this bake is. You can really get filled up with the chicken, ham, cheese, a delicious goodness of the  puff pastry, Not to mention the homemade sauce really makes this dish stand out! It really can warm you up on a cool winter day!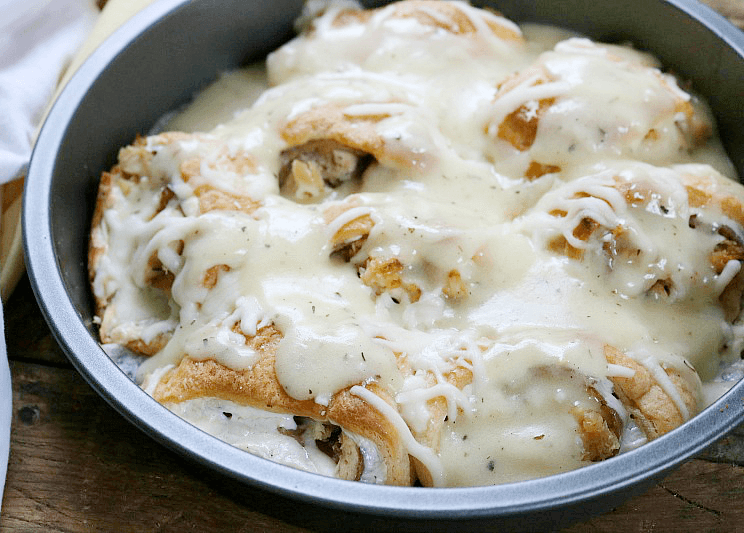 You get all the flavors and elements of textures as you would to a classic chicken cordon bleu, in a much healthier version, as it is baked not fried. It looks beautiful in the pan, and is great to serve to guest for a dinner party, and kids approve. I will randomly put this in our dinner rotation and every time I think why don't I make this more often! It is a winning dish in ease to make and flavors!
Making our Chicken Cordon Bleu Crescent Bake
Chicken Cordon Bleu Crescent Bake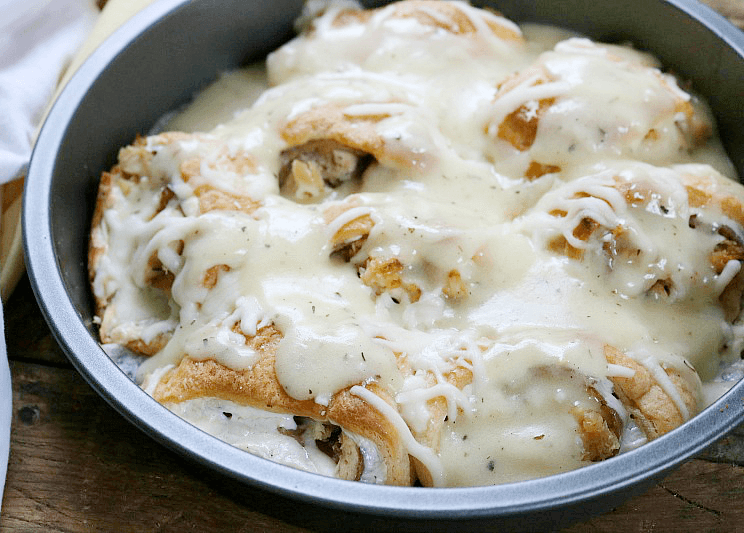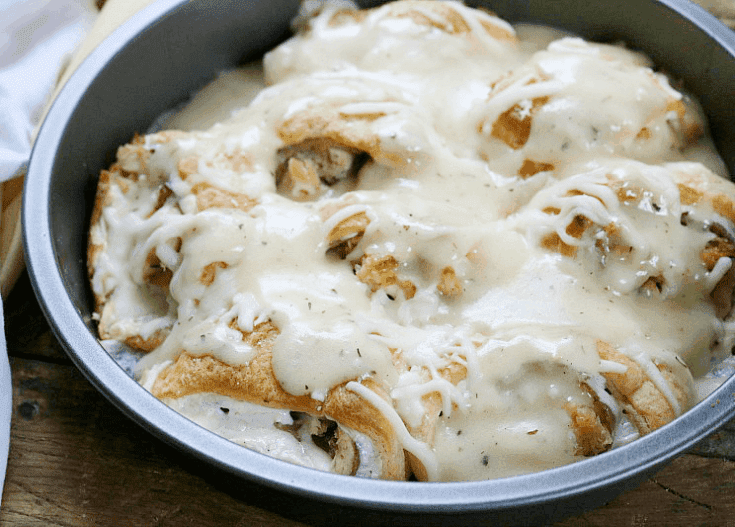 A hearty, comfort food classic, chicken cordon bleu turned simple and quick for any weeknight meal. 
Ingredients
1 large Chicken Breast, Sliced and Sauteed
4-6 slices Deli Ham
4-6 slices Swiss cheese
1 can Crescent roll dough
Dijon Mustard , amount varies
For the sauce
3 tbsp butter
11/2 tbsp flour
1 1/4 cup half & half
1 tsp lemon juice
1 tsp dijon mustard
2 tbsp parmesan cheese
1 tsp Italian blend seasoning
salt & pepper to taste
Instructions
Preheat the oven to 375. Dust a hard , flat surface with flour. Open crescent dough and roll out to close creases. You should have one sheet of rectangle shaped crescent dough. 
Spread dijon mustard over the crescent dough. Evenly layer ham, cheese and chicken over the dough.  Roll dough up (like you would for cinnamon rolls). Place in the freezer for about 10 minutes, while you make the sauce. 
For the sauce: 
In a medium sauce pan over medium heat, add butter and flour. Cook down until butter is almost melted completely whisking until flour is dissolved. Add seasonings and let butter continue to melt. 
Slowly stir in half & half and bring to a gentle boil. Once bubbling reduce to simmer. Stir in lemon juice and parmesan. Continue cooking about 5 minutes. 
Cut crescent dough into pinwheels, place in a round pan and bake 10 minutes. Top with sauce, bake an additional 5 minutes. 
Serve.