Create these simple jalapeno popper crescent rolls to serve up at any party, game day or as a simple snack! A quick and easy jalapeno appetizer that is such a delight. Tender crescent roll wrapped up with cream cheese, seasoning shredded cheese, and a stuffed jalapeno.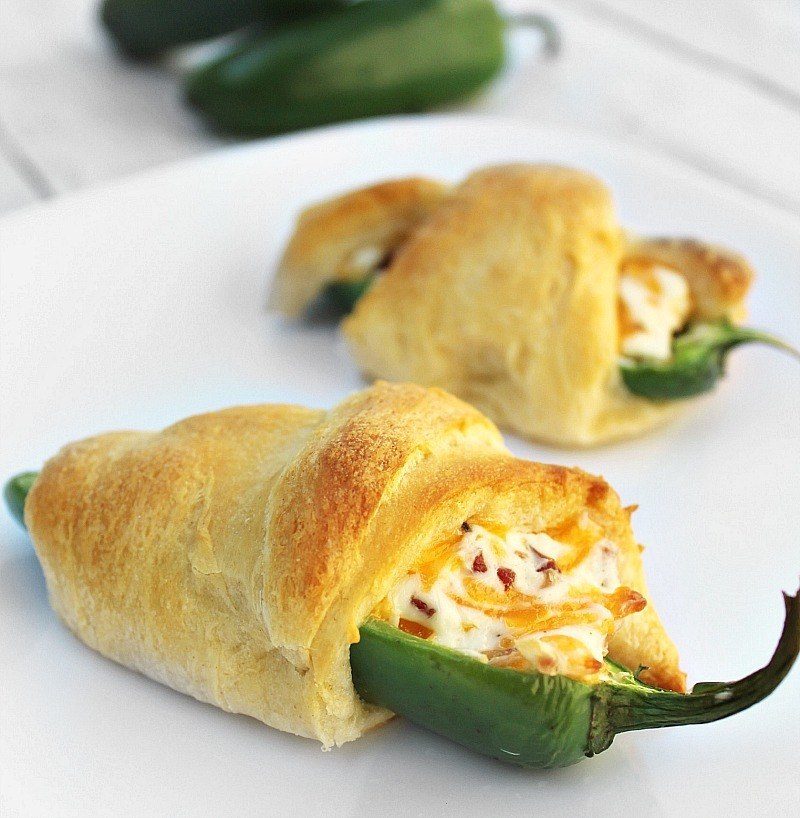 Jalapeno Popper Crescent Rolls
Prep and have these crescent rolls ready to be served in 30 minutes. They are so simple but yet so satisfying. The rich cream cheese paired with the sharp cheese and salty bacon pair beautifully.
The jalapenos get a little soft as they bake but still offer a nice crunch.  I make these when we have a family gathering, cheering on our favorite sports team, and as a late night snack from time to time. Unlike traditional deep-fried jalapeno poppers, these are baked so offering a lighter bite without all that grease. Warm, soft buttery crescent roll wrapped around a cheese stuffed jalapeno, you can't go wrong here! 
Tip for Working With Jalapenos
Working with the jalapenos | If you can take some heat, leave some seeds in the jalapenos for a really nice kick. To remove the heat just make sure you scrape the jalapenos out really well and get them rinsed. These seeds are what carry a lot of spice and rinsing helps remove those oils. Make sure not to get the jalapeno oil on your face, and some find they are sensitive to the oils and need gloves.
So be cautious. I have literally worked with spicy peppers in the past without gloves, washed my hands quite a few times throughout the day and then turned around and accidentally touched my face- feeling the burn. Almost a full entire day later and after multiple hand washings. The oils stay around for a long time and can really cause some discomfort.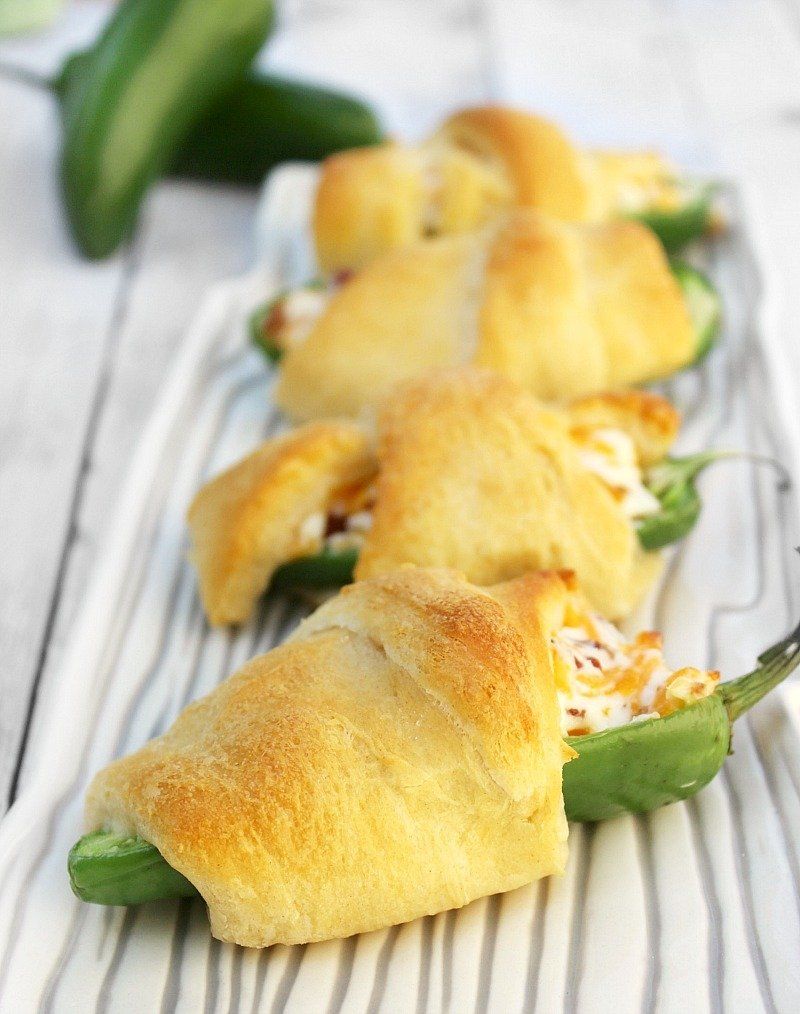 Making our jalapeno popper crescent rolls
(full recipe card below)
To start- clean the jalapenos removing the ribs and seeds. Take caution as mentioned above. Mix the filling ingredients together in a bowl and set aside. NOTE* starting with softened cream cheese is best.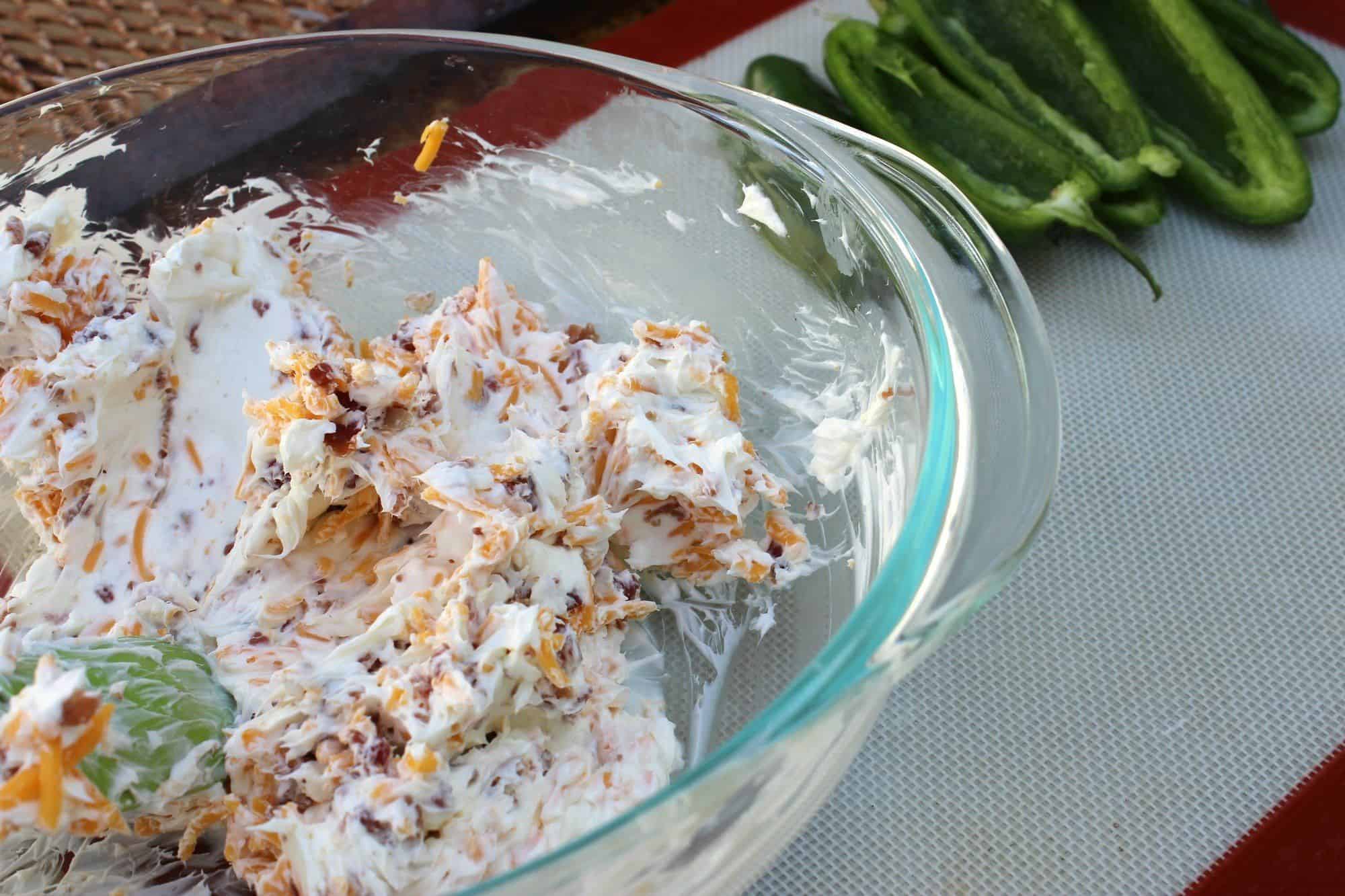 Lay the crescent roll triangles out on a flat surface (probably easiest to do right on your sheet pan). Fill each jalapeno pepper half with cream cheese mixture and sit the half on the widest part of the crescent triangle.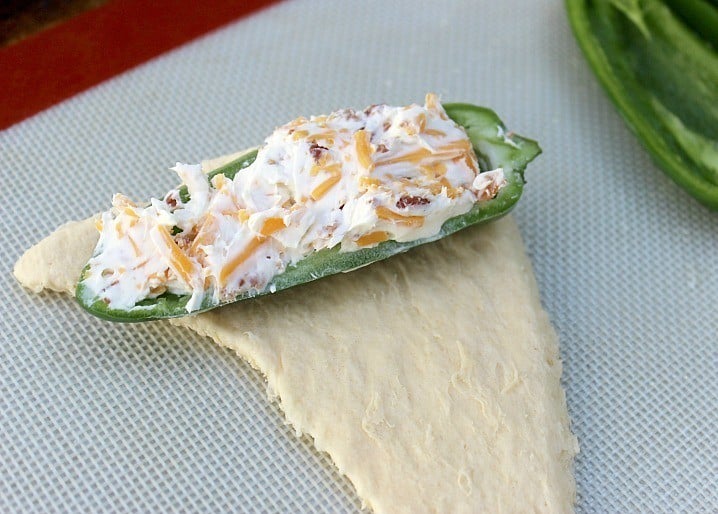 Roll the jalapeno popper up in the crescent roll dough starting at the widest point to the tip, same as you would a normal crescent roll.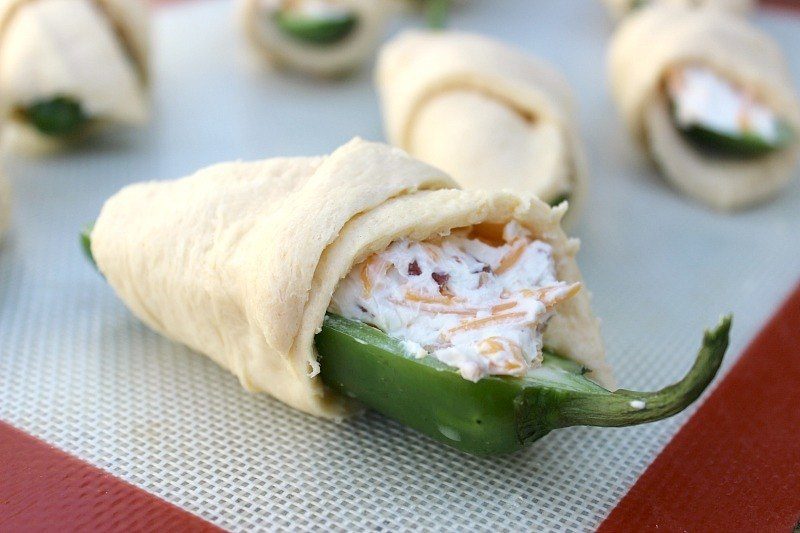 Bake for about 15 minutes or until golden brown and set up.  Set aside to cool for at least 5 minutes. This will help not only cool off the inside, but help the filling firm up a bit.  Next- take a big bite! Cheesey, bacon, pepper-y goodness.  Enjoy!
Serving suggestion-  use ranch or bacon cheddar dressing for dipping.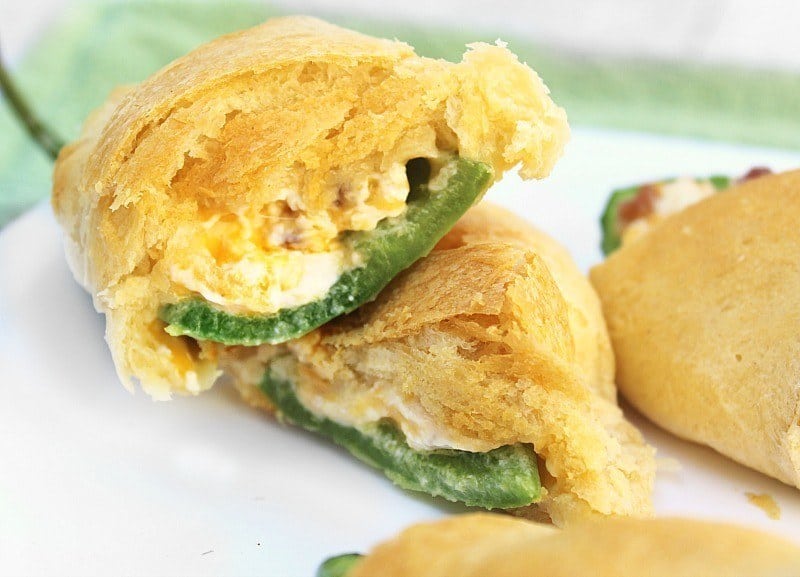 More of our Amazing Appetizer Recipes
Does This Recipe Work With Sweet Mini Peppers
Yes, you can buy mini peppers at the store, de-seed them and stuff the same way. Those little colorful peppers offer a sweet take feel free to make some with the small mini peppers or do all jalapenos. The choice is up to you! You could do a jalapeno cream cheese croissants instead of crescent rolls.
Can I Swap The Shredded Cheese In Recipe
Yes. You can use any flavored shredded cheese you would like. I enjoy sharp, pepper jack, Monterey jack or any other shredded cheese. Give this recipe a try and see how you like it with different cheeses.
Best Way To Store Leftover Jalapeno Cream Cheese Crescents
Store any leftovers you might have in the fridge for up to two days. I will say these are best warm, but they don't taste that bad cold. You can warm them up or eat them chilled, it is totally what is your preference. These jalapeno poppers are tasty, and a fun take to a classic appetizer.
How to Reheat Jalapeno Popper Crescents
Simply warm up in the microwave or opt to place on a baking sheet and heat in the oven. Then just turn on the oven to 350 degrees and heat until they are warmed through. If you are afraid of them getting too brown, then simply wrap the pan in aluminum foil.
Try my Keto Skillet Jalapeno Popper Pizza recipe!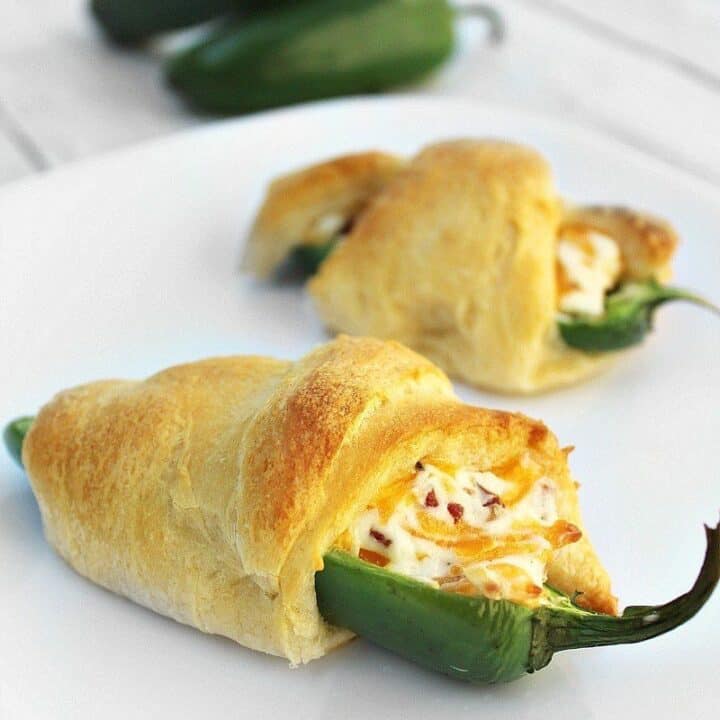 Jalapeno Popper Crescent Rolls
Our jalapeno crescent rolls are a lighter, but soft and buttery version of the fried jalapeno. Perfect for game day, parties or even a snack! 
Ingredients
2 packages Crescent Rolls, ours come 8 per can
8 Jalapenos
1 8oz Package Cream Cheese, softened
½ cup Sharp Shredded Cheese
⅓ cup Cooked Bacon, crumbled
Instructions
Clean jalapenos by removing ribs and seeds. Set aside.
Mix filling ingredients together. Set aside.
Open crescent rolls and lay on flat surface, preferably the sheet pan you will be using.
Fill jalapeno halves with cream cheese mixture.
Set each half onto the widest part of the crescent and roll to the point.
Bake on 350 for about 15 minutes.
Set aside to cool at least 5 minutes.
Serve with ranch or your favorite dip!
Notes
Use caution when cleaning spicy peppers. The oils can seep into your skin and stay there long after washing. It is recommended to use gloves when cleaning them.
Nutrition Information:
Yield:

8
Amount Per Serving:
Calories:

280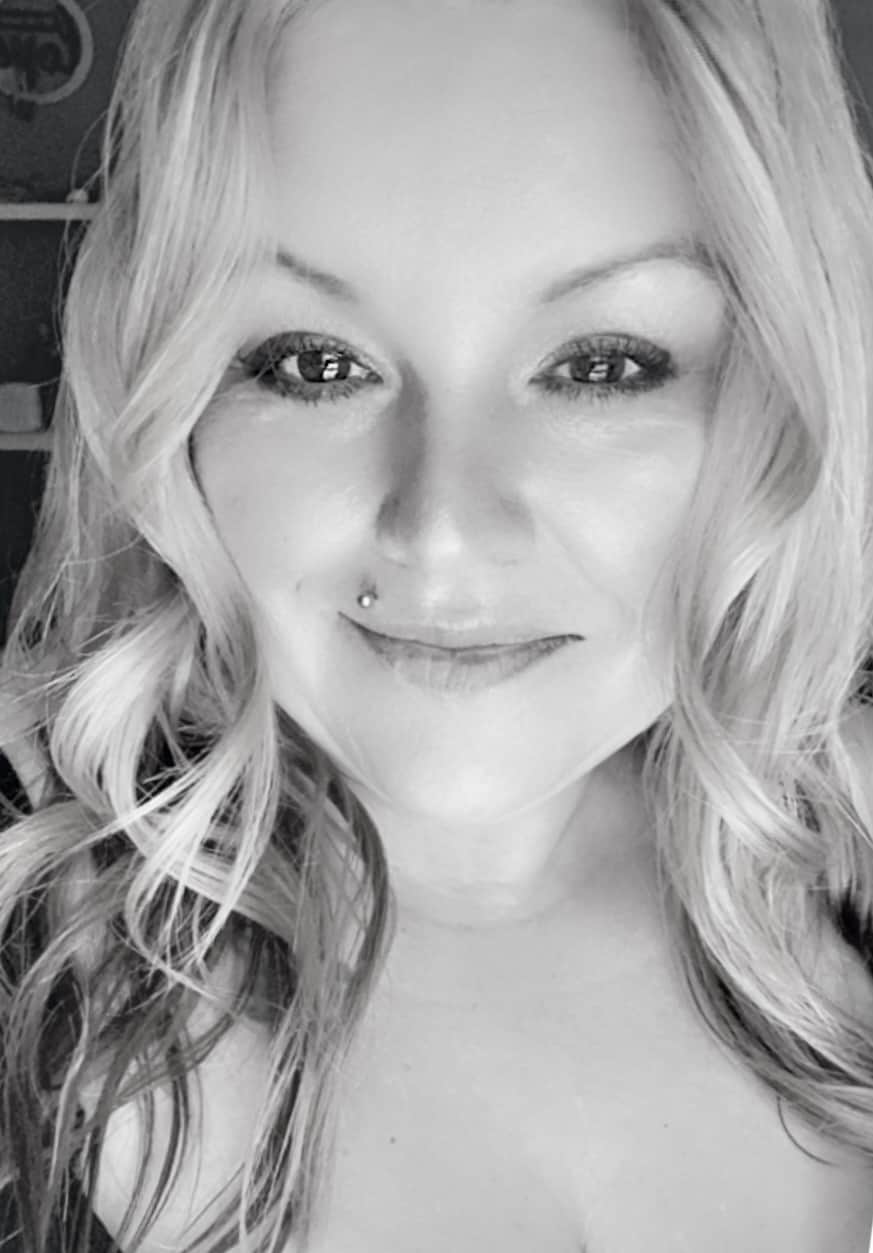 Owner & Lead Recipe Developer for It's Simple! since 2015, where you will find our best Family Favorites & Keto Low Carb Dishes with Helpful Cooking Tips & Hints in each post. Many Thanks for Stopping By, Enjoy!