Think of our keto skillet jalapeno popper pizza as deconstructed poppers! WE PROMISE it won't disappoint. Don't believe it? Try for yourself!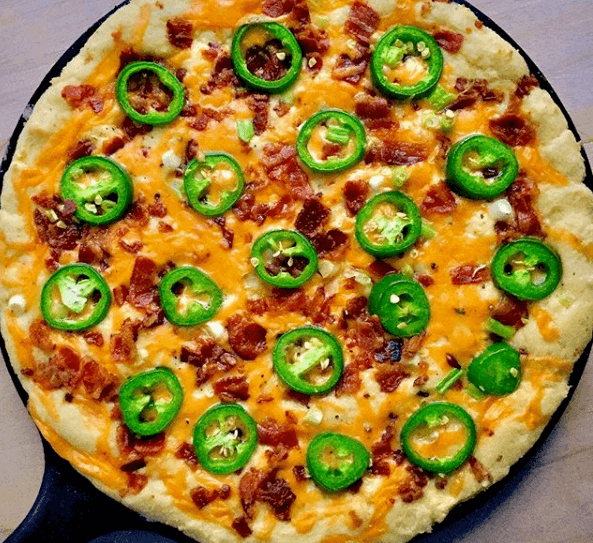 Keto Skillet Jalapeno Popper Pizza
One thing people love is pizza, but some think that they can never have it again while eating keto or low carb because… dough. It is possible to eat it though, I promise! Personally, I love pizza and so does my entire family. We enjoy having pizza and movie nights. With this way of eating you can't just order the usual from the house of pizza down the road. Too. Many. Carbs. It will kick you right out of ketosis.
This skillet recipe makes our movie nights easy and delicious. Without feeling deprived or having the fear of being kicked out of ketosis. We love all flavors of pizza but one of our favorites include jalapenos and bacon. These combined with cheddar cheese is absolutely mouthwatering. This recipe has become one of our favorites especially on days we are tempted to cheat. This keto skillet jalapeno popper pizza cures our cravings while staying in ketosis.
But how can I eat this pizza and still stay in ketosis?
The not so secret , secret is fathead dough. Fathead dough is a miracle invention. It uses mozzarella as the "gluten" to hold the dough together and give it a slight chew. This is completely keto approved. We use our fathead dough recipe for many things- rolls, desserts and more.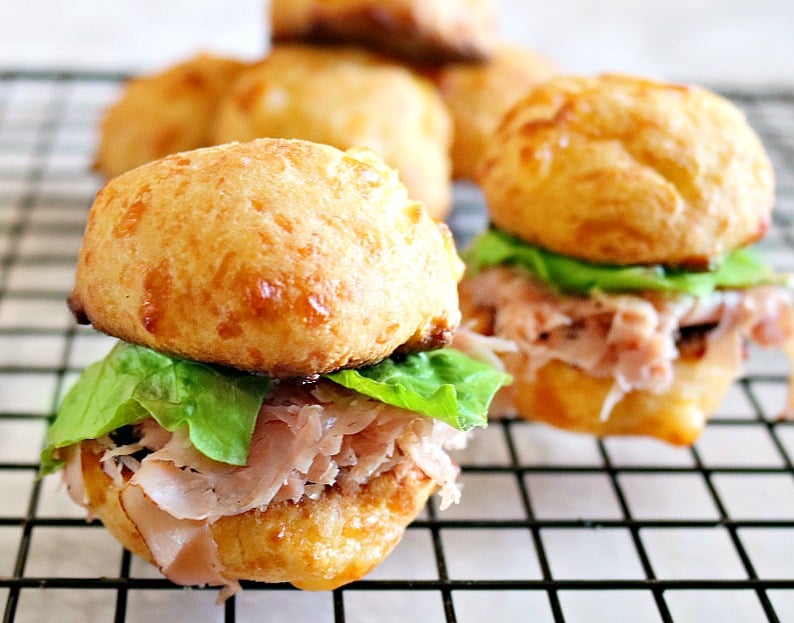 This Keto Skillet Jalapeno Popper Pizza combines two of my favorite things- pizza, and bacon wrapped jalapeno poppers. Think of it as a deconstructed bacon wrapped jalapeno popper on top of a flavorful Fathead Dough crust.
Why does my fathead dough look different than yours?

The main reason for the variation in dough is the flour used. Almond flour comes a few different ways- super fine, blanched and almond meal. The colors of each flour are also different. Super fine being the lightest, meal being the darkest. We typically opt for super fine.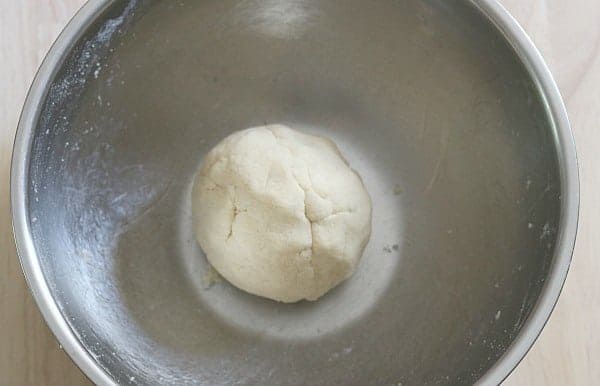 The best part about this is that it is simple to cook. All you need is a skillet. Press the fathead dough in to your skillet as if you are making a deep dish pizza and add your ingredients. You can also make extra dough to either keep in the refrigerator OR pre-make extra crusts.
But, that is enough about that. Let's get cooking!
Making our Keto Skillet Jalapeno Popper Pizza
PIN ME! Follow US on Pinterest!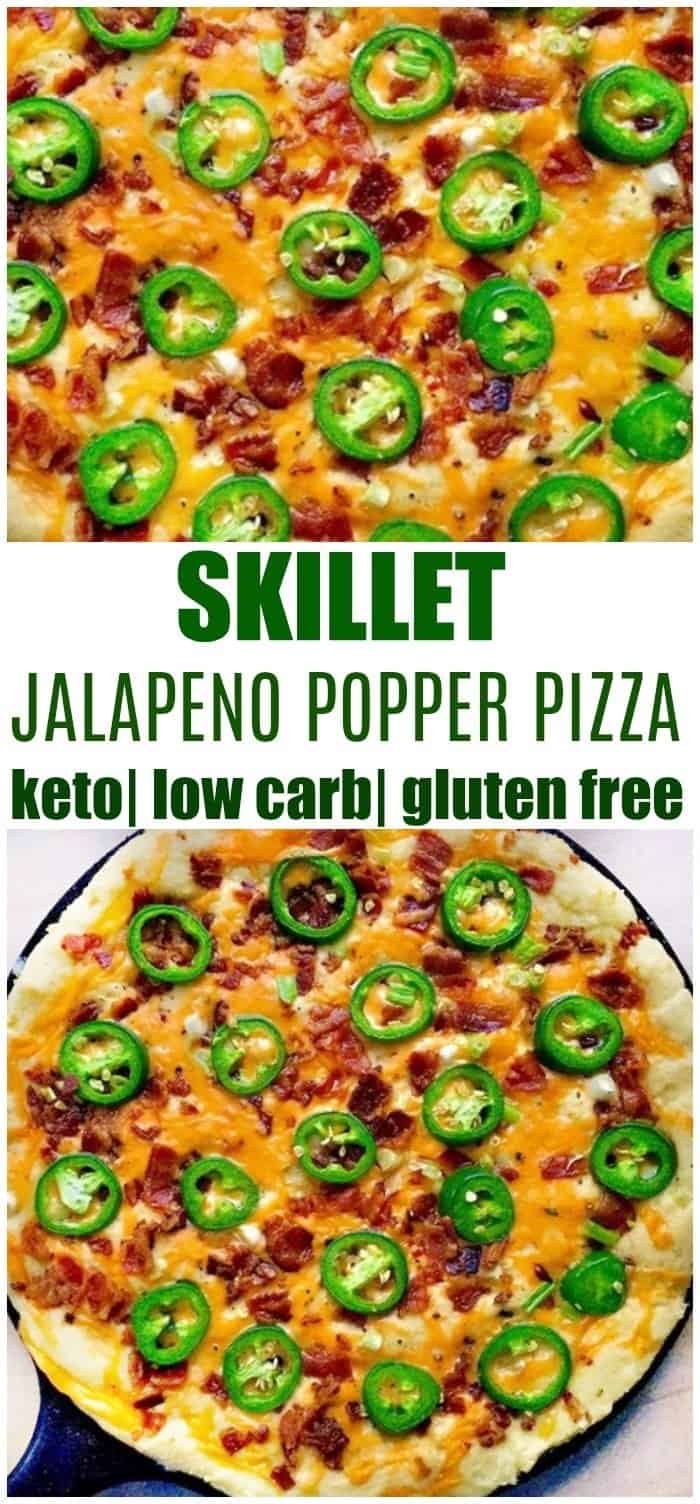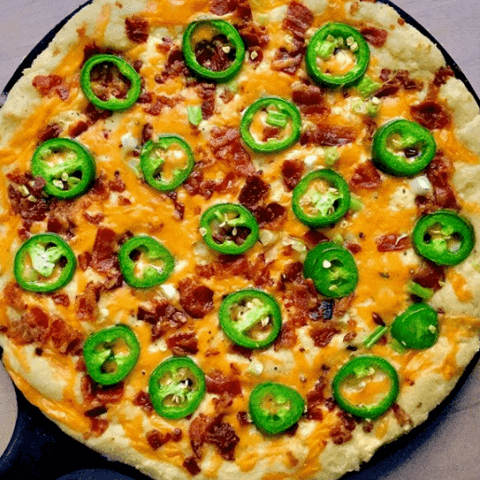 Keto Skillet Jalapeno Popper Pizza
Think of our keto skillet jalapeno popper pizza as deconstructed poppers! WE PROMISE it won't disappoint.  Don't believe it? Try for yourself!
Ingredients
2 oz cream cheese
¾ cup mozzarella, shredded
1 egg, beaten
¼ teaspoon garlic powder
⅓ cup almond flour
2 jalapenos, sliced in rounds
1 cup cheddar cheese, shredded
4 slices bacon, crumbled
Cheese Sauce
4 oz cream cheese
⅓ cup sour cream
½ shredded cheddar
Instructions
Preheat the oven to 350.
In a small bowl, add cream cheese and mozzarella. Microwave on high for 20 seconds at a time until melted.
Add almond flour and seasonings to melted cheese, mix well. Dough may be sticky but it will come together. Add more flour if necessary.
Grease 10" skillet, spread dough out evenly. Stick with fork to prevent air bubbles. Bake for 10 mins.
MAKE THE CHEESE SAUCE: Mix all cheese sauce ingredients together in a small bowl. Heat in microwave for 20 seconds at a time until melted and smooth.
Remove pre baked crust from oven, evenly spread cheese sauce, top with shredded cheese , bacon and jalapenos. Bake for another 10 minutes or until crust is golden and set.
Nutrition Information:
Yield:

4
Serving Size:

1
Amount Per Serving:
Calories:

519
Total Fat:

44g
Carbohydrates:

6g
Net Carbohydrates:

5g
Fiber:

1g
Protein:

23g
Nutrition facts are auto- populated by the app for this recipe card, numbers may vary. For best results, input your exact brand ingredients into a recipe analyzer like Verywell or MyFitnessPal.
More skillet pizza recipes - Some may not be low carb or keto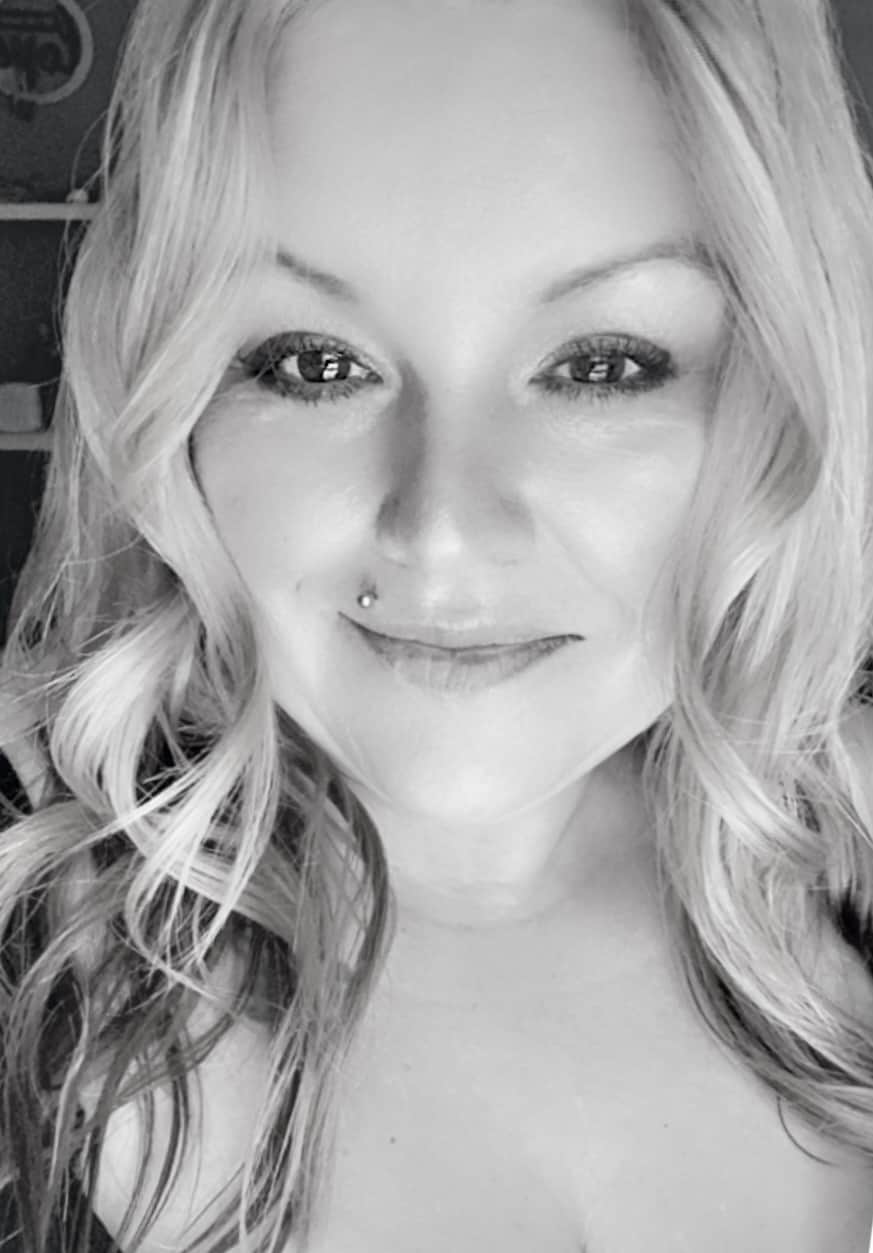 Owner & Lead Recipe Developer for It's Simple! since 2015, where you will find our best Family Favorites & Keto Low Carb Dishes with Helpful Cooking Tips & Hints in each post. Many Thanks for Stopping By, Enjoy!