Pikachu Oreos are a fun treat for all of you Pokemon Go lovers! Fuel up on these yummy cookies before going out to play or serve at your next birthday party!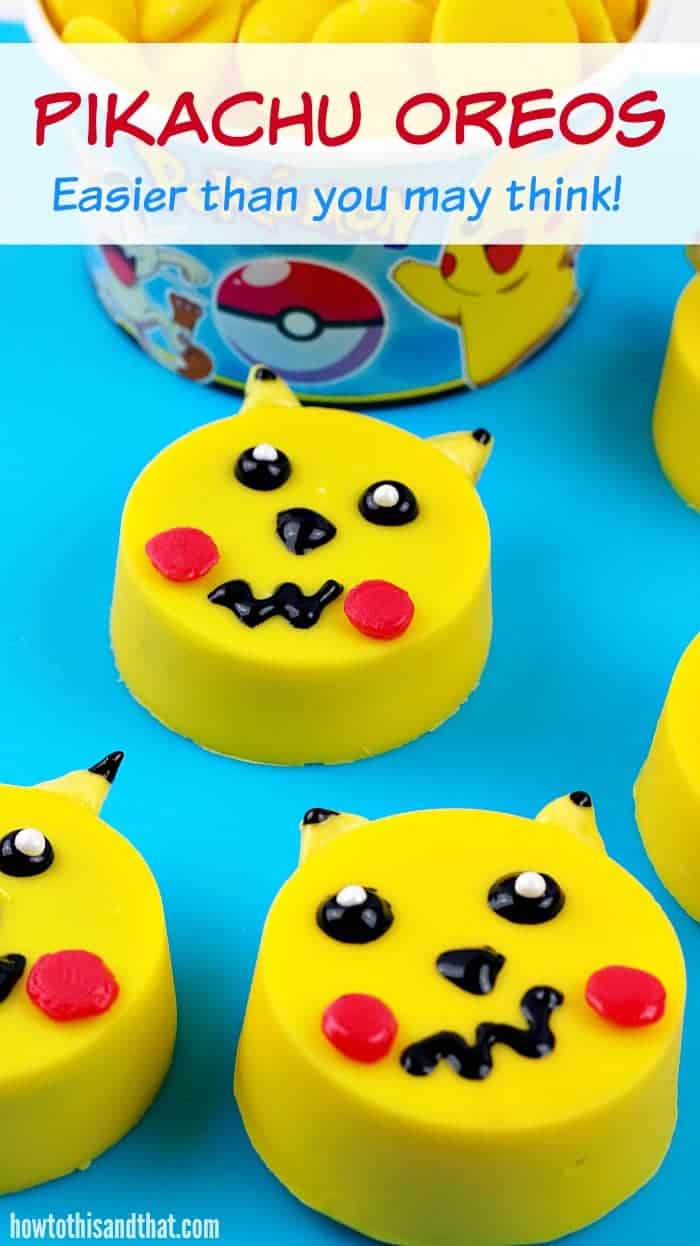 Pikachu Oreos- Celebrate Pokemon Go!
These Oreos are much easier to make than you might be thinking.  During the holiday season I use my muffin tin for a lot of chocolate covered goodies, including Oreos so that I don't have to buy molds.  You can pick up molds fairly inexpensive at most stores, but if I have something like works I like to use it.
It is as simple as adding a bit of chocolate to the bottom of the muffin pan, placing the Oreo Pikachu and then topping with more chocolate.  The details are below!   Your kids will LOVE these.  HAVE FUN!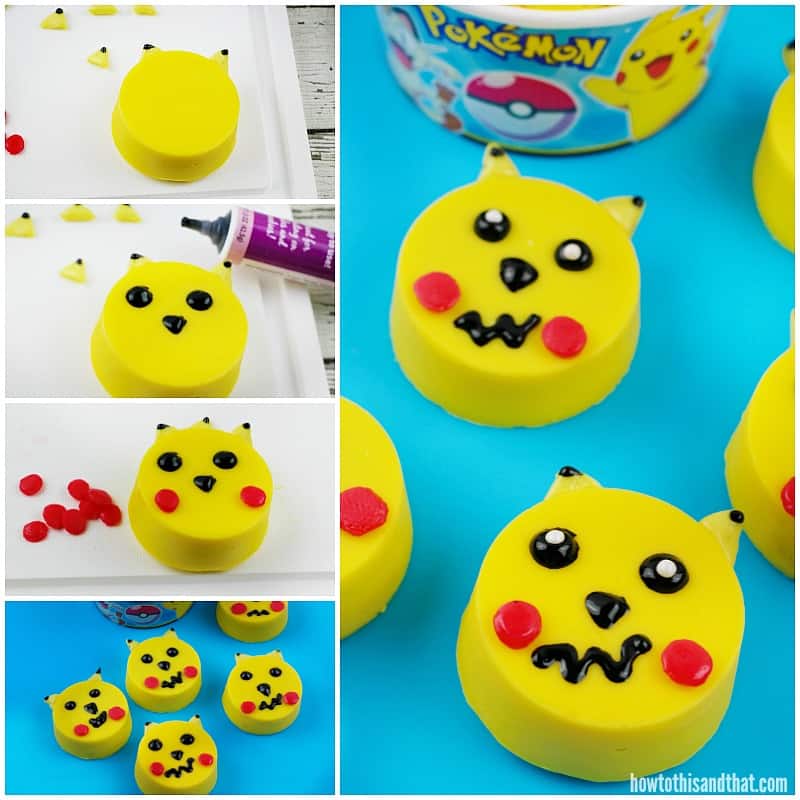 .
What you need to make Pikachu
Muffin Tin
12 Oreo cookies
2 Tablespoons butter
1 cup Wilton yellow chocolate melts
8 yellow taffy like candies, like laffy taffy or tootsie rolls.
8 small red candies, like a red hot
Black & White icing gel
The candies can be found at any dollar store!
How to make Pikachu
In a microwave safe dish,  melt the butter.
Add the yellow candy melts and stir occasionally until melted. If chocolate does not melt completely before cooling,  heat in the microwave for 30 seconds at a time, mixing between intervals.
Spoon a small amount of chocolate into the bottom of each muffin tin spot.
Lay an Oreo cookie in each spot, on top of the melted chocolate.
Spoon additional melted chocolate on top of each Oreo, filling to the top of each.
Chill for at least 2 hours. You can do the below steps while they are freezing.
NEXT 
Place a piece of parchment paper on a sheet pan.
Place unwrapped tootsie rolls on a paper plate and heat in microwave for 10 seconds to slightly soften.
Flatten each tootsie roll candy, cut out 3 small triangles from each piece (24 total). Dab a small amount of black icing gel on the top of each triangle and set on baking sheet to "dry." These will be the Pikachu ears.
Have your red candies around to use when ready. These will be the Pikachu rosy cheeks.
The Details
Pop Oreos out of the muffin tin and lay on baking sheet.
Re-heat the remaining melted yellow chocolate in the microwave.
Take each triangle and dip the base into the melted chocolate and press gently on top of each Oreo for the ears.
Dip each red candy into the chocolate and add to make the Pikachu cheeks.
Place back on the baking sheet for 10 minutes to harden.
With the black tube of icing gel, pipe 2 eyes, a nose and mouth onto each Oreo.
Use the white for the middle of his eye!
You have a super cute Pikachu treat!