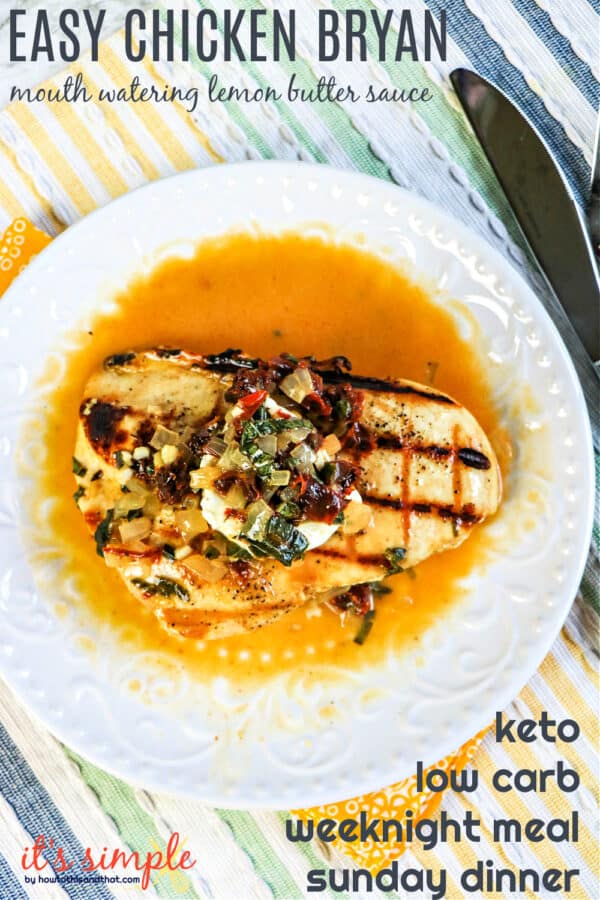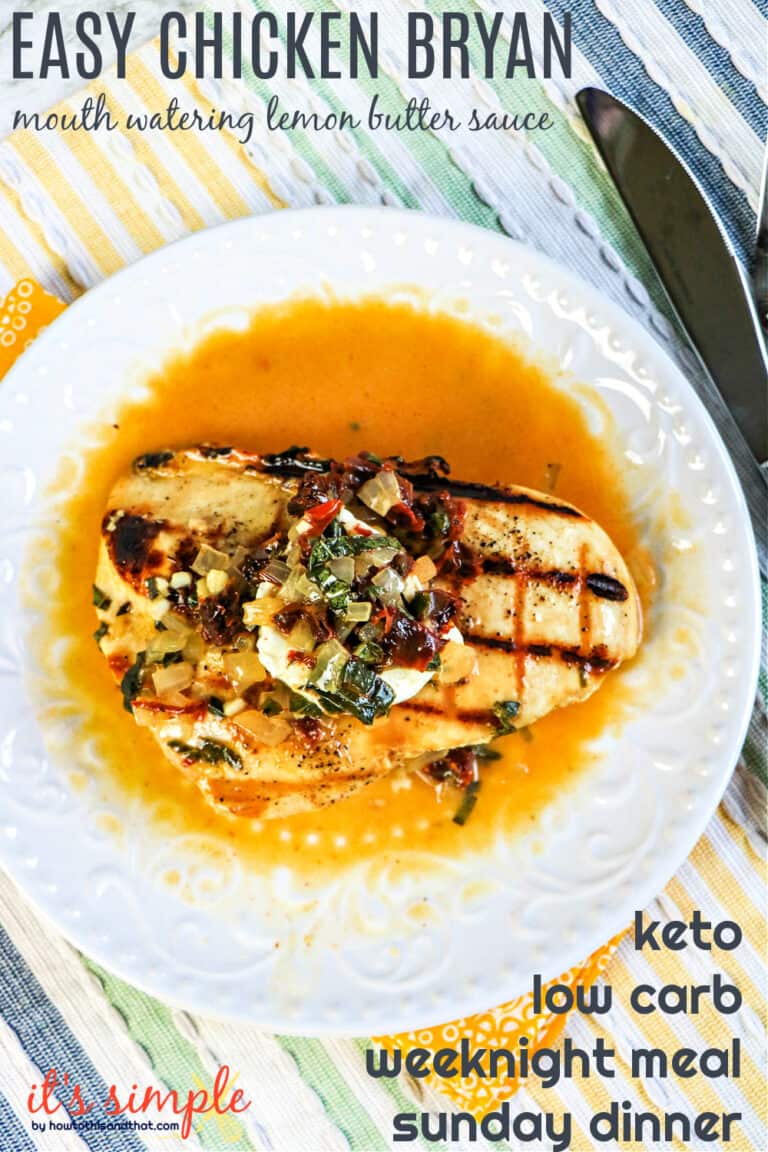 If you're looking for new ways to prepare chicken breast, try this Easy Chicken Bryan recipe. It's flavorful, moist, and perfect for serving as the main course for dinner with your favorite vegetables on the side. This easy chicken bryan Carrabba's copycat, is the most popular Carrabba's copycat chicken recipe to date. You have to try this easy keto dinner recipe.
Chicken is versatile because you can do so much with it. While looking for new ways to prepare chicken breast because I was tired of eating the same meals, I decided to prepare Easy Chicken Bryan.
The flavor of the chicken blew me away. The broth added to the dish keeps the chicken moist, and the other ingredients give the chicken more flavor than you can imagine. When I make this recipe, I like to serve it with a side of mashed cauliflower.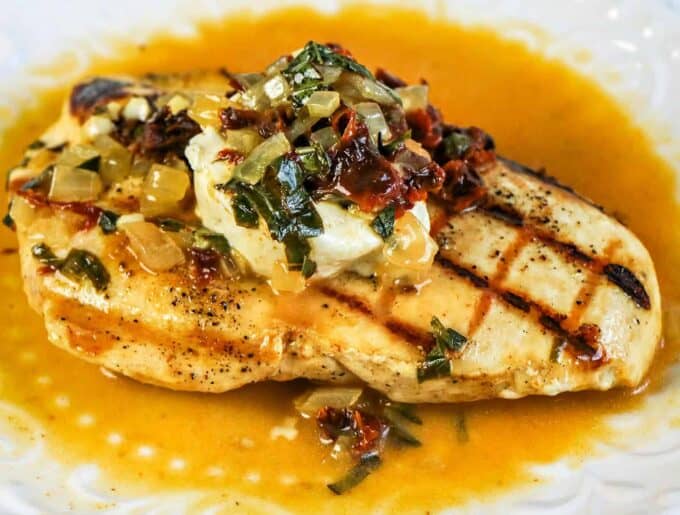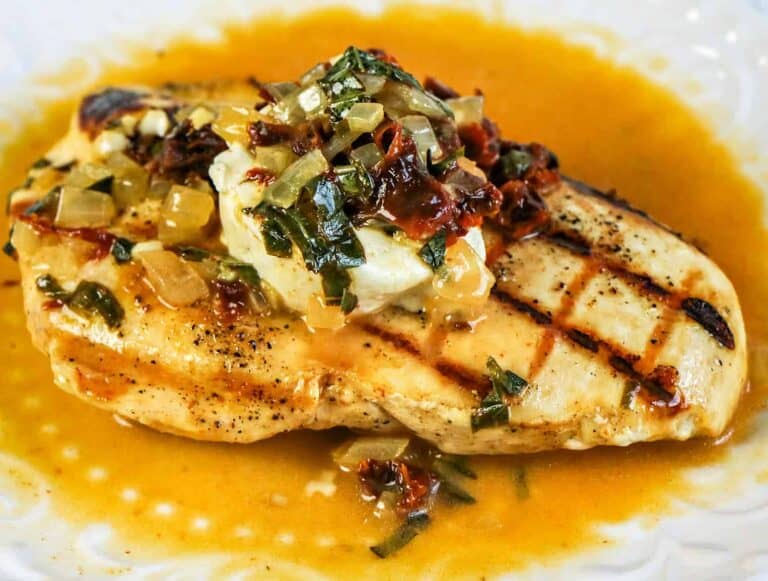 Easy Chicken Bryan
You can do so much with the Easy Chicken Bryan. You might want to put it on a bed of spinach leaves and lettuce, add it to your favorite pasta dish, or even slice it down into pieces while eating it with vegetables on the side. It's a kid-approved dish that parents love, too. When you want to have good food that does not take long to prepare, try this keto chicken Bryan recipe.
Ingredients for Easy Chicken Bryan Carrabba's Copycat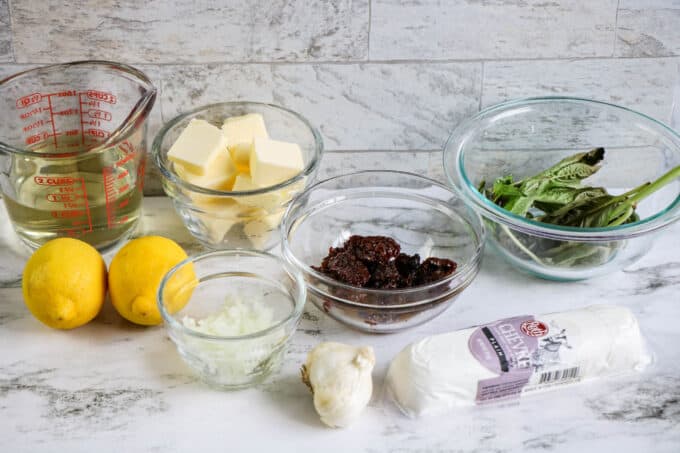 Gather the right ingredients to prepare the chicken Bryan copycat recipe. You're going to need a few important items to make this keto grilled chicken dish, such as:
Boneless and Skinless Chicken Breast - The primary ingredient in this low carb chicken dinner is the boneless, skinless chicken.
Minced Garlic - Use minced garlic to add flavor to your chicken breast. The amount of garlic is not overpowering at all.
Chicken Broth or White Wine - Use either chicken broth or white wine to marinate the chicken and keep it moist and delicious.
Sun-Dried Tomatoes - The sun-dried tomatoes enhance each piece of chicken's flavor, giving it such a unique taste.
Don't forget some additional ingredients, such as lemon juice, minced onions, and goat cheese. This is what makes the Carrabba's Copycat Chicken , the Chicken Bryan that it is!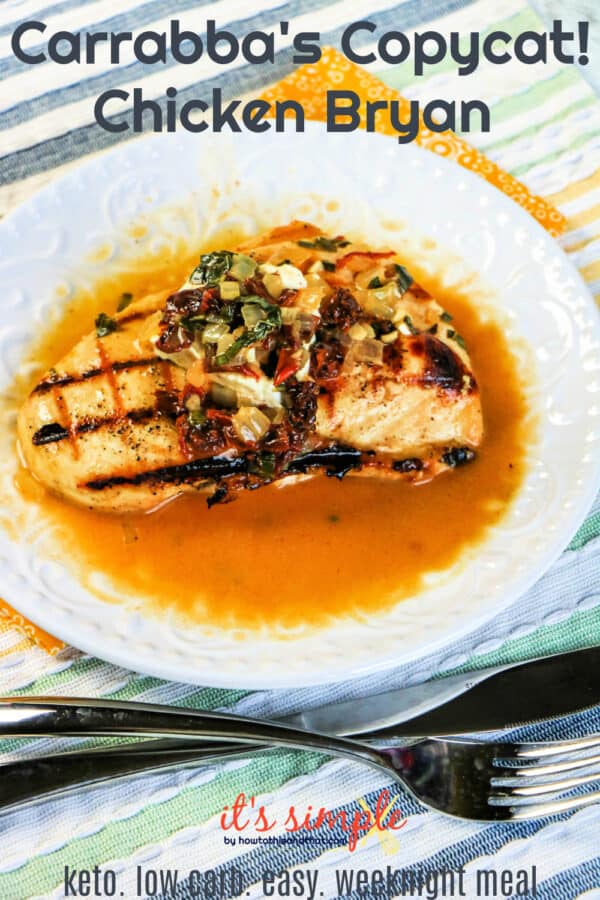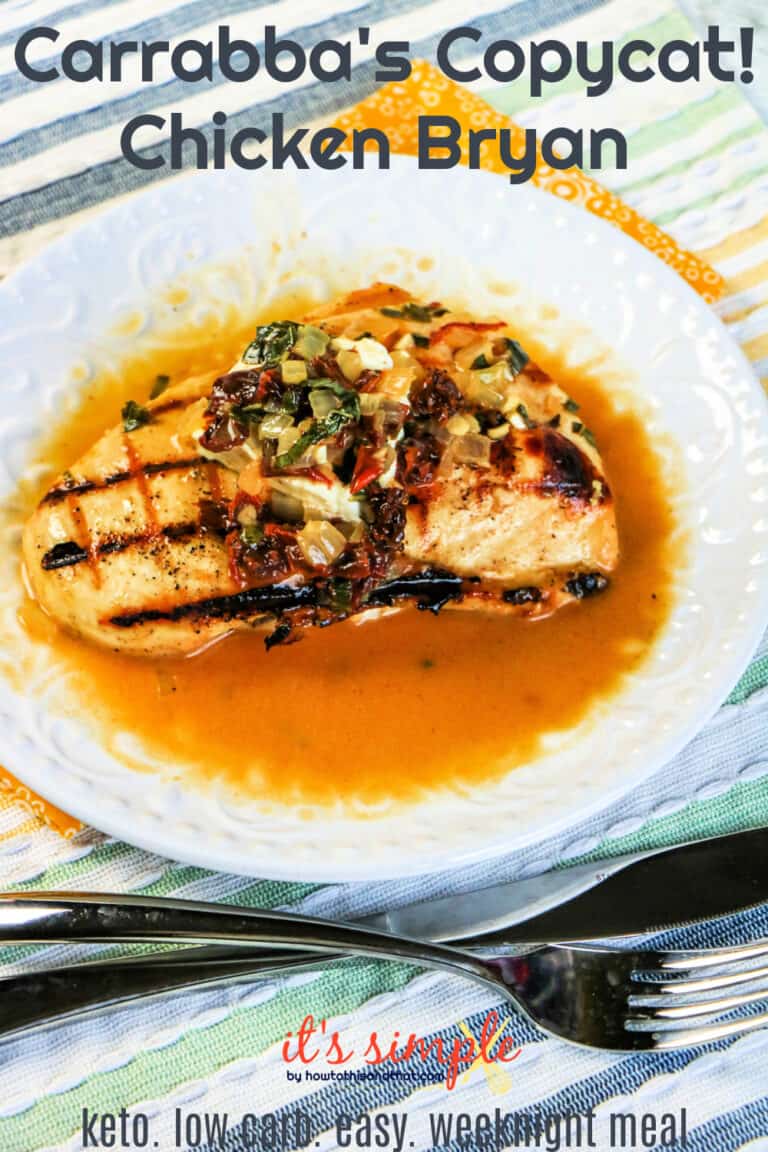 How to Make This Easy Keto Recipe
You'll need to rub salt and pepper with olive oil on both sides of your chicken breast pieces. Put the pieces of chicken in a pan and cook until the chicken is no longer pink inside. You'll need to give the chicken at least five minutes to rest after pulling it out of your skillet.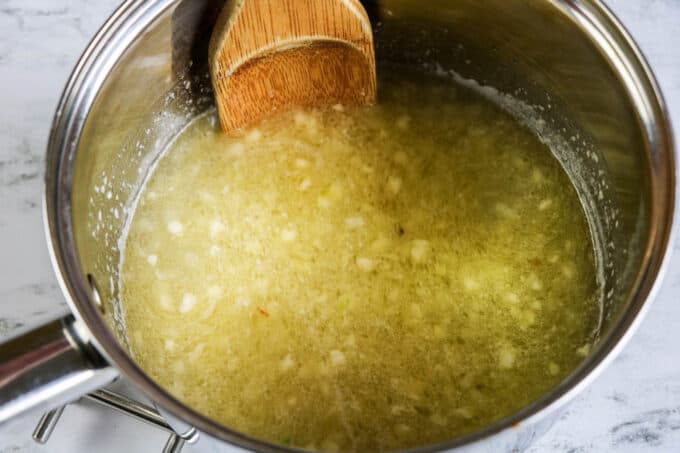 While the chicken sits, prepare your butter, garlic, onions, wine, and lemon juice to create a sauce that goes on top of your chicken. You'll need to add the rest of your ingredients to the sauce, including the sun-dried tomatoes and basil. Pour the sauce on top of the chicken, add a piece of goat cheese to each chicken breast, and serve.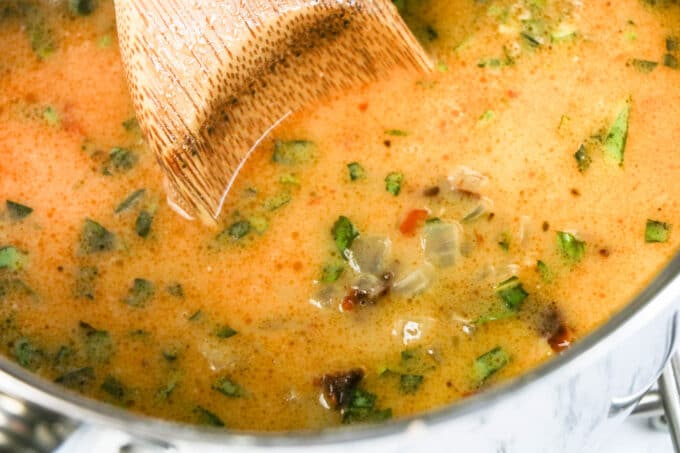 How to Freeze Chicken Bryan
Save some of your Easy Chicken Bryan leftovers in a meal prep container. You can add a bit of chicken and anything else you cook with it to these containers and heat them on the go when you have a craving for this tasty chicken. Freeze your food for up to two months to ensure that it continues to stay fresh.
Also these amazing Keto Chicken Tenders! Crunchy baked or fried succulent chicken, keto approved breading.
More Amazing Keto Dinner Recipes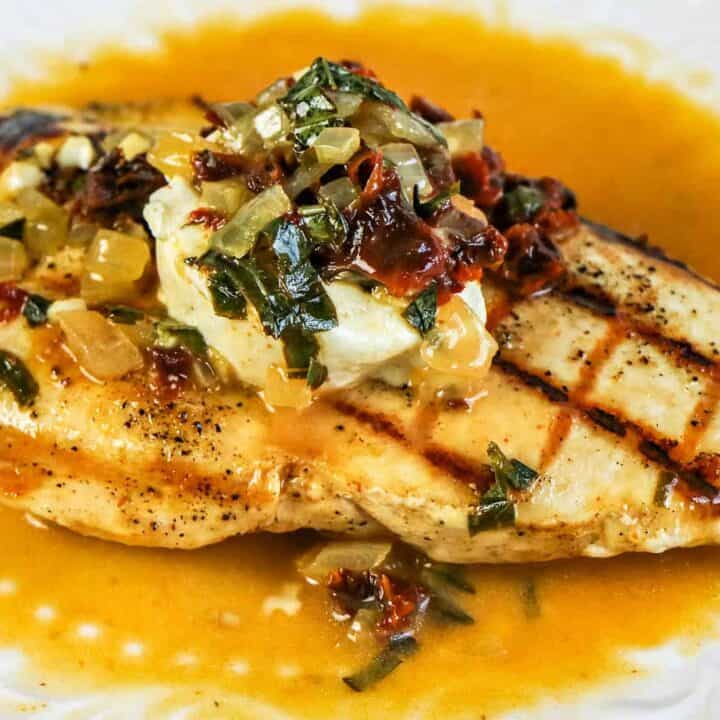 Easy Chicken Bryan
If you're looking for new ways to prepare chicken breast, try this Easy Chicken Bryan recipe. It's flavorful, moist, and perfect for serving as the main course for dinner with your favorite vegetables on the side.
Ingredients
6 boneless, skinless chicken breasts
2 tablespoons olive oil
Salt and black pepper, to taste
1 cup butter, divided
¼ cup minced onions
6 cloves garlic, minced
1 cup white wine or chicken broth
¼ cup fresh lemon juice (about 2 lemons)
¼ cup diced sun-dried tomatoes
¼ cup chopped fresh basil
1 (8 ounce) package goat cheese or cream cheese, room temperature
Instructions
Heat grill or grill pan to medium-high heat.
Rub chicken breasts on all sides using 2 tablespoons olive oil. Sprinkle with half of the salt and black pepper.
Place chicken on the grill and cook without moving for 3 minutes or until the edges begin to turn white. Turn the chicken one-quarter turn and continue to cook an additional 2 to 3 minutes.
Flip the chicken and for 3 minutes before turning one-quarter turn and cook until the chicken reaches an internal temperature of 165 degrees. Allow the chicken to rest for at least 5 minutes.
In a medium saucepan, melt 2 tablespoons of butter. Add the onions and garlic and cook until tender.
Add the wine and lemon juice to the saucepan. Bring to a boil and reduce heat to medium-low. Simmer the sauce for 10 minutes.
Slowly, add the butter about a tablespoon at a time, stirring until melted between each addition.
Stir in sun-dried tomatoes and basil. Remove from heat.
Slice goat cheese and place a disc of cheese over each piece of the grilled chicken.
Spoon the sauce over the goat cheese.

Nutrition Information:
Yield:

6
Serving Size:

1
Amount Per Serving:
Calories:

591
Total Fat:

42g
Trans Fat:

1g
Carbohydrates:

6g
Net Carbohydrates:

5g
Fiber:

1g
Protein:

40g
Nutrition facts are auto- populated by the app for this recipe card, numbers may vary. For best results, input your exact brand ingredients into a recipe analyzer like Verywell or MyFitnessPal.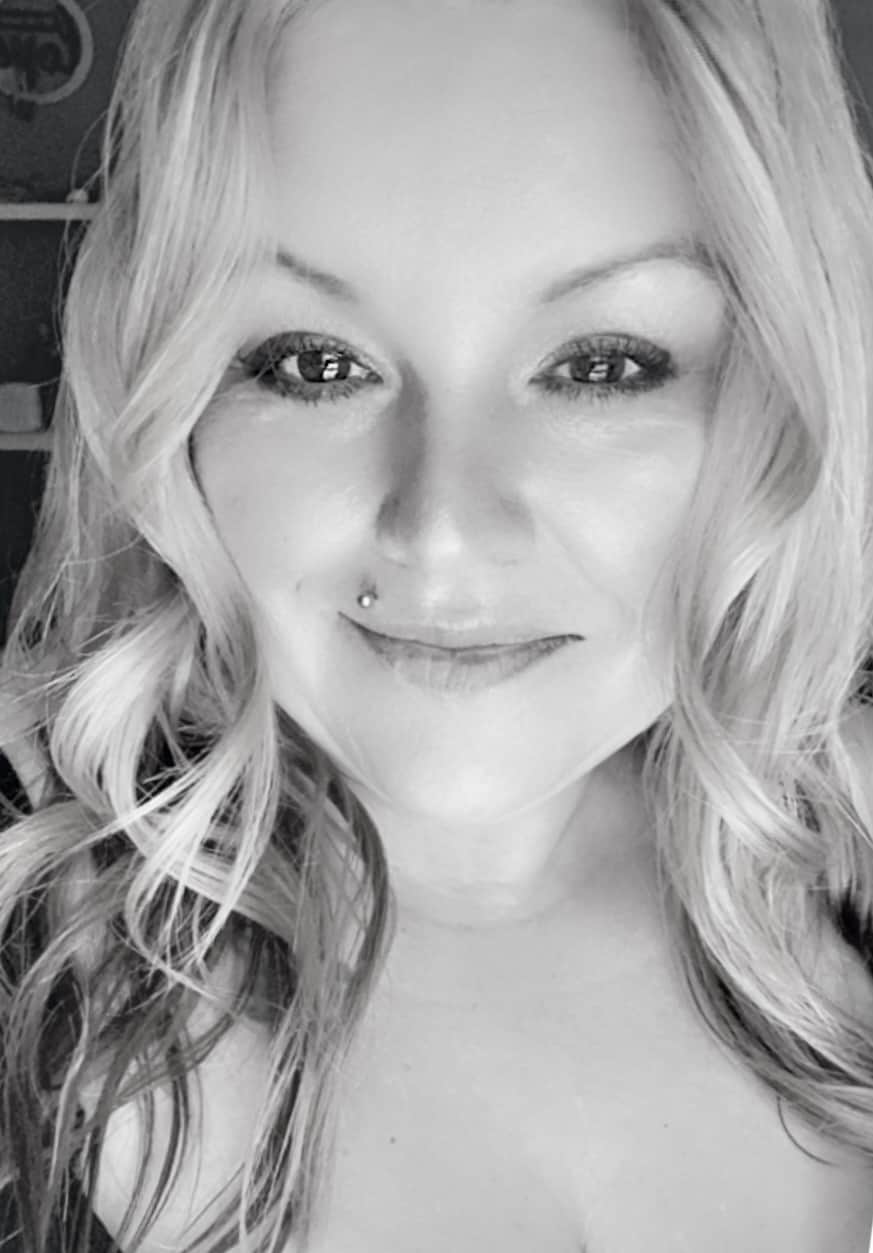 Owner & Lead Recipe Developer for It's Simple! since 2015, where you will find our best Family Favorites & Keto Low Carb Dishes with Helpful Cooking Tips & Hints in each post. Many Thanks for Stopping By, Enjoy!