Keto Slow Cooker Beef Tips and Mushrooms is the perfect comfort food dish to whip up for dinner. Toss all the ingredients into your slow cooker, and come home to a fragrant aroma in your home. Beef tips use stew meat for a savory slow cooker beef recipe the whole family can enjoy.
The store had stew meat on sale last week, so I picked up a few extra packages. Crockpot Beef Tips is one of my family's favorites. I added in mushrooms for more flavor and heartiness, and mercy it melted in my mouth.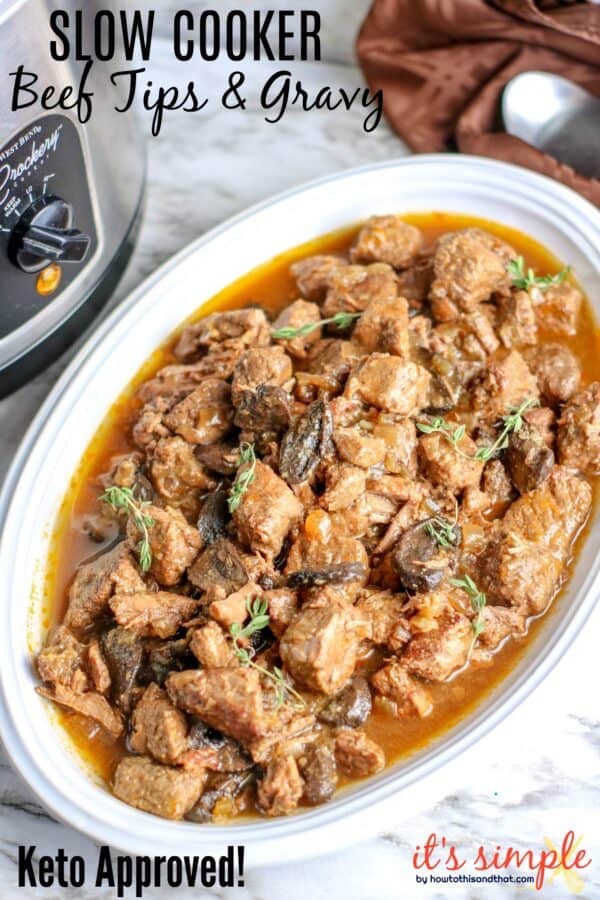 Slow Cooker Beef Tips
I create a rich savory broth with a handful of spices and seasoning so that you have an undeniable flavor. If you are looking for new beef keto slow cooker recipes, you have to try out this recipe.
Can I Use A Roast To Make Beef Tips
Of course. If you have a pot roast, feel free to dice it up into your own stew meat. You want cubes of beef so they brown up and are a nice size. Bite-size pieces are what I aim for. You just want the beef to be cut similar in size so they all cook up about the same amount of time.
Beef tips and Gravy are such an easy recipe, especially when you reach for your Crock pot!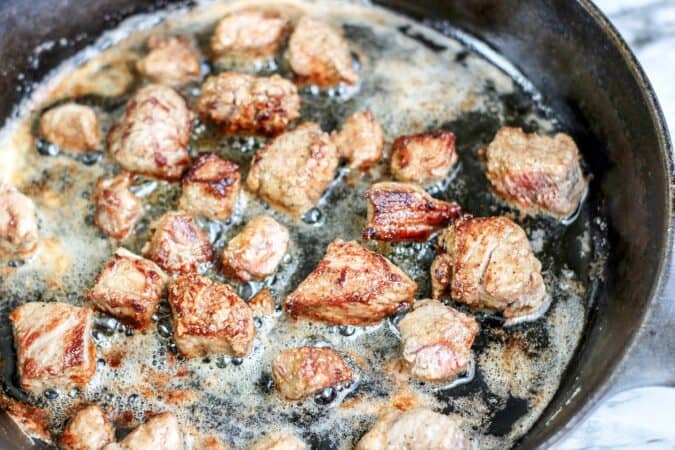 Do I Have To Add In The Mushrooms To Slow Cooker Beef Tips
No, if you are not a fan of beef tips totally feel free to leave them out of the recipe. We love mushrooms and they are loaded with nutrients. But, if you prefer just leave them out of the recipe. It will still taste very flavorful without.
What To Serve With Beef Tips
Rice
Mashed Potatoes
Cauliflower Rice
Steamed or Roasted Vegetables
Crisp green salad
This beef tips recipe is one you will love to eat.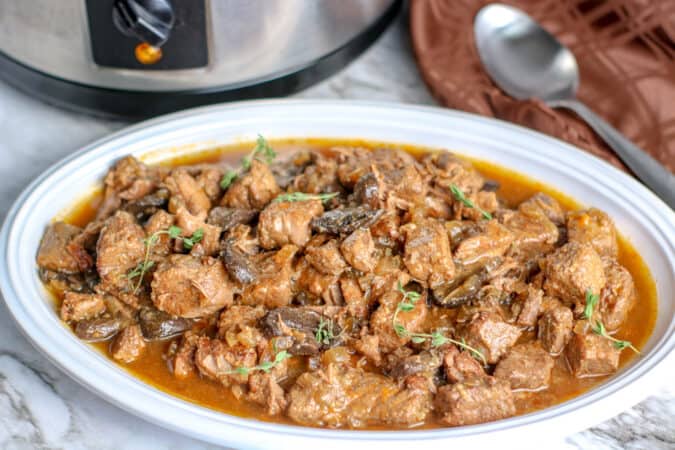 Instant Pot Beef Stew Recipe
If you want this slow cooker beef tip recipe to be SUPER FAST instead, simple add the meat to your Instant pot with 1 cup of beef broth. Set your Instant pot to MANUAL for 30 minutes. Remove the fork tender beef and set to saute, add the Xanthan gum and whisk. Add the seasonings. Let broth come to a bubbly boil, cancel Instant Pot and continue whisking until mixture thickens. Add beef back in and keep warm until you are ready to eat.
If you wish to turn this into an Instant Pot Beef Stew Recipe simpy add carrots and potatoes. IF ON THE KETO OR LOW CARB DIET- use whole radishes and onions. Maybe even asparagus!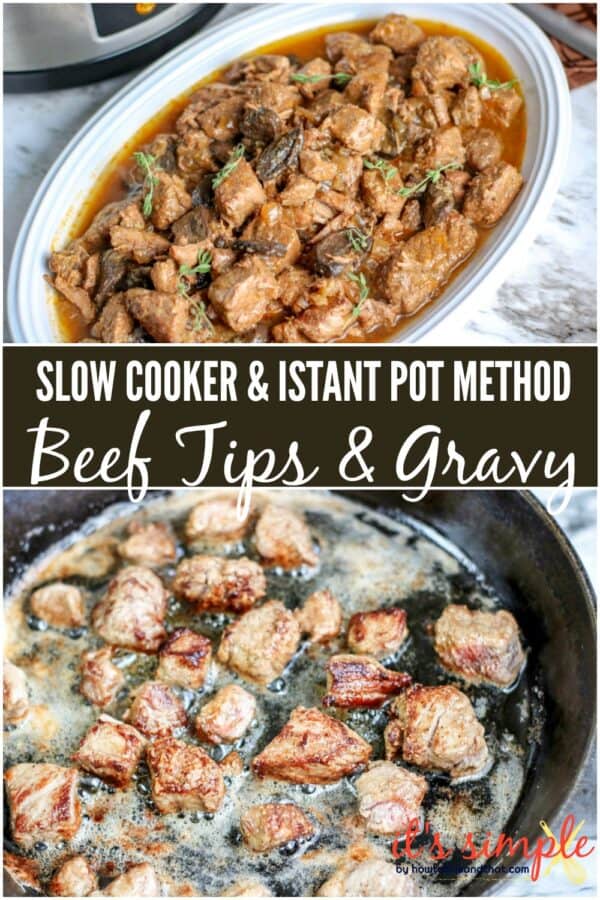 Why Do You Sear The Beef Before Putting In The Slow Cooker
You will want to sear your beef before you put in the slow cooker, to help with texture and flavor. When you brown up the outside it creates a texture that you will really enjoy. It also helps lock in tons of flavor. You will notice a night and day flavor difference from searing meat to not searing the meat. Beef tips always taste so much better with a sear on them!
Interested in more slow cooker recipes
Easy Slow Cooker Keto Meatloaf | You can make meatloaf right in the slow cooker. A tender and flavorful meatloaf with a fun twist of topping will be a winner for the whole family.
Lentil Soup | I love making soup in my slow cooker. Here is a lentil soup that is bursting with fresh flavors. A quick and easy recipe you just toss in and let it do the rest.
Low Carb Slow Cooker Meatballs | If you love meatballs you might want to try this recipe. They are low carb, so great if you are on a keto or low carb diet.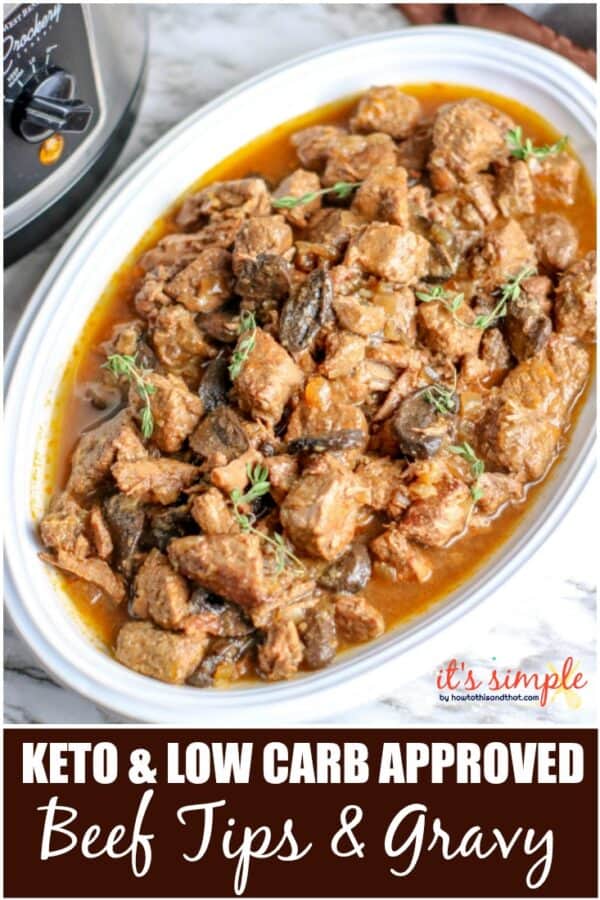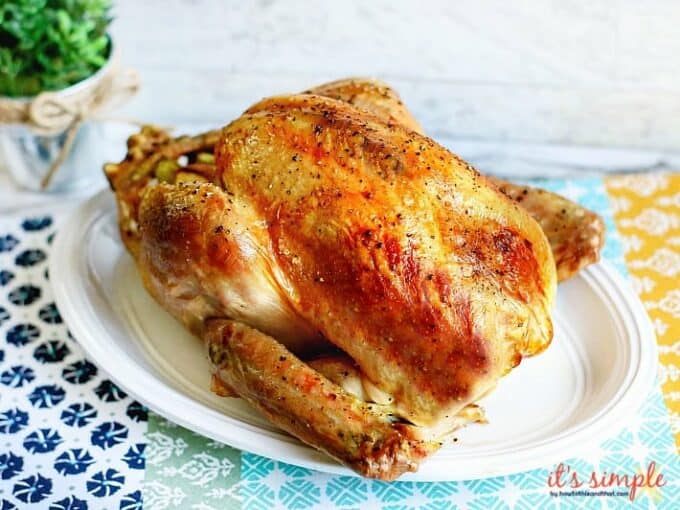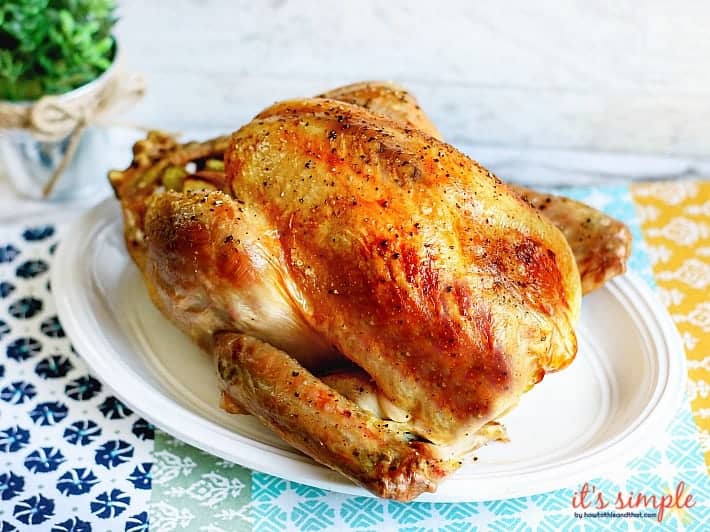 Making our Slow Cooker Beef Tips & Gravy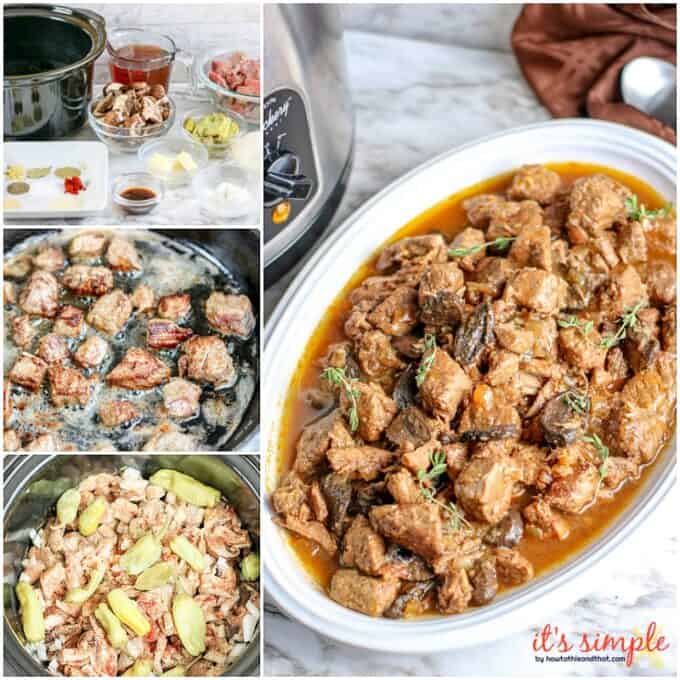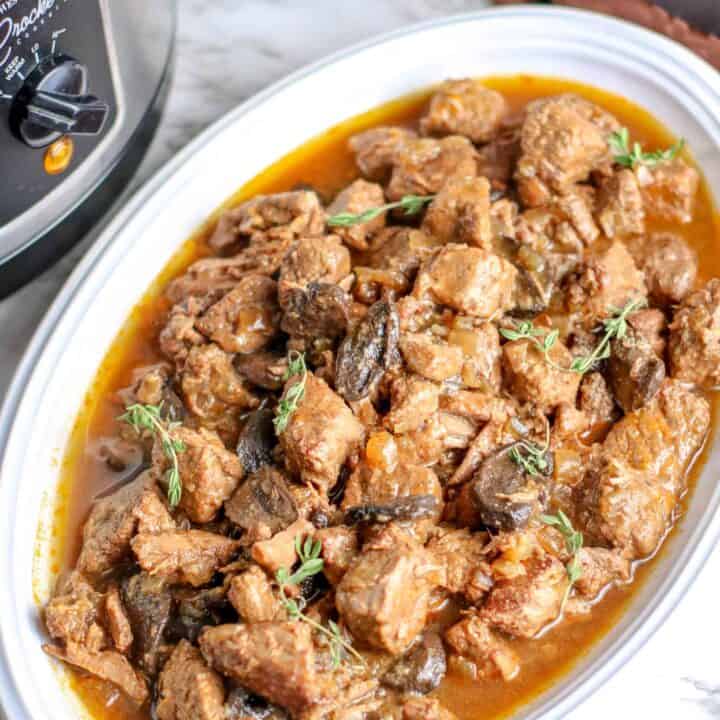 Slow Cooker (with Instant Pot Method) Beef Tips & Gravy
A super easy comfort food dish perfect for any day. Use our slow cooker set it and forget it method or pop it in the Instant Pot for a delicious meal in 30 minutes. This recipe is naturally keto and low carb approved also!
Ingredients
2 to 3 pounds beef tips or stew meat
1 tablespoon Xanthan Gum
3 tablespoons butter
1 onion, diced
1 (8 ounce) package sliced baby bella mushrooms
1 ½ teaspoon garlic powder
1 ½ teaspoon dry mustard
1 ½ teaspoon paprika
1 teaspoon ground thyme
1 teaspoon salt
1 teaspoon black pepper
1 bay leaf
1 tablespoon worcestershire sauce
2 cups beef broth
½ cup pepperoncini peppers, drained (if desired for extra flavor)
Instructions
In a large bowl or plastic bag, place the beef tips, half the seasonings and half the Xanthan Gum, shake to coat.
In a large heavy skillet, melt butter. In batches (if necessary) brown the meat on all sides. As the meat is seared, transfer to the slow cooker.
Add about 1 cup of the beef broth to the skillet and scrape the bottom with a wooden spoon to deglaze the pan. Add remaining Xanthan Gum
Pour the broth/gravy over the meat in the slow cooker.
Add all remaining ingredients to the slow cooker.
Cover and cook on low for 6 to 8 hours.
If a thicker gravy is desired, remove Aus Jus and heat in skillet with about a teaspoon more Xanthan Gum until thickened.
See notes in post for serving suggestions and Instant pot Method.



Nutrition Information:
Yield:

6
Serving Size:

1
Amount Per Serving:
Calories:

386
Total Fat:

20g
Unsaturated Fat:

11g
Carbohydrates:

10g
Net Carbohydrates:

7g
Fiber:

3g
Protein:

42g
Nutrition facts are auto- populated by the app for this recipe card, numbers may vary. For best results, input your exact brand ingredients into a recipe analyzer like Verywell or MyFitnessPal.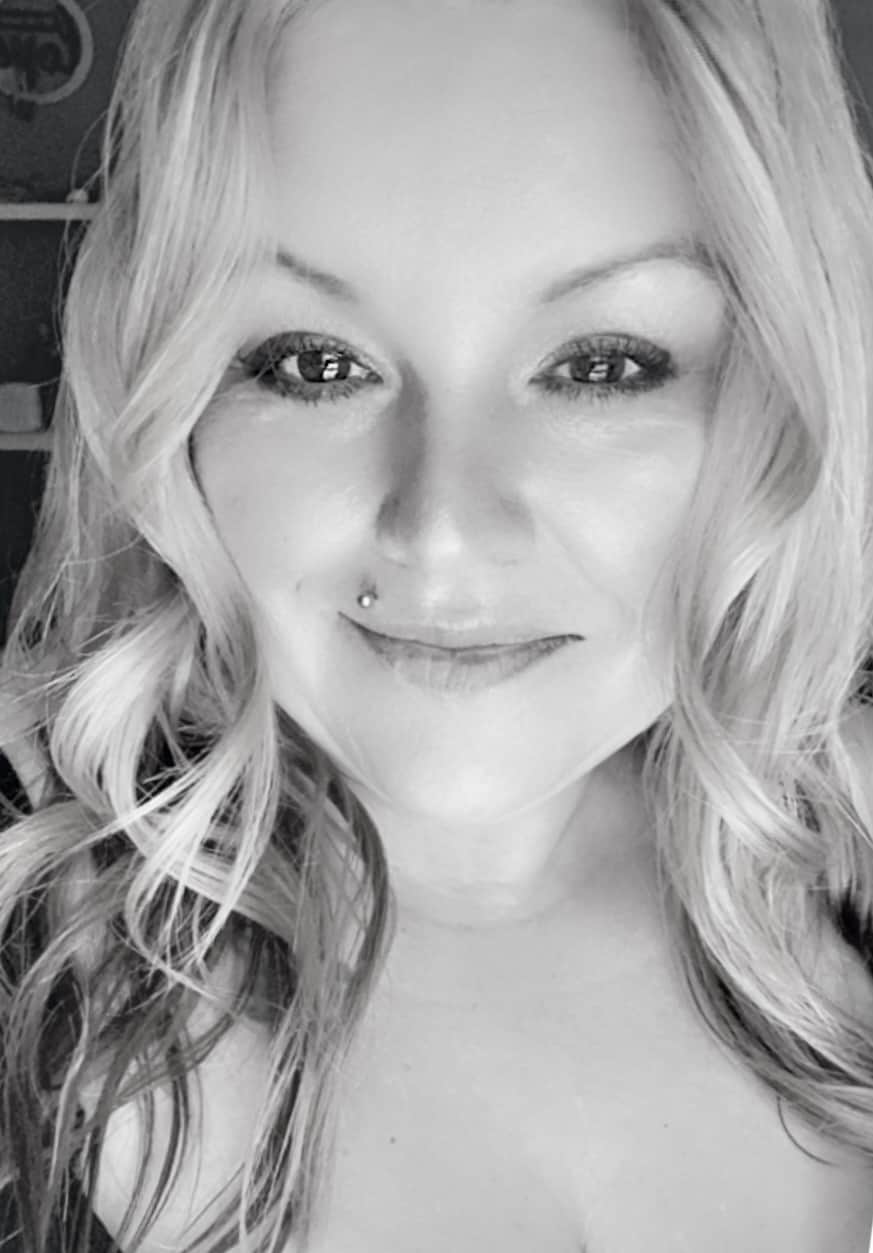 Owner & Lead Recipe Developer for It's Simple! since 2015, where you will find our best Family Favorites & Keto Low Carb Dishes with Helpful Cooking Tips & Hints in each post. Many Thanks for Stopping By, Enjoy!