If you're following a keto diet, but you love chocolate, this Keto Chocolate Nut Clusters recipe is perfect for you. It is an Easy Low Carb Chocolate Candy that will satisfy any craving for the perfect keto candy recipe.
I'm a major chocolate lover, and I'm thrilled to know candy can be so easy. It's possible to enjoy chocolate and nuts without worrying about consuming too many carbs. If you want to feel like you're giving into temptation while enjoying a keto-friendly treat, try this recipe!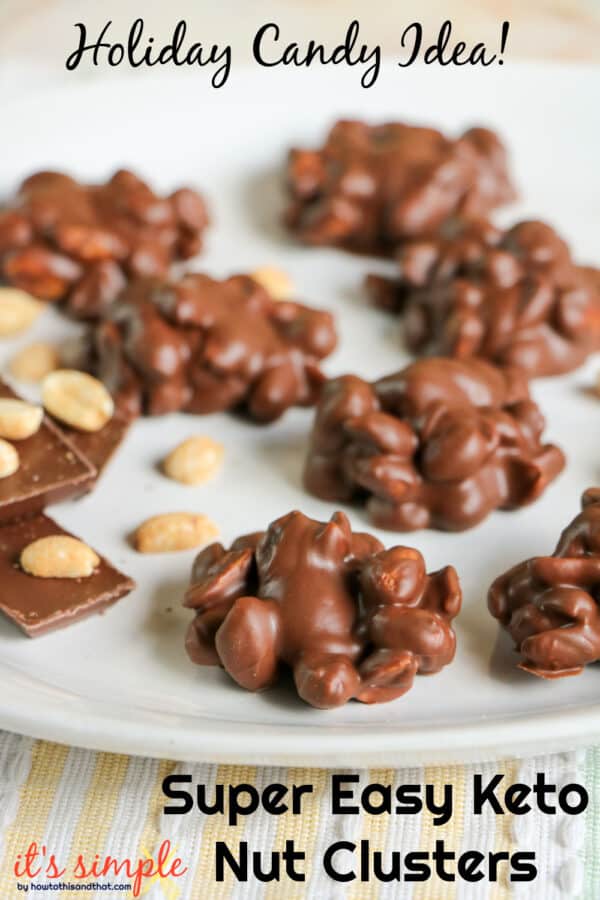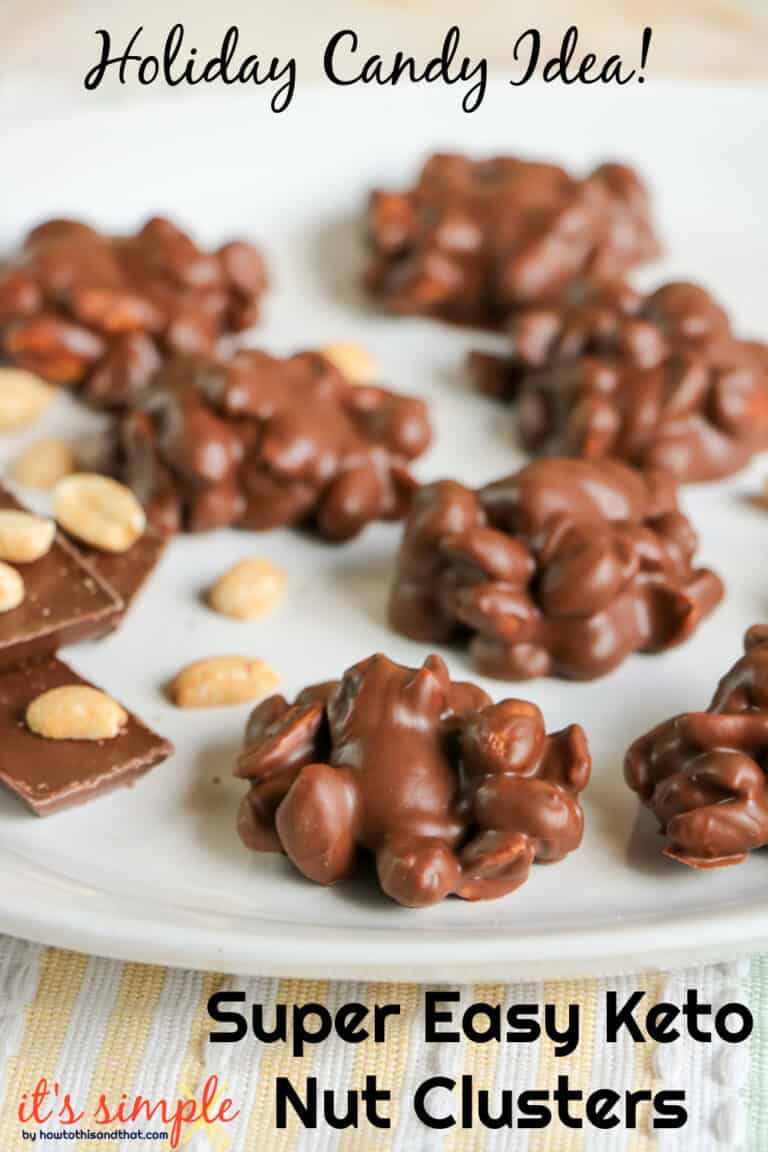 Keto Chocolate Nut Clusters
I've tried plenty of chocolate nut clusters in my lifetime, but this was the first time I'd ever prepared and tried keto-friendly chocolate nut clusters. These sugar free nut clusters still have so much flavor, making them the perfect treat for me to eat after dinner. Ever since finding this keto chocolate candy recipe, I simply make my chocolate treats at home instead of purchasing from the store.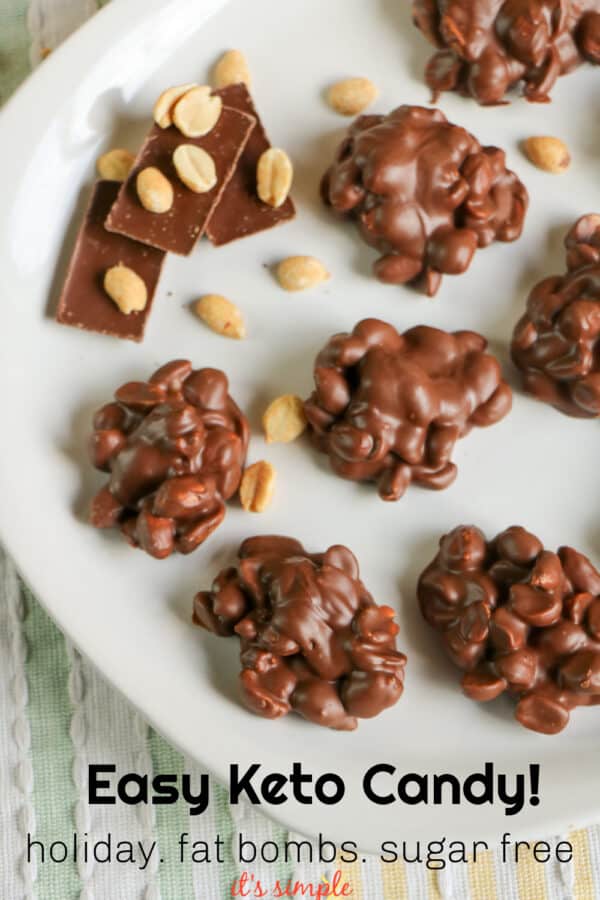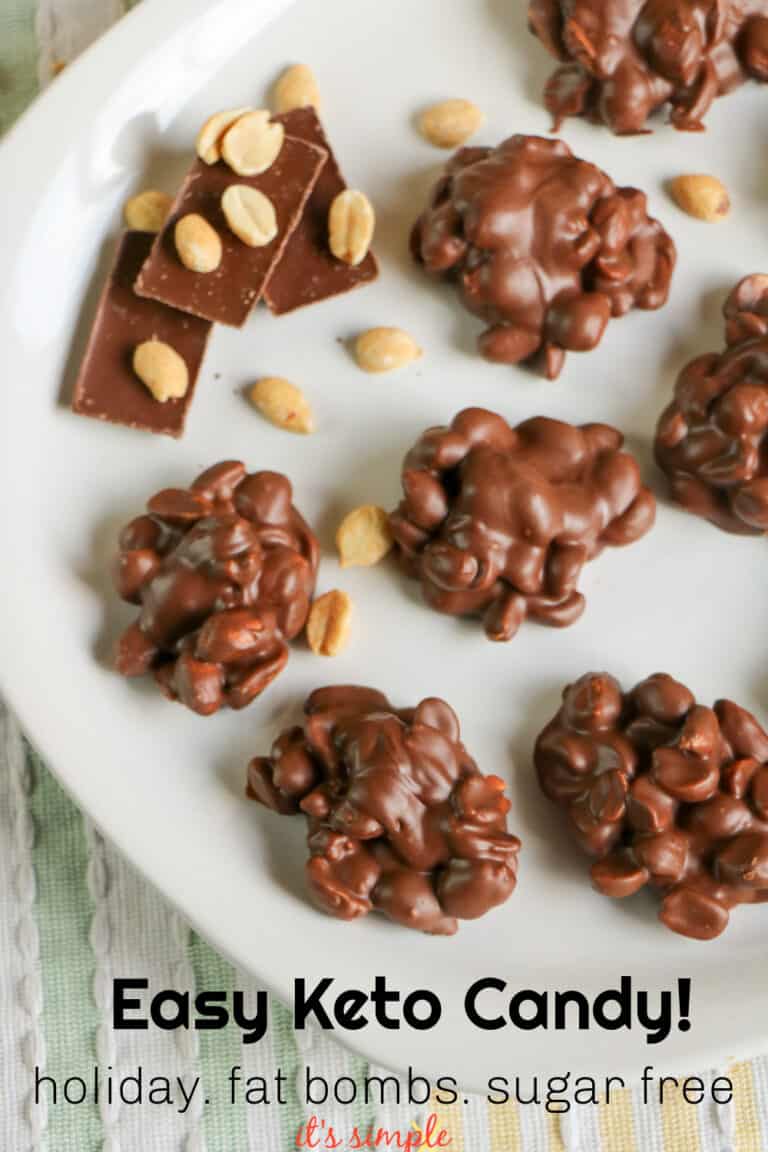 What to Eat With the Easy Low Carb Chocolate Candy
When making this Keto dessert recipe, you can add a few extras to them that are still keto-friendly. I've added dried cranberries to the Easy Low Carb Chocolate Candy at times.
I like the chewy consistency and sweet taste that the dried cranberries add to these nut clusters. The great thing about dried cranberries is that they're low in carbs, so they're a great option to add. You can also add some shredded coconut to these clusters if you would like to enhance the flavor even more.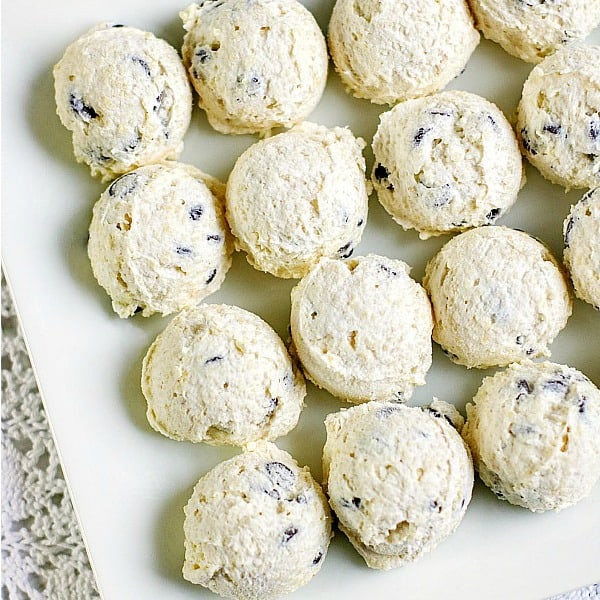 Ingredients for this Keto Candy
When making this tasty Keto chocolate peanut candy, be sure to have the right ingredients. You won't need many ingredients to make these tasty keto-friendly treats, but you're going to need the following ingredients:

Sugar-Free Chocolate Chips - Keep the nut clusters keto-friendly by purchasing sugar-free chocolate chips. If you have a specific brand that you prefer, go ahead and grab that brand of sugar-free chocolate chips. Choose a chocolate flavor that you like, such as milk chocolate or dark chocolate, to customize your Keto Chocolate Nut Clusters even more.

Coconut Oil - The coconut oil is keto-friendly and gets added to the sugar-free chocolate chips to make the melted chocolate extra creamy instead of too thick. It is commonly used in a keto candy recipe.

Peanuts - Your peanuts are the perfect nuts to use when making Keto Chocolate Nut Clusters. Of course, if you're not a big fan of peanuts, choose from several other nuts, such as macadamia nuts and pecans.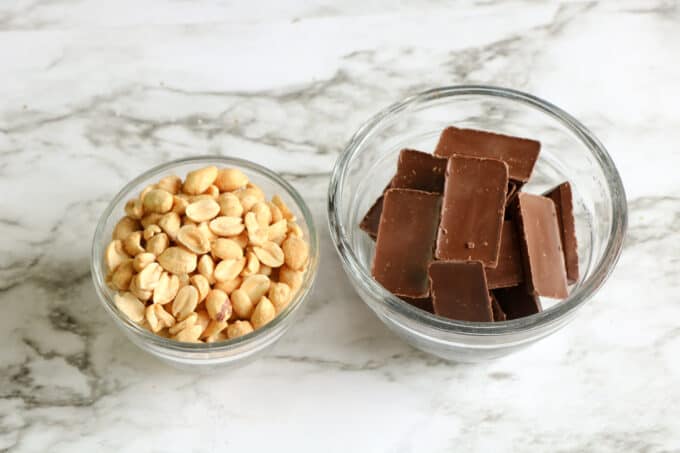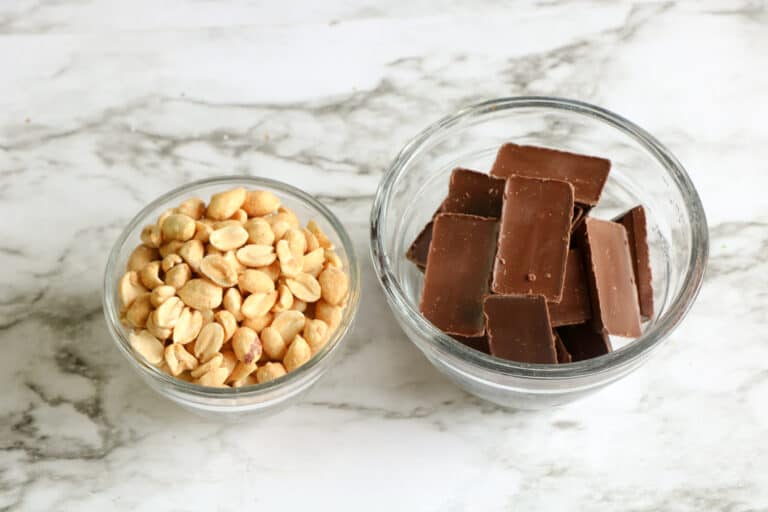 How to Make This Keto Candy
The Keto Chocolate Nut Clusters are the perfect keto candy holiday idea. You might want to make these clusters for a special treat during the holiday season.
If you're going to make these chocolate nut clusters, start by gathering your ingredients. Once you have the ingredients, add your sugar-free chocolate chips into a microwave-safe bowl with a small amount of coconut oil.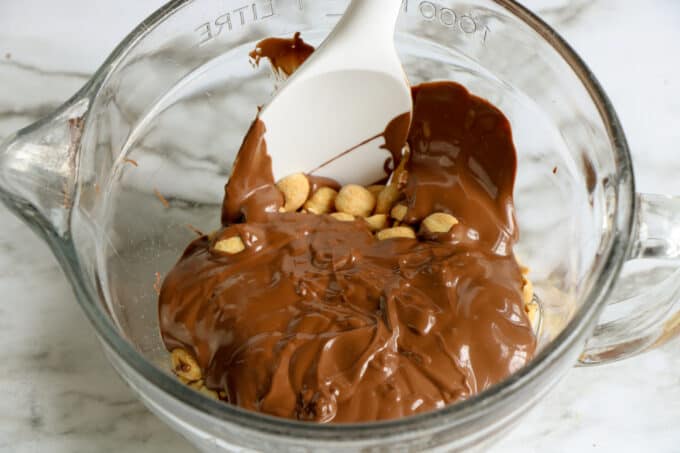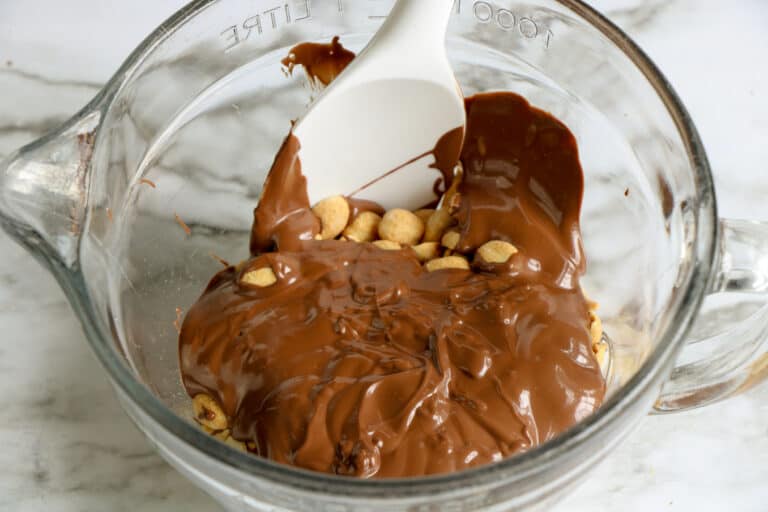 You'll need to microwave the chocolate for several seconds at a time until it fully melts.
In the meantime, line a baking sheet with parchment paper. Grab your nuts and add them to your melted chocolate once it has a slightly thick and slightly creamy consistency.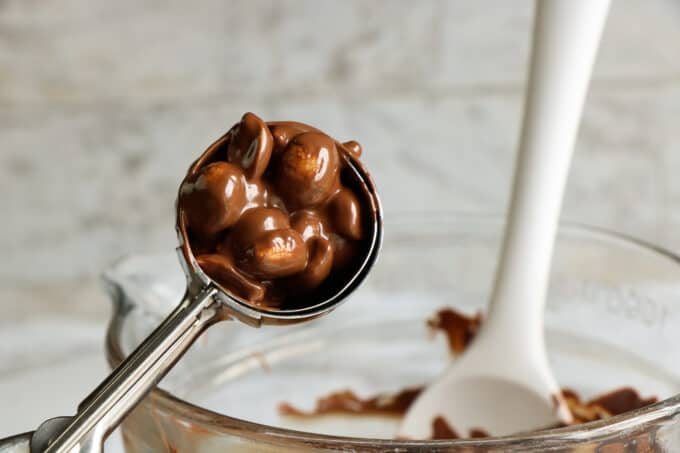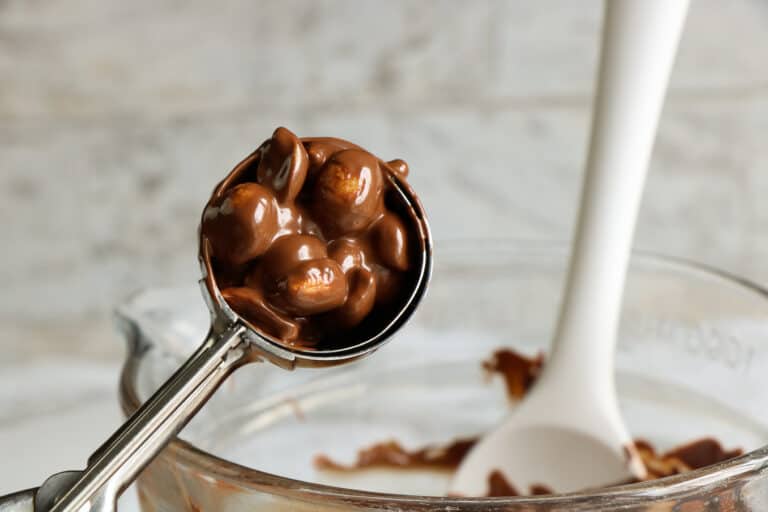 You can use an ice cream scoop to scoop out small spoonfuls of chocolate with nuts, placing those small spoonfuls on the parchment paper. You can then pop your Keto Chocolate Nut Clusters in the freezer until they're ready to eat.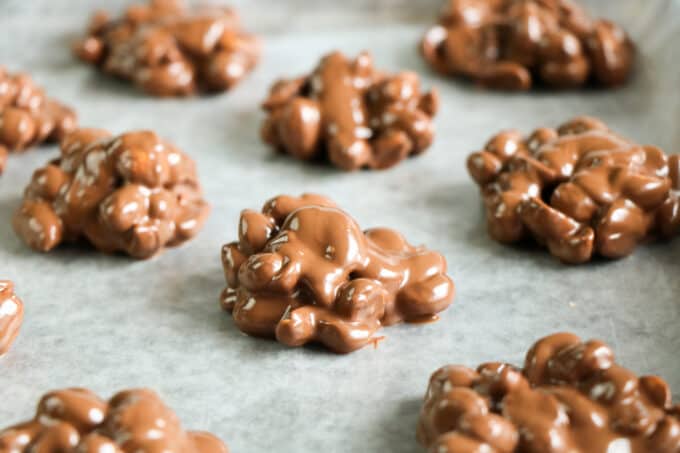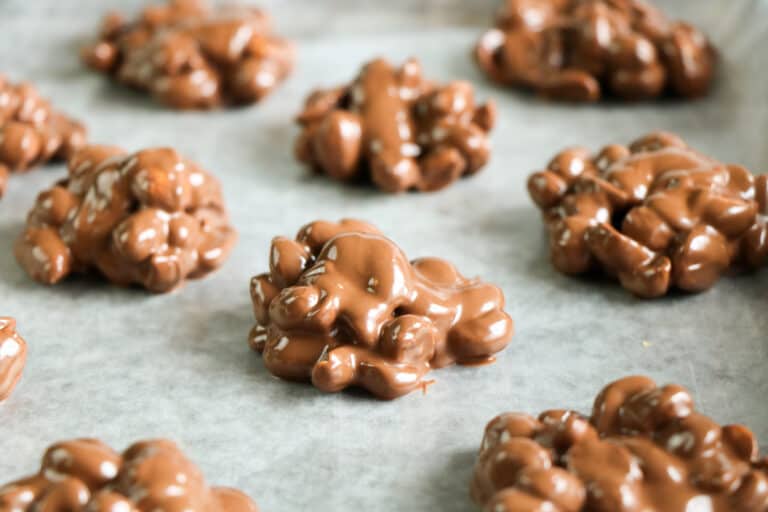 How to Keep Your Chocolate Nut Clusters Fresh
Keep the Keto Chocolate Nut Clusters fresh by placing them in a food storage container. You should add parchment paper to the bottom of your food storage container and separate rows of these nut clusters with parchment paper, too. Do not just throw them on top of one another, or they can get stuck and create a big mess. Put the clusters in the fridge and grab and go as often as you please.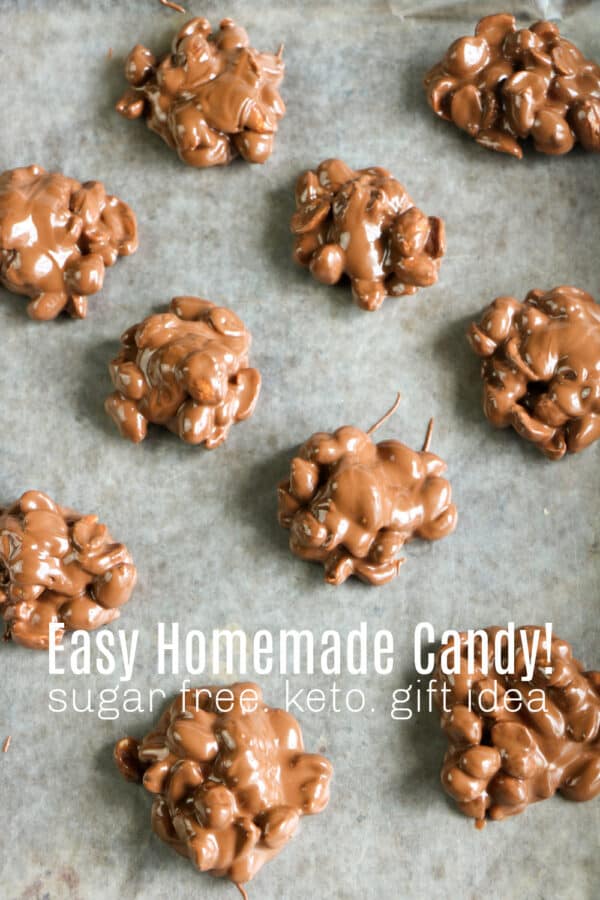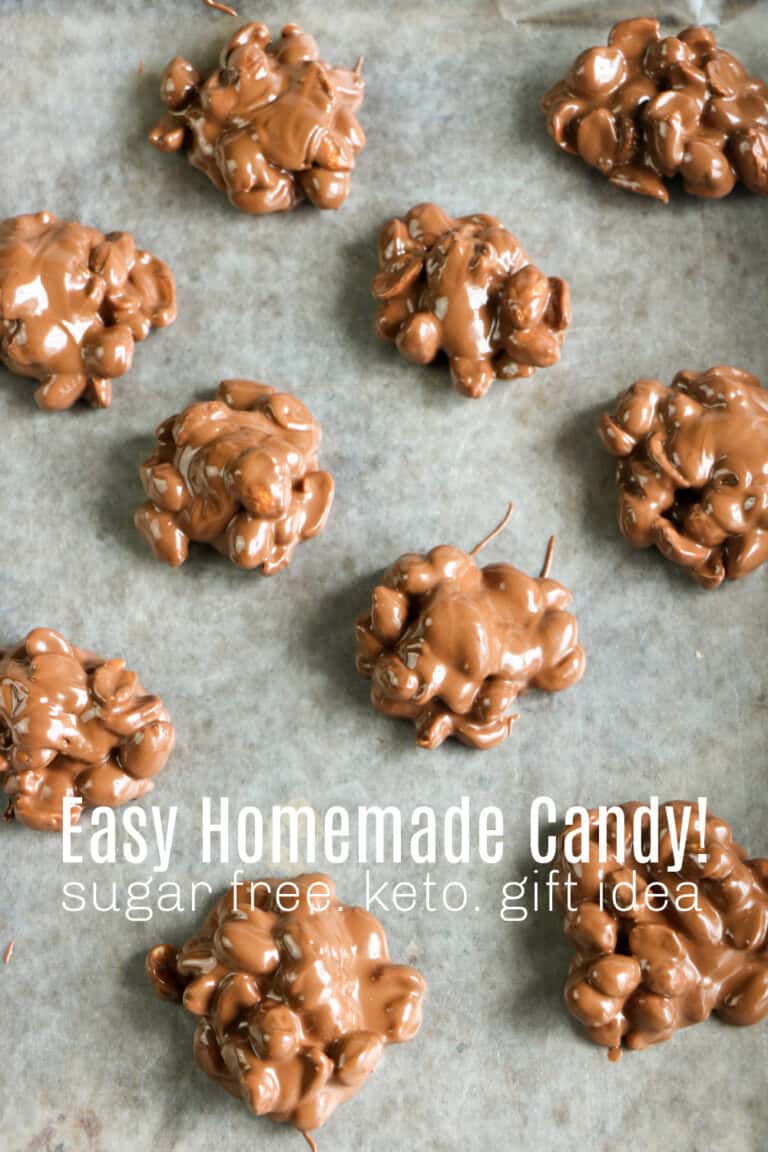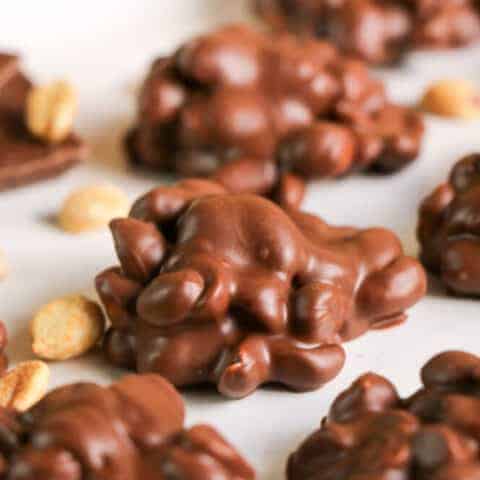 Keto Chocolate Nut Clusters
Total Time:
1 hour
15 minutes
THIS RECIPE COULDN'T BE MORE SIMPLE!
Are you in the mood for a delicious dessert, keto style? Give this Keto Chocolate Nut Clusters recipe a try!
Ingredients
12oz keto/low carb approved chocolate bar
We use Lakanto monkfruit sweetened 55% cacao
1 cup nuts of your choice, we use peanuts or almonds
1 teaspoon vanilla
2 tablespoon butter or coconut oil
Instructions
In a microwave safe dish, add chopped chocolate bar to the melted butter. Heat slowly , about 30 seconds at a time, stirring between each interval. Until melted.
Stir in vanilla
Stir in nuts
Spoon onto a cookie sheet
Refrigerate until set, at least 1 hour.
appetizer appetizers bacon breakfast cauliflower cheese cheesecake chicken chocolate christmas cookies craft crafts dessert dinner DIY easy fall fathead fun gluten free healthy holiday homemade How To instant pot keto keto dessert kid friendly kids low carb meals meatballs peanut butter pizza Pumpkin quick recipe recipes side dish slow cooker snack sugar free thanksgiving tips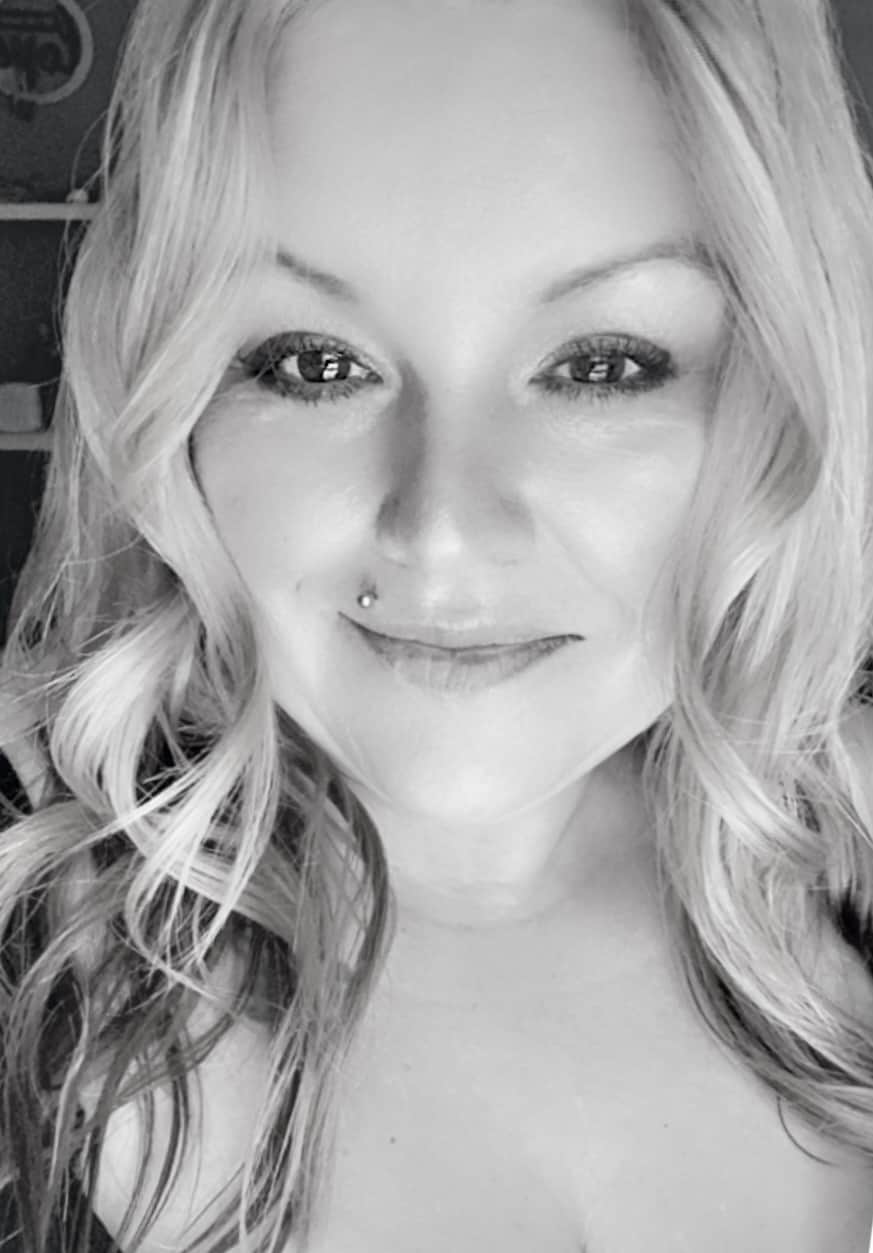 Owner & Lead Recipe Developer for It's Simple! since 2015, where you will find our best Family Favorites & Keto Low Carb Dishes with Helpful Cooking Tips & Hints in each post. Many Thanks for Stopping By, Enjoy!