Semi-Homemade Georgia Pecan Cookie Bars are a quick and easy treat to whip up in minutes. The key is nutty, crunchy Georgia pecans.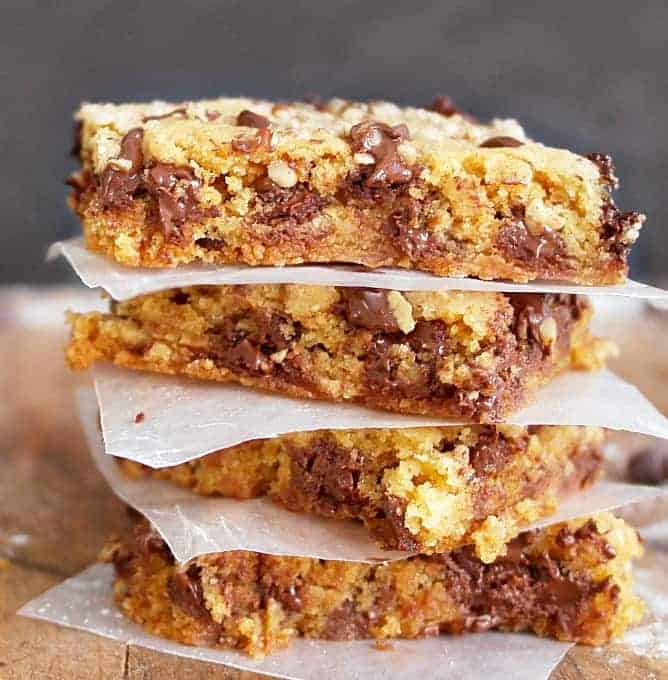 Semi-Homemade Georgia Pecan
Cookie Bars
This is an amazing recipe for when you are in the mood to have a warm , gooey, chocolaty treat but just do not want to pull out all of the stuff to make something homemade. These double chocolate pecan cookie bars start with a simple pouch mix.  What you add, makes them taste like homemade!
What you need:
1 pouch chocolate chip cookie mix (do not prepare per instructions on bag)
¼ cup flour
1 stick butter, softened
1 large egg, plus one egg yolk
½ cup dark chocolate chips
¼ chopped Georgia pecans
Instructions
Preheat the oven to 325.
In a medium sized bowl, beat the eggs & butter until creamy.  Using the butter instead of oil that most packages call for will give these chocolate chip cookies bars their bakery, homemade flavor. My absolutely favorite thing about a cookie is the buttery, crispy edges.  With these bars, you get 4 full pan sides of buttery crispy edges!
Add the chocolate chip cookie pouch mix and the additional flour. Hand mix the flour into the cookie mix and butter mixture.  You can try to use an electric mixer if you need to, but the batter will be thick.
Spread the batter onto a 13x9 cookie sheet, or the smallest one you have.  The cookie will rise and not spread.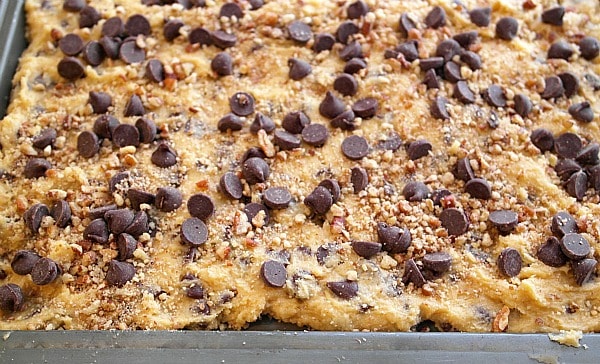 Top with dark chocolate chips and chopped Georgia pecans.
Bake for 20 minutes or until golden brown.  For a more crisp outer crust, you can let them go for about 3 more minutes.  Our bottom did not burn at all.