This post may contain affiliate or paid links. See our full disclosure at the bottom of this page for more information. ............................................................................................................................................................
Semi-Homemade FunnyBones Cupcake Recipe
One of my favorite, completely not guilt free, snacks is Drake's FunnyBones.  If you are not familiar with them,  they are a devil's food cake with a creamy peanut butter filling, covered in chocolate.   Yup.  Peanut Butter and Chocolate. Nothing says it has to be Reese's to be fantastic. As much as we love some of the Drake's snacks, they have gotten kinda pricey. Recently, our local supermarket had them on sale for $2.99. That is not a bad price, but sometimes it is just fun to make our own.  Below is a semi-homemade recipe for a cupcake that will be sure to tickle your FunnyBone!
I never make any chocolate bakery item from scratch, I just do not have luck with it. I always feel like they are just not that "chocolatey".   So this recipe uses the handy box mix.   I did however make my own filling and frosting,  by all means use the can frosting if you like.  The peanut butter filling is easy enough there is no reason to short cut it.
Make it semi homemade!
If you try them out, let me know what you though!  I would love to see pictures.
Enjoy!


Yield: 12
Semi-Homemade FunnyBones Cupcake Recipe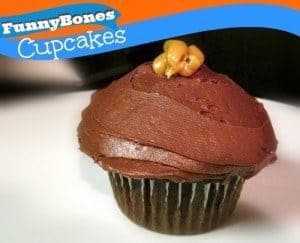 Prep Time 30 minutes

Cook Time 15 minutes

Total Time 45 minutes
Ingredients
1 Box of Devil's Food Cake Mix - prepare according to the directions on the box
For the filling :
1/2 stick of softened, not melted butter or margarine
1 cup creamy peanut butter
1 cup confectioners' sugar
Cream the butter and peanut butter together until combined,  slowly add in the confectioner sugar. I did this by hand, you can use a mixer if necessary.
For the frosting:
I use the Hersey's "Perfectly Chocolate"  Chocolate Frosting Recipe. It is the best by far that I have ever had.
"PERFECTLY CHOCOLATE" CHOCOLATE FROSTING
1/2 cup 1 stick butter or margarine
2/3 cup HERSHEY'S Cocoa
3 cups powdered sugar
1/3 cup milk
1 teaspoon vanilla extract
Melt butter. Stir in cocoa. Alternately add powdered sugar and milk, beating to spreading consistency.
Add small amount additional milk, if needed. Stir in vanilla. About 2 cups frosting.
Instructions
Prepare your cupcake mix and bake according to package directions. Let cool completely
Prepare your peanut butter filling using the recipe above and spoon into a pastry bag, sometimes I will use a storage bag and just clip the corner, but unfortunately with this recipe you can't.  You need the hard plastic or metal tip to penetrate the cupcake to fill the middle.
Note*
If you do not have a bag,  you could try filling the cupcake pan half way, cook for half the time, spoon a small dab of peanut butter filling onto the top then cover with remaining cupcake batter cook remaining time.
Fill all the cupcakes, careful not to overfill.  Believe it or not you will be able to tell when doing it if you have enough filling.  You can actually kind of see the cupcake swell bigger as you fill it.
Frost with the chocolate frosting and then add a little touch of the peanut butter to the top