Whip up this Keto Banana Cake with homemade chocolate frosting for an easy keto dessert any day. Our keto cake is similar to low carb banana bread no matter which version you make. If you have room for the extra 2 net carbs, great, if not then try our banana extract version. Both versions of this banana cake recipe are super simple and will cure any cake craving.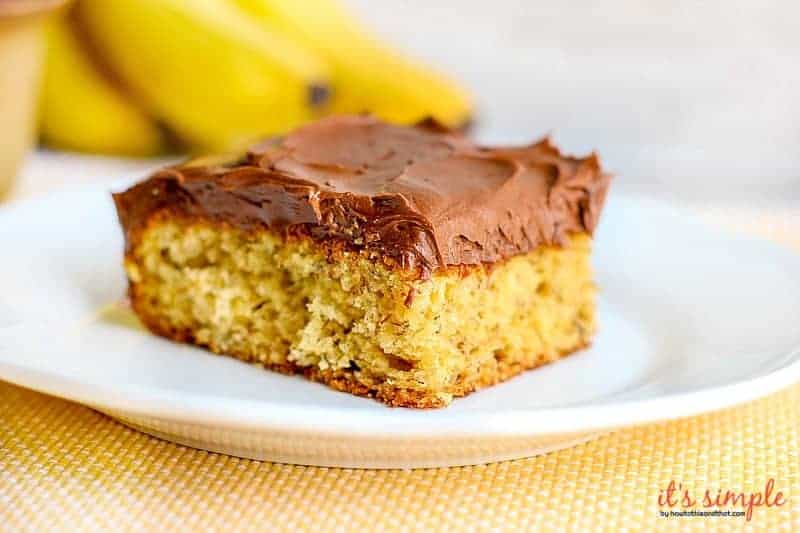 Keto Banana Cake
We have the best intentions when buying bananas, but they tend to just spot and go brown faster than we eat them. I personally can not have them so that leaves hubby and the teenage daughter, who always wants me to buy fruit and then doesn't at it. Needless to say we keep them frozen for low carb keto banana bread.
This is the reason I keep a handful of recipes to use ripe bananas in. This keto banana cake uses EXTRACT, however in the recipe notes we show you how to adjust the recipe for the low carb version. Either way, the banana bread flavor we love is there.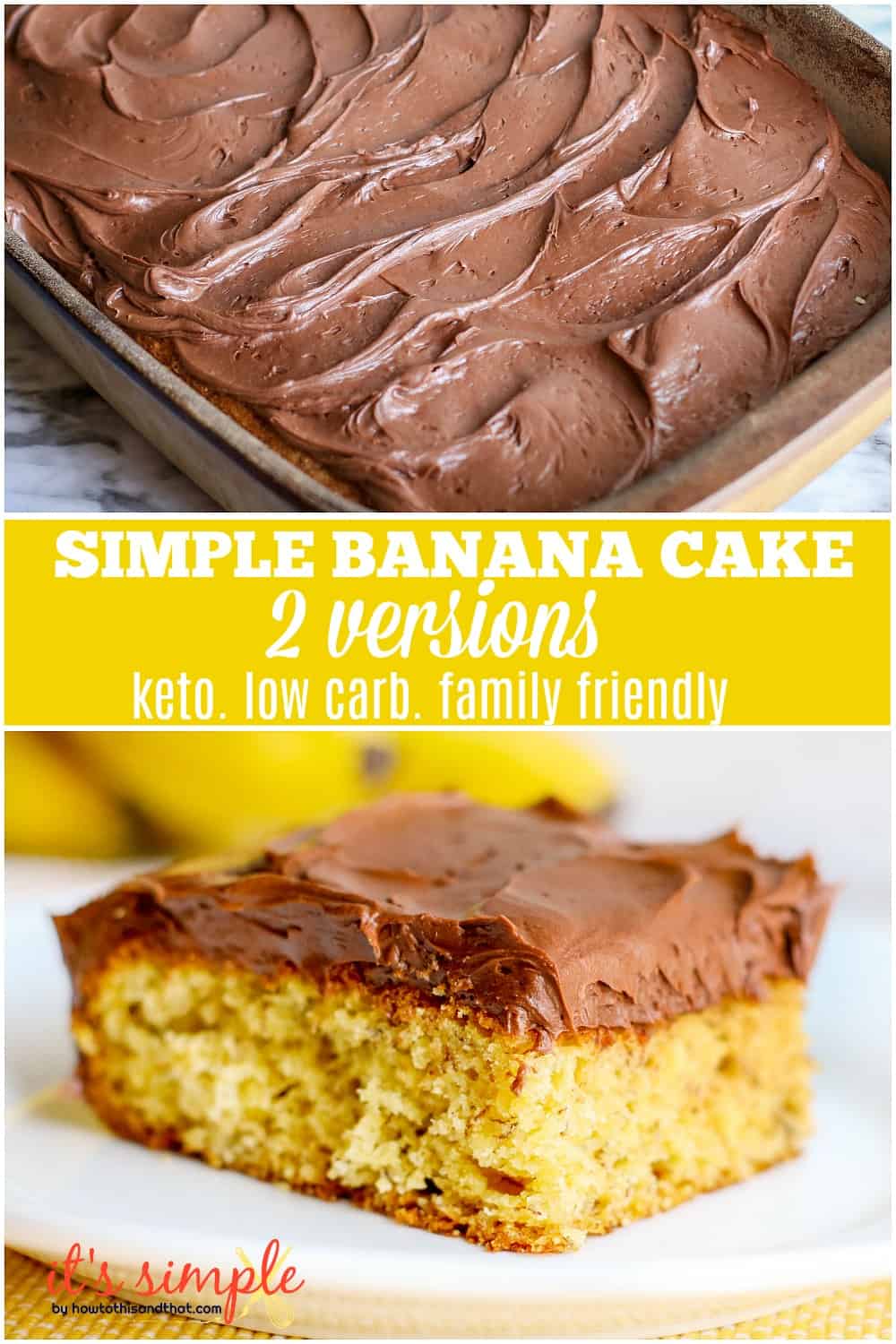 Are Bananas Keto?
Sigh. A discussion I have often with beginner and expert keto-ers is about the keto approved grocery list. Put most simply NO, bananas are not keto. They are considered a high natural sugar food, making them higher on the glycemic index. However, the argument when it comes to foods like this is- if it fits your macros and you know how your body will or won't react to the sugar, then it is personal choice. Personally I agree with this and would never tell someone what they can or can not have to eat.
With that said, as far as the approved food list- no bananas are not keto. This cake is made with banana extract. We DO list a low carb version and the carb count in the recipe notes should you choose to use banana.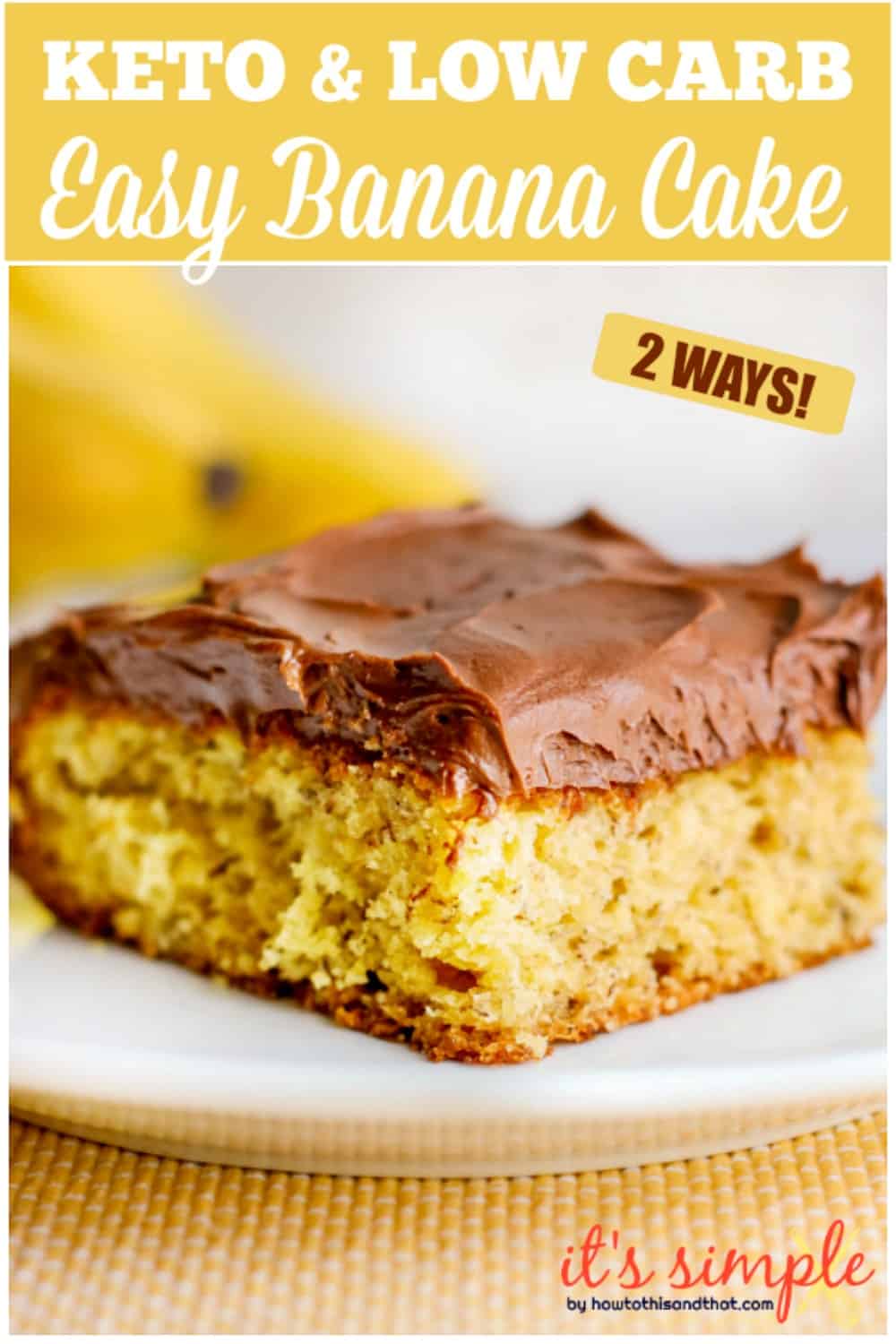 How To Tell When Banana Cake Is Done
You will know when this cake is done, as you can stick a toothpick in the center and it comes out clean. You will also see the top of the cake begins to change to a golden color, and it doesn't jiggle if you move it.
Just make sure to watch your cake closely, and remove from oven when you see it is done. Or it can overcook rather fast. There is nothing worse than the taste of an over cooked outside edge of cake, especially with banana flavoring.
Can I Use Store Bought Frosting Instead of Homemade?
Yes, you do not have to make a homemade frosting to spread over the top of the keto banana cake. Feel free to make any other type of homemade frosting or buy pre-made frosting. Just do what works best for you and those you are serving up this easy banana cake to. Of course, it is harder to find sugar free or low carb approved frosting in the store. Watch the labels.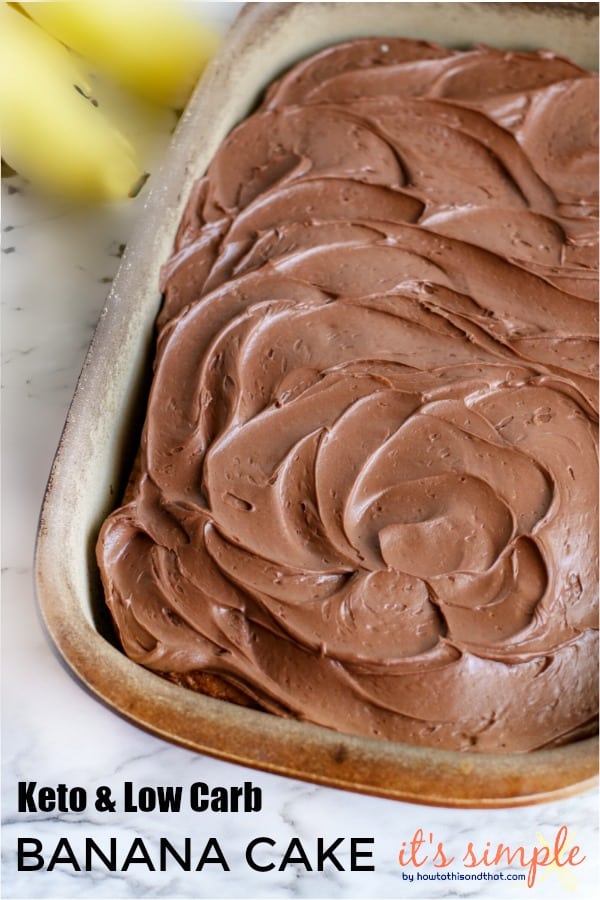 Can I Use Frozen Bananas In Banana Cake?
From frozen- If you are going to use bananas that have been frozen, you want to allow the bananas to thaw. That way when you incorporate it with the batter, it will mash up and blend well. If you toss it in frozen, you might find the frozen banana pieces clump in the recipe.
How To Store This Fresh Banana Cake
Because of the texture of this keto banana cake, I have found storing this cake in the fridge helps to extend the shelf life of the cake. Cover the pan or transfer into an airtight container and store in the fridge for up to 4-5 days. Slice and serve the cake and enjoy. If you prefer room temperature cake, then just allow it to sit on the counter for 30 minutes before you dive in.
Will This Cake Freeze Well?
Yes, you can freeze this cake. Just allow the cake to cool completely, and then cover tightly and place in freezer for up to three months. Thaw on the counter or in fridge hours before you plan to eat it.
Give this keto banana cake recipe a try today. Simple ingredients come together for one incredible banana cake recipe!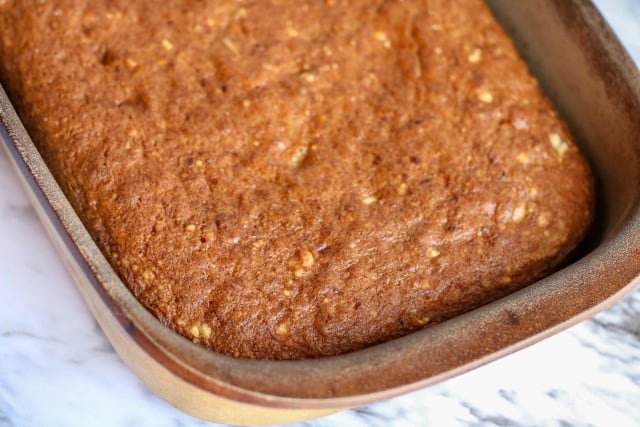 Can My NON Keto Family Eat This?
Absolutely serve this keto cake to your family! They, as well as you, will be surprised at how much it tastes like normal cake. And because it is mimicked after a traditional low carb banana bread there will be little flavor difference.
Sometimes it takes getting use to the sweetener flavor or after taste. But, the texture of the cake is spot on for classic cake and will probably fool non keto and low carbers into thinking it is a regular recipe. If not, try serving up one of these banana recipes instead:
NON K/LC Ripe Banana Recipes
Banana Belgian Waffles | This is one way to dress up your morning breakfast. These Belgian waffles have mashed bananas right inside the batter.
Low Fat Banana Bread | If you are wanting a banana bread with lower fat, here is one. I added toasted coconut to add incredible flavor to this moist banana bread.
Banana Bread Oatmeal | I love a good hearty bowl of banana bread oatmeal. It is loaded with flavor, nuts for crunch, and of course tastes like banana bread. Give this a try tomorrow morning!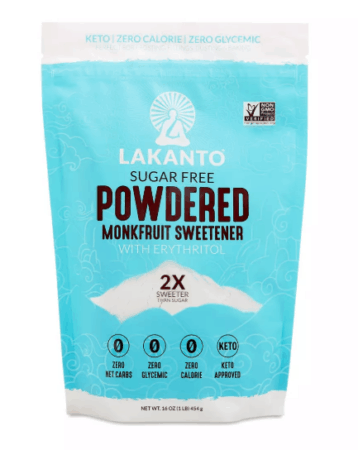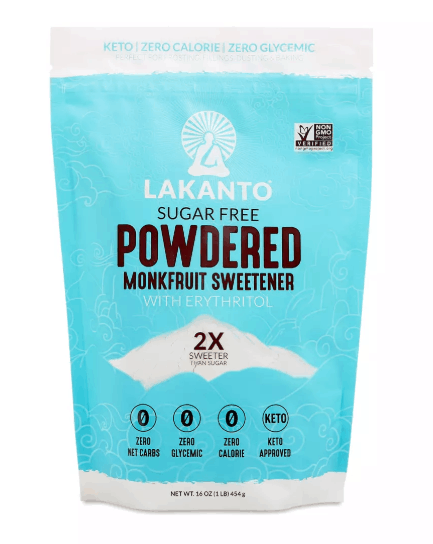 Making Low Carb Banana Bread Style Cake
Keto and Low Carb Version, Don't forget to see the recipe notes!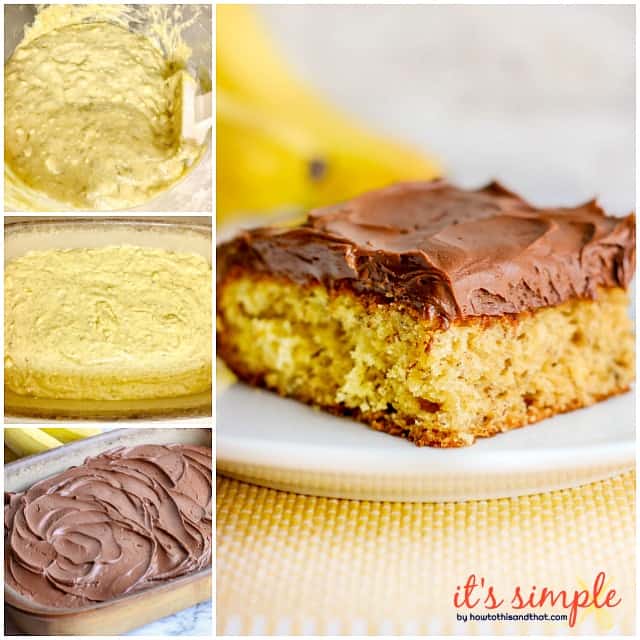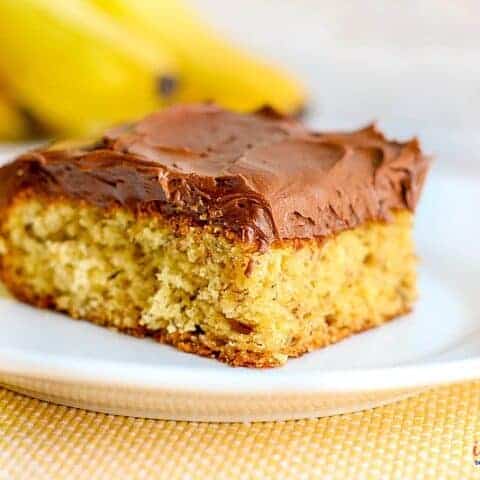 Chocolate Frosted Banana Cake
Additional Time:
15 minutes
A super simple banana cake with the most amazing chocolate ganache! This cake is moist, decadent and whips up in no time with semi-homemade instructions saving you time.
Ingredients
For the cake:
3 eggs
½ cup unsweetened almond milk
½ cup monkfruit (or sweetener of choice)
1 stick butter, melted and room temperature
1 teaspoon vanilla extract
2 teaspoon banana extract
2 cups almond flour (we always use blanched)
1 teaspoon cinnamon
1 tablespoon baking powder
2 teaspoon xanthan gum (or psyllium husk)
½ teaspoon salt
For the chocolate frosting:
4 tablespoon butter, softened
¾ cup powdered sweetener of choice
⅓ cup unsweetened cocoa powder
¼ cup unsweetened almond milk
1 teaspoon vanilla
Instructions
Preheat oven to 350 degrees. Prepare a 9 x9 baking dish (we had doubled the recipe so used a 13x9 pictured) with non-stick cooking spray.

In a large bowl using an electric mixer- mix almond milk and eggs. Add sweetener, Mix. Add butter and extracts, mix.

Add the almond flour and remaining cake ingredients, mix well.

Transfer to baking dish and Bake for 20-30 minutes or until a toothpick inserted in the middle comes out clean. Cool completely.

For the chocolate frosting:

In a mixing bowl, cream butter, powdered sugar and cocoa powder.

Add vanilla and almond milk, mix well. You may need additional milk or powdered sweetener to gain the frosting texture you desire.
Notes
This is the keto approved version of our low carb banana cake (pictured) There is NO banana in this recipe, only extract.
If your macros allow it, you can eliminate 1 egg and add 1 small ripened, mashed bananas. This will add 20 NET carbs per cake, 2.2 NET carbs per serving.
Nutrition Information:
Yield:

9
Serving Size:

1
Amount Per Serving:
Calories:

335
Total Fat:

30g
Carbohydrates:

8g
Net Carbohydrates:

4g
Fiber:

4g
Protein:

8g
Nutrition facts are auto- populated by the app for this recipe card, numbers may vary. For best results, input your exact brand ingredients into a recipe analyzer like Verywell or MyFitnessPal.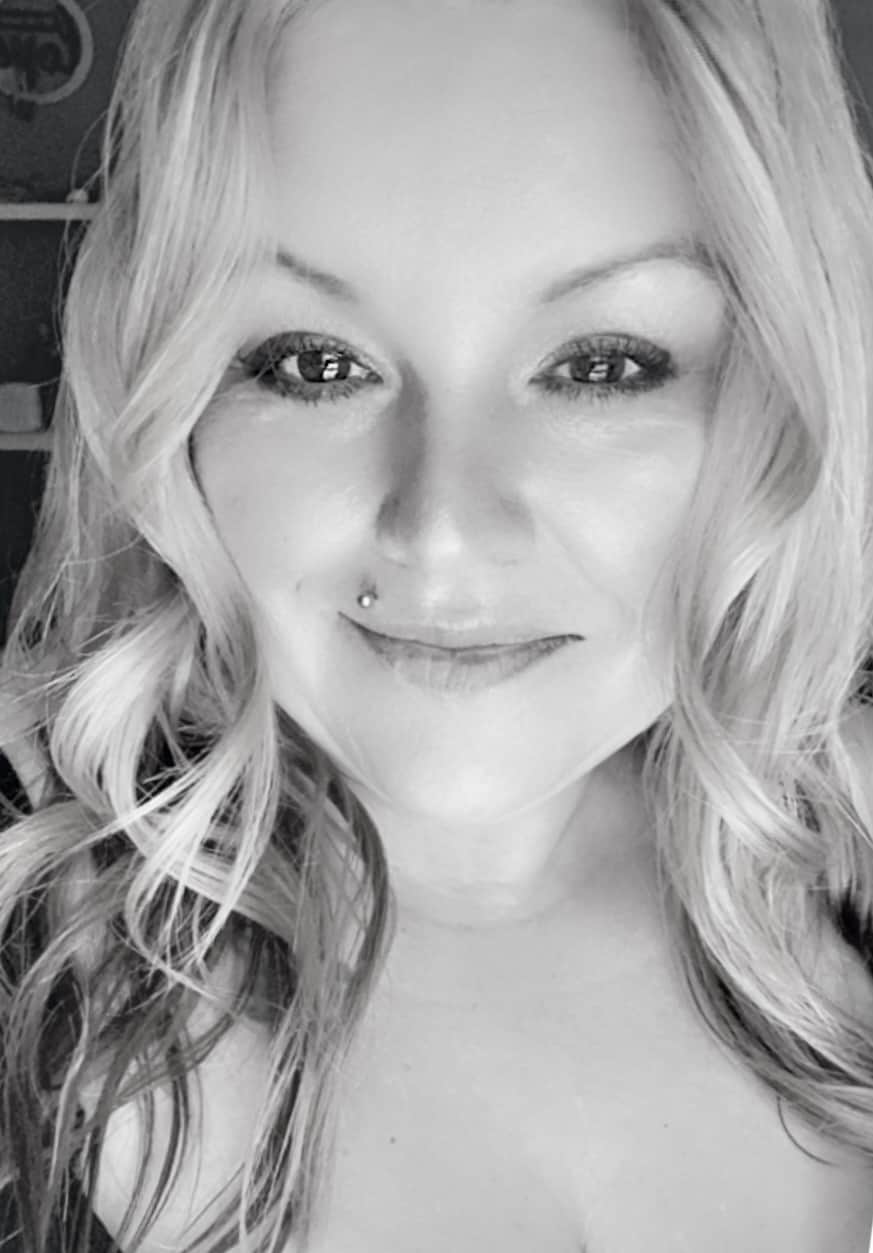 Owner & Lead Recipe Developer for It's Simple! since 2015, where you will find our best Family Favorites & Keto Low Carb Dishes with Helpful Cooking Tips & Hints in each post. Many Thanks for Stopping By, Enjoy!