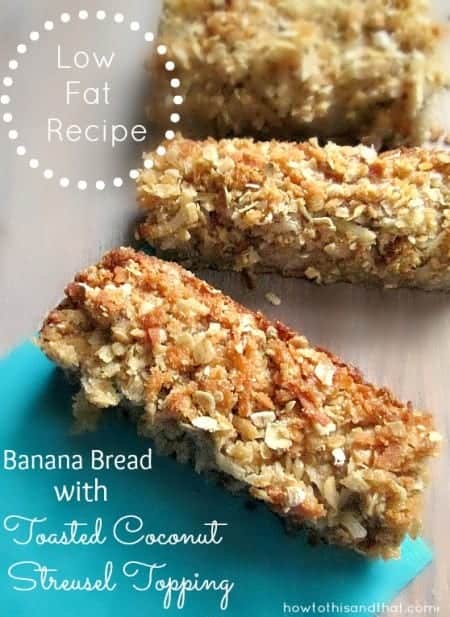 Low Fat Banana Bread With Toasted Coconut Streusel Topping
This is my favorite banana bread recipe. It was given to me by a co-worker a few years ago. She brought the bread into work one day and asked if I would like a piece. I declined, I was never really a huge fan of banana bread. My co-worker insisted I try it and said that no matter what, I would like hers. I did. She didn't lie. I was shocked. She gave me a copy of the recipe and I have been making it this way since. The only adjustment I made , is the toasted coconut streusel topping. I absolutely love toasted coconut and believe it is very under used. I also cut down on the oil and added applesauce to make this a lower fat version. It actually enhances the flavor nicely.
What I like the most about this recipe is that it contains no walnuts. I like walnuts in certain things, just not banana bread. I know, weird right? The other thing is that this is prepared and cut more like a carrot cake and not sliced like bread. This recipe is baked in a large 13×9 pan, so this easily will serve 12 people.
It is delicious, you have to try it. Use the comment section below to let me know what you think.
Enjoy!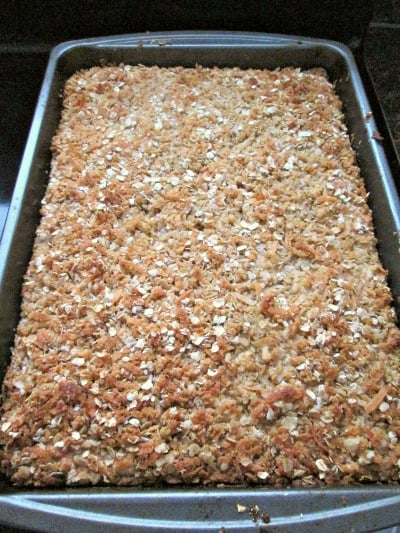 Yield: 12
Low Fat Banana Bread With Toasted Coconut Streusel Topping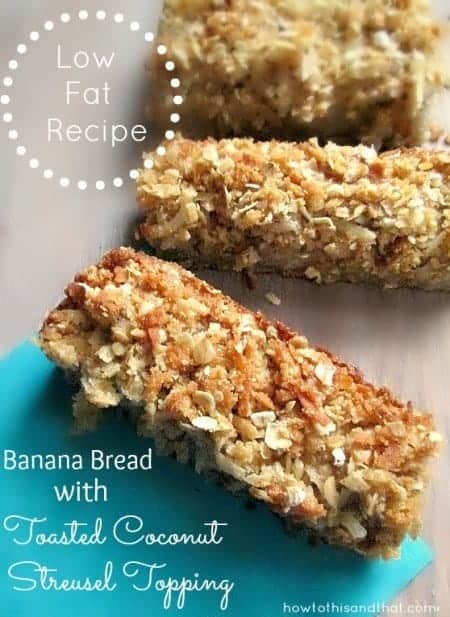 Ingredients
1 1/2 Cups mashed banana, 4 medium
1/2 Cup of Applesauce, any kind
1 Cup of Sugar
2 Eggs
1/4 Cup of vegetable oil
2 Cups of All Purpose Flour
1 1/2 teaspoon of baking powder
1/2 teaspoon of baking soda
pinch of salt
1/2 teaspoon of cinnamon
1/4 teaspoon of ground nutmeg
For the topping:
Cut 2 tablespoons of butter into 1/2 Cup each of quick or rolled oats, brown sugar and coconut.
Instructions
Preheat the oven to 350
In a large bowl beat the eggs, sugar, banana and applesauce until blended well.
Add the oil and mix
Add the remaining ingredients and mix well
Pour batter into a greased 9x13 pan
Sprinkle topping all over, bake on 350 for 40 minutes or until toothpick inserted into the center comes out clean.
Cooking times may vary.
Like this post? Use the buttons below to share!
This post may contain affiliate or paid links. See our full disclosure at the bottom of this page for more information. ............................................................................................................................................................