If someone would've told me a while ago that I could have a delicious slice of keto chocolate cheesecake while eating low carb, I don't think I would've believed them. However, this recipe makes an amazingly delicious keto-friendly dessert from a pressure cooker, whaaat?! Our Keto Instant Pot Cheesecake is smooth, decadent and most definitely show off worthy for the holidays. The reviews say even those who don't eat low carb would eat this cheesecake over and over.
We have included a Traditional Version for non keto/low carbers AND an Oven Method below. These are not in the recipe card, however you will find them BOLDED in post.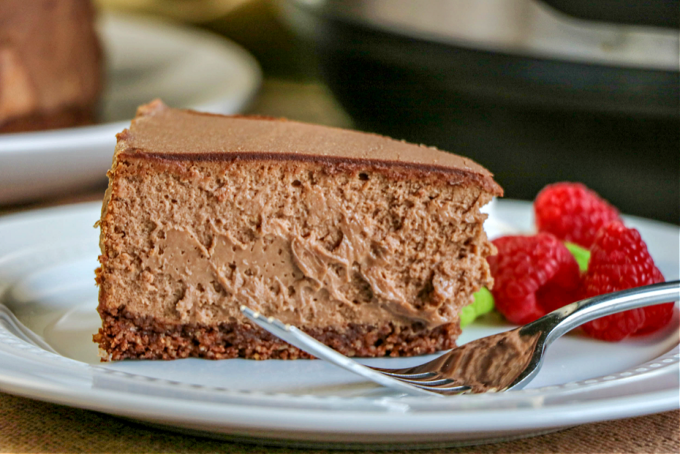 Keto Chocolate Cheesecake
I've followed the keto diet for a little while, and I'll admit that it was a lot harder than I thought it would be at first. Of course, that was up until I found recipes like this that make it feel like I'm cheating on my new way of eating, even though I'm not. I've had many different cheesecakes in my lifetime, and for being a drastically reduced carb option, this instant pot cheesecake is truly impressive.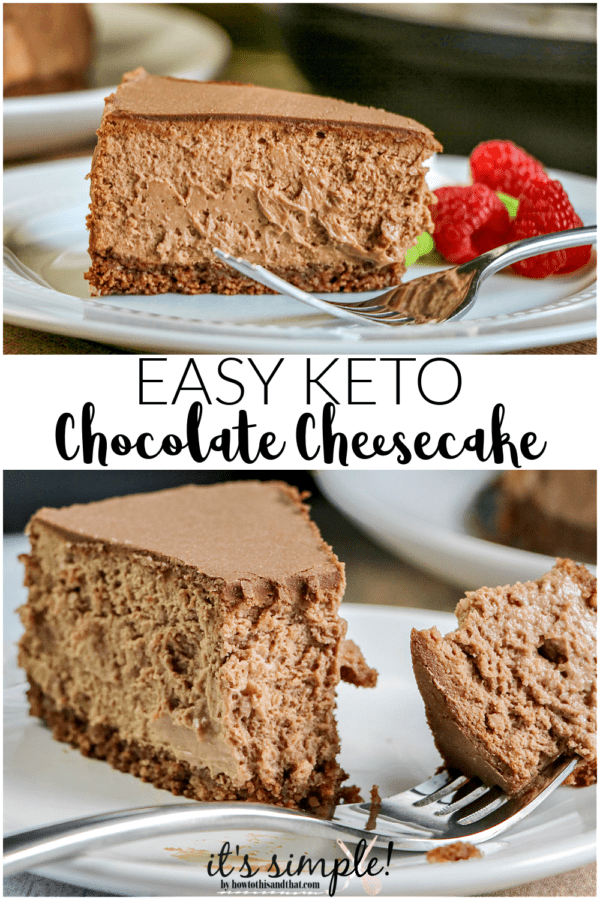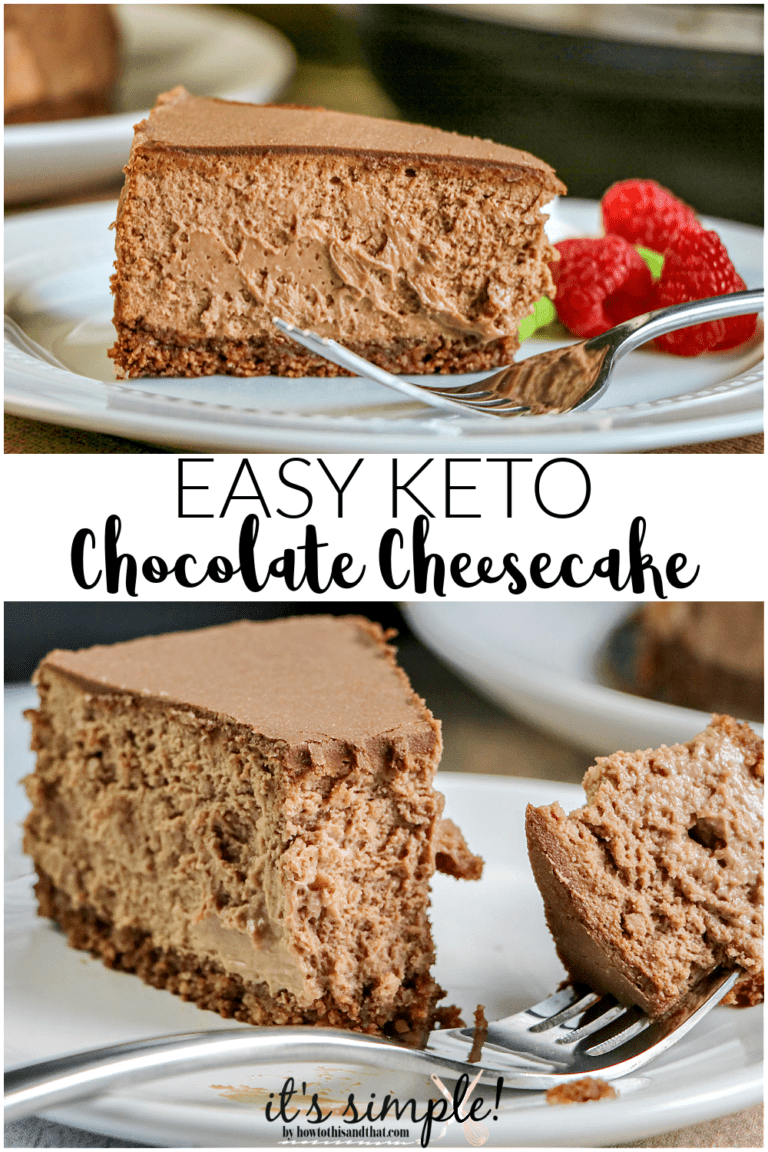 It's So Easy !
The BEST part! It is so easy. I use to be intimidated by homemade cheesecake recipes, I couldn't believe it when a friend said she uses her instant pot. Ok, that must mean it is FAST too. See, I'm an equal balance of French and Greek. We like to eat. The French in me says "you just swallowed the last bite of dinner, where is your dessert?" A quick process for keto cheesecake seriously caught my attention. Using an Instant Pot or Pressure Cooker also allows me to whip it up any day of the week. I mean seriously though... who makes cheesecake on a Tuesday? Now WE DO and you can too.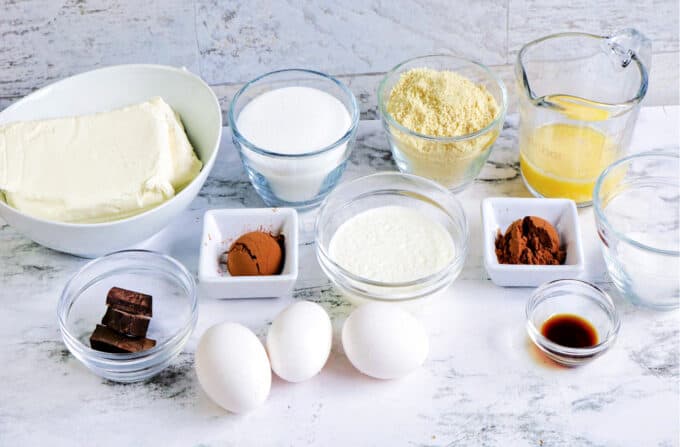 Ingredients to Have on Hand
Here are a few ingredients you may not have on hand. Make sure to visit your local grocery store to grab these before getting started. FULL Ingredient list in recipe card below.
Monk Fruit - A common keto and low carb sugar alternative. It adds the sweetness that your keto chocolate cheesecake needs without the added carbs.
Cream Cheese - Of course, you can't have cheesecake without the cream cheese. I like to use the Philadelphia brand because I think it tastes best and produces a smoother texture.
Cocoa - Chocolate cheesecake needs cocoa of course! We recommend Hershey's Special Dark.
Almond Flour- a keto low carb flour alternative that makes an amazing crunchy almost graham cracker like crust.
Other ingredients
Eggs, Butter, Cream, Vanilla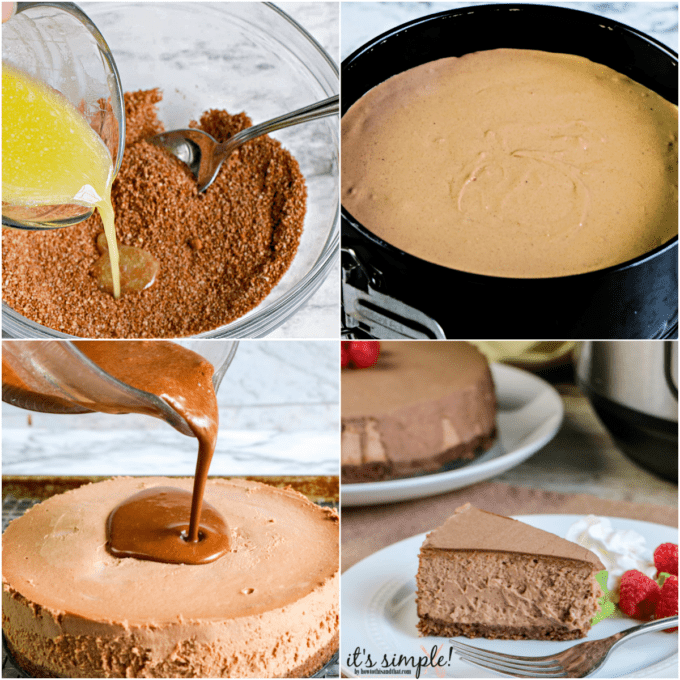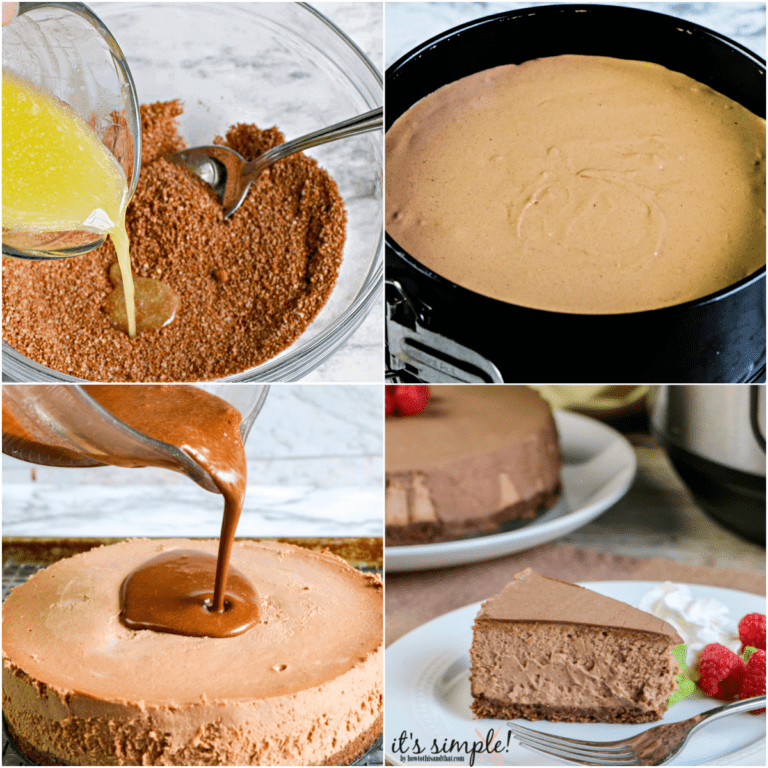 Garnish Your Pressure Cooker Cheesecake
This decadent cheesecake has an easy keto approved fudge ganache poured over at the end, however if you want to add more toppings here are some ideas:
Raspberries
Strawberries
Whipped Cream
Mint
Shaved Chocolate
I like to serve mine with a side of fresh berries to freshen it up. In addition to the ideas listed try out of the box ideas like- sugar-free caramel sauce, crushed almonds, or even shredded coconut to the top of your Pressure Cooker Cheesecake.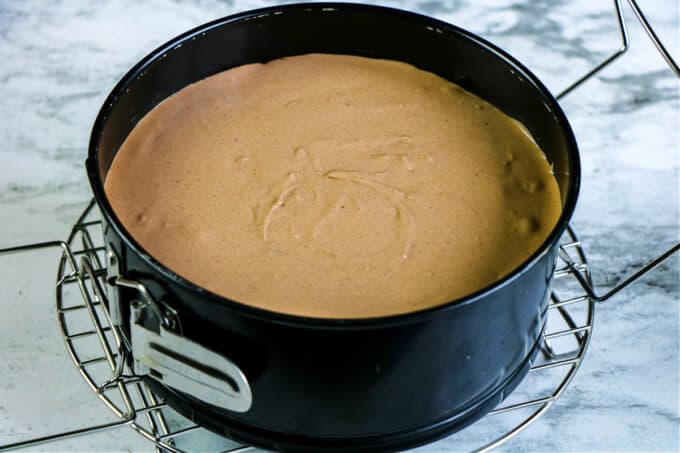 Making this Recipe TRADITIONAL
This is by far one of the easiest things to change over to a traditional recipe for serving to guest or family who do not care about carbs. Sometimes they think alternative sweeteners have an off-putting taste.
For the Crust- that is simple. Buy a store bough Oreo crust.
For the Filling- Skip the monkfruit sweetener and use granulated sugar. Skip the erythritol powdered sugar and use regular.
For the Topping- As easy as above, skip the erythritol and use regular powdered sugar.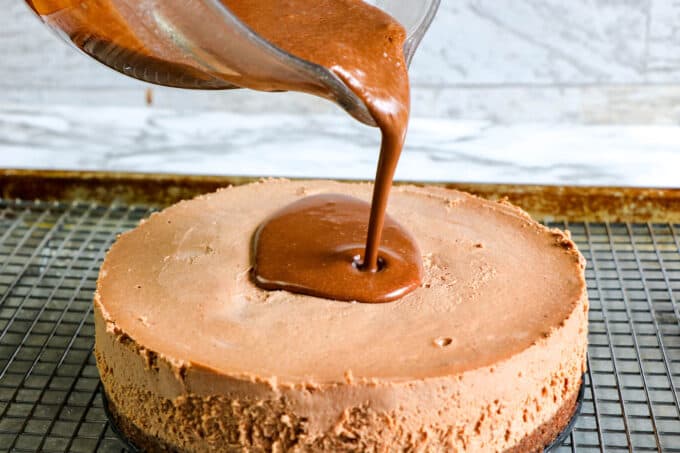 Making This Keto Cheesecake in the Oven
If your Instant Pot is broken, you don't have a pressure cooker for this cheesecake I bet you wouldn't be here........ but just in case we are going to provide an EASY Oven Method.
Prepare and bake the crust as instructed in the recipe card. You can skip wrapping the foil on the outside of the pan. No water will be getting in like it could in the Instant Pot.
Allow the crust to cool, about 15 minutes.
Pour batter into crust.
Fill a dish full of water, at least 2 cups and place on sheet pan next to your cheesecake in the oven.
Bake for 30 minutes or just until set. Going longer will cause cracks and gummy texture.
Unfortunately cooling over night is best.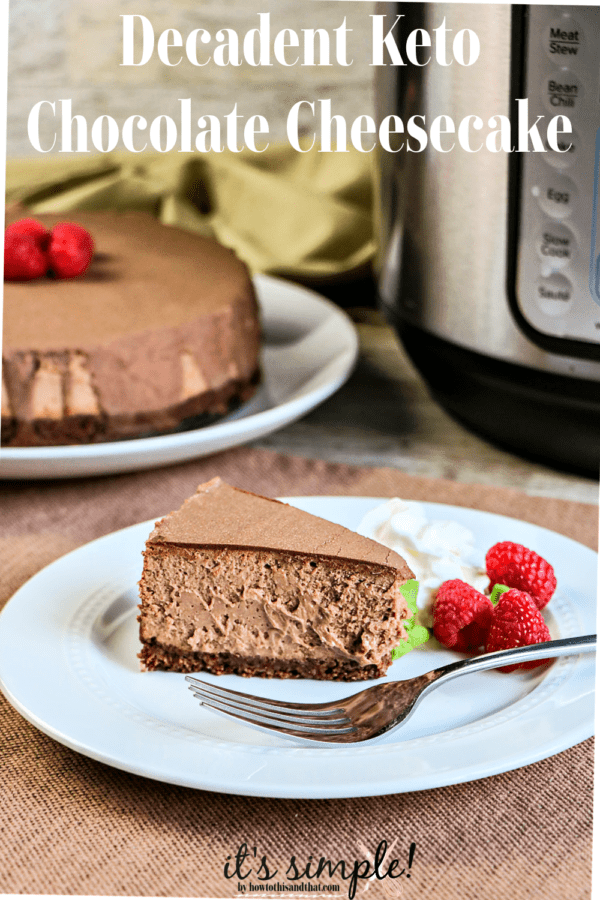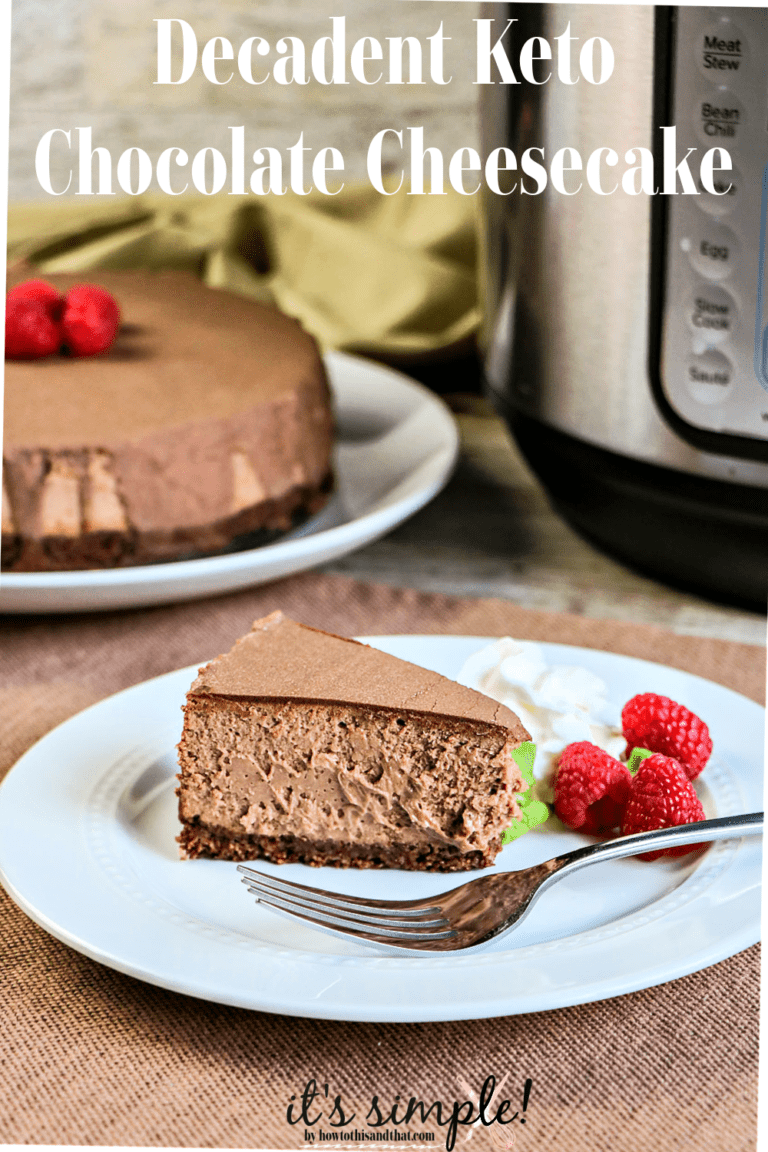 Tips for Success When Making This Recipe
Be Prepared- Yes, the recipe is easy, but if you are someone who is easily intimidated or not a multi-tasker it may seem harder than it looks.
Become Chef Anne Burrell- No. you don't need to be a chef to make this cheesecake. But, you can fair well by adapting Chef Anne's ever so favorite phrase "Have your Mise en place ready" - A French Term for getting your s... stuff together BEFORE beginning the cooking process. Pronounced (MEEZ ahn plahs) , it will seriously change the way you cook.
Trust Your Instant Pot- Follow the instructions and do everything right with your Instant Pot. Things like trying to rush the process by skipping natural release or cooking longer because it seemed too quick will only result in a recipe fail.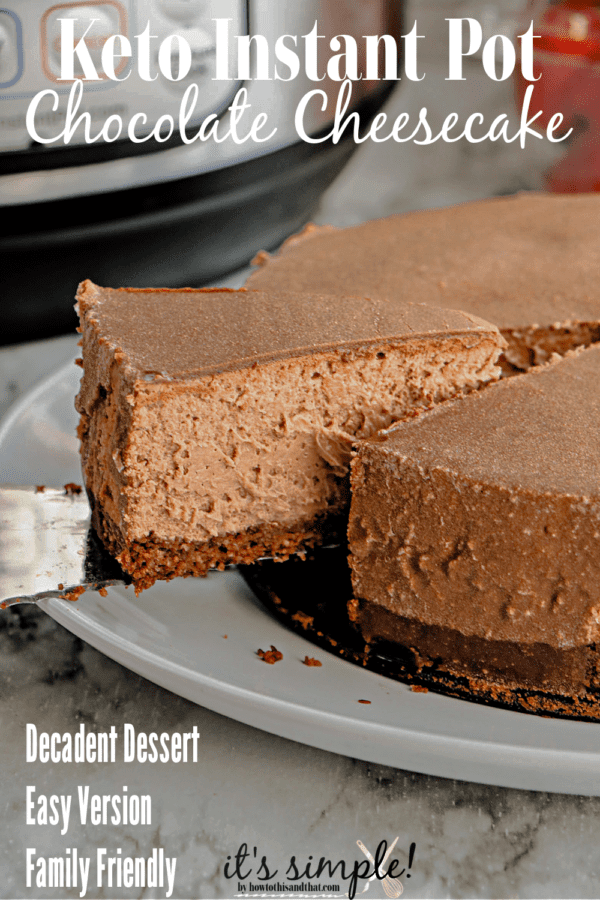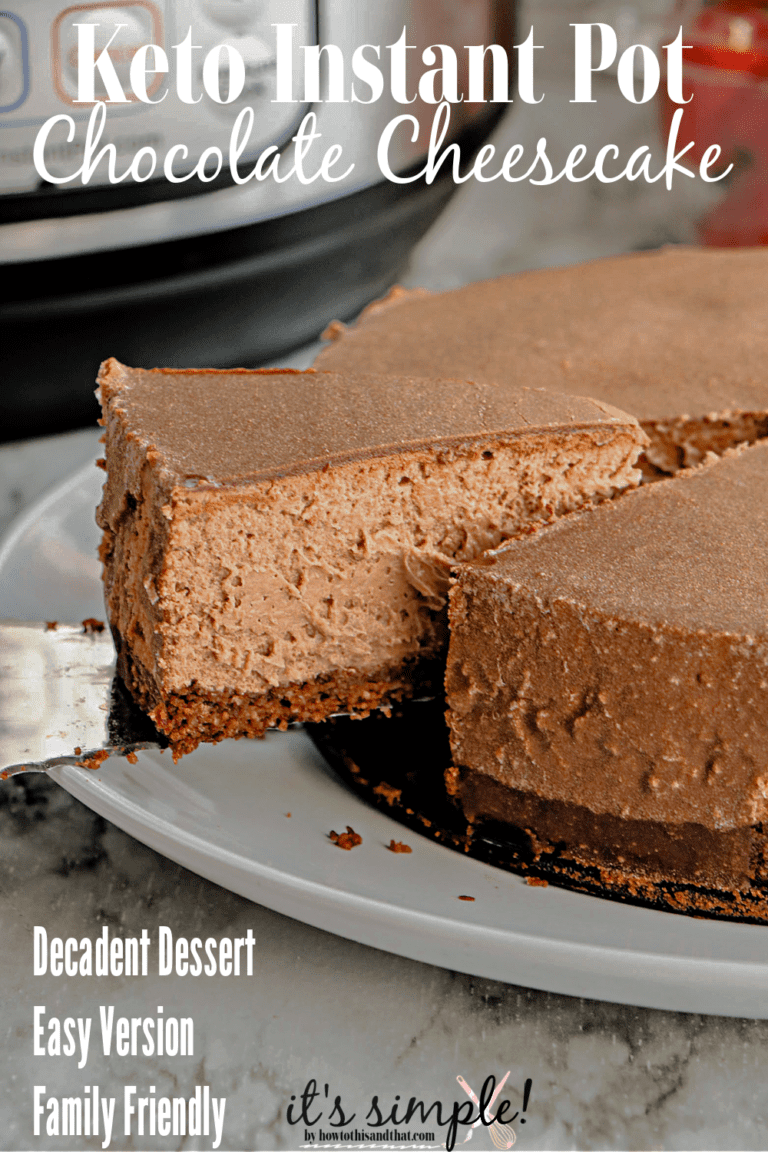 More Amazing Low Carb Cheesecake Recipes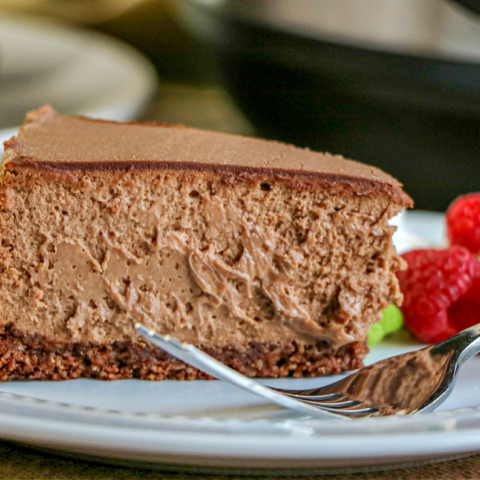 Keto Instant Pot Chocolate Cheesecake
Additional Time:
20 minutes
Total Time:
1 hour
10 minutes
This Keto Instant Pot Chocolate Cheesecake is an amazingly delicious keto-friendly dessert that you will love. It's decadent and perfect for all the chocolate cheesecake lovers out there.
Ingredients
Crust
1 cup almond flour
1 tablespoon cocoa
1 tablespoon and 2 teaspoons monkfruit
¼ cup butter, melted
350 degrees for 10 minutes
For the cheesecake:
2 (8 ounce) packages cream cheese, room temperature
½ cup monk fruit
½ cup erythritol confectioners sweetener
2 tablespoons cocoa
1 ounce unsweetened  chocolate 
½ cup heavy cream
1 teaspoon vanilla
3 eggs
Toppings:
½ cup whipping cream
1 ounce unsweetened chocolate, chopped
¼ teaspoon vanilla
¼ cup erythritol confectioners sweetener
Instructions
THE CRUST
Prepare a 7.5 inch springform pan with non-stick cooking spray.
Stir together the almond flour, cocoa, monkfruit and melted butter for the crust.
Press into pan. Bake for 10 minutes while preparing the batter.
PREPARE PRESSURE COOKER
Place trivet in the bottom of the electric pressure cooker pan.
Add 1 Cup of Water in the Bottom of the Instant Pot.
THE FILLING
n a medium bowl with electric mixer whip cream cheese until soft, Add the cocoa and sweeteners, continue beating until fluffy, about 2 minutes.
Add the eggs, one at a time, heavy cream, and vanilla, mix until combined.
Transfer the mixture to the cheesecake crust in pan and spread evenly. Wrap aluminum foil tightly around the bottom to protect from water seepage. Cover the springform pan to avoid water dripping onto the cheesecake.
Cover & Set Valve to seal. Set to Manual or "pressure cook" for 30 minutes.
Allow the cooker to FULLY naturally release.
Remove the lid and allow the cheesecake to continue cooling inside the pressure cooker for 20 minutes before removing.
Replace the aluminum foil with plastic wrap and refrigerate the cheesecake for at least 2 hours prior to serving.
FOR THE GANACHE
Microwave heavy cream until steaming, and pour over the chocolate. Stir until the chocolate is melted and blended with the heavy cream. Stir in the vanilla and sweetener. Cool to room temperature. Then, whip with a whisk or mini whipper until thicken. Pour over cheesecake.

Notes
Don't forget, this IS an easy recipe! Just have everything ready to go and take it one step at a time. Before you know it, you will be making it by memory! Print the recipe just in case. Enjoy!
Nutrition Information:
Yield:

8
Serving Size:

1
Amount Per Serving:
Calories:

342
Total Fat:

30g
Carbohydrates:

9g
Net Carbohydrates:

5g
Fiber:

4g
Protein:

8g
Nutrition facts are auto- populated by the app for this recipe card, numbers may vary. For best results, input your exact brand ingredients into a recipe analyzer like Verywell or MyFitnessPal.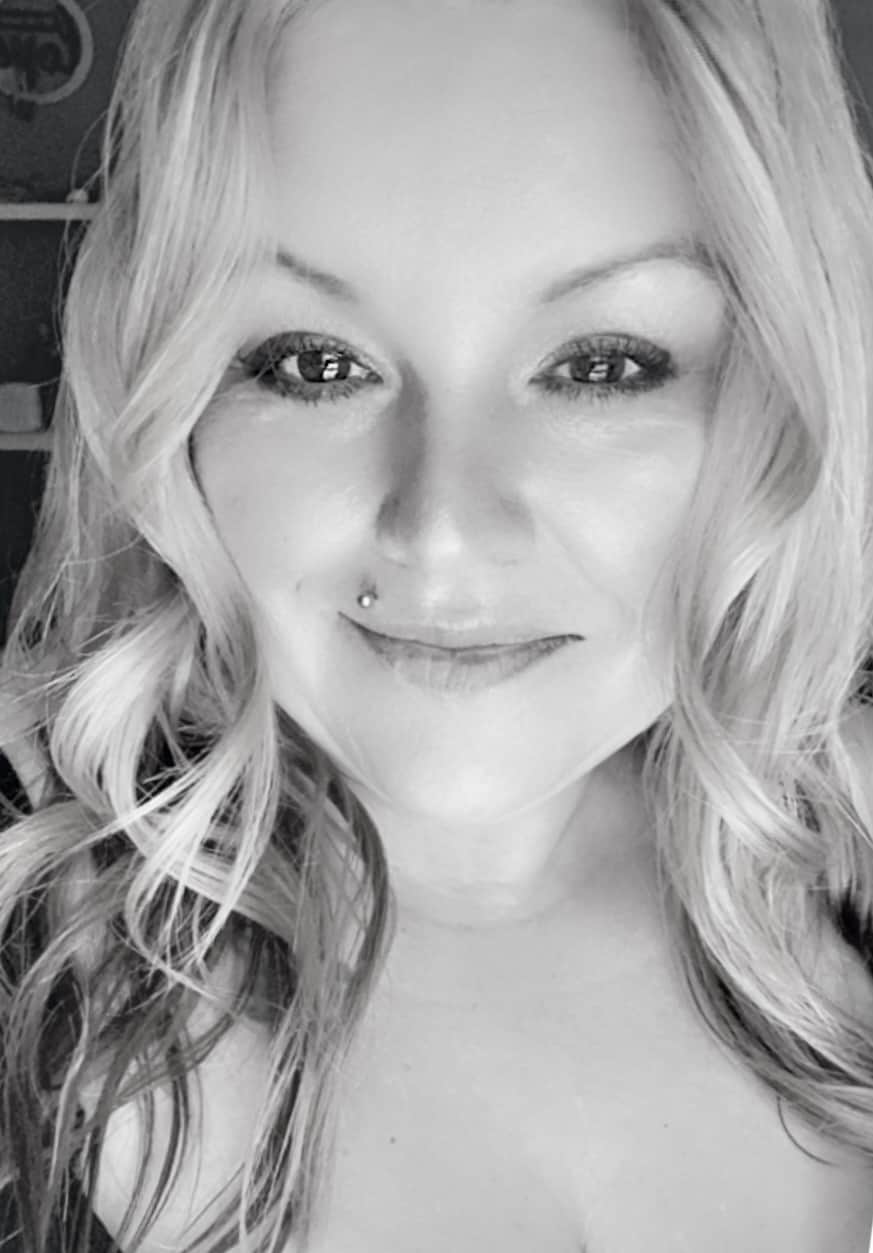 Owner & Lead Recipe Developer for It's Simple! since 2015, where you will find our best Family Favorites & Keto Low Carb Dishes with Helpful Cooking Tips & Hints in each post. Many Thanks for Stopping By, Enjoy!