How To Make Award Winning 200 Calorie Beef Burgers
My favorite summertime BBQ food is burgers.  I tend to watch my red meat intake so sometimes it can be difficult.  I tried making chicken or turkey burgers and it just was not the same. So instead I started purchasing the 90/10 ground beef and ground pork,  cut down on the size of the burgers.  To keep my family happy I made it fun,  I called them sliders just like you can get at the restaurants.  Instead of hamburger buns I used high fiber wheat dinner rolls,  spinach instead of lettuce and low fat cheese.  The health benefits are significant and my family does not feel as though they are eating a "healthy" burger.

How To Make Award Winning 200 Calorie Beef Burgers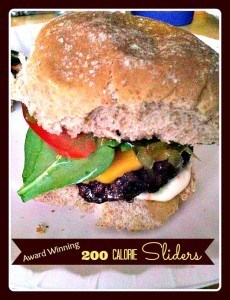 Ingredients
whole wheat dinner rolls
1 lb 90/10 ground beef
1 lb ground pork
BBQ sauce
low fat cheese, your favorite
tomato
baby spinach
red onion, optional
grill or grill pan
Instructions
Mix the ground pork and ground beef together in a large bowl, add in ½ cup of BBQ sauce, mix well.
Shape into small round patties (makes about 16)
Grill on high for about 3 minutes each side or until done to your liking
Cut the heat and add your cheese to melt
Grill the buns if you wish
Add baby spinach, tomato, red onion and more BBQ sauce.