Keto Ground Beef Casserole is a recipe the whole family can enjoy. It is naturally a keto casserole recipe with typical ingredients. Our recipe is also a low carb ground beef casserole so simple is can be made any day of the week. This low carb dinner recipe stores well making it a great addition to your meal plan or prep. Try adding a little spice to wake it up OR play with your own seasonings!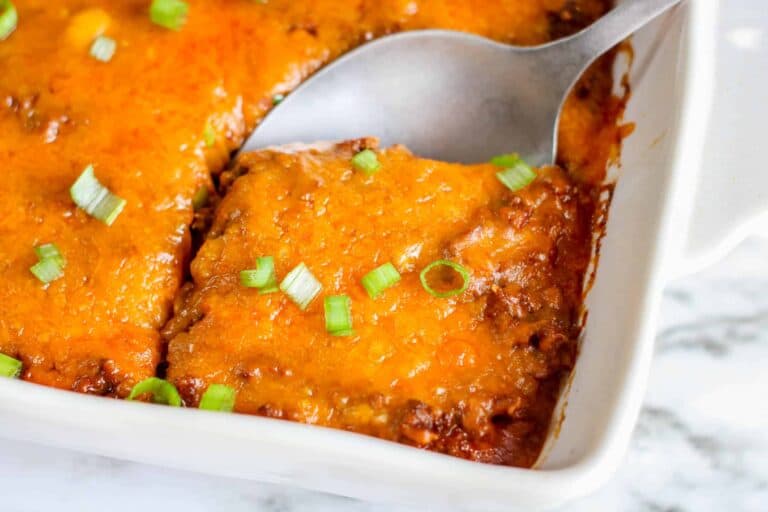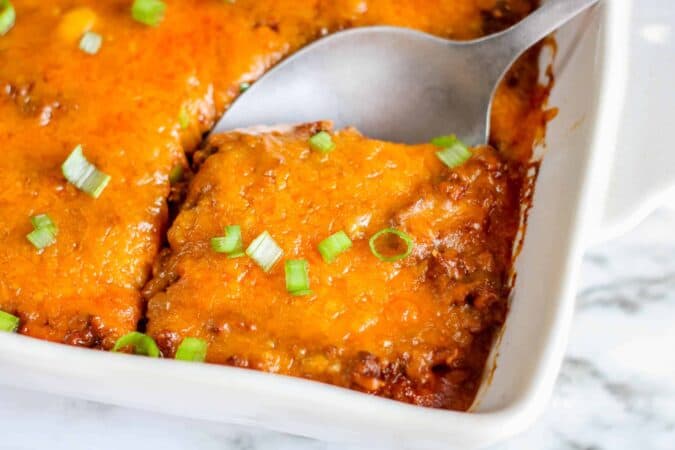 Keto Ground Beef Casserole
Even though this keto ground beef casserole is low carb, it doesn't mean it lacks flavor OR has any "different" flavors that most non keto family memebers would dislike. Because this is a kid-friendly dinner recipe it saves you from cooking more than once a night. Plus it comes together in a hurry and bakes up to golden perfection.
What's in this Keto Casserole
Cauliflower Rice
Ground Beef
Handful of Spices
Sour Cream
Variety of Cheeses
Tomato Sauce
Cauliflower rice, ground beef, seasonings and spices, cheese and more for one outstanding easy dinner recipe. If you are looking for a new ground beef recipe, you have to give this casserole recipe a try.
A cheesy, savory keto casserole full of flavor with the ultimate cheesy texture. All while keeping it a low carb dinner recipe you don't have to feel guilty about. To really spice it up and add dimensions toss on some sliced jalapenos, diced tomatoes and avocado.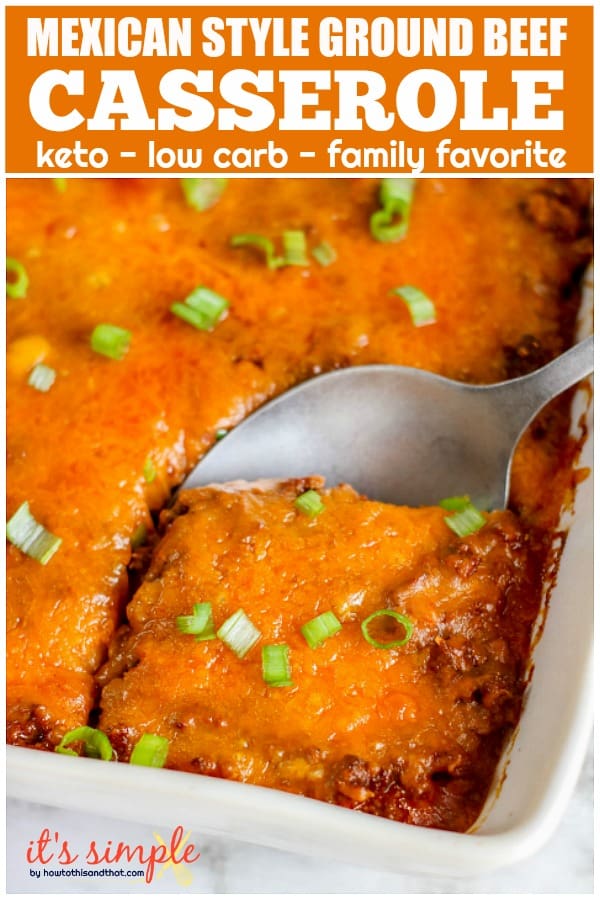 How Long Does This Low Carb Ground Beef Casserole Take To Cook
Let's just call this a 30 minute meal! The cheesy, creamy edges begin to bubble up around that time and the cheese will turn a gorgeous golden brown on top. Remove and allow to cool a few minutes before serving. Because there is a cream type sauce in this casserole, it will thicken as it cools.
What To Serve With This Low Carb Casserole
Crisp green salad
Dinner rolls or Keto Bread (if on a low carb diet)
Other sides of veggies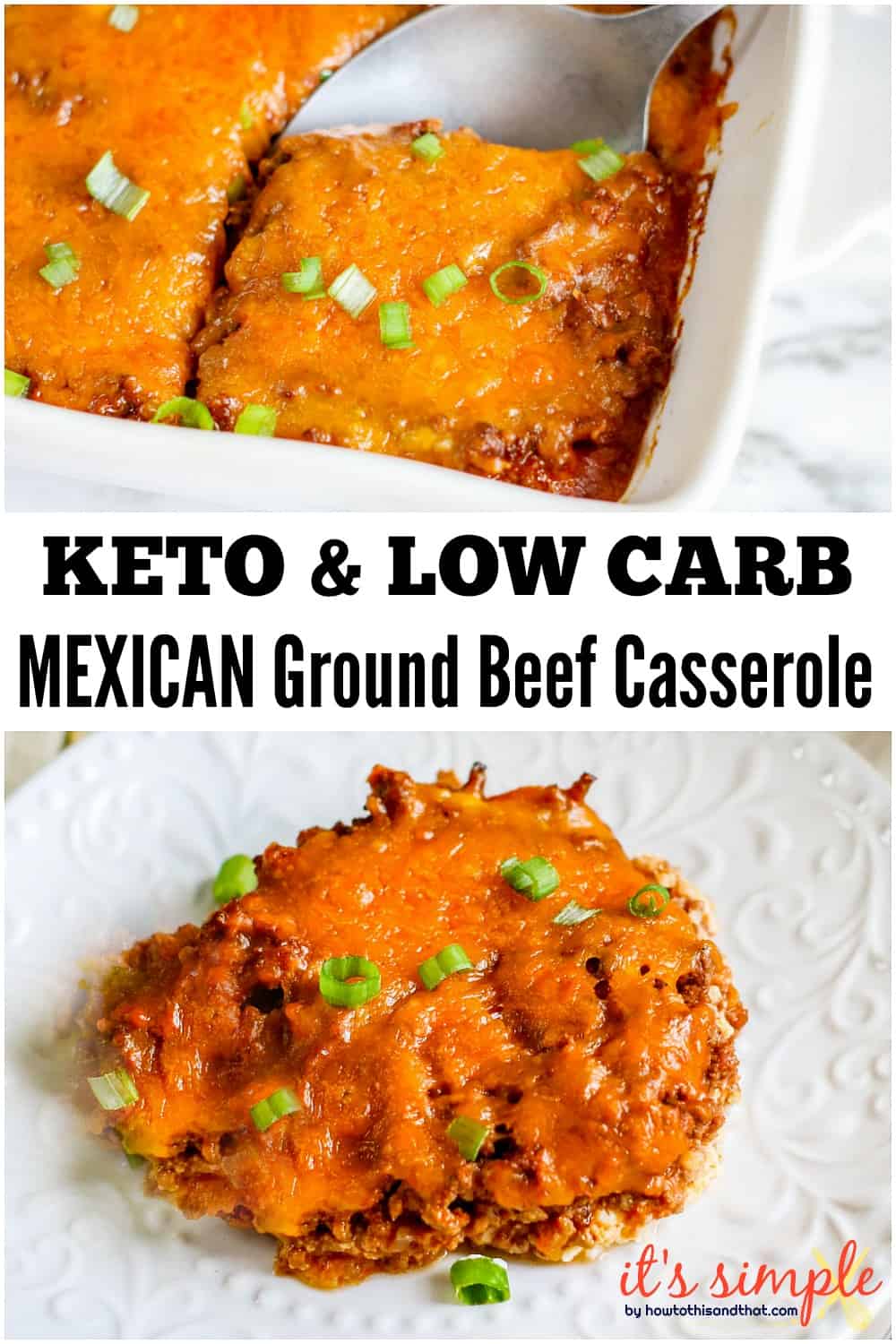 Looking for more dinner recipe ideas
Kitchen Sink Casserole | A hearty casserole that is loaded with everything but the kitchen sink! Trust me the name sounds iffy, but trust me it is delicious.
Keto Shrimp Creole | If you love shrimp and cajun flair you will want to whip up this incredible dish. I love a good shrimp recipe that whips up in no time.
Taco Pie | A keto taco pie that is perfect for serving up for Taco Tuesday. Hearty, savory, and loaded with Tex-Mex spices in every single bite.
Can I Use Homemade Cauliflower Rice For This Recipe
Of course, you don't have to reach for frozen if you prefer making your own. I will use homemade cauliflower rice when I have some on hand or the time to make it, otherwise, frozen works the same. It tastes great, is easy, and works perfectly in this recipe.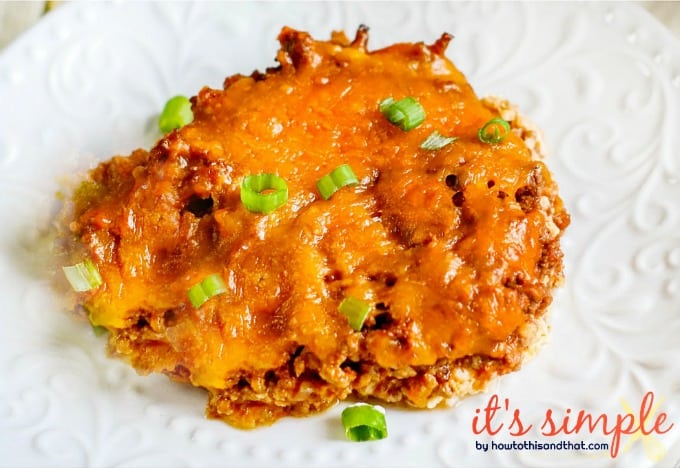 How To Serve This Ground Beef Casserole
I slice up green onions and sprinkle over the top. I find it adds a nice dimension and color to the casserole. You could also serve it up as is, or add a splash of hot sauce to add some heat factor to this comfort food. If you really want to add flavor, toss on some jalapeno, tomato or avocado. Those go fantastically with keto ground beef recipes.
How To Store Leftovers
Keep any leftovers you have in the fridge for up to three days. You can use leftovers for meal plans for a quick lunch or dinner in the week. This is a great recipe to consider making for the family.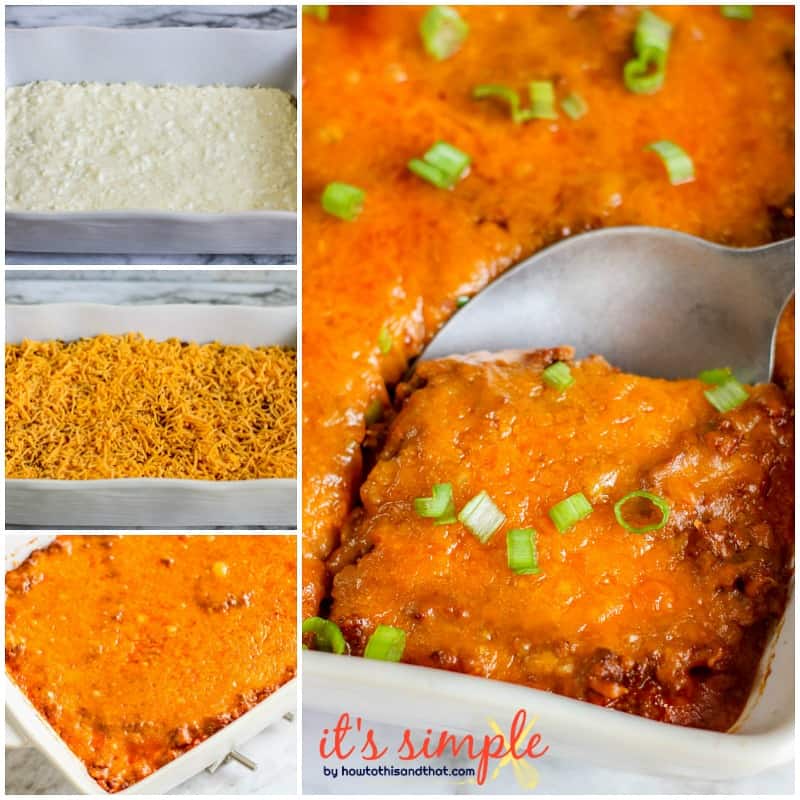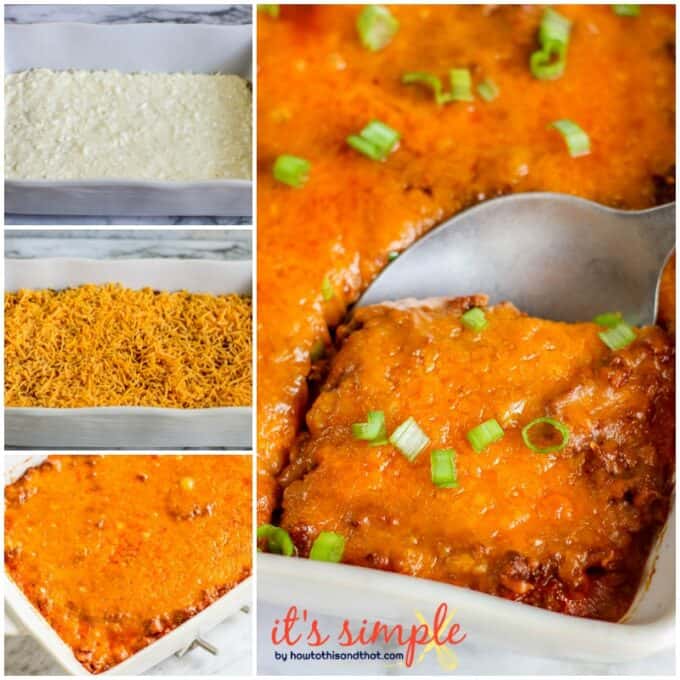 Yield: 12 servings
Keto Ground Beef Casserole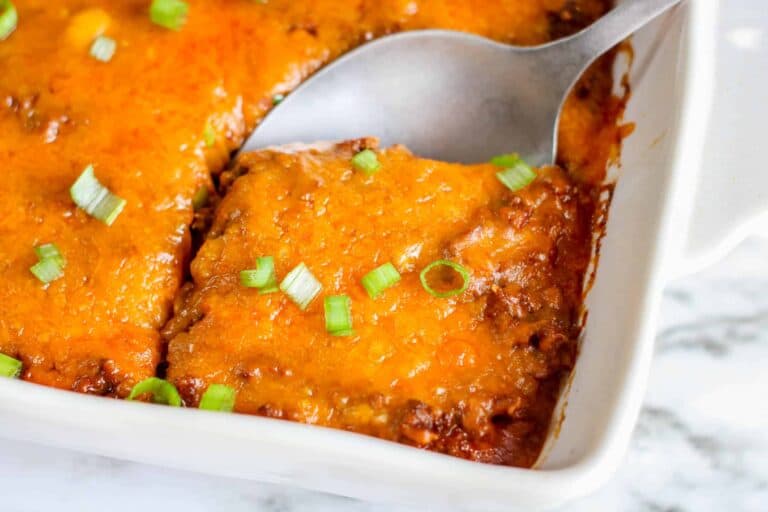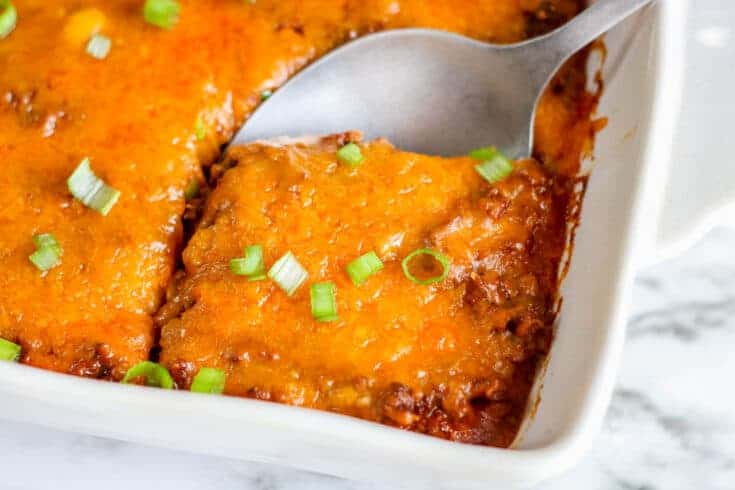 A cheesy, keto ground beef casserole that hits all the comfort food notes!
Ingredients
1 (12 ounce) package frozen riced cauliflower
2 pounds ground chuck
1 onion, chopped
1 (15 ounce) can tomato sauce
½ teaspoon ground cumin
1 teaspoon garlic powder
½ teaspoon chili powder
1 teaspoon salt
½ teaspoon black pepper
½ cup sour cream
1 cup shredded monterey jack cheese
3 eggs
2 cups shredded sharp cheddar cheese
Sliced green onions, for garnish
Instructions
Preheat oven to 350 degrees. Prepare a 9x13 casserole dish with nonstick cooking spray.
In a large skillet, cook ground beef with onions and seasonings over medium-high heat. Drain
Remove from heat and stir in caulifower rice. Add to baking dish.
Whisk together beaten eggs and sour cream. Pour over ground beef/cauli mixture. Gently stir. Spread evenly in dish. This acts as a binder and holds the beef together so it doesn't just crumble when scooped. It DOES NOT taste eggy.

Top with tomato sauce, spread evenly. Top with cheese.

Bake for 30 minutes or until the cheese on top has melted and edges are bubbly.
Garnish with sliced green onions and serve