Looking for a low carb, keto friendly snack that tastes amazing? Try this cheddar keto cracker recipe. They are made with real cheddar and come out so crunchy and delicious.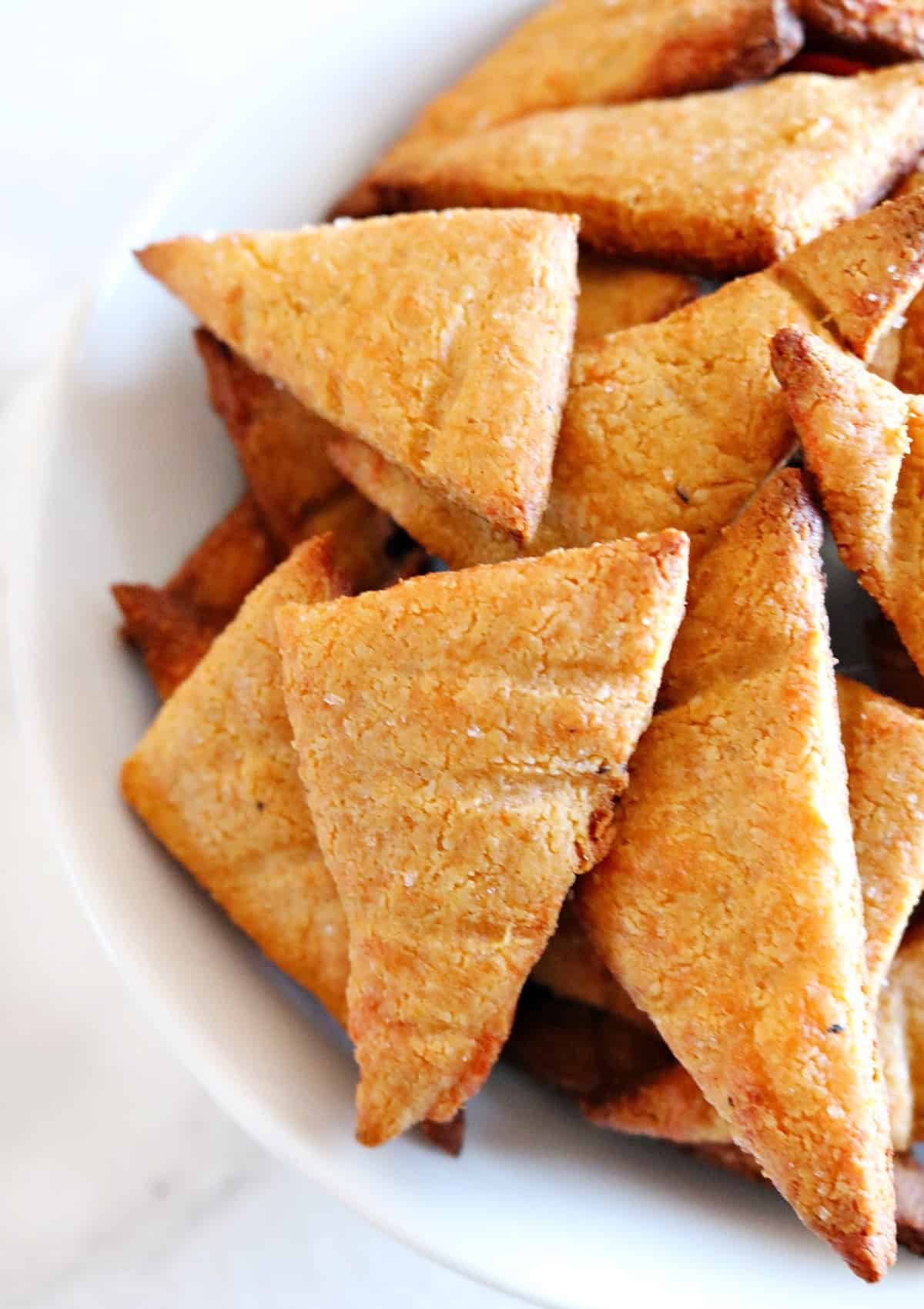 Keto Crackers
Crunchy Cheddar Crackers
So, who doesn't love a Cheez It or a Goldfish cracker? They use to be one of my favorites. I could literally sit down and kill a box of Cheez Its. Ok, not the whole box, but certainly enough that I was sick of them for the next month. Well, those crackers don't exactly fit into the Keto diet do they?
I was missing this type of snack and a lot of the boxed low carb snacks at the store are more like cardboard than a cracker. I got tired of wasting money and developed my own instead. These crackers are a much healthier and tastier alternative. Plus, they are delicious and make you feel like you're indulging when you really aren't! I find myself craving salty and crunchy instead of sweets since I started following a keto diet and these do not disappoint. It's important to have a variety of snacks to keep your cravings at bay and one can only eat so many nuts and jerky.
One serving of these keto crackers contains the recommended macronutrients for the keto diet. High fat, moderate protein and low carb. Right around the 75/20/5 percentage average.
They are so simple to make with ingredients you probably already have if shop from the traditional keto grocery list. They come from the oven extremely crunchy and yes do try them warm! I usually make a large batch and freeze some for a snack on hand. They keep nicely in a sealed container or you can bag them into serving sizes for an even easier snacking experience! Try them with your favorite low carb dips or meats for a lunch with crunch! If you have little ones it's a great healthy snack to throw in the lunch box as well! Enjoy!
Here is how to make our keto crackers:
Ingredients
1 cup shredded cheddar cheese
½ cup shredded mozzarella
1 ounce cream cheese
1 tablespoon butter
1 large egg
2 tablespoons almond flour (we used blanched) NOTE* I have not tested with coconut flour so can not make a recommendation for substitution.
1 teaspoon salt
1 teaspoon paprika
½ teaspoon each onion & garlic powder
Instructions
In a microwave safe bowl, warm butter and cream cheese until soft. Do not melt completely.
Stir in cheeses. Mix until cheeses soften and start to melt. If the cheese does not break down enough from just the heat of the softened fats, heat the mixture in the microwave for 15 seconds at a time until it combines into a sticky ball.
In another bowl, beat egg.
Stir in flour and seasonings. Mix well.
Add flour mixture to the melted cheeses. Mix, mix and mix some more. Mixture will be sticky at first. Just keep mixing until combined.
Wrap with plastic wrap and refrigerate for 30 minutes.
Preheat the oven to 425. These crackers bake quick and hot to ensure they are crunchy!
Roll out into a rectangle. Use a pizza cutter to cut into triangles.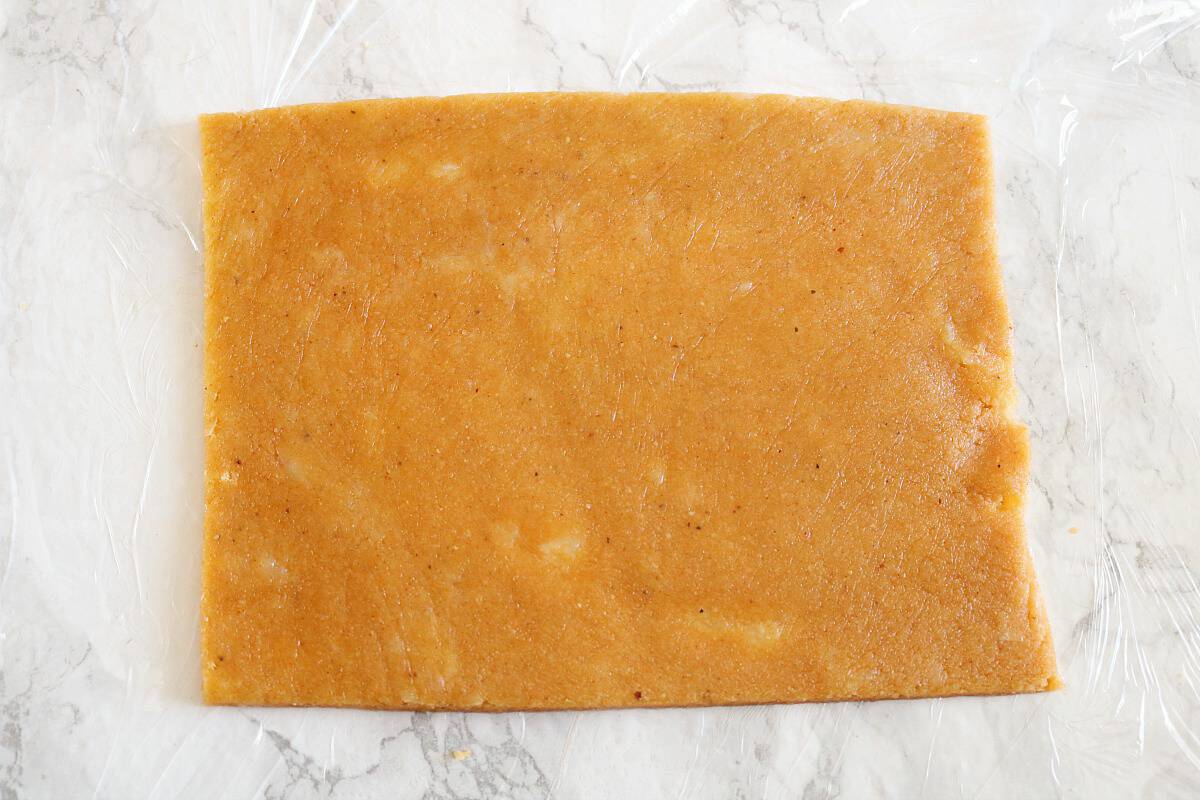 Place on a sheet pan, sprinkle with salt.
Bake for 5-7 minutes or until golden . Allow to cool. Crackers are more crunchy cooled.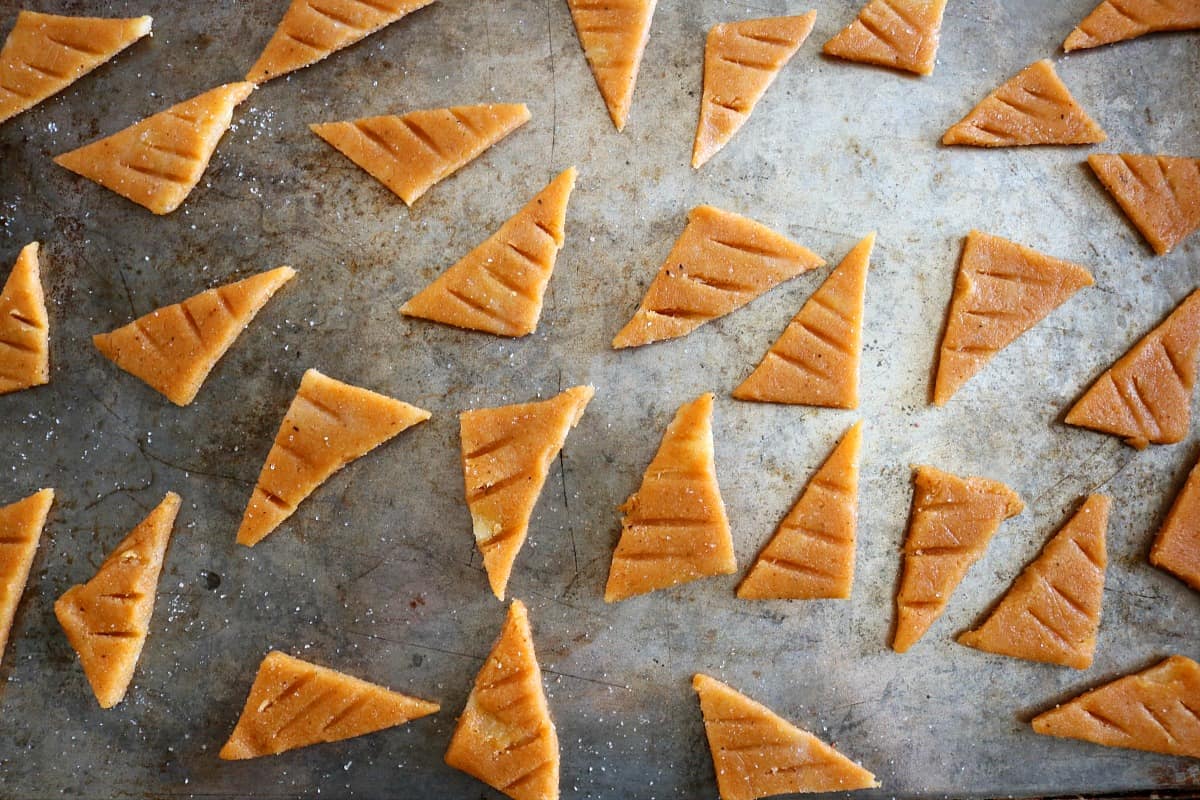 NOTE*
Occasionally there are variations to this recipe (same as the fathead recipe) where some people end up with a more dry or a more sticky mixture. This is due to the type of cheeses or size of the eggs being different. If your mixture is too dry, add a little melted butter or olive oil until to gain the right consistency. If it is too sticky even after refrigeration, add a small amount of almond flour.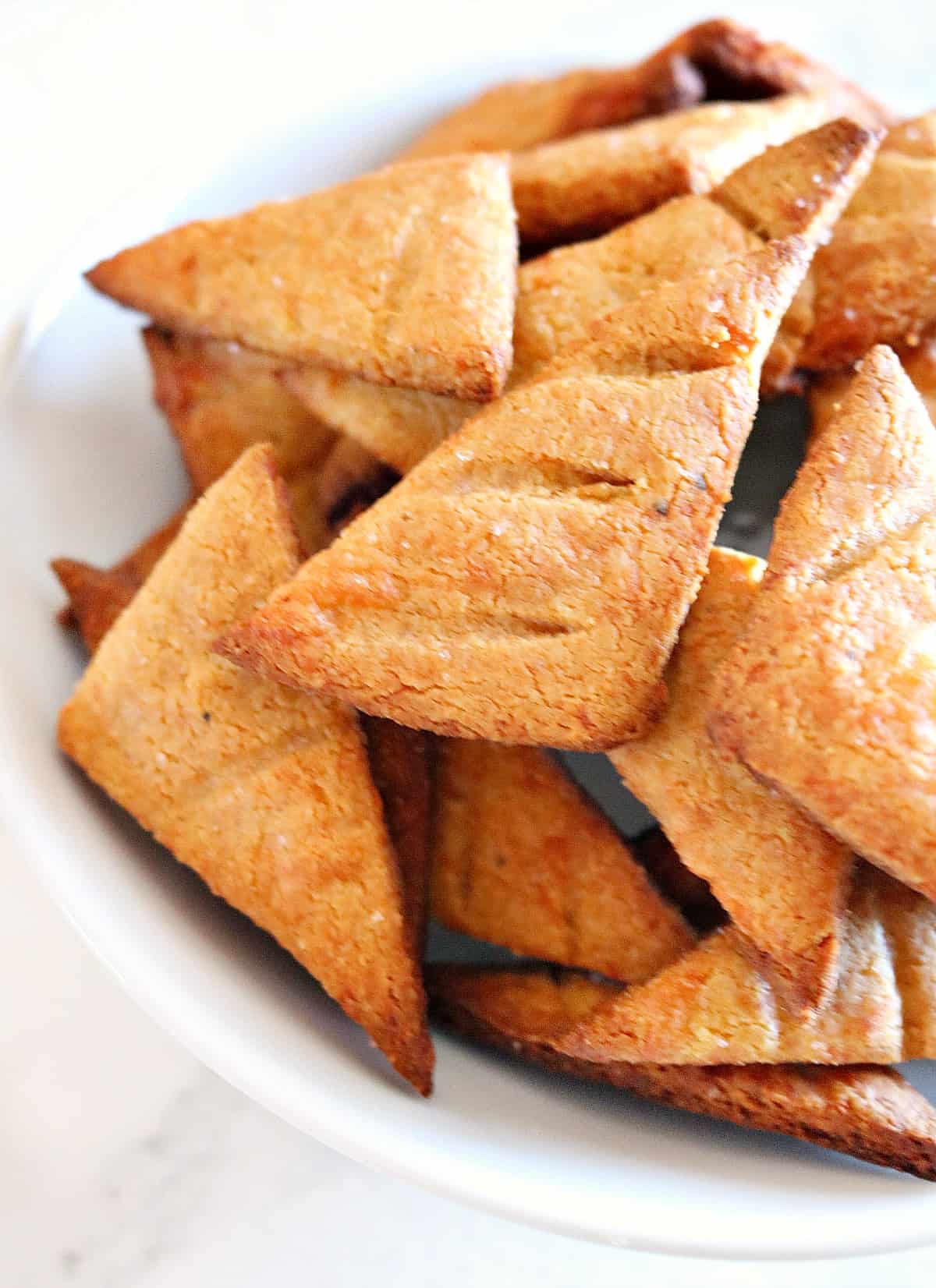 SERVING SIZE MAY VARY. Ours made 30 crackers. We based our nutrition information on 4 servings, 7 crackers per serving.