A one-pan dinner is perfect for busy weeknights. This flavorful Green Chilies Chicken Enchilada Skillet dish is easy to throw together and pairs great with a simple rice side.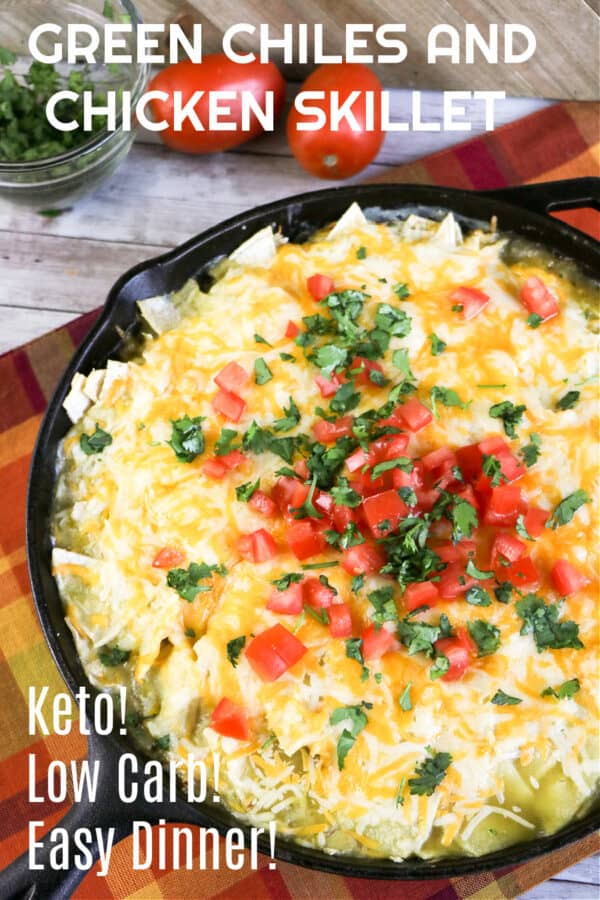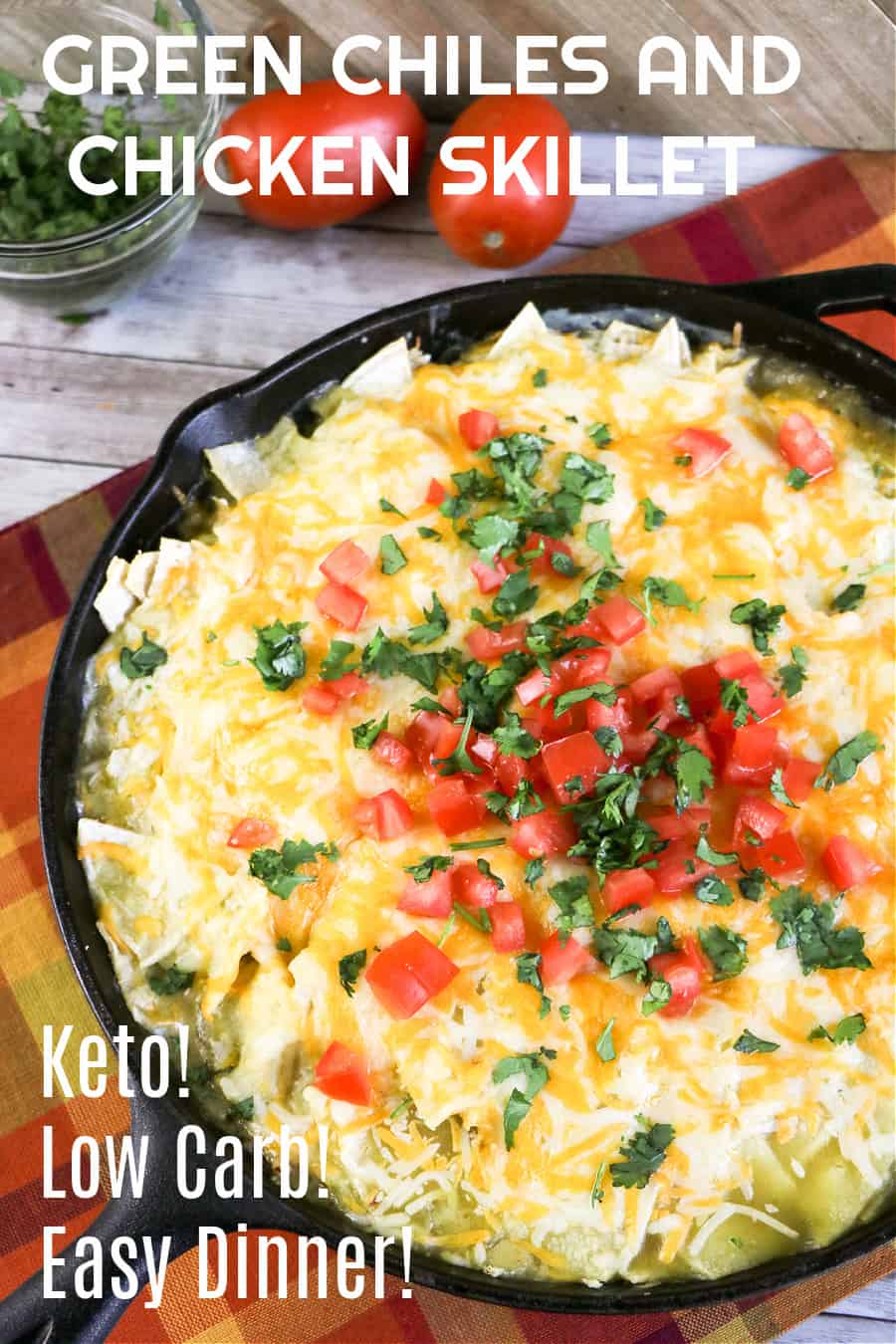 Perfect for anyone who loves enchiladas but doesn't have a ton of time on their hands, this delicious Green Chilies Chicken Enchilada Skillet is a perfect busy weeknight dinner. Creamy, cheesy, and packed with flavor, these enchiladas are simple to throw together and pair easily with chips and salsa, refried beans, and rice for the non low carbers of course!
Try our Keto Low Carb Chicken Green Chile Enchilada Skillet!

What You'll Need to Make Your Green Chilies Chicken Enchilada Skillet

If you're going to make this Green Chilies Chicken Enchilada Skillet, you'll need the following ingredients:
Chicken Breast. You'll boil this and coarsely chop it. Try doing this step ahead of time to make this recipe even quicker in the evening.
Olive Oil. Used to cook the bell pepper, garlic, and onion.
Green Bell Pepper and Onion. The perfect vegetable pairing for enchiladas.
Garlic. Adds incredible flavor.
Sour Cream and Cream Cheese. Creating the creamy base, the sour cream helps thin out the cream cheese plus the sour tang is perfect for enchiladas.
Green Chile Enchilada Sauce. Depending on the brand you use, this can add some heat along with delicious flavor.
Low Carb Tortillas, OR for non low carb and keto use Corn Tortillas. Adds some texture to the dish.
Shredded Fiesta Blend Cheese. Is it really enchiladas without cheese?
Roma Tomatoes and Cilantro. For garnish.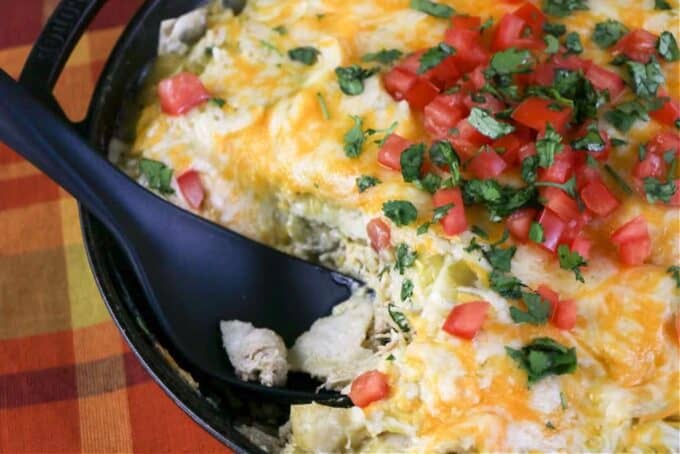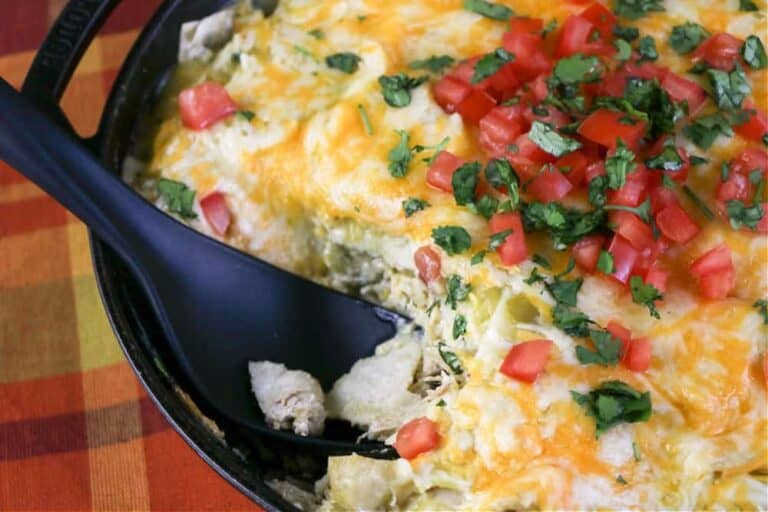 Where Can I Find Green Chile Enchilada Sauce?
Most grocery stores will sell different brands of Green Chile Enchilada Sauce in the Mexican aisle with all the tortilla shells and salsa. If you don't find it at your local grocery, check Wal-Mart or Target. Any brand will work.
Do I have to use Fiesta Blend Shredded Cheese?
Fiesta Blend isn't required, but it is a great melty option. The blend of different cheeses adds more flavor, and complexity. Fiesta Blend isn't usually spicy, so if you want to add a little kick to your enchiladas, try a blend with pepper jack or other jalapeno-infused cheeses.
What Side Dish is Tasty with Green Chilies Chicken Enchilada Skillet?
Any range of Mexican sides will be perfect alongside your enchiladas. Rice and refried beans are perfect, filling sides that won't break the bank. Tortilla chips and your favorite salsa or guacamole can add different flavors and some crunch to the meal. If you're feeling adventurous, try Mexican Cole Slaw or Mexican Sweet Potato Salad.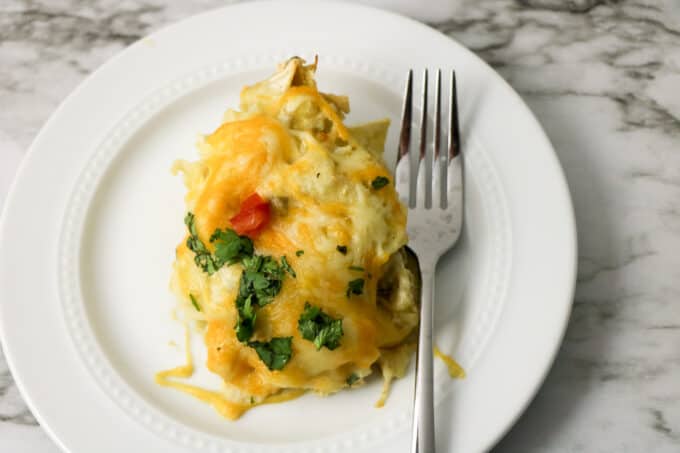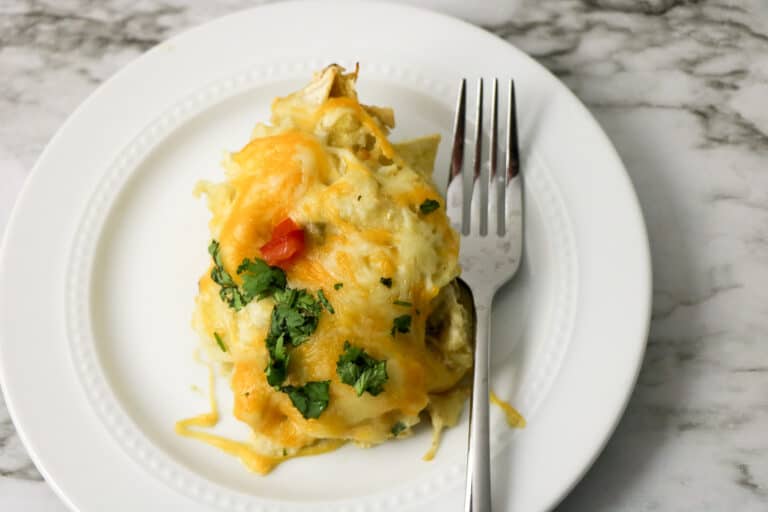 How Long Does It Take to Make the Green Chilies Chicken Enchilada Skillet?
Prepping ahead of time will save a lot of time, so the more veggies you can dice and chicken you can cook beforehand, the better. Sautéing and mixing the ingredients together shouldn't take longer than 10-15 minutes, if that. Once the skillet is ready to go into the oven, it will bake for 20-30 minutes or until the cheeses are melty and the edges are bubbly. The sides can be probably prepared while the enchiladas are in the oven.
Can I Save the Leftovers?
Enchiladas are always best straight out of the oven. If you do decide to save some leftovers for lunch during the week or even a future meal, it's easy. To eat within a few days, simply cover your enchiladas after they have cooled completely and pop them in the refrigerator. If you want to freeze them for a later meal, you can tightly wrap the pan with foil or put individual portions into freezer safe containers and freeze it for up to three months.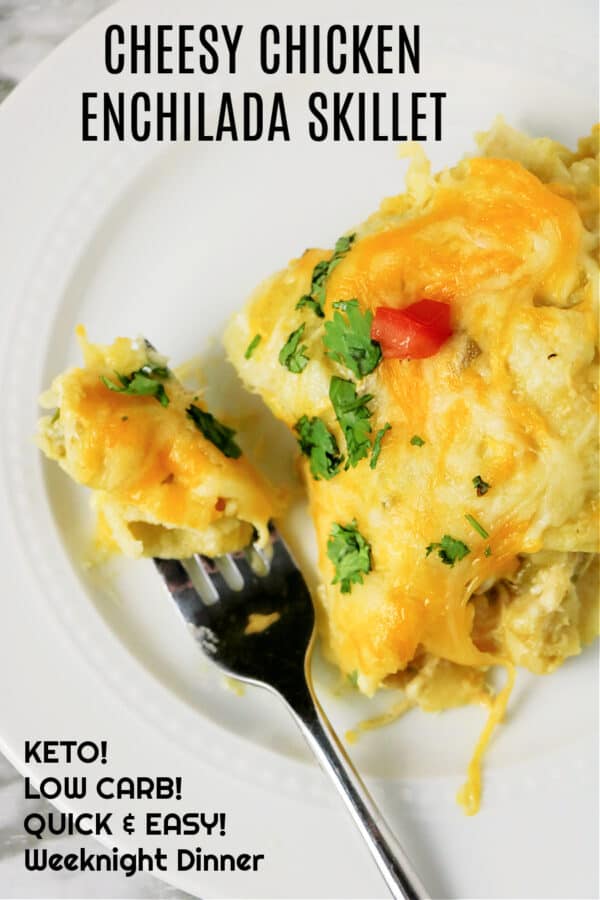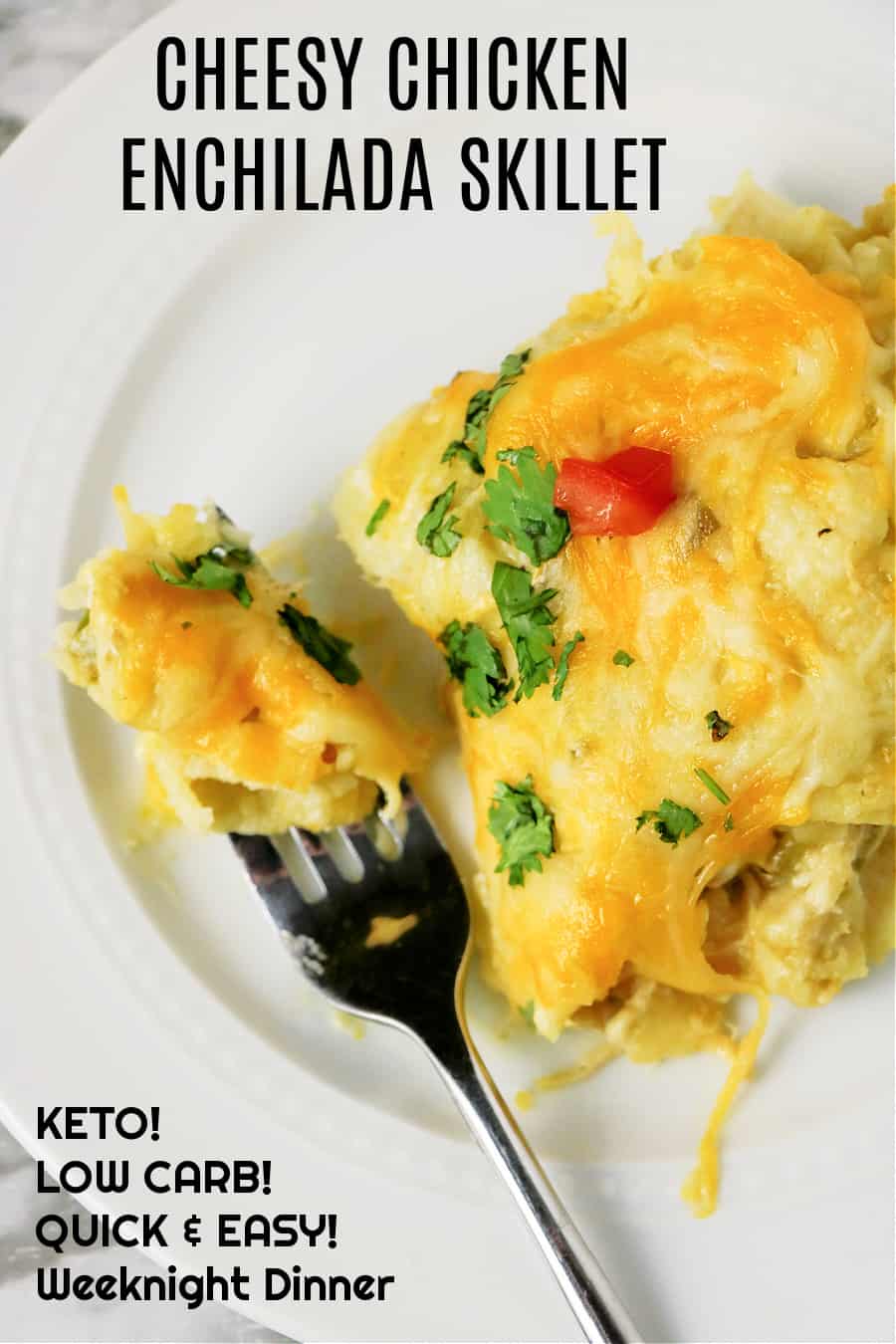 What's the Best Way to Reheat Green Chilies Chicken Enchiladas?
The best way to reheat frozen or refrigerated enchiladas is in the oven. Put the cold, foil covered dish into a cold oven and let both heat up together at 350 degrees for 20-30 minutes (about 15 minutes longer if your enchiladas were frozen) or until the center is heated through.
You can also reheat the individually portioned enchiladas in the microwave or toaster oven for a few minutes until heated through.
Other Skillet Recipes to Check Out:
Yield: 6 servings
Green Chilies Chicken Enchilada Skillet
If flavor is your thing, then your family will truly enjoy this Green Chilies Chicken Enchilada Skillet recipe. It's simple to put together and so good!
Ingredients
1 to 2 pounds boneless skinless chicken breast, boiled and coarsely chopped
1 tablespoon olive oil
1 green bell pepper, diced
1 onion, diced
1 clove garlic, minced
1 cup sour cream
1 (8 ounce) package cream cheese
1 (28 ounce) can green chile enchilada sauce
12 low carb tortillas, cut into pieces
1 cup shredded fiesta blend cheese
3 Roma tomatoes, seeded and diced, for garnish
Fresh cilantro, chopped, for garnish
Instructions
Preheat the oven to 350 degrees.
Heat a large skillet over medium high heat and add olive oil.
Saute the bell pepper, garlic, and onion, stirring occasionally, until the onion is translucent and the
pepper is tender.
Stir in the chicken, cream cheese, sour cream, and about half of the enchilada sauce.
Mix in half of the tortillas pieces, reserving the rest for the top.
After mixing the tortilla pieces with the chicken mixture, add the remaining tortillas to the top of the casserole.
Pour the remaining enchilada sauce over the tortillas and sprinkle with the cheese.
Bake for 20 to 30 minutes or until the edges are bubbly and the cheese has melted.
Garnish with diced tomatoes and chopped cilantro or green onion.






Nutrition Information:
Yield:
6
Serving Size:
1
Amount Per Serving:
Calories:

459
Total Fat:

18g
Trans Fat:

0g
Net Carbohydrates:

4g
Protein:

17g
Nutrition facts are auto- populated by the app for this recipe card, numbers may vary. For best results, input your exact brand ingredients into a recipe analyzer like Verywell or MyFitnessPal.
Keto Low Carb Chicken Green Chile Enchilada Skillet