This post may contain affiliate or paid links. See our full disclosure at the bottom of this page for more information. ............................................................................................................................................................

Easy Semi-Homemade Mini Gingerbread Cheesecakes
This recipe is for the cheesecake lovers who hate to make cheesecake homemade. It really is kind of a pain. I do agree that the No Bake version is not as good as homemade, but sometimes life gets in the way and drains every second of my free time. Sigh. Here is something those who know me, may not know about me…  I have made a lot of things in my life. Homemade cheesecake, not one of them. I get my fix by purchasing one from the bakery, a restaurant or the quick and easy No Bake.
Why gingerbread? Well, why not? I like gingerbread and it happens to be the holiday season, so we gave it a try. These are fantastic. Skip the graham cracker crust and replace it with a gingerbread cookie cup. The cold, creamy cheesecake pairs well with the spice of the gingerbread!
Here is what to do:
Preheat your oven to 350.
Prepare your favorite Gingerbread cut out cookie recipe. We used Krusteaz Gingerbread Cookie Mix.
Flour your counter, roll out the cookie dough to 1/2 inch. Use a large cup to cut out circles.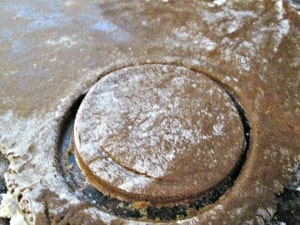 Place the cut outs into a non stick muffin tin. Shape them carefully pressing the edges and bottom.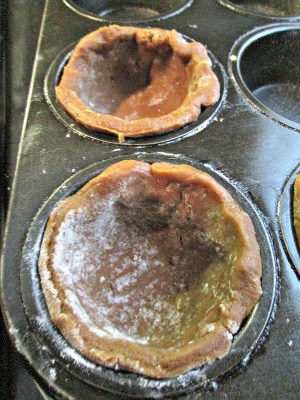 Bake on 350 for 8-12 minutes. These will raise and puff up, but will fall during cooling. Let cool completely before removing from the pan.  You may need to loosen with a butter knife. A few of mine stuck a tiny bit, but the rest fell right out.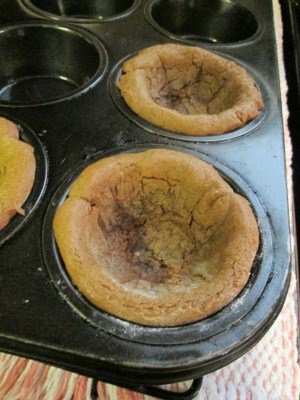 While these are cooling, Mix a package of Jello No Bake Cheesecake mix  with 1 and 1/2 Cups of Milk in a medium bowl. Once the gingerbread is cooled completely spoon the cheesecake mix into the cookie cups. Let stand in the fridge for at least an hour.
Top with whipped cream &  a sprinkle of nutmeg!
Enjoy!