White Chocolate Dipped Strawberries For Spring
Though it may not feel like it,  spring is here and I am happy to embrace it. Our snow is melting and the birds are going crazy. I have started seeds indoors and before I know it, will be working the gardens outside. One of my favorite veggies to grow is carrots. They are so sweet and juicy, nothing at all like from the store. Thinking about spring, gardens and carrots inspired me to make these cute little juicy bites.
These white chocolate dipped strawberries are delicious, cute and easy to make.  A win. win.   Give them a try!  They will make a great addition to your Easter dinner or parties.
What you need:
Pint of Strawberries, washed & dried 1 Bag of
Hershey's White Chocolate Chips
Orange Food coloring Parchment paper Cookie sheet Small microwave safe cup of water Spoon Glass measuring cup or bowl  
What to do:
Line your cookie sheet with parchment paper.  Pick out the strawberries that best resemble the shape of a carrot ( fatter at the top, coming to a point).
Melt the chocolate chips in the microwave 30 seconds at a time, mixing well each time. Visit this page for easy instructions on How To Melt Chocolate  (link opens in new window)
Add 3 or 4 drops of food coloring to melted chocolate, mix well.
Dip strawberries one at a time by holding the tops.  Allow excess to drip off the tip of the berry, place on cookie sheet.
Continue until all dipped, let cool completely.
You can reserve some chocolate to color green to create tops like in the picture above.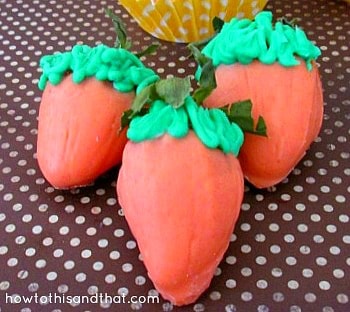 Enjoy!