These decadent oreo cheesecake layered bars are easier to make than traditional cheesecake and sure to impress your friends and family!
 Oreo Cheesecake Layered Bars
I normally shy away from cheesecake recipes. I do not own a spring form pan and the thought of using a special pan and water to get the right consistency and finished product scares the heck out of me. So I saw a video floating around of a Tiramisu recipe by Tasty.  I looked fantastic.  I thought, that looks delicious, but I bet this would also be amazing with Oreo cookies.
I liked the process of how they made "cheesecake"  in a simple pan, no special equipment or processes. It is very easy to do and not intimidating.
After a light bulb moment and a quick trip to the grocery store, they were born:
Oreo Cheesecake Layered Bars
The Tasty recipe for Tiramisu cheesecake uses A LOT of filling.  2lbs worth of cream cheese. I did not need to make a big batch like that so I cut it in half.  This recipe also uses a square 8x8 pan instead of the 13x9.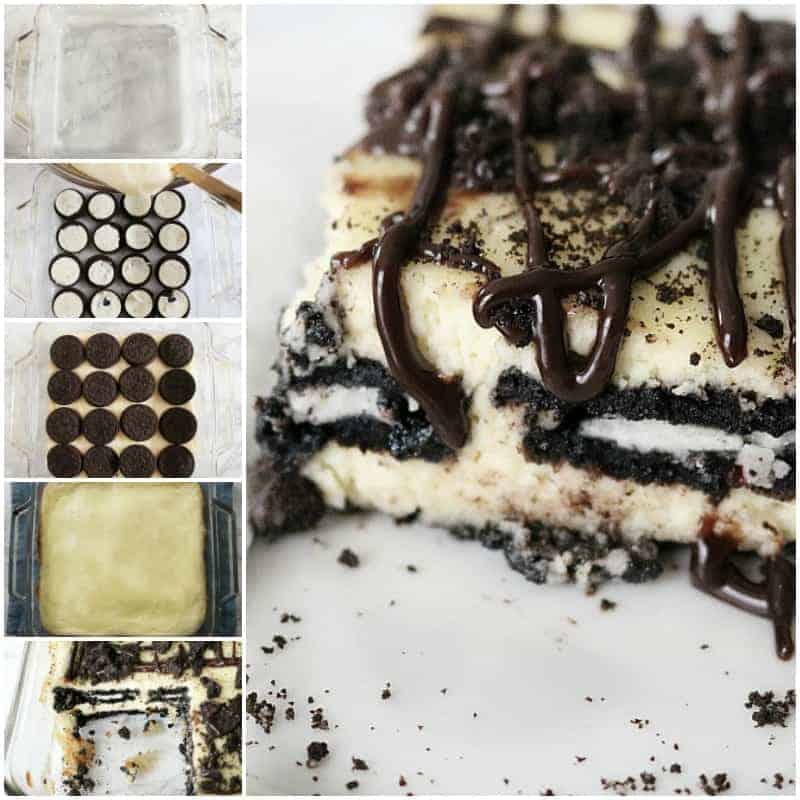 It is as simple as
Butter the pan
Place Oreo cookie halves in the bottom of the pan
Top with half the cheesecake mixture
Place a full Oreo on top
Fill with remaining cheesecake mixture.
Bake. Chill.
So simple.  You probably will get a few cracks in the top, that is nothing a little chocolate drizzle and crushed Oreos can not hide.  This dessert is for eating, not displaying!
TIP*   Be sure not to over bake. As with any cheesecake the texture will change and be rubbery.  Trust your oven and trust your gut.  If it is not jiggly anymore and is firm to the touch, it is done.
Full printable recipe below!  Enjoy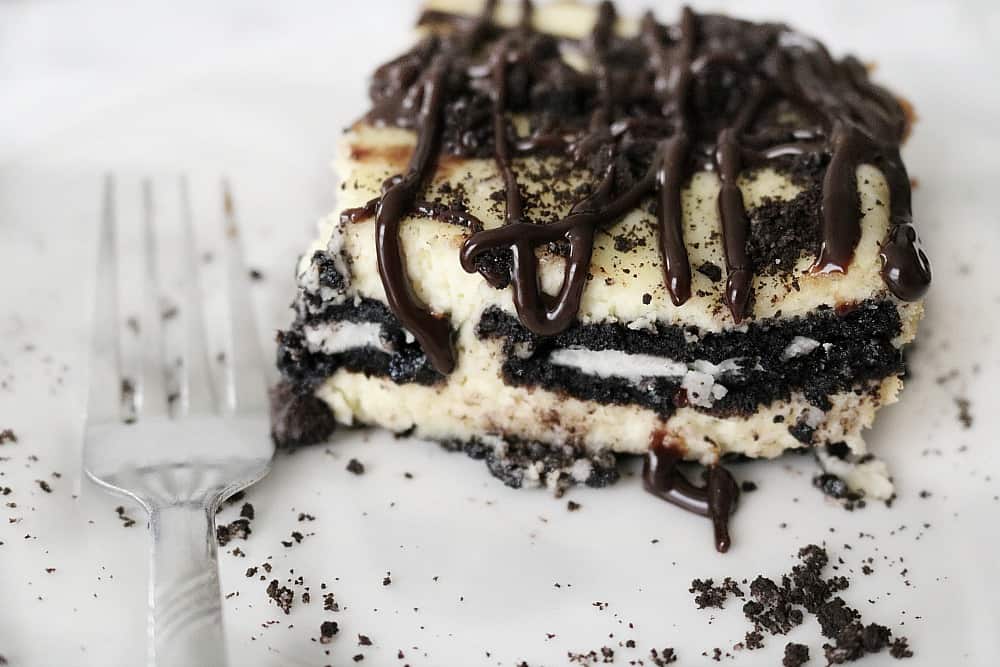 Yield: 12 bars
Oreo Cheesecake Layered Bars- Easy & Decadent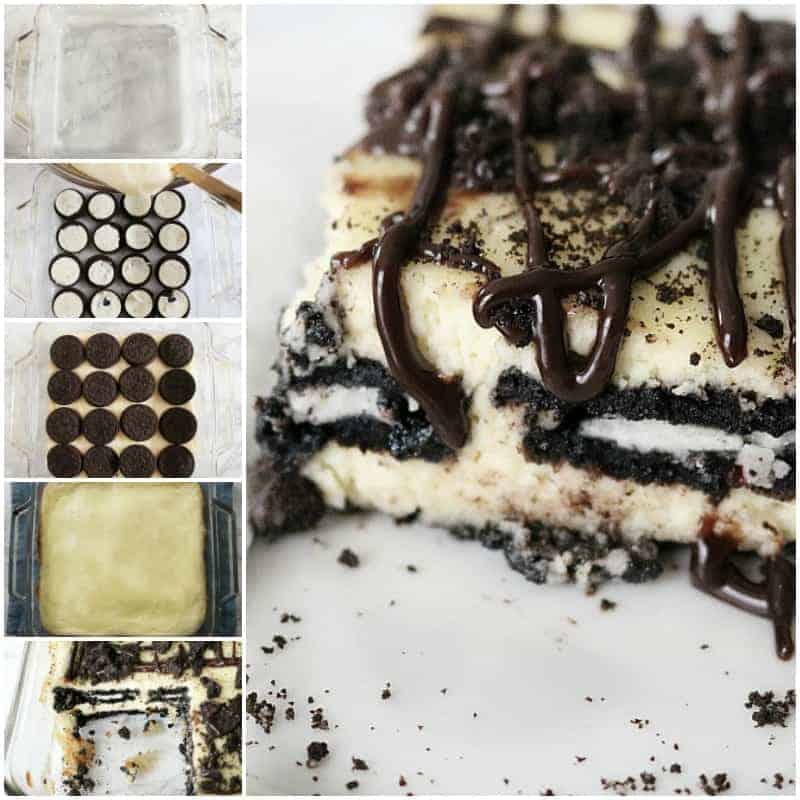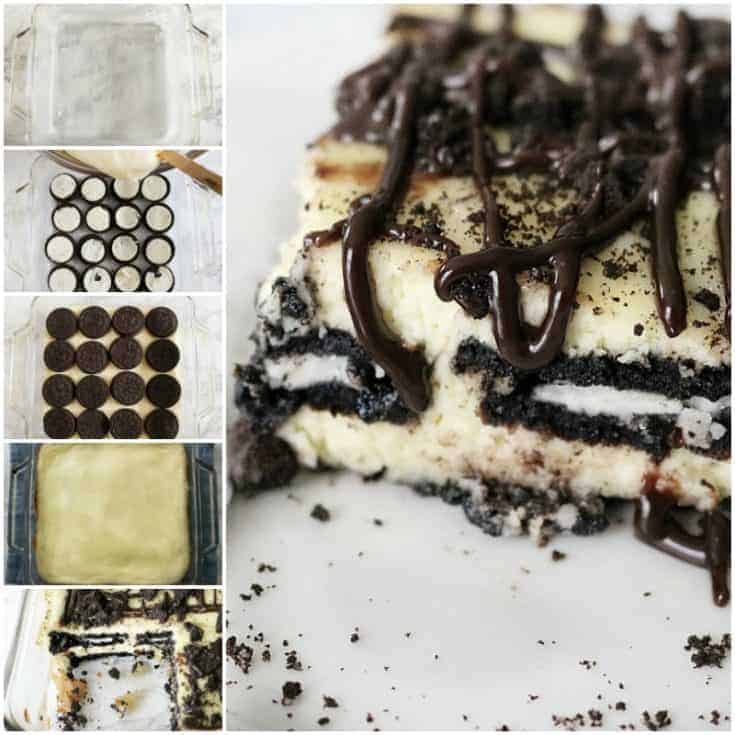 Decadent and creamy cheesecake bars layered with oreos and cream. What more can you ask for?
Ingredients
32 Oreo Cookies, we bought the family pack, I do not know if enough comes in the regular
16 oz cream cheese, softened
½ cup sour cream
2 eggs
½ cup white sugar
Hot fudge
Instructions
Preheat oven to 325. Grease an 8x8 pan.
Using an electric mixer, beat eggs and sugar until fluffy.
Add cream cheese, sour cream and mix until creamy and smooth. (Mine had some lumps, this happens when the cream cheese is not room temperature)
Layer Oreo halves (tops removed and set aside) on the bottom of the pan.
Top with half of the cheesecake mixture.
Layer full Oreo cookies and then remaining cheesecake mixture.
Bake for 40-45 mins.
Chill at least 3 hours. Over night is best.
Top with crushed Oreo tops (you had set aside) and drizzle with hot fudge.
Serve.
Nutrition Information:
Yield:
12
Amount Per Serving:
Calories:

300
Another dessert we love is this cupcake inspired by the Drake's cake-  Funny Bones Cupcakes