Keto fat bombs are a treat used to increase your fat grams for the day easily without drastically affecting protein and carb macros. They come in many flavors and types!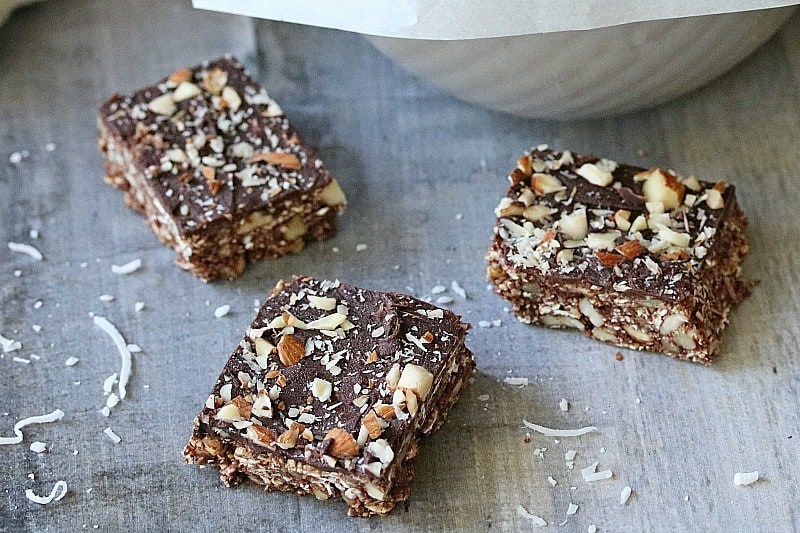 Keto Fat Bombs
A NO BAKE chocolate peppermint fat bomb bar!
Keto fat bombs are a quick and easy way to increase your fat content for the day. A keto diet is based on high fat (good fats), moderate protein and low carbs (usually under 20g a day).  It can be difficult to balance a higher fat %. A lot of keto foods that are high in fat can also be higher in protein so keeping that lower than the fat can be a challenge. Some people feel like they "need" to up their fat for the day, which is where keto fat bombs come into play.
I have seen a gazillion types of fat bombs, usually made with ingredients that have to be kept chilled or they get really soft and sometimes even melt. I wanted to create a fat bomb that would hold up a bit better so it could be packed to travel. Since there are no grains allowed on keto, oats are out. Instead, I used coconut and fatty macadamia nuts. The mint flavor is optional, I was in the mood and since it is fall here now it reminds me of the holidays.
Making our Keto Fat Bomb Chocolate Peppermint Bars
The quick version (full recipe and instructions below)
Combine the bar ingredients, press into a lined 8x8 pan. Press firmly and then place in freezer.
Melt sugar free chocolate chips with coconut oil or butter until smooth. Add the extracts.
Pour melted chocolate over the top of the bars.  Refreeze until set.
Cut into 9 or 18 bars. Enjoy!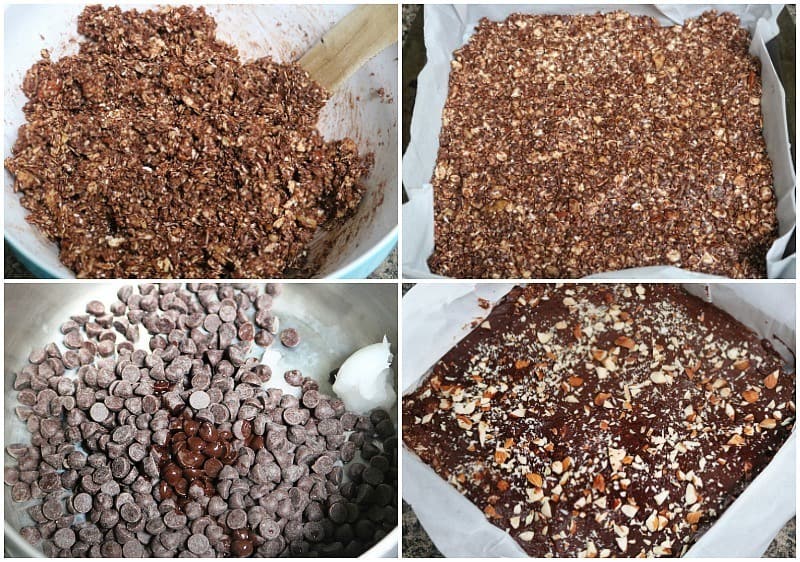 More of our amazing Keto Recipes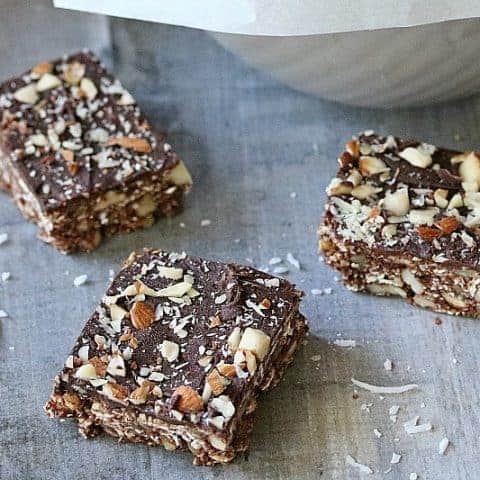 Keto Fat Bomb Bars- Chocolate Peppermint
A decadent treat that gives you the benefits of a fat bomb, but eats like a dessert. The best part? These are NO bake! 
Ingredients
1 cup Macadamia Nuts, course ground
1 cup Pecans, course ground
1 cup Unsweetened Coconut, ground fine
½ cup Swerve or Sweetener of Choice, divided in half
2 tablespoon Coconut Milk
¼ cup Coconut Oil, melted
¼ cup Cocoa Powder
½ cup Unsweetened Coconut, shredded
FOR THE TOPPING
1 tablespoon Coconut Oil or Butter
½ cup Sugar Free Chocolate Chips (prefer Lily's)
1 teaspoon Swerve or Sweetener of choice
½ teaspoon Vanilla
½ teaspoon Peppermint Extract
Chopped Almonds , Shredded Coconut for top, optional
Instructions
In a food processor, finely grind the nuts and coconut.
In a large bowl, combine the nut mixture (and ground coconut) with the remaining bar ingredients. Mix until well combined. Mixture should be wet, if not add a bit more coconut oil.
Line an 8x8 pan with parchment paper. Dump the base into the pan and use another piece of parchment to press the mixture down throughout the pan evenly.
Press down firmly- otherwise the squares will crumble.
Place the base mixture into the freezer.
Combine the coconut oil and chocolate chips in a microwave safe dish. Heat 30 seconds at a time, stir each interval, until melted.
Stir in extracts.
Remove bars from the freezer. Pour chocolate over the top. Spread evenly.
Return to freezer until set up.
Cut bars into 9 equal squares (3 rows of 3) . Squares can be cut in half, just adjust your nutrition information.
Notes
Makes 18 bars.  Cut into 3 rows of 3, then cut each bar in half.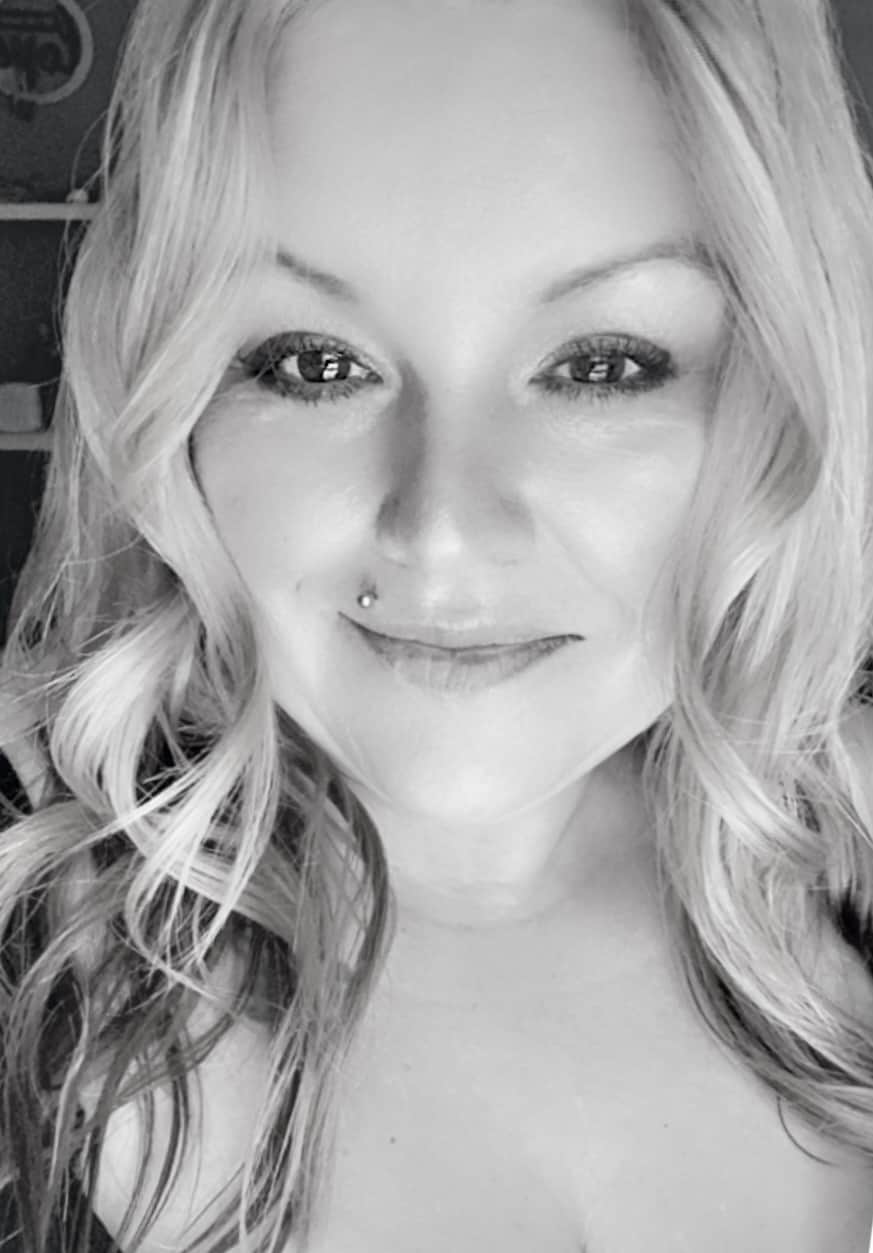 Owner & Lead Recipe Developer for It's Simple! since 2015, where you will find our best Family Favorites & Keto Low Carb Dishes with Helpful Cooking Tips & Hints in each post. Many Thanks for Stopping By, Enjoy!