Skip takeout and make your own Zuppa Toscana Soup that is going to fit into your meal plan. This is a low carb Zuppa Toscana soup that will transform your mealtime. Hearty, wholesome, and made with real ingredients. Have dinner ready in under 30 minutes!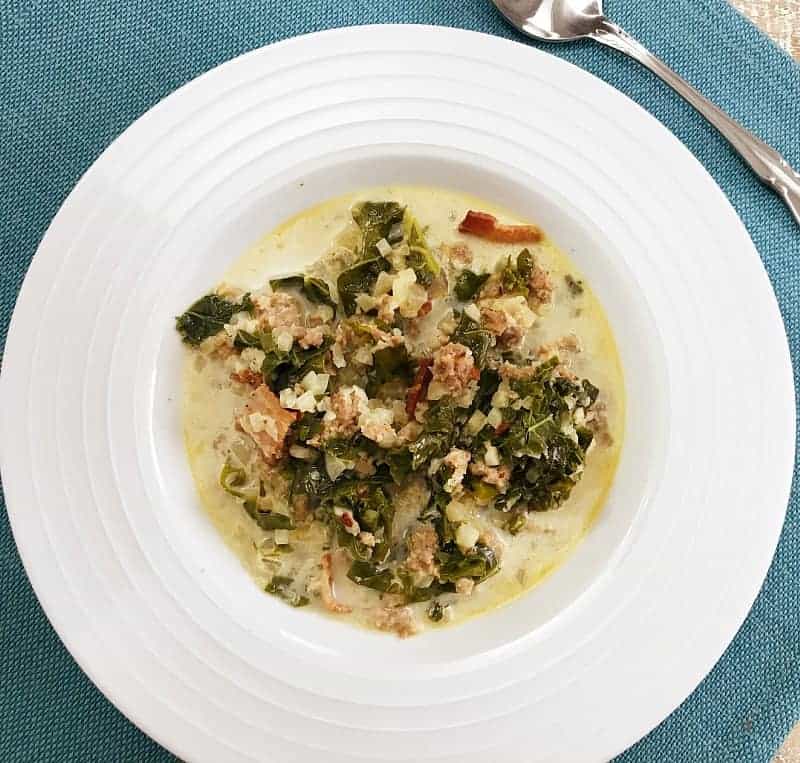 Low Carb Zuppa Toscana Soup
If you are on the hunt for an easy Tuscan soup recipe, give this recipe a try. It takes a few minutes of prep and short cook time. You can have dinner on the table in under 30 minutes with this soup recipe. The sausage and bacon add so much flavor to this soup.
Low Carb Soup
Soup season is on the horizon, so prep and get ready for the chilly weather. I have loads of soups and stews that I keep in constant rotation. This is very similar to the copycat Olive Garden Zuppa Toscana Soup, but a lighter version.
Searching for more comfort food low carb recipes
Can I Freeze Zuppa Toscana
Yes, you can freeze Zuppa Toscana. This is a freezer-friendly recipe. So if you don't plan to eat the whole batch of soup, simply let it cool down, and then freeze. I generally freeze my Toscana in a freezer friendly bag. I find it works great and uses minimal space in the freezer. Just freeze it laying flat, so that once frozen, it can stand on the side.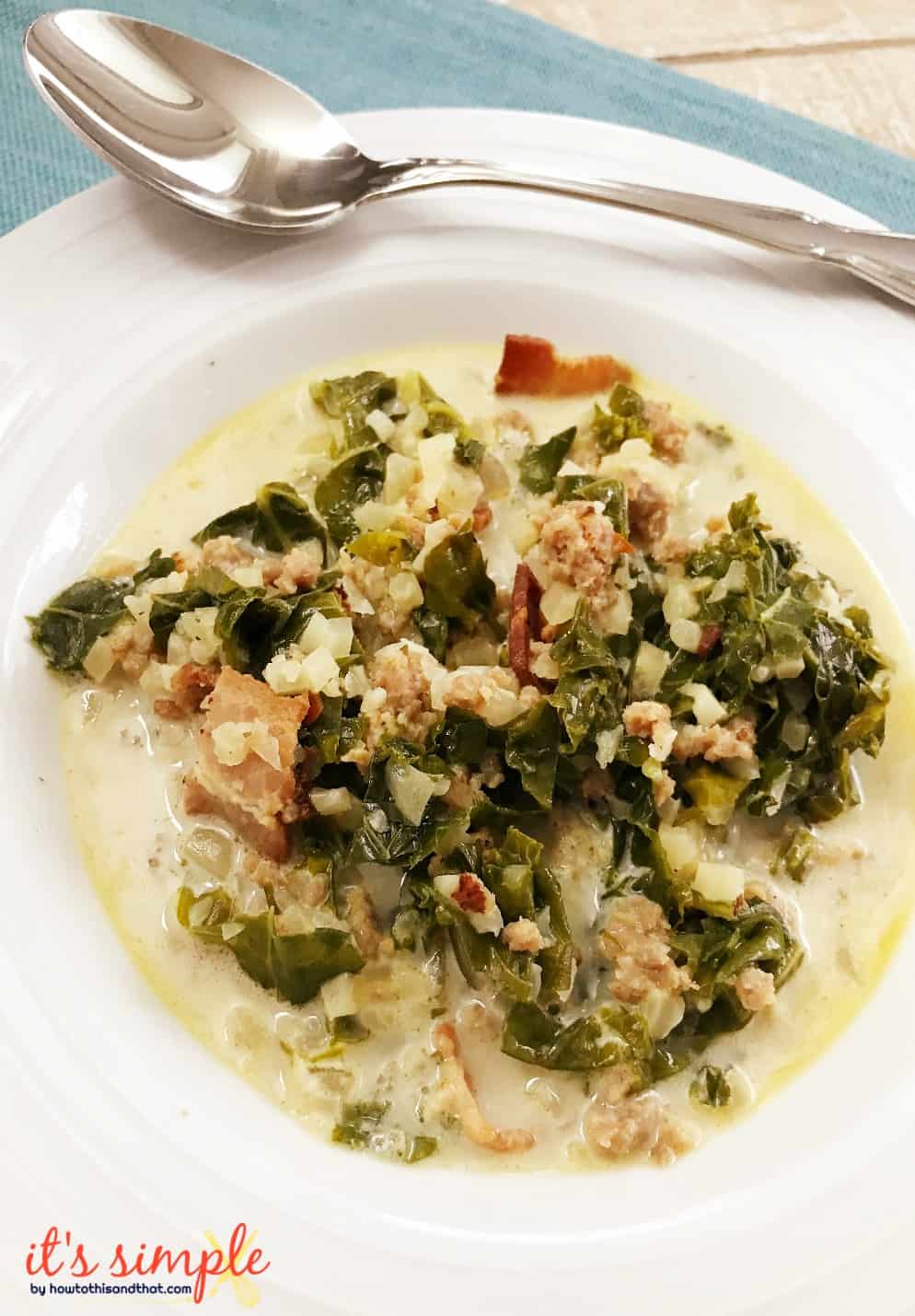 Can I Use Bone Broth Instead Of Regular Chicken Stock for Toscana Soup
Yes, feel free to use bone broth. You can buy or make your own chicken bone broth to use. It will add more nutrients and vitamins into the soup. You can also have the alternative to vegetable stock as well. Beef broth can work in a pinch but it will adjust the flavor a lot more.
How Long Does Zuppa Toscana Last in the Fridge
You will find the standard to most dishes is up to three days stored in the fridge. Anything after that you can run the of it going bad. Of course, you have the option to freeze the soup for up to three months if you don't plan to use it all right away. This helps to reduce waste. The longest I would let low carb Zuppa Toscana soup set is four days.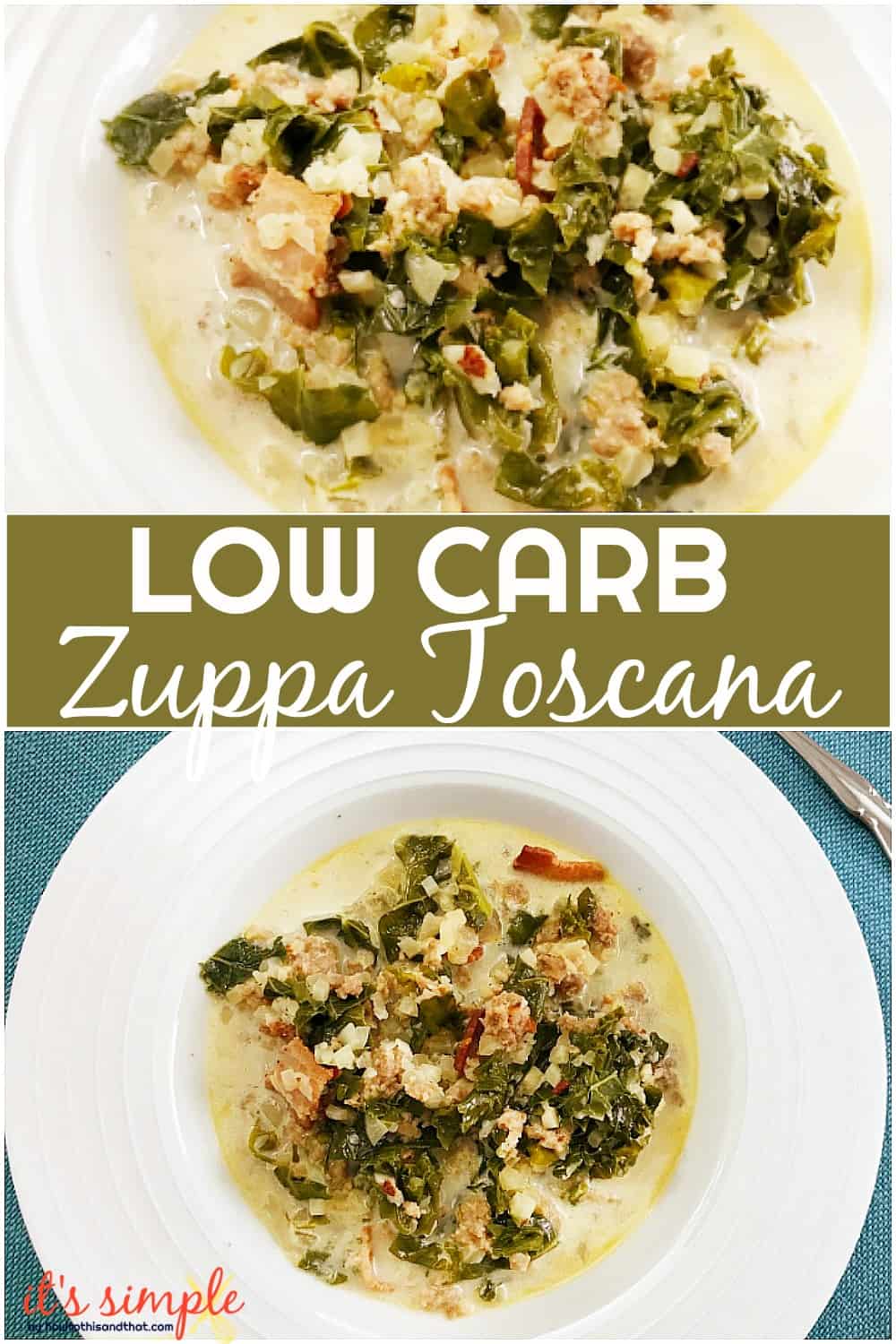 Is Zuppa Toscana Good For Meal Prepping
I love using my Zuppa Toscana Soup recipe to meal prep for part of the week. We eat it for dinner one night, and then I grab containers and spoon it into them and toss in the fridge. Then your child, spouse, or yourself can just warm up the container and enjoy. You can also use a thermos and warm it up and send with your child for lunch while at school. It is a great low carb soup recipe the whole family can enjoy.
What to Serve With Zuppa
You can eat this dish as a meal in one, or reach for your favorite sides. A crisp green salad with a light vinegarette dressing is good. Or reach for keto bread or some other type of low carb bread to serve next to it for dipping. Pair anything with your Tuscan soup recipe that sounds like a good fit!
Give this low carb Zuppa Tuscano soup a try and let me know what you think!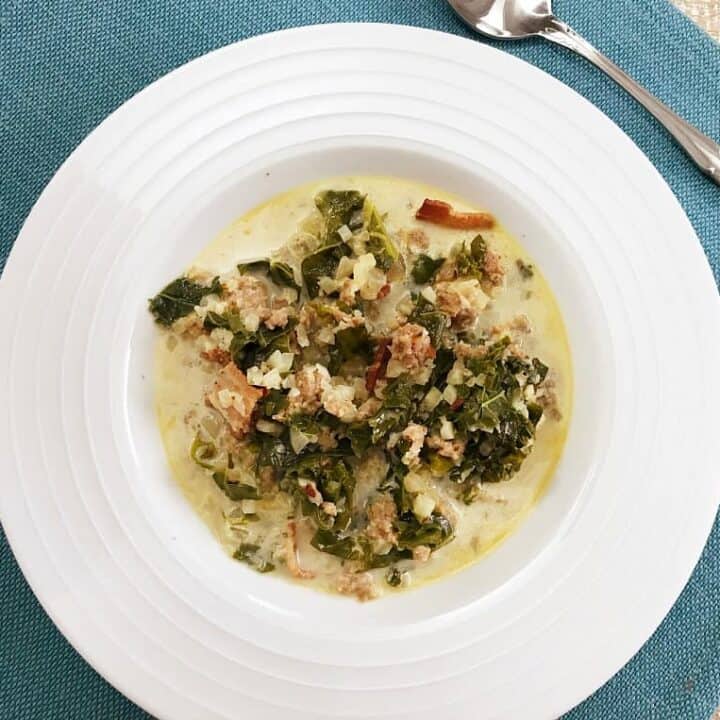 Low Carb Zuppa Toscana
A delicious hearty classic soup made low carb approved by ditching the potato. Your whole family will enjoy this version!
Ingredients
1 package (6 sausages) mild Italian sausage, casings removed
6 strips bacon, chopped
1 onion, diced
1 (32 ounce) carton chicken broth
1 bunch kale, stems removed and coarsely chopped
1 (12 ounce) package frozen riced cauliflower
1 teaspoon garlic powder
¼ teaspoon salt
¼ teaspoon black pepper
½ teaspoon crushed red pepper flakes
¾ cup heavy whipping cream
Instructions
Heat a stock pot over medium high heat. Add italian sausage and brown
well, chopping into small pieces. Remove italian sausage with a
slotted spoon and drain on paper toweling. Keep warm.
Add bacon to the stock pot and brown
until crisp. Remove from the pot with a slotted spoon and drain on
paper towel.

To the grease in the pot, add the
onion and saute until tender, about 5 minutes, stirring often.
Add chicken stock to the pot and
scrap the bottom with a wooden spoon to deglaze and remove the cooked
on bits.
In the pot, add the cooked Italian
sausage, kale and seasonings. Bring to a boil and reduce heat to
medium. Simmer for 5 to 10 minutes or until kale is tender.
Stir in the heavy whipping cream
until blended. Add the riced cauliflower LAST to ensure it holds up
and does not become mushy. Heat through.
Serve topped with crumbled bacon and
grated Parmesan cheese.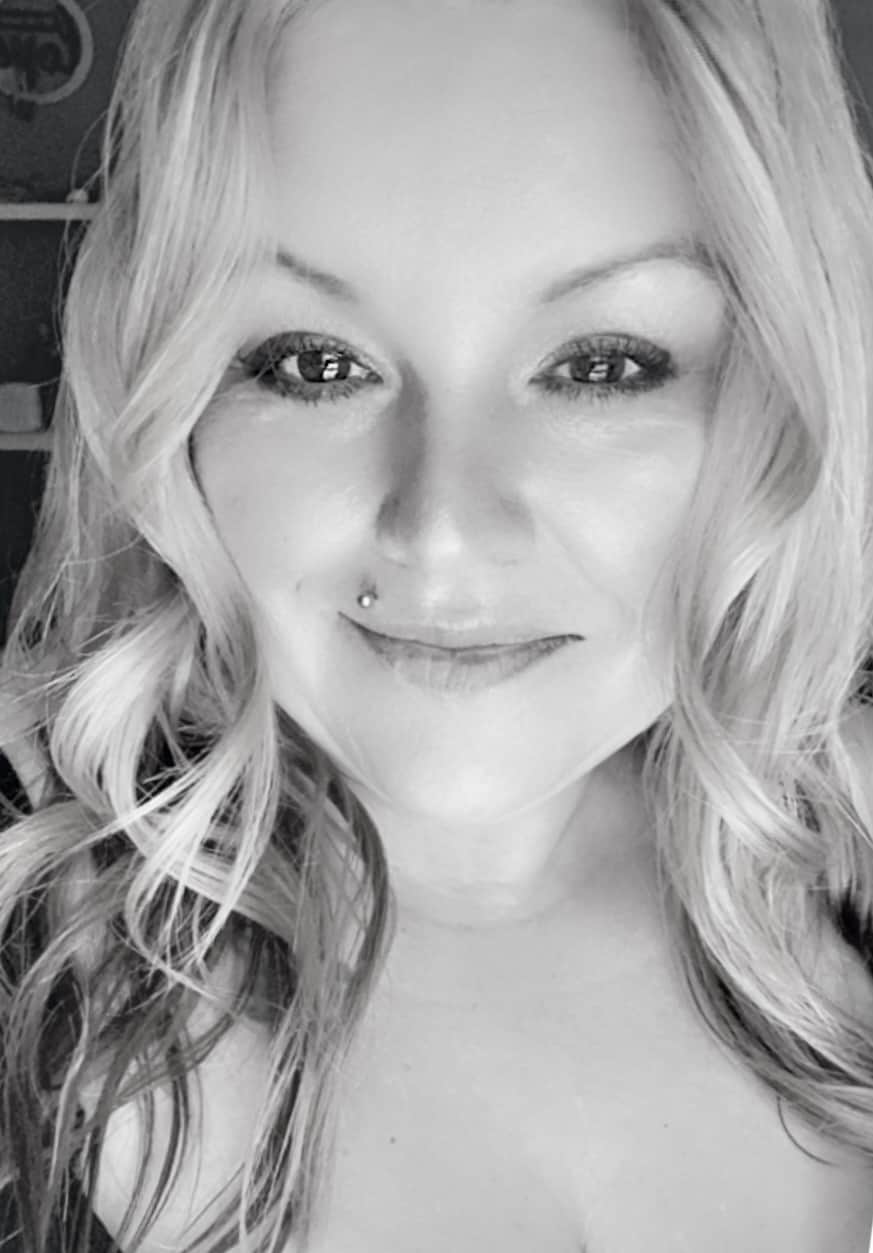 Owner & Lead Recipe Developer for It's Simple! since 2015, where you will find our best Family Favorites & Keto Low Carb Dishes with Helpful Cooking Tips & Hints in each post. Many Thanks for Stopping By, Enjoy!