This post may contain affiliate or paid links. See our full disclosure at the bottom of this page for more information. ............................................................................................................................................................
This Low Carb Chocolate Chip Cookie Recipe is sure to kick your craving for dessert without any blood sugar spike or getting kicked out of ketosis!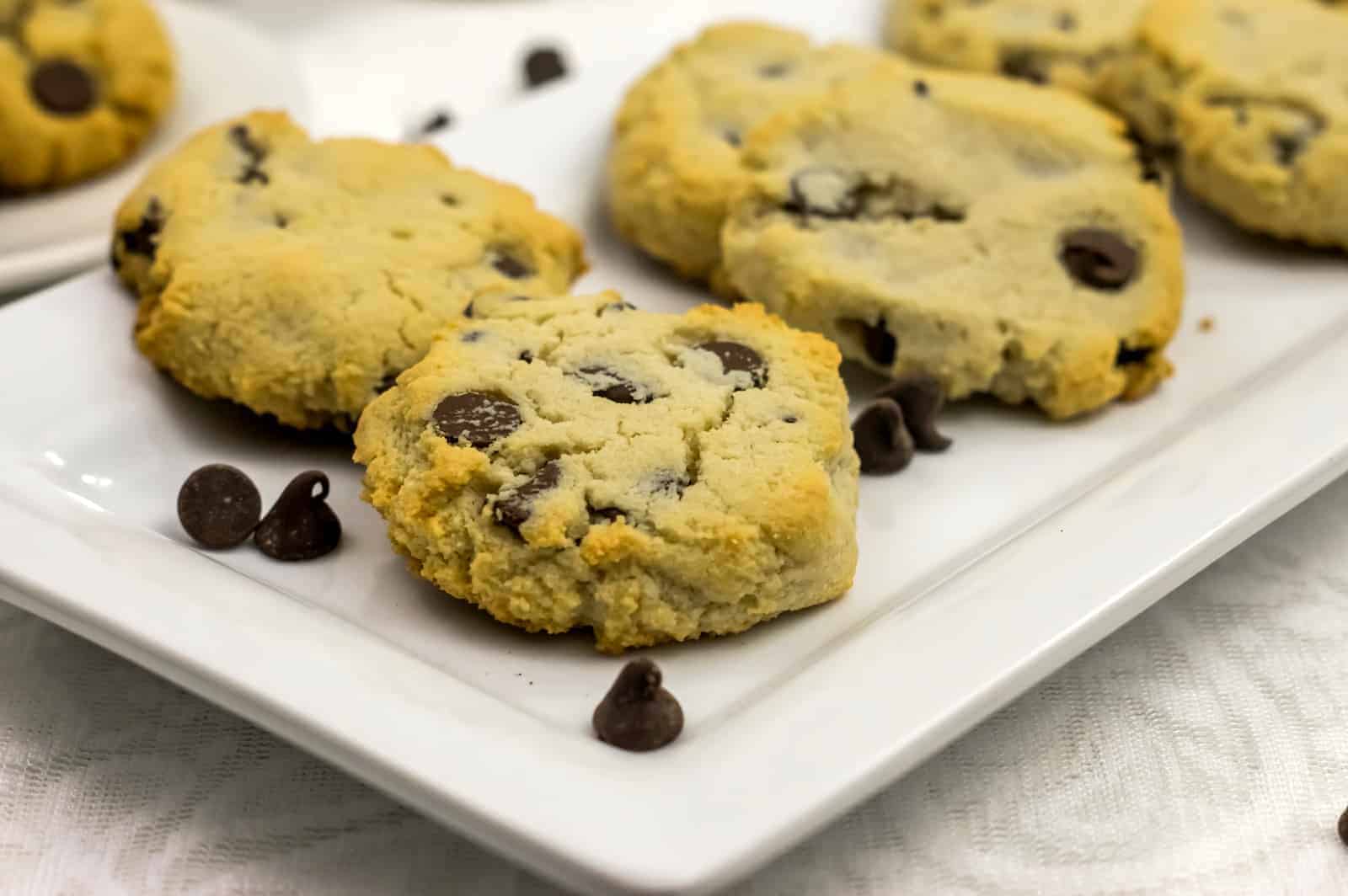 Low Carb Chocolate Chip Cookie Recipe
One thing I totally missed when I went low carb was chocolate chip cookies. My husband is a cookie fanatic and would eat them in front of me all the time. I just had to create a recipe that would cure my craving…….. and taste good.
Right off, I noticed that coconut flour is not the way to go when baking. I'm sorry, some of you may love it. I don't. It takes longer to bake, soaks up all kinds of liquid and just doesn't seem to crisp up. Almond flour is my go to and I use it for everything.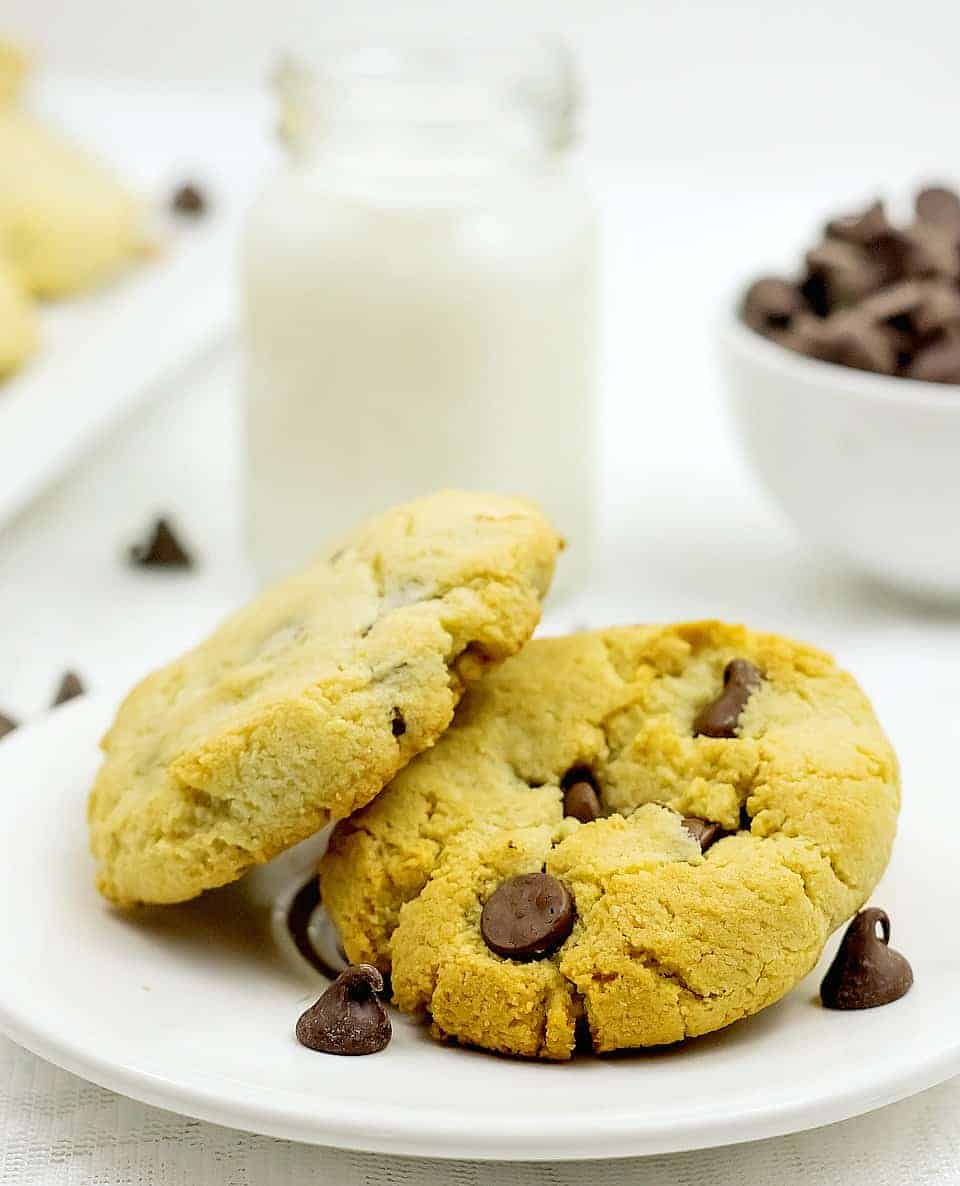 To make these cookies, the process is no different than any other cookie recipe. I personally don't use two bowls when I bake. The way I figure it is simple-  if I was using a stand mixer it would all go in one, right? Enjoy!
Low Carb Chocolate Chip Cookies
Makes 1 dozen.  Serving size – 1 cookie.
Ingredients
1/4 cup Lakanto Gold Sweetener  (The BEST no after taste sweetener ever!!) Use Code MELISSA20 at checkout to save!
1 teaspoon baking powder
1/2 teaspoon baking soda
1/4 teaspoon salt
4 tablespoons butter, melted
2 teaspoons vanilla extract
1 large egg, beaten
2 cups blanched almond flour
1/2 cup sugar free chocolate chips ( Recipe analysis does not include the chocolate chips, the brand I used was not listed as an option)
To make keto friendly simply skip the sugar free chocolate chips, they have artificial sweetener.  Use 80% cacao chocolate chunks instead.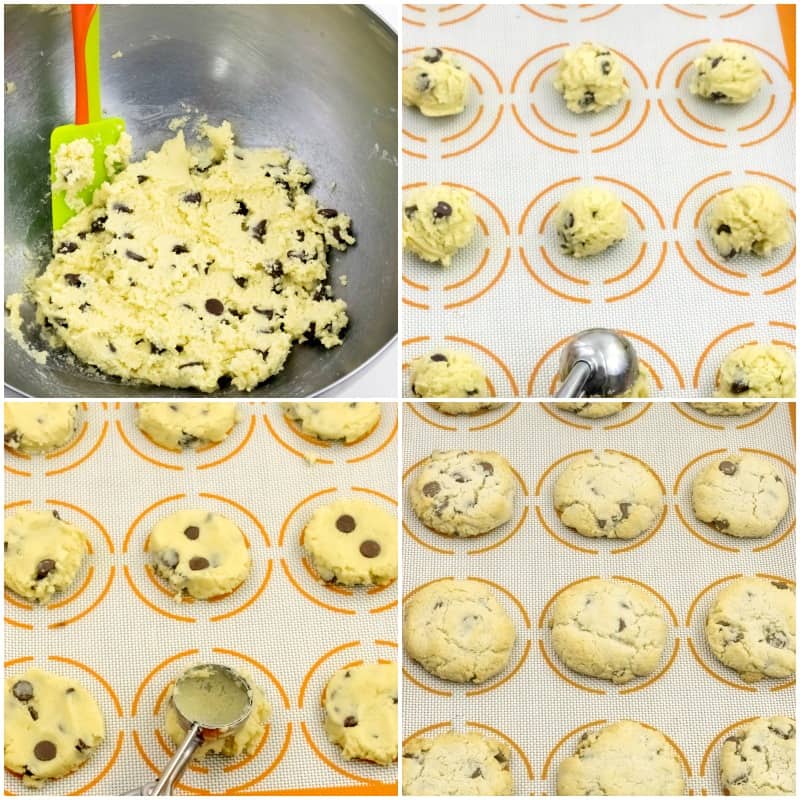 Instructions
Preheat the oven to 325º.
In a large bowl with electric mixer,  beat egg, butter,  sugar substitute and vanilla until creamy.
Mix in dry ingredients.
Spoon onto baking mat or cookie sheet.
Bake for 12-15 minutes or until golden brown and set.
Move to cooling rack to cool.
NOTE*   nutrition facts below state "serving size 12" ,  that is incorrect.  The app is set up a bit odd, the serving size and numbers listed is for  ONE COOKIE.   The recipe makes 12.