Chicken Fajita Casserole is a quick and easy 30 minute dinner recipe to keep in your weekly dinner rotation. A family friendly dish this keto chicken fajita casserole is low carb, but feels like a guilty pleasure. Packed with the traditional flavors of fajitas, you won't miss the tortillas. Top it with sour cream and even avocado for an extra punch!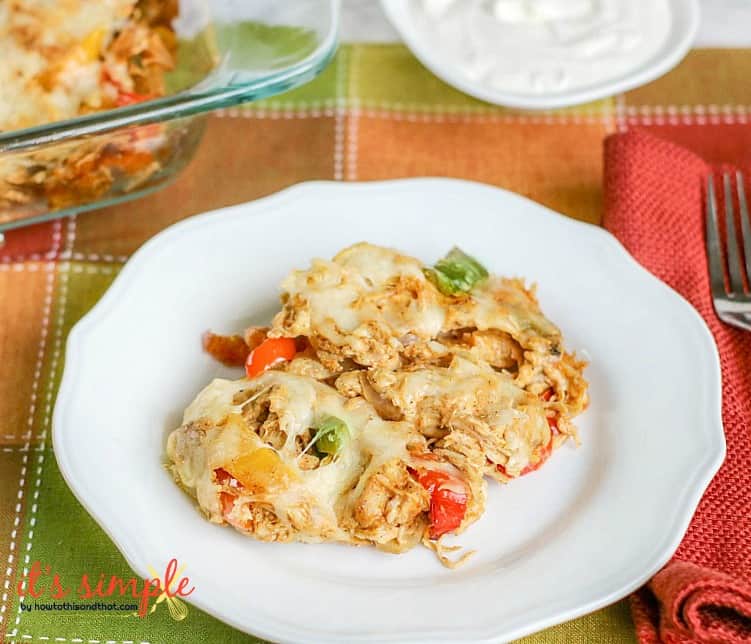 Fajitas are always welcome in our home. But, living a low carb diet, eliminates tortillas. Granted there are low carb tortillas that work great for spooning in your fajita mixture, but why not try something different? Because I prefer to keep my extra carb allowance for something sweet, I am ok with a tortilla free casserole.
Chicken Fajita Casserole
Sometimes the family craves creamy, comfort food dishes. And, you know - a savory dish that makes you think you're being really bad? Personally I try to stay away from that type of dish, my mind has a hard time processing that it was not as guilty as I thought. Well, That is exactly what this chicken casserole dish brings to the table.
Fajita seasoning, Monterey jack cheese, shredded chicken, onions, peppers and more come together for one outstanding easy weeknight meal.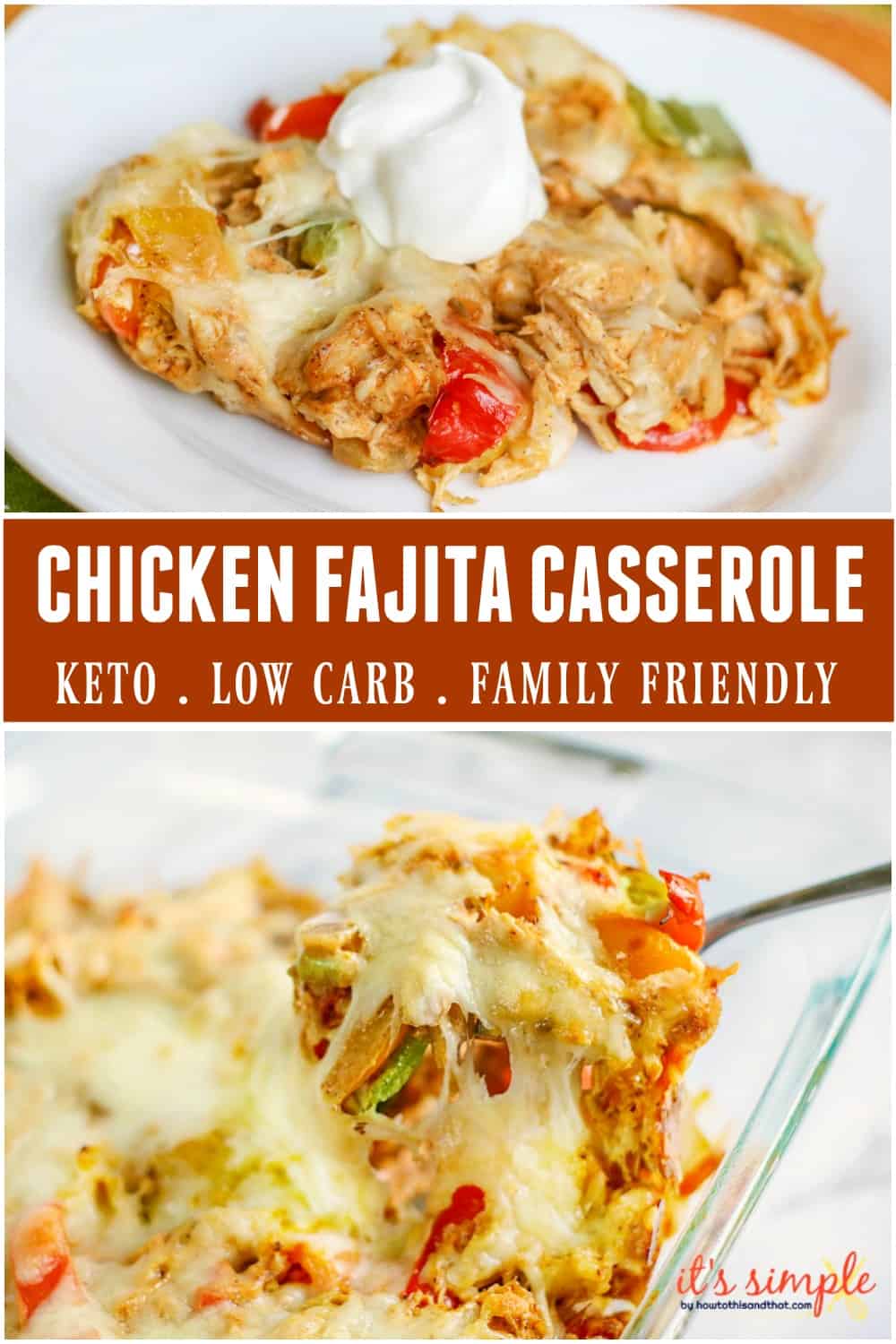 Is Chicken Fajita Casserole Keto Friendly
Yes! This is a naturally ketogenic diet recipe that tastes great and is low carb. A keto recipe you will want to write down or print out for those times you crave Mexican dishes! And, bonus- like we keep saying... the family will eat this. How often do you have to cook two different meals because they won't eat your low carb version? Not with this!
Is There Rice In This Fajita Casserole
No. We left it out to make it low carb approved. But, if you want it to be a bit heartier, add in some cooked rice or if you want to stick with low carb, use cauliflower rice. Stir in and bake as directed.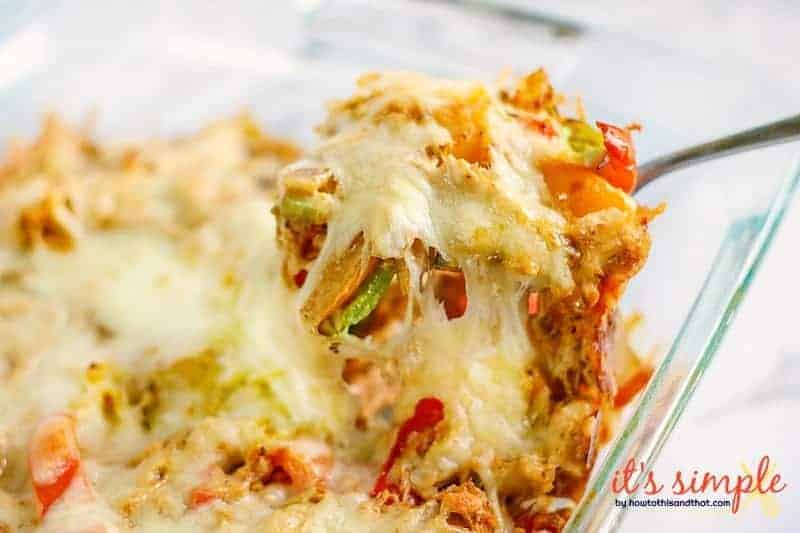 Why Type Of Chicken Do You Use For This Fajita Recipe
For this recipe I cooked chicken breast then shredded it. You can use leftover rotisserie chicken, pull the frozen shredded chicken from the freezer, or whatever you would like. Just make sure the chicken isn't overly seasoned or it will affect the flavor.
Here is a super helpful tip for those of you with an instant pot. My super easy go to when I need chicken shredded for a dish is to use Hannaford (our local grocer) frozen chicken breast tenderloins right from frozen. Place in the instant pot with a little water and any seasonings you want, set to MANUAL for 12 minutes. Boom. Done. Breaks up with no effort.
Is This A 30 Minute Dinner
Yes! 10 minutes of prep and 20 minutes of cook time is all it takes. You have that incredible casserole ready to dish up to your family or guests with little to no effort on your part!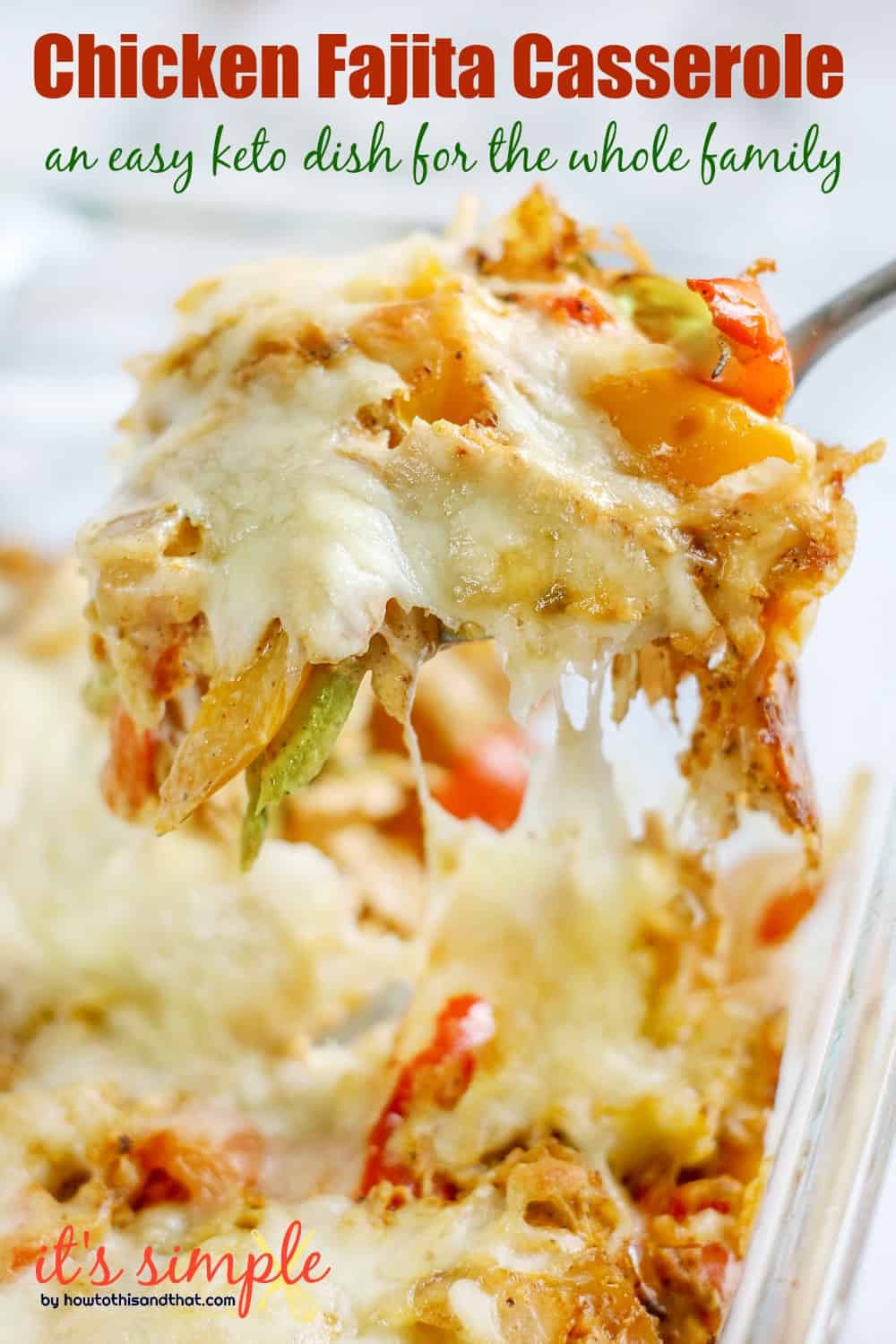 Looking for more Mexican Recipes
20 Minute Mexican Stew | Another super fast but satisfying Mexican dinner that is calling your name. Loads of vegetables in a creamy and hearty broth.
Taco FauxTato Salad | A twist to a classic potato salad with a taco spin. Great for making as a side dish or bringing as a potluck to your next cookout!
What Type of Peppers Are Best For Fajitas
I like to use green, red, orange, or yellow bell peppers. If you are looking for a fun presentation do a variety of colors, or just stick with the classic green bell pepper. Green offers a more savory flavor while red, orange, and yellow are a bit sweeter in flavor.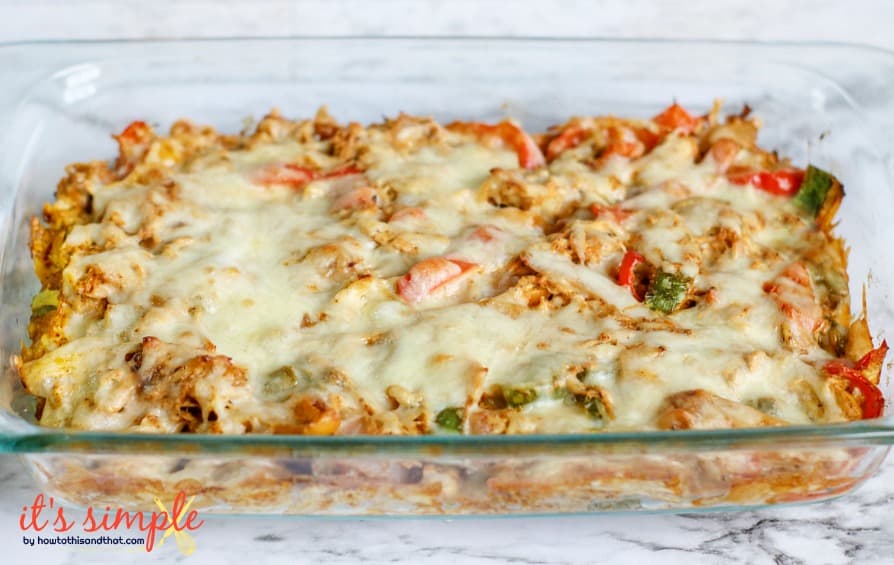 Can I Use Homemade Fajita Seasoning
Of course. If you have a favorite fajita seasoning that you make at home, go ahead and whip that up. We used a store bought seasoning packet for quick and easy prep. But at times I will make a homemade fajita seasoning and keep it on hand for recipes like this where I can toss it in and go.
Can I Swap Chicken With Steak
Sure. What I recommend though for steak is cooking it up in a skillet before baking. Sometimes leftover steak can change in flavor, so you will get a better dish if you cook the steak fresh. Just slice it thin and then cook until done and follow directions as directed in the recipe card.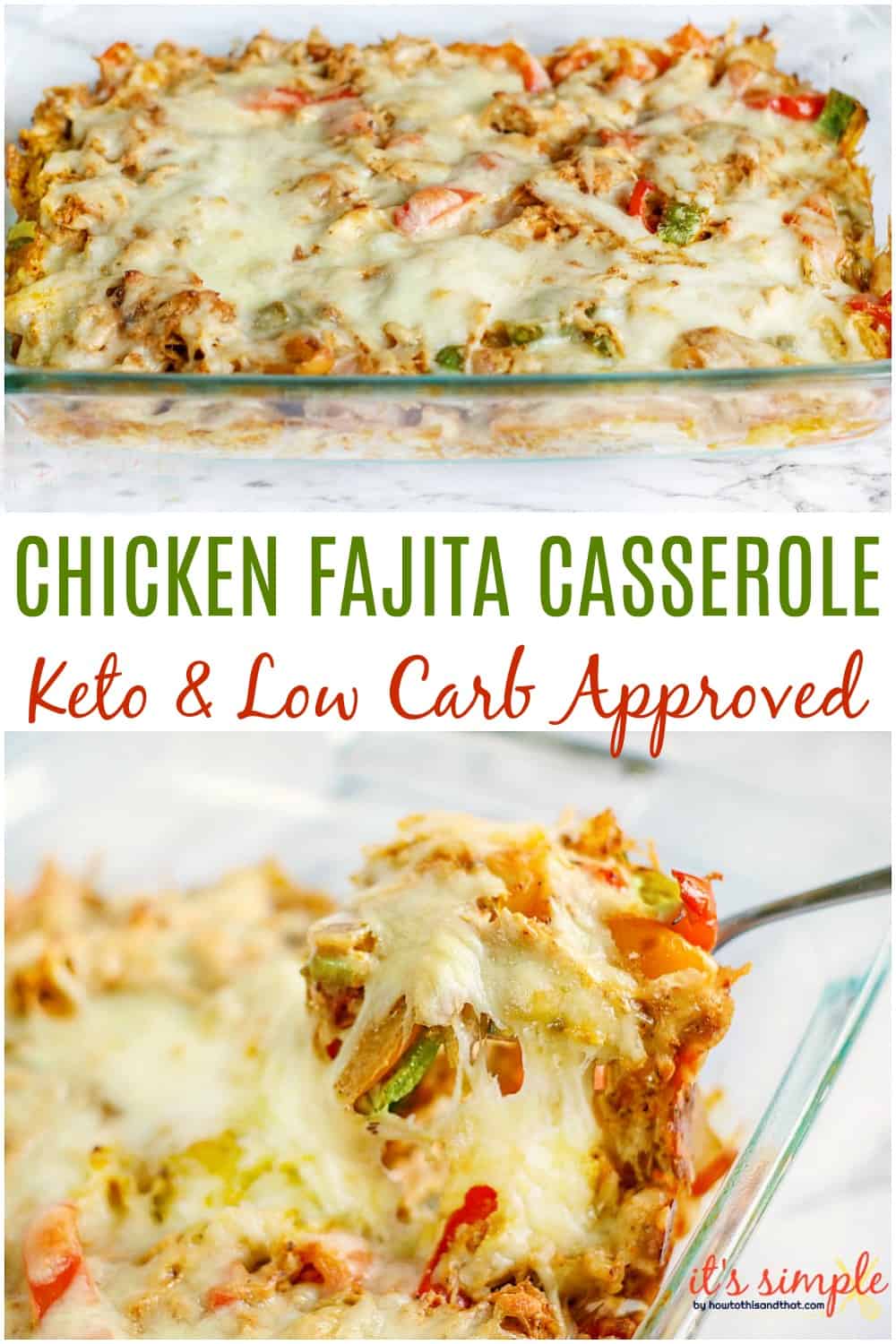 How To Store Leftover Chicken Casserole
Store any leftover chicken casserole in the fridge. This will store for up to three days. Just reheat in the microwave or reach for reheating in the oven when you are ready to serve up more. Use your best judgment in terms of when the casserole needs to be tossed out.
Making our chicken fajita casserole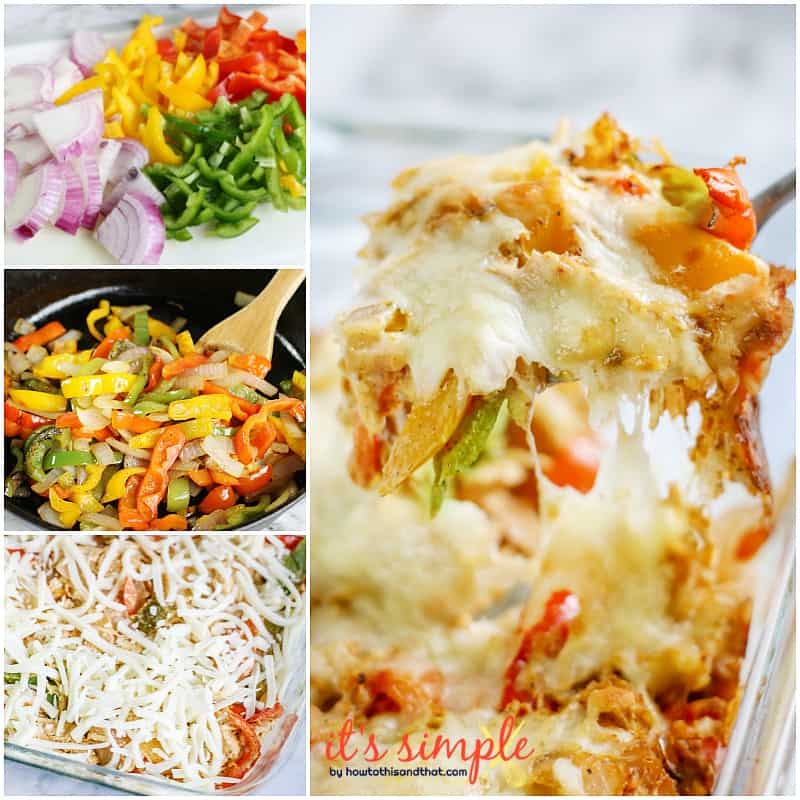 Yield: 8-10 Servings
Chicken Fajita Casserole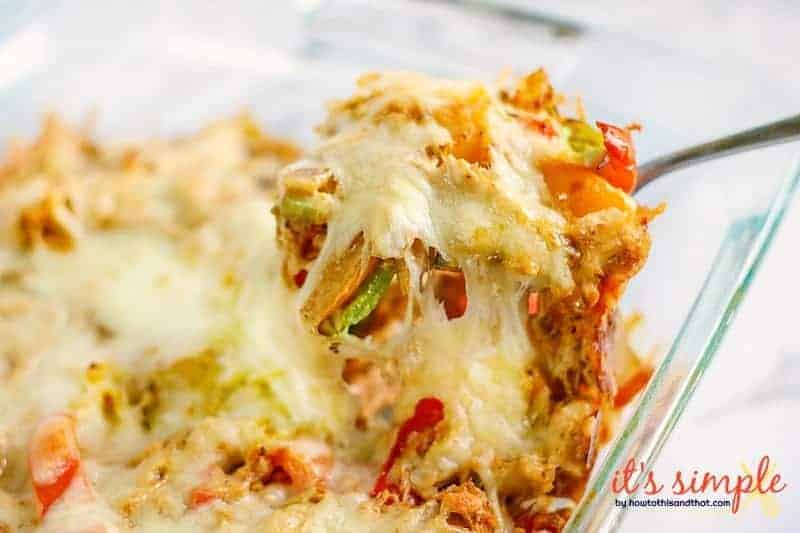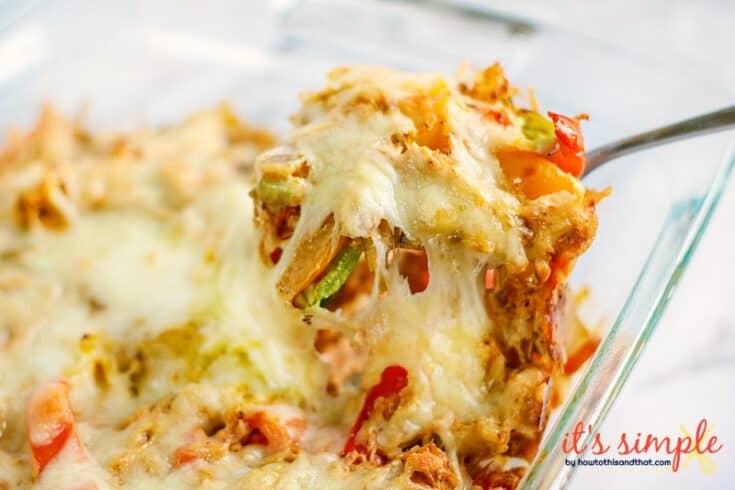 A super easy , hearty chicken casserole that is sure to please the entire family! Naturally keto chicken fajita casserole is loaded with all the flavors of traditional fajitas.
Ingredients
2 chicken breasts, cooked and shredded
2 bell peppers, seeded and sliced
1 large onion, sliced
1 (8 ounce) package cream cheese, room temperature
1 packet Fajita seasoning
1 tablespoon Olive Oil
8 oz monterey jack cheese, shredded
Instructions
Preheat oven to 350 degrees.
Prepare a 9x13 casserole dish with non-stick cooking spray.

Heat a non stick skillet over medium high , drizzle with Olive oil.
Add cooked chicken, peppers and onions. Saute on high heat to get a nice sear on the meat and veg (about 1-2 minutes) for added flavor! Remove from pan.
Mix the cream cheese and seasoning packet into skillet until melted, add chicken and veg back to pan, mix well to coat evenly.
Add to casserole dish, top with cheese.
Bake 20 minutes or until cheese is golden and bubbly.
Notes
If you wish to skip the skillet step simply add the cooked chicken with the raw peppers and onions Mix the fajita packet into the softened cream cheese, drop dollops over the chicken and veg. Cover with foil and bake on 350 for 10 minutes.
Remove from oven, mix well, cream cheese will be melted enough to coat even and be creamy. Return to the oven , Uncovered and continue baking for 20 min or until cheese is bubbly.
Nutrition Information:
Yield:
8
Serving Size:
⅛ of pan
Amount Per Serving:
Calories:

209
Total Fat:

13g
Trans Fat:

0g
Carbohydrates:

6g
Net Carbohydrates:

4g
Fiber:

2g
Protein:

17g
Nutrition facts are auto- populated by the app for this recipe card, numbers may vary. For best results, input your exact brand ingredients into a recipe analyzer like Verywell or MyFitnessPal.