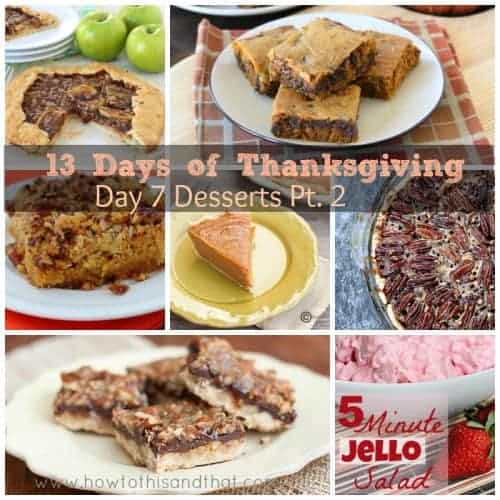 13 Days of Thanksgiving Day 7 -  Desserts Part 2
What would Thanksgiving be without dessert?  Boring, if you ask me. I am a pretty big dessert fan. Pecan and pumpkin pies are my favorite.  I have also had these amazing pecan bars, of course I can not for the life of me find the recipe now.  SIGH!  What is your favorite Thanksgiving dessert?  Tell us below!
Try these out and let us know what you think.
Pecan Cookie Bars From Broma Bakery
Pumpkin Pie Cake From Six Sisters Stuff
Pumpkin Pie From Baked Perfection
Sweet Potato Pie From Buns In My Oven
Apple Cinnamon Crumble From Two Peas & Their Pod
A Loverly Pecan Pie From Broma Bakery
5 Minute Jello Salad From Six Sisters Stuff
Pumpkin Chocolate Chip Bars From Two Peas & Their Pod
Chocolate Caramel Pecan Shortbread Bars From Buns In My Oven
Apple Toffee Galette From Two Peas & Their Pod