This brined roast turkey is an incredibly juicy, crispy skin, and perfectly seasoned. This roast turkey is a fantastic keto Thanksgiving turkey recipe to feed a crowd. This is my go-to roast turkey recipe that is tried and true.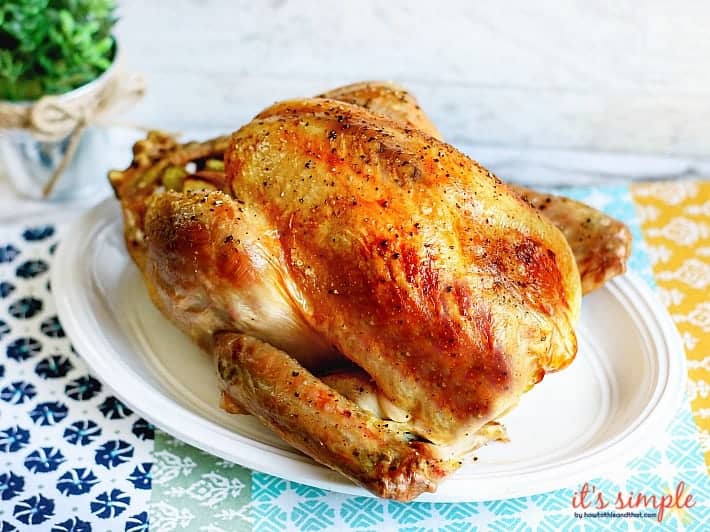 Roasted Turkey
Can you believe that fall is here and soon we are going to be in full swing of the holiday season? Thanksgiving and Christmas are approaching, and if you are in charge of the turkey this year, consider this recipe! Or roast turkey for a weeknight meal, and enjoy leftovers for sandwiches, casseroles and more. This oven roasted turkey is simple ingredients that offer loads of flavor.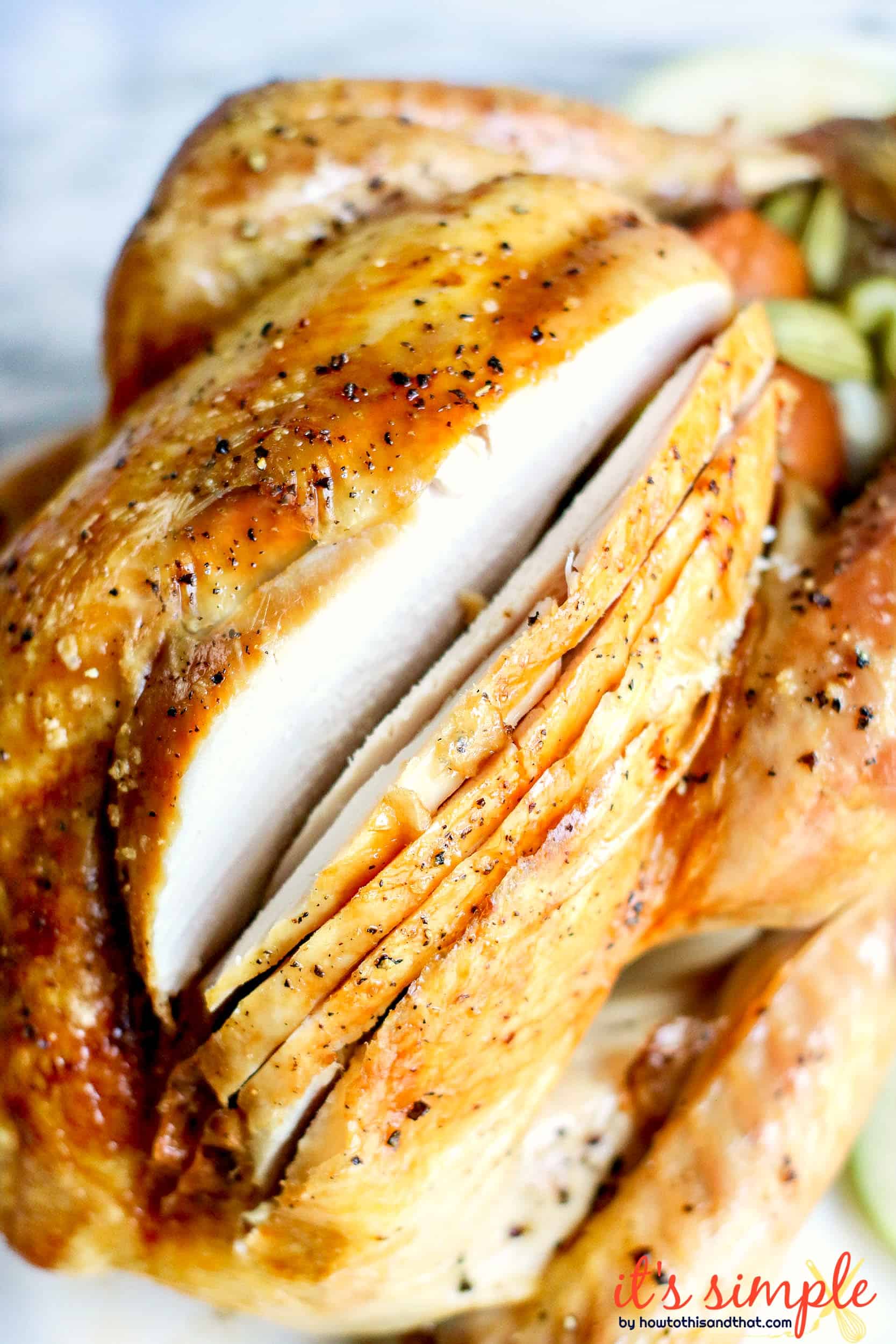 How To Thaw A Turkey
If you are buying a frozen turkey, the first thing is the thawing process. You will find thawing your turkey in the refrigerator is the best bet. You will need to thaw yours for a 24 hour period per 4 pounds. So if you have a 12-pound bird it will take 3 days to thaw. So make sure to factor in the time for proper thawing.
How Long Does It Take To Oven Roast Turkey
Depending on the size of your turkey it will depend on the time you need to cook your keto roasted turkey! Here are some guidelines to help you gauge a timeframe. Now, make sure that you ensure the turkey is fully cooked, use this as a guide. The minimum temperature for a turkey needs to be 165 degrees, internal temperature.
10 to 18 pounds 3 to 3-½ hours
18 to 22 pounds 3-½ to 4 hours
22 to 24 pounds 4 to 4-½ hours
24 to 29 pounds 4-½ to 5 hours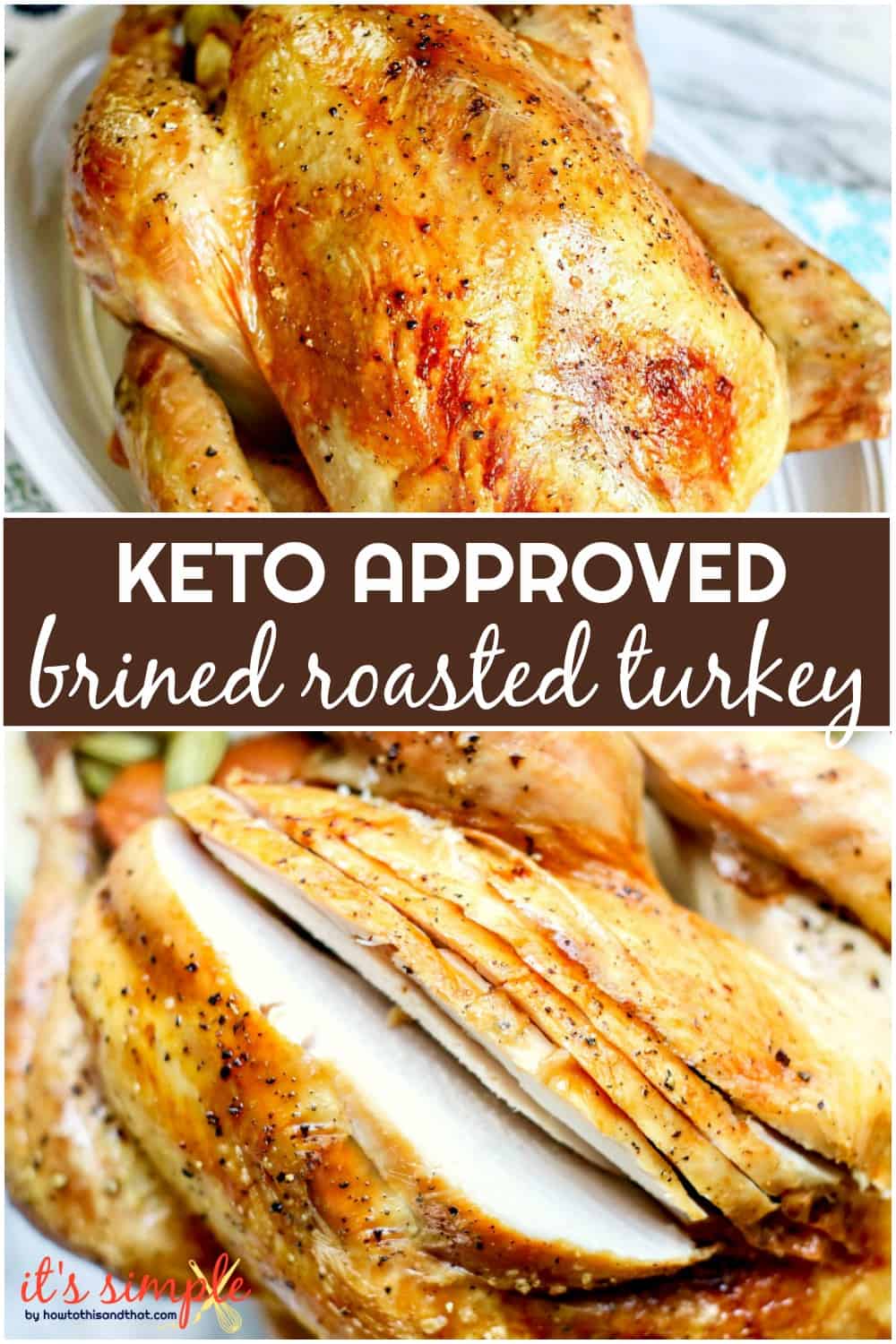 How To Prep A Turkey
The first thing is you want to remove the giblets, turkey packet and neck from the turkey cavity. Then you will rinse and then follow the steps for brining as directed below.
What To Pair With Roasted Turkey
Yield: 8 people
Brined Roast Turkey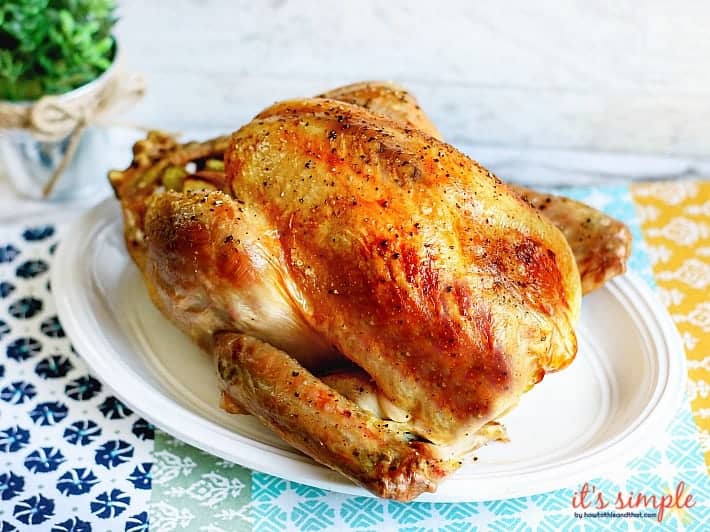 The perfect keto Thanksgiving recipe, easy and juicy turkey every time!
Total Time
1 day
4 hours
10 minutes
Ingredients
Turkey Brine
2 cups kosher salt
2 gallons water
For the Turkey (if NOT stuffing)
Brined Turkey
1 teaspoon each :
Salt, pepper, onion powder, garlic powder, ground sage (or Bell's seasoning), paprika
3 tablespoon butter, melted
1 apple, quartered (for cooking only)
1 onion, quartered
1 stalk celery, cut into pieces
Instructions

The day before cooking:
Remove turkey from packaging.
Remove gravy packet (if included) and giblets. Rinse well on the
inside and outside.

In a large stock pot, dissolve
kosher salt in water. Once the salt is completely dissolved, add the
turkey to the pot. Cover and refrigerate overnight.


When ready to cook:


Preheat oven to 350 degrees.

Remove turkey from the brine and
rinse well on the inside and outside. Pat dry. Place in a roasting
pan and bend wings under the bird.

To the cavities of the turkey, add
apple and vegetables. Apple will not add carbs UNLESS you are using the juice to make gravy later. If so, omit it.

Baste the turkey with olive oil
and generously salt and pepper and all seasonings on all sides.

Place turkey in the oven and cook
according to the chart below or until reaching an internal
temperature of 165 degrees.

Watch turkey carefully. If the
skin on top begins to brown faster than the rest of the turkey,
create a loose tent of aluminum foil over the top of the turkey.

When done, allow the turkey to
rest for 20 to 30 minutes prior to carving.
Unstuffed turkey cooking times:
10 to 18 pounds 3 to 3-½ hours
18 to 22 pounds 3-½ to 4 hours
22 to 24 pounds 4 to 4-½ hours
24 to 29 pounds 4-½ to 5 hours
Nutrition Information:
Yield:
8
Serving Size:
1
Amount Per Serving:
Calories:

141
Total Fat:

8g
Trans Fat:

0g
Carbohydrates:

2g
Fiber:

1g
Protein:

13g
Nutrition facts are auto- populated by the app for this recipe card, numbers may vary. For best results, input your exact brand ingredients into a recipe analyzer like Verywell or MyFitnessPal.
How To Reheat Roast Turkey
We all know that roast turkey can become dry once it gets reheated. Adding a little turkey broth or even chicken stock to the meat as you heat it up and it will help to keep your turkey moist and prevent it from drying out.
You can reheat it in the microwave or opt for a pan on the stove.
Give this recipe a try today, this turkey is crazy simple, savory, and downright delicious.